In this digital age, where startups are raising millions of dollars every single day, entrepreneurs are tempted to try out every growth hack that marketing experts tout about. 2019 was nice for startups, and 2020 will be even better. But as per the latest survey, it was found that companies are facing troubles in attracting investments.
As small businesses lack the constant flow of cash, they do not have the luxury to try marketing and sales techniques leveraged by established organizations. So, what they can stick to is the tried and tested strategies of attracting customers. And referral marketing is one among them.
Mark Zuckerberg says, "A trusted referral is the holy grail of advertising."
Besides, small businesses are said to be the prime candidates for referral programs. So, if you are a startup owner, there are high chances for you to get customers with referral programs.
Referral marketing is one of the most trusted marketing approaches by small and large companies. It aims at encouraging and increasing the number of new clients through word-of-mouth referrals.
Well, if you think that almost every business has a referral program, why should I have it? Let me tell you; we aren't talking about loyalty cards or punch cards here. It's about a legitimate referral program that includes offering incentives, rewards and encouraging customers to recommend your products and services to people.
Today, in this article of ours, we will take a look at why small businesses need a referral program.
5 Reasons Why Small Business Need A Referral Program
People trust recommendation by friends
Today, though the internet is a huge source for any kind of recommendation, people tend to value the recommendation of a family member or friend more. This is because they are less likely to mislead you.
28% of millennials say they won't try a product if their friend doesn't approve of it. 
So, if your existing customers recommend your product or business to someone they know, there are higher chances of gaining new customers.
It helps you drive repeat business
When you have consistent referral programs in place, it helps in retaining customers and increasing the number of repeat customers. If you reward them for their efforts, they feel valued and appreciated. Hence, they stay loyal. Moreover, when they see your business succeed, they feel like they are contributing to your company's success. 
For example, Pupsik, an online baby and parenting shop, developed a point-based referral program – "invite your friends to our store and win 250 points." This was done to encourage repeat business. 
Such referral programs persuade them to continue supporting you and buying things for you.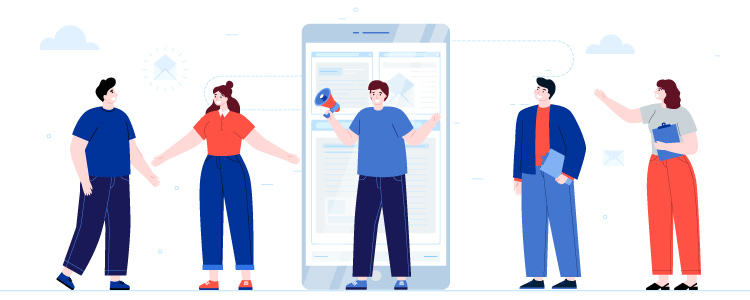 It can boost Customer Engagement
When your customers refer to you, clients would like to know more about you. So, what they will do is navigate through your website or social media pages. Thus, this gives your business a strong social media presence.
Once the referred clients come to your website, they will definitely access the referral discounts and rewards you offer. Hence, this may lead to an increase in purchases and potential revenue.
It offers exclusivity to your customers
With referral programs, you can identify your loyal customers. Who will be these customers? Perhaps the ones with a high amount of accumulated credits/points, a higher number of sent referrals, or the ones who share your posts more often.  
Customers love it when their favorite brands appreciate them. It can be done by rewarding them or giving a public shout out. Such approaches make them feel special and invoke a sense of accomplishment. You can even honor such loyal customers with exclusive rewards and offers or promote them to a VIP referral program. This exclusivity can increase their loyalty towards you.
You can easily execute Referral Programs
Amidst the myriad of sales techniques, small businesses often lose hope when it comes to implementing paid marketing campaigns. But referral programs are cost-effective, time-saving, and easy to execute.
B2B companies with referrals have a 70% higher conversion rate, and they report a 69% faster close time on sales.
You can ask your customers to refer to your products or services in exchange for an incentive. This can be done either in person at your business' location or through platforms like social media or email marketing. All that these methods require is your diligence and determination to ask for a referral.
When investing a bit of time and effort can bring in leads and that too at a fraction of cost that you would pay to get leads from somewhere else, why not choose referral programs!
A Few Ideas For Referral Programs
Well, to be honest, the same referral programs won't work for all.
Let's say; many companies like Airbnb and Dropbox have achieved significant success through their referral programs. But replicating their strategy might not bring success to your business. So, you must create a referral program that resonates with your target audience.
Again, offering just $5 OFF of a product or service that costs $70 is unappealing. So, when you sit to determine what your business must give away to customers through referral programs, put yourself in their shoes, and think-
"Is this offer good enough to share with my friends?"
"Shall I go out of the way to make people buy this product?"
If the answer to these questions is yes, prep up to get new customers!
Below are some of the referral programs you can consider to make your customers feel compelled to act:
Free Service:

Though it can be intimidating to give away a service free of charge, you must try it if your business can afford it. This will not only make your existing customers act but also create a positive impression of your brand.

Contests:

If free service is not what you can afford, you can try out referral contests. You can put up something like this – if a customer refers 'n' number of people in a specified time frame, they will receive $$ OFF on their next purchase. This brings in repeat businesses as well.

Social Media:

No one is deprived of social media these days. Millions of people share videos, posts, images, and more regularly. Thus, it can be a perfect platform to extend an offer to your customer, who refers to someone else.

Events & Holidays:

As most customers expect their favorite brands to offer discounts in festive seasons, you can capitalize on this opportunity. Make most of upcoming national/local events or holidays, and offer exclusive referral benefits.

Surprises:

Mysteries invoke interest. So, when you come up with something like 'if you refer someone, you will be given a surprise gift,' your customers will definitely act. Though it seems unconventional, it causes people to act.
You can test some of these referral ideas or create a unique one to benefit immensely. If one idea works, make sure you never drop it.
If you are not yet into referral marketing, get in now, and start reaping the benefits!