Want a smooth operation? Communicate
"Communication is the key to running a buttery smooth operation." It's true and is the success mantra of many successful businesses. Be it communication inside the office, or with clients; good communication is essential to get the job done efficiently. If you place special emphasis on effective, fruitful communication, you will find yourself on the road to success.
Entrepreneurs new to business have to understand that good communication is the key to success. Most of the problems that hurdle success in the modern business world happen because people either don't communicate or communication is bleak if at all present. The worst part, however, is that these businesses don't recognize and utilize resources present in abundance that promote and facilitate communication. This becomes a menace, especially in collaboration, which demands collaborative communication.
We can trace the need to communicate with others to our natural instincts. It has been prevalent since the Stone Age, with technology hugely facilitating it now. Practically, communication gets the job done smoothly, while at the human level, it keeps one happy.
Technological tools – where to use, and how?
With the rising technology of the modern era, the entire process of communication, what once used to be extremely tough and impractical, is now easier than ever. There are absolutely no excuses for messing it up due to misinformation or any other excuse. It's the 21st Century. Gone are the days when people didn't even know the existence, let alone communication, of people living on the same landmass. Now you can reach people in the blink of an eye, all credits to the latest advancements in the field of technology. 
"Where" and "how" – these are the questions concerning technological tools, you must know the answer to if you're willing to be a strong competitor in business as a rising entrepreneur. If you don't know exactly how to put a certain tool to use, then also there are absolutely no issues. Following should give you an idea: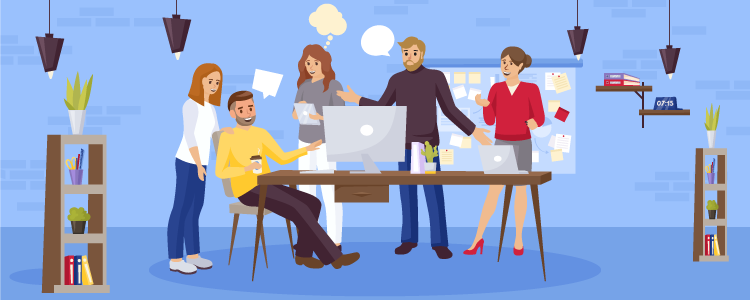 For inter-office communications, use a chat software
Lots of different types of instant messaging and chat software are available that you could use in your office. These are brilliant tools. Why? The main idea is that you can pass information to your team without the need to leave your office. Another benefit is that your employees don't have to worry about keeping a record of everything you said by noting it down on paper because they can refer to the chat log.
It helps to limit any sort of misunderstandings, thereby ensuring everyone has the details that they need. Also, they bring about an efficient operation without any hassle. As a leader of a team, you surely wouldn't want to move everyone away from their workstations to hold a meeting every single day. That would be a lot time-consuming, which is undesirable and insensible, given that you can pass the information easily using this simple alternative.
For clients, use an encrypted file sharing service
At one point or another, you are going to need to send important files and documents to your clients. You wouldn't want to use any standard email service, given how unsafe and insecure they usually are. You'll need to look for an alternative, something a little different and better. 
Companies that specialize in scanned document management might offer the perfect solution to this. Most of the said companies provide advanced communication platforms to their clients. These communication platforms serve to keep all the involved information safe. How do they work – they usually encrypt all the data to ensure nobody can access while it is in the transition phase. That curbs down the chances of a cybercriminal or a hacker to succeed in stealing any of the information.
For customer service, use live chat on your website
It is critical to have a healthy approach to customer service if you want to succeed in the business world. Many pieces of research and studies show that about 80% of sales in the average business come from existing customers. Keeping it in mind, you have to work hard to keep those people happy and content with your service.
A live chat service on your website is the single best move you can make to ace the game and top the charts. It allows your customers as well as potential future customers to get in touch with you in real-time. So if they have any sort of issue with your page, you can effectively solve the problem before they decide they don't want to stay on your page. It's also possible to handle complaints and other correspondence using the same tool. Look online for the best available software capable enough to cater to all your needs. Once you've finalized, ask your web designers to incorporate the same into your website.
What are the major technological tools available for the purpose?
Here, we'll talk about the main technological marvels the world has seen in the field of communication – the Internet and VOIP tech. Let us have a look at both of them in detail.
The Internet
The internet is one of the biggest and most significant marvels of the Modern Age. It has provided earth-shattering benefits to the world – both social and economic. The impact that the internet has on global business isn't something to be missed out.
Till now, hundreds of internet-based industries have taken birth. A majority of businesses today have an internet presence, which enables these companies to sell their products and services to the whole big world. Several developed communication methods have been created to help many businesses to accomplish their missions and do their work – efficiently and collaboratively.
The internet continues to open up different possibilities for various enhanced business communications. Internet infrastructure has enabled another groundbreaking technology to affect how the world communicates positively – the VOIP.
VOIP Technology
VOIP technology has changed the way the business world interacts forever. So, what is this piece of technology, and why has its demand increased exponentially in recent years?
VOIP stands for "Voice Over Internet Protocol." VOIP technologies use present technological infrastructures in delivering a stream of data packets across networks. These said "packets" include voice communications and multimedia. This enables uninterrupted high-quality video and audio streaming.
There is absolutely no need for hardware to be updated to reap the rewards of the latest innovations since VOIP uses the existing technological infrastructure. Instead, timely software updates ensure that technology is always up to date. VOIP technology essentially exists within computer networks. That is why the technological requirements for end devices are fairly basic and limited.
VOIP telephony systems enable free communication across different networks. This allows businesses to reduce costs significantly. Moreover, there are no network costs associated particularly with the use of VOIP technology.
All the benefits mentioned above make VOIP an attractive option for many businesses.
VOIP technology's existence can be dated back to 1995. Not surprisingly, they came into being around the same time that the internet started to be used widely in good numbers. But until recent years, only larger organizations (which have been found to gain more benefit from its use) have found its effective implementation.
How to implement VOIP?
The answer to this is simple. If you decide to implement VOIP within your concerned business, it is essential to approach a trusted provider who will craft the technology to the needs of your business.
Internet and the VOIP – the face of the future?
Visionaries designed both the internet and the VOIP so that they stay useful even in the distant future. 
Not many significant technological advancements have been made in either of the two ever since original implementation many years ago. But with the exemplary genius of modern inventors, the speed of technological innovations and the world's thirst for more, there is a good chance that business communications will be a lot different in some time. Still, they're going to stay the same for quite some time, at least for the foreseeable future.