Reading Time:
5
Minutes
Published :
May 2, 2020
The trend of remote work is ragingly increasing more than ever, and being on top of trends is the name of the game. Other than being a roller coaster ride, the year 2020 has become the official mascot of remote work AKA work from home. Finding the right remote tools has suddenly become so important that everything revolves around it. 
Since CallHippo promotes work from home culture itself, we understand how crucial it is to use the below-listed tools for the year-end financial graph. 
We understand that for the first-timers, this whole concept of remote work is a bit dizzy. They are still stuck with how do I work remotely, or how will I manage my team remotely? Also, they might wonder how to get better productivity without hampering productivity. 
The first question that popped in your head must be, but how will I do that?
The answer is by being 100% virtual. All you need is to find the best list of technologies that will help you make a difference while you work remotely. 
According to a state report, it was found that 57% of Gen Z'ers, 50% of Millennials, and 46% of Gen X'ers prefer to work from home at least once a week. And some employees even claim that they work from home half of the time if not more. As the future of companies might be more work from home to deal with this phenomenon, the need for remote work tools is more necessary than ever.  
So, in this article, we have decided to enlighten you with some of the best and popular remote work tools that will help every business grow. We have covered everything from smooth communication tools to the seamless presentation, simple documentation to secure file management, and the list goes on. It doesn't matter if you have experience with the remote work environment or you are stuck with it for the first time make sure that your team and you have the right tool to keep the work going like nothing has changed. Just keep in mind doing good work doesn't need brick walls and mortar offices; instead, it requires a compatible and hardworking team.
Why is it necessary to use the remote work tool?
Efficiency and growth is something we all stand for, and anything that can act as a catalyst for these two is a yes, yes for every company. This we know for a fact. But for now, let's talk about why it is the need of the hour.
Team Productivity At Its Best
Spending 5 hours practicing Maths while loud music is playing and cracking six questions is okay. But spending 2 hours straight and being able to solve three problems is productivity. In both cases, the person is the same. The only difference here is in the first scenario, there was a distraction, and in the second case, there were none. Similarly, if there are required tools available, none of the team members will feel distracted whatsoever. They will do the assigned work in a given time, as everything will be manageable and chaos-free. This means that the productivity graph goes high as soon as you have the right set of tools. 
The mentioned tools will help you to do a job with disruption in less time. They are built for the convenience of you and your staff. Some of the tools will allow you to share documents, images, and videos seamlessly. 
Buying these tools is like a good investment. If you do it at the right time, you can earn tremendous revenue. 
Boosts Team's Morale
How many of you believe that a hardworking and pessimist employee is better than an average and high morale employee? None, because if an employee is high on morale, he can adapt to a thing, won't be afraid of the changes, and will learn quickly. That's the effect these tools will bring to your team. The staff that is high on morale is a blessing to work with. 
We know that remote work sounds fancy and shiny, but sometimes even the best of the best feel secluded. Without time-to-time human interaction, the people start to crave real connection with their office mates. But lucky for you, we have listed some of the most user-friendly tools that will give you the experience of human-like interaction. Chatting and video conferencing tools make it a bit easier for the team to communicate with their teammates. 
Now it's time that we reveal the list of tools that we have been hiding (kidding).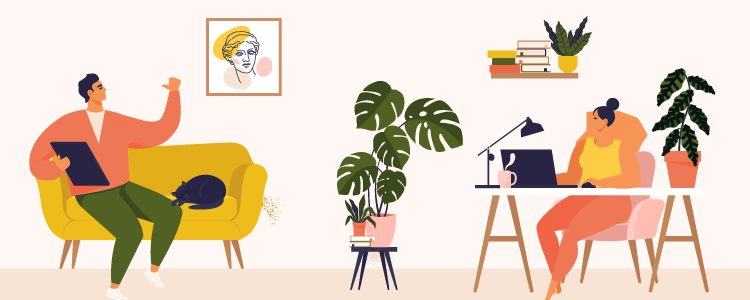 For Efficient Communication
If you want a successful remote team to mend the gaps with excellent communication, a lack of communication has destroyed the biggest of the biggest companies in difficult times. The tools/apps mentioned below will save you the extra effort. 
Slack
One of the most popular communication tools, Slack, can combine text, audio, and video chat features into one hard-to-resist package. You can organize the conversations, and the teams can join or leave the channel anytime, which is way better than lengthy email chains. 
Slack also has a searchable history feature that allows users to find past chats and shared information in less time effortlessly. Speaking of shared knowledge, this communication app will even let you share documents like PDFs, images, and videos.
All-in-all, Slack is a compelling communication tool, and deserving of the constant praise it gets.
Highfive
A video conferencing app that is easy to use and enjoyable too. Just click on the meeting and start participating. 
Microsoft Teams
An excellent alternative for Slack is Microsoft teams. And it has a bit of Highfive (another communication tool) in it. You can host conference calls of up to 10,000. That is huge. 
Project Management
Managing things is not easy, but it can be if you use the tools we have listed under. 
Asana
A popular project management app with great template options. It offers the user multiple ways to view projects.  
Todoist
As the name nearly suggests, it is a to-do-list but a smart one. Merely saying, it is a management app for all of you who have OCD to have everything in order and pre-planned. 
ProofHub
ProofHub is an all-in-one software for managing your project tasks, communication, and team members from one dashboard. Sales teams can effectively work together using ProofHub in remote settings.
File Sharing
Remote teamwork is based on file-sharing. Sending a large file via email or WhatsApp is definitely not the solution; refer to the following options instead. 

G-Suite
You must be living under the stone if you haven't heard of this genius tool. 
Be it your shareable documents, spreadsheets, presentations, or other files, just do your team a favor and start using G-Suite to share these documents with your remote staff. 

DropBox
Sharing large files can be a hassle, and for small businesses, G-Suite is a myriad. You can opt for Dropbox instead. 
Miscellaneous Tools That Come Handy 
If you haven't had enough, here are a few more friendly tools that will make your job more comfortable than it ever was. 
CallHippo
Besides other features, CallHippo has a wide range of features to offer, like Call Analytics, where you can keep track of the employee via the percentage of missed calls, total call time,. and much more. 
The list of features includes multi-channel communication and call barging. Talking about call barging, it is a feature that lets you listen to the conversation between executives and customers without them knowing. You can call it silent monitoring. 
In the case of multi-channel communication, it is built so that you can follow up with interested customers via calls and messages. Other features include the increase of team productivity, taking care of anti-theft, no more legal security worries, and you can be available around the clock. 

Toggl
Tracking the amount of time spent on a project is very important. This helps the team become more productive and driven towards the project they are working on. This tool is just that. 

Timezone.io
This is the tool for you if you wish to know where and when each person of the remote team is. 

If you need any more suggestions for choosing between which tool and features will suit your business, you can contact the CallHippo team for assistance.