When planning to expand your business in the international arena, establishing a seamless communication mechanism comes at the top of the list. Telemarketing and customer service skills have become critical components of any marketing strategy in today's business infrastructure.
One such advanced calling technology is Voice over Internet Protocol (VoIP)– a virtual phone number that gives you a global presence regardless of where you operate from. But, before we get into how to get a US phone number or any other country number, let's learn what a virtual phone number is and what its different types are.
What Is A Virtual US Phone Number And What Are Its Various Types?
Virtual phone numbers are phone numbers that do not require a physical phone line or a SIM card to connect to customers. In comparison to traditional phone lines and numbers, the virtual number has a range of advantages, including scalability, portability, and affordable cost, among others.
Besides, virtual phone numbers can be further divided into three categories: A) local numbers, B) Toll-free numbers, and C) Vanity numbers. Let's take a quick look at each of these categories.
A) Local Virtual Number: A local virtual telephone number is a number that has been altered to resemble the phone numbers of a specific region or country. For example, even if you live in India, you can get a US phone number that is functionally equivalent to a local US number. Besides, customers who might not pick up unrecognizable phone numbers will instead pick up these American mobile numbers, which will help you improve call pick-up rates.
B) Toll-Free Virtual Number: A toll-free number, also known as a freephone, or 800 number, is a phone number that charges the recipient of the phone call rather than the person making the call. But to make calls you'll first need to know the toll-free area code of that location. Some of the known toll-free number prefixes in the United States are 888, 877, 866, and 855. However, note that these prefixes differ depending on where you live.
C) Vanity Virtual Number: A vanity number is a custom-made set of easy-to-remember digits and has a unique number sequence. For example, a ceramic company may use 1-800-CERAMIC as their business number, with the letters spelled out using the numbers on the telephone keypad.
These are the three primary types of US virtual phone numbers. Now, let's look at why we need American telephone numbers in the first place.
How A Virtual US Phone Number Helps Your Business?
Let's look at an example to see how an American phone number can benefit your business.
Assume you're the CEO of a global women's apparel company with a sizable customer base in the United States. In order to provide effective customer service to these customers, you've decided to buy a US phone number, as someone suggested. However, you are unsure how this US virtual phone number will benefit your business. 
Don't worry! Check out the below section to find out how it will benefit your business.
1) Using a virtual US phone number, you can reach out to customers in every corner of the country, even if you are operating from offices thousands of miles away. Moreover, the virtual number that resembles US local numbers will infuse trust in customers to pick up the phone, ultimately increasing the call pick-up rate.
2) When you purchase a virtual phone number, you have the option of selecting area codes for your virtual mobile number based on the location of your target customers. Customers are more likely to accept your calls if they see a phone number with a familiar area code, or even better, their own area code.
3) In a nutshell, a virtual number will allow you to target & provide support to your global customers. Along with these major benefits, there are several other advantages of the US virtual mobile number shared below.
What Are The Benefits Of Having A US Phone Number For Your Business?
When you get a US virtual phone number for business, you get several advantages, including:
Communicating with regional customers, marketing your products, and providing adequate support services.

Controlling incoming calls based on your requirements.

Businesses that use US phone numbers enjoy significant cost savings because

VoIP calls are way cheaper than PBX

(Private Branch Exchange) calls.

Calls can be received from anywhere and on any device, even while you're on the move.

Using a US phone number can also help you maximize the lead generation process

.

Collaboration between departments in various areas becomes easier, which strengthens the business mechanism.

Using an American telephone number, You can allocate control of your phone lines to remote employees.
Exceptional Features Of A Virtual Phone System (VoIP)
Some of the characteristics that make VoIP ideal for business use are as follows:
Since customers receive calls through a virtual number, businesses can keep their phone numbers confidential and secure.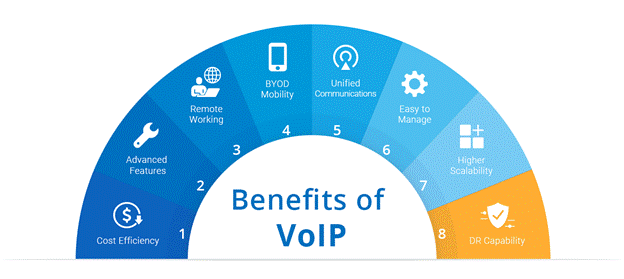 If you don't have an attendant to answer the phone right now, you can create pre-set programs for your customers. The

automatic call distribution system

can direct customers to a specific department through the subsequent steps.

When you get a US virtual telephone number for business, it is simple to record calls. Besides, you can benefit from a streamlined process of maintaining your call history and records.

Businesses can also add more than one extension for each of their employees.

The virtual phone numbers include voicemail capabilities, allowing incoming calls and messages to be routed and recorded.

Multiple numbers can be configured with a single system to create a more robust operational mechanism.

Calls can be transferred during a conversation, and call conferences can be arranged using US phone numbers.

In addition, you get a plethora of other features such as call analysis and reporting, queuing, custom greetings, call transcription, and so on.
Virtual Number Pricing: How Much Does A US Phone Number Cost?
You can get the highest-rated phone solution for your business in US at an affordable cost. The basic packages start at $5 and go up to $100 for a more advanced set of features. The package size also depends on the number of talk minutes. We recommend that you first know your requirements and investment budget in order to choose the perfect package.
How To Get a US Phone Number: 5 Easy Steps
Setting up a VoIP system or getting a US phone number is a simple process. All you have to do is follow the five steps outlined below.
Click on 'Add Number', select the US as the country. After that, you can filter the numbers as per your choice and select a number from the number pool.

Make payment.

Once you've established a centralized virtual phone number for your business, you'll need to add the rest of your team members.

Next, you must connect your own phone number to the virtual number. This will allow you to make and receive calls from the USA.
That's all! However, note that the users who will be responding to the calls must be entered into the system.
Thus US phone number is an ideal choice to grow your business in the US. And now is the right time to invest in a US phone number.
Summing Up:
Getting a US phone number is a simple process. As businesses are becoming more global, it is critical to stay in touch with your international clients and provide them with the necessary customer support. Using a US virtual phone number, you can get a lot closer to your goal. If you have a considerable customer base in the United States, we strongly advise you to get a US phone number.