Communicating effectively with candidates may be a tricky and challenging process. While we all might think that communication is given and something that we learn from an early age, it is oftentimes the case that doing it effectively and transmitting the right message isn't such an easy task.
When we talk about recruitment, the task becomes even more important. It is safe to say that recruiters sometimes have to take on the role of a salesperson for the position that they are hiring for. Whether it is a phone or email communication that you are using for contacting the candidates it is important to establish a good strategy that will enable you to be efficient, persuasive, and informative towards your candidates. In order to perform all those tasks effectively, it is extremely useful to have technology as your extended arm, helping you in every step of the recruitment process.
For that reason, we created a list of the five most effective ways in which technology can help you communicate effectively with your candidates. Keep reading the blog and find out what will help you master your communication.
1. Bring your A-game thanks to your ATS
Most of the candidates are already pretty used to receiving automated emails after applying for a certain role. However, this way of communication, though it seems consistent at the first glance, it doesn't track the candidates' progress through the application process. In most cases, that is actually the first and the last message that candidates receive by the company. In order to keep candidates thinking about your company and to create a positive candidate experience regardless of the stage they are in, it is desirable to have your communication constant.
This means that you should contact your candidates in the initial phase right after submitting their application, follow up with progress and finally, update them on whether they have been chosen for the following step, or come back with an explanation of why they will not be going to the next stage of the recruitment process. This way of communicating makes candidates more aware of your company, especially if they are applying for multiple positions at the same time and are in touch with more than one company.
Recruitment agency software can help to keep track of important dates such as interviews and deadlines, making it easier for both companies and candidates to stay on top of the recruitment process.
2. Personalized communication
In addition to the fact that regular communication makes sure your candidates won't forget about you, this way of communicating creates more personalized relationships and increases candidate experience. Besides the regular communication discussed in the previous paragraphs, it is important to create a personalized approach towards your candidates.
Though this may sound difficult, time-consuming, and sometimes completely unachievable with everyday tasks in your calendar, it is in fact possible to stay on top of all your tasks and keep your communication personalized and regular with the help of the right ATS solution.
By having a unique candidate profile dedicated to each candidate you ever engaged with, you can easily pick up where you left off and refresh your communication with any candidate you wish to. Being able to check all previous interactions, including the number of applications or some previous assessments, enables you to refresh your memory of the candidate and make sure that any communication you engage in will be personalized and relevant to the candidate.
3. Texting your candidates
Nowadays, it is more often than people are engaging in any type of communication via their smartphones than any other means of communication. More specifically, SMS has open rates of about 98%, compared to 20% of all emails, and, on average, it takes 90 minutes for someone to respond to an email and only 90 seconds to respond to a text. This means that it would be strategically important to leverage that way of communication. While still a little unusual for some, texting has become one of the most efficient ways of communicating with your candidates.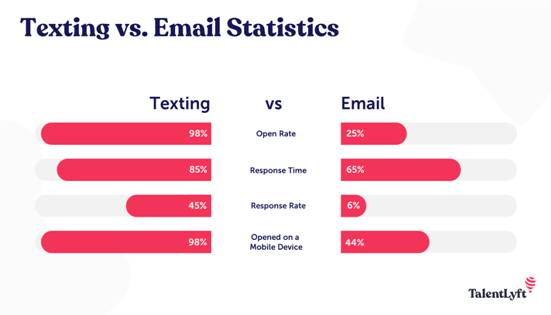 By texting your candidates you will enjoy faster and more efficient communication, candidates will appreciate your personal approach and, according to some of the latest research, candidates will be more likely to accept your offer faster. Ultimately, you won't seem less professional as you might think so, but on contrary, as someone who is keeping up with the trends.
4. Leveraging Pipelines
Before explaining the strategic and communication value of building talent pipelines, it is important to define what a Talent Pipeline really is. Talent Pipeline refers to a pool of potential candidates, either company's employees who are promotion prospects or external candidates, who are qualified and ready to fill a position.
In today's world when almost everyone can become a valuable candidate and a lot of success in recruiting passive candidates lies in the way you communicate with them, it is extremely valuable to have a place where you can store and maintain regular communication with all of them. Thanks to Candidate Pipelines, you can group your candidates, target your communication as much as possible and ultimately transform passive candidates into active and ready to hire candidates.
5. Segmenting candidates into Talent Pools
Just like you can place your candidates into pipelines in order to create a group, you can also segment them into different Talent Pools based on specific characteristics. For instance, talent segmentation can be done based on experience level, preferred job position, location or a language your candidates speak. If we go back to creating a more personalized, yet efficient way of communicating with the candidates, one of the most important aspects becomes a possibility of grouping and segmenting candidates based on almost any criteria that suits your work.
The Talent Pool is only useful when it serves as a repository of engaged candidates who are eager to work for your company. In order to ensure a high engagement of candidates in your talent pool, you need to precisely target their interests and needs – and you can't do that unless you segment your talent pool into smaller groups.
Finally, if you wish to explore more ways in which technology can help you have a more efficient way of communicating with the candidates, request a free trial at TalentLyft and start exploring all other possibilities of the tool!