Reading Time:
6
Minutes
Published :
May 1, 2020
The customer is the heart body and soul of any sales chain. The eventual boss is the customer; if they don't buy your product and service, then why bother working at all. They are like the pillar to strengthen your business. 
All the new products and services you have been hustling and brainstorming about are just for the sake of making the customer happy and connected with the roots of the company. But what if amidst all this you find out that the customer is not feeling any sort of bonding or connection with the brand. That is a bummer, right?
There is such intense competition in the market that every company is coming up with innovative ideas every month. The customer wants only the best and is ready to pay for it. But how can you ensure that you are the one the customer will count on? Simple by providing top-notch customer service. Everyone wants to be treated nicely, pampered, and given attention now and then. And that's where customer service training comes into play. This practice involves training and teaching executives with different techniques to increase customer satisfaction. 
The one thing that your company needs to invest in and increase the return of customers is customer service training. And the fact that you can do targeted customer training is like the cherry on the top. There are plenty of companies that prioritize providing top-notch customer service to both the internal as well as external clients. It is simple to understand that a happy customer is always more understanding and loyal to the brand. And well they will talk about the company in their circle which will give you a lot of free publicity. So always remember every happy customer counts.  
Customer Support Responsibilities
We have curated a list of the most common actions that customer support representatives do on a routine basis. These customer service training tips will improve the level of assistance and support you are providing the customers. Irrespective of the industry you are from, the expectations of the customers are nearly similar. Depending on your company and customer base, your team's responsibilities may look distinctive. 

Answer the customer's phone calls. 

Always reply to email requests and queries. 

Install chatbots or operate live chats on your website's homepage. 

Triage, manage, assign, and work on the raised tickets in the customer support queue. 

Respond to comments, direct messages, and requests of the tentative

customers on social media.

To educate your customers about the brand, publish and share FAQs, blogs, technical content so that they can access the company's self-help material. 

Conduct onboarding and training for the customers about how to use your product or service when they reach out for the same. 

Keep tracking all sorts of customer complaints, feedback, and praise. If and when necessary, you should escalate them as well. 

Advise customers on your brand, its products, and services to help them reach a decision. 

The executive must have complete knowledge of the brand and what it represents so that they can provide the necessary support to the customer. 

Timely upgrade change and or cancel accounts and subscriptions if necessary. 

When you are trying to resolve the challenges faced by the customer, suggest solutions based on their distinct needs and goals.  

Consistently work with the customer until they feel their pain points have been resolved. 

Remember always to provide solutions that will either resolve the issue once and for all or will work long term. 

They say the first impression is the last, and the call you have with the customer is that impression. Remember always that you are representing the company, and whatever you do will leave a mark on the customer. 
By now, it is pretty clear that every customer support team works on complex tasks every day. Now let's talk about the different customer support channels that you need to keep an eye on always.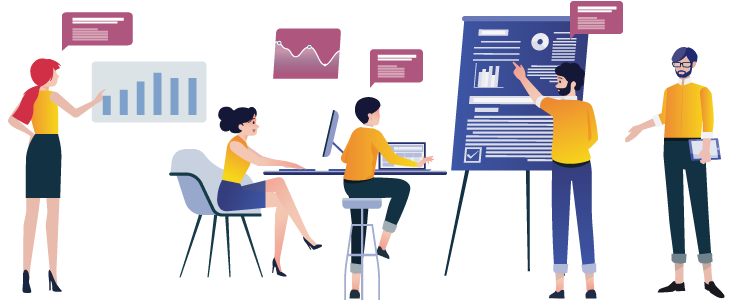 Customer Support Channels
Following is the list of most used customer support channels. Every business has a customer base, and according to that, you may implement all of these channels or add and remove some of them to meet the requirement of your industry. 
Phone: Every individual customer has the right to receive customer support over the phone that is managed by the CSR.  

Email: Every customer is different, and working on different customer support channels is mandatory. Using a universal email inbox by your customer support team will attract the customer that looks out for thoughtful and well-written responses. 

Live Chat:

Live chat is an essential part of the entire customer handling as it is quick and hassle-free. It will help your CSRs to manage discussions they have with customers through an instant message via your website pages.

Social Media: Whether you have followers on Twitter, Instagram, Linkedin, Facebook, or any other social media channel, make sure that the CSR team is continuously checking the comments, direct messages, and notifications for new inquiries that need instant revert. 
The first interaction that the customer will have is with your staff. How good or bad your team treats the customer will comment on their first impression of the brand. Before letting any intern or fresher proceed with customer handling, you must define a customer service level that should be maintained at all levels. Then you should put in all effort to help the staff reach and maintain that level. But what should this include? And how should you set out your training?
What are the critical points of excellent customer service?
Two main points that hook customer service in place are:

Business knowledge

Product knowledge
What is more important than anything is that the staff needs to have a complete understanding of the brand and its products. This is the core of their customer handling. Having good knowledge is preferable as it will leave a lasting impression on the customer. You need to play along with the customer, which will help you identify the weak spots. Eventually, you can help the entire team prepare for specific situations that might be similar. 

Why should every company make a customer service training program mandatory?
Of course, because of the benefits it has and how kind and the long-lasting impression it will have on the customer. And we'd like to mention the fact that these training can be customized as per the company and client requirements. 
Here are a few of the catchy benefits of the customer service training program. 
i) Helps build long last brand and customer loyalty: 
Brands are always hungry for customer loyalty as they dwell from it. Consider yourself as the customer who is happy with the products of a company. Not only will you be loyal to the brand, but you will also ask your family and friends to buy from that company. This is the best way to build customer and brand trust value without having to put any effort.  

ii) You can convert your customer base to fan base:
You must have heard that there are customers who are pro-brand. This means that they'd rather wait for your product to launch after three years than buy from any other company. This is true love and respect that you have gained by providing your customers with what they were looking for. 
Your customer service was so excellent that they felt compelled to come back. These are that brand fans that will do word of mouth publicity and write good reviews on social media. 
iii) Continuous reduction in the cost of sales:
There is a trick to having low-cost sales, and that trick is to know what customers want and expects from the brand. If a company cracks it, it can save a lot on retaining and acquiring new customers. And honestly, a retained customer is even better than a new one because, on the former, you have left a mark. 
iv) Positive feedback all the time:
With the rise in tech-savvy customers who do market and internet research before even thinking of buying a product, it is essential to have a portfolio of positive reviews. We believe that feedback is the most substantial part of the entire communication process. Customers who have an impression tend to provide genuine feedback because they feel like the part of the brand. Whether they like the product or not, they will leave a constructive comment. When you revert to valuable feedback, it will help your brand grow. 
Final Verdict
We have talked enough about the benefits of the customer service programs, channels, and other essential aspects that can help the company to grow. As you are aware of all the scenarios, do implement these tips in your organization, and you will see evident changes. Make it a routine, and the results will be unbeatable. This will also help in building an organizational culture for greater success