Technology can make or break a sales team's success rate. In an ever-changing technological landscape, leaders arise, and challengers enter the market in the hopes of toppling them. The best tools of a couple of years ago may not be the best tools of today.
So in this post, we are going to look at the top tools that sales teams are using to improve their outcomes to see how they stack up.
CRM Software
With two-thirds of sales professionals using CRM software, it's clear that these powerful tools are valued.
As the technology gets easier to use, that number is expected to grow further. In addition to getting easier-to-use, these tools are also doing more and allowing users to reduce their reliance on other technology. Two of the biggest advantages of CRM software are its ability to automate tasks and to provide a high-level overview of a customer.
Sales teams are able to get more done when there is software doing the tedious and repetitive work for them. They are capable to better connect with a customer when all the relevant information about that customer is easily accessible.
1. Pipedrive
Launched in 2010, Pipedrive was created by a team of 5 salespeople who felt that existing CRM solutions didn't do enough to meet the needs of people who are actually selling products.
With a primary focus on lead management, Pipedrive makes it easy to keep your leads organized. The LeadBooster chatbot, which comes at an additional charge, is designed to help automate parts of the lead generation process. Other automation features include triggers to send out emails and a virtual assistant to provide tips and recommendations. Interactive dashboards and customized reporting make it easy to get the information you need quickly.
Pipedrive offers a 14-day free trial. After that, users will need to sign up for one of the paid plans. The company offers four options to cover a range of budgets:
Essential: This plan costs $12.50 per month for each user. It provides all the basic features of the CRM but lacks in some automation and email tracking features.

Advanced: It will cost $24.90 per month for each user for this plan. This one adds in the email tracking and workflow automation features.

Professional: This is the plan recommended by Pipedrive. It costs $49.90 per month for each user. This one has added features to make collaboration with team members easier.

Enterprise: Designed for larger businesses, this plan costs $99.00 per month for each user and requires a minimum of 10 seats. It gives the user-customized onboarding and priority support via phone.
Integrations with over 150 popular products and services are available through the Pipedrive Marketplace.
2. HubSpot
HubSpot made their name with their signature namesake product, HubSpot, a digital marketing automation solution. Their free CRM includes scaled-down features of that product, as well as marketing and sales tools. These features include tools for generating leads, the ability to create web forms, chatbots and live chat support, and advertising tools.
As stated, HubSpot's basic CRM is free, although most businesses will want to upgrade it with one of the available hub add-ons. There is a marketing hub, a sales hub, and a service hub. The prices for the sales hub are listed below, although you can save money by bundling one or more of the other hubs.
Starter: Costs $45 per month and allows for 2 users. It comes with basic email tracking, scheduling tools, and support for lead pipelines.

Professional: Costs $450 per month and allows up to 5 users. This tier adds in automated processes, templates for quotes, and product tracking features.

Enterprise: Starts at 10 users and costs $1,200 per month. Designed for larger businesses, this tier adds in team goal tracking and the ability to define user roles.
The HubSpot App Partner Program has produced over 500 integrations to ensure that your software works seamlessly with the HubSpot tools.
Telephony Systems
One of the biggest changes coming to telephony in 2021 will be the adoption of 5G. This brand new and revolutionary generation of cloud systems is set to make great improvements in call quality and connection speed. We can also expect to see a continuation of the trend for AI to decrease the workload of human staff to, so they can provide more attention to customers and do so with greater knowledge of those customers.
3. CallHippo
CallHippo is a virtual phone software that allows you to dial, track your phone call logs, and even do AI-driven speech analysis. CallHippo also integrates with various CRM systems, helpdesk tools, survey and marketing systems, productivity tools, and many more to simplify collaboration across your entire organization. Their basic features include one standard phone number for one or multiple users, easy call forward, SMS and voicemail, and a shared inbox. Advanced features include call recording and call queueing, working hours setup, holiday routing, call tagging, and more.
CallHippo offers four subscription plans:
Bronze Plan starts at $14/user/month, which is ideal for startups and includes all the basic features mentioned above.

Silver Plan starts at $24/user/month; it is the recommended plan for small teams. It includes every feature in the Bronze plan plus call routing, queueing, tagging, recording, gamification, call cascading, and more.

Platinum at $35/user/month, including 3-way calling, call routing to an external number, call script, custom caller ID, call forward to multiple devices, and more to help you better manage your inbound and outbound calls.

Enterprise including a free trial period, a personalized onboarding session and a dedicated account manager, advanced integrations, custom reports, IP whitelisting, post-call surveys, and more.
4. RingCentral
RingCentral is one of the top VoIP providers for businesses. The service includes all the functionality one would expect from a business-class telephony provider. Basic features include unlimited calls within the United States or Canada, Unlimited SMS, voicemail-to-text functionality, team message, and document sharing. Advanced features are available in higher-priced plans.
RingCentral has a 15-day free trial. There are four plan options for when the free trial expires:
Essentials: This plan costs $19.99 per user per month. It supports up to 20 users and provides all of the basic features.

Standard: For $24.99 per user per month, you can remove the limit on the number of users and get some additional features. The standard plan includes unlimited fax and audio conferencing. It also adds video conferencing for up to 100 people, quality-of-service reports, and priority support.

Premium: $34.99 per user per month will get you additional features such as automatic call recording, CRM integration, a developer platform for custom integrations, real-time analytics, and video meetings with up to 200 people.

Ultimate: The highest tier costs $49.99 per user per month and adds device status reports and alerts to the Premium plan along with unlimited storage.
Depending on the plan, the service can integrate with popular productivity suites such as Office 365, G Suite, and Slack and CRM tools such as Salesforce, Zendesk, and more. 
5. Nextiva
Nextiva has been around since 2005, and provides competitive pricing for the services that they offer. Their basic service includes unlimited calling within the United States and Canada, a free local and toll-free number, 1000 toll-free minutes per month, unlimited virtual fax support, unlimited audio conference calls with up to four participants, and mobile app calling. Additional features, including support for video calling, are available at higher-priced tiers.
At the current time, Nextiva does not offer a free trial. Their service plans are broken down into three tiers.
Essentials: This plan costs $19.95 per month per user.

Professional: For $20.95 per month per user, you'll be able to upgrade your plan with unlimited SMS, unlimited video calling, screen sharing, mobile app calls, team messaging, and increased productivity features.

Enterprise: Priced at $27.95 per month per user, this plan brings support for Amazon Chime, voicemail transcription, and voice analytics.
Sales Dashboard Software
We've discussed many tools to help improve sales productivity, and there are many more out there.
Although many of these tools support integrations that allow them to communicate, there is a limit to how much of that shared data can be used to generate reports. This is where sales dashboard software comes in. By integrating with all of the most important parts of your technology stack, you'll be able to build custom dashboards that provide you with the information you need in a way that makes sense for you.
As the software we use gathers more and more data, these custom dashboards will become crucial to keeping all that information organized.
6. ClicData
ClicData is a business intelligence and data management platform. You'll be able to track every aspect of your team's performance across CRM, LMS, and telephony software to fully evaluate their progress and bring them up to speed if extra training is needed. ClicData offers powerful automation features to keep your data and KPIs up-to-date. You can also set automatic alerts when your goals are reached or if something wrong is happening.
The company offers a 15-day free trial of their service. After your free trial is over, pricing is broken down into four different tiers:
Premium: At a cost of $71 per month, this plan supports up to 10 users and includes 5 of storage. It provides integrations to popular websites and allows for easy sharing of dashboards.

Team: For $225 per month, you can upgrade to a plan that supports up to 25 users and comes with 10 of storage. This plan level also gets you access to the white label functionality and the ability to connect with popular databases.

Enterprise: Priced at $425 per month, the Enterprise plan will get you support for up to 50 users and 20 of storage. You'll also get integrations with popular CRM software and over 250 other sources of data. This plan adds advanced security features to the service.

Dedicated: For the largest businesses, the Dedicated plan starts at $890 per month and starts with support for up to 100 users. It can scale to support thousands of users. Dedicated plans come with between 100 and 8tb of storage.
The integrations available depend on your plan level. The Premium plan can integrate with multiple web applications and CRM systems like Pipedrive. The Team plan adds in database connectors such as MySQL, SQL Server, or Oracle. The Enterprise and Dedicated plans add support for Salesforce, NetSuite, Google Big Query, and more Enterprise tools.
7. Cumul.io
Cumul.io is designed to be easy to use. With drag and drop functionality to build dashboards, their goal is to get you up and running in minutes, even without a lot of technical experience. For those with technical experience, they make it easy to add your own custom integrations.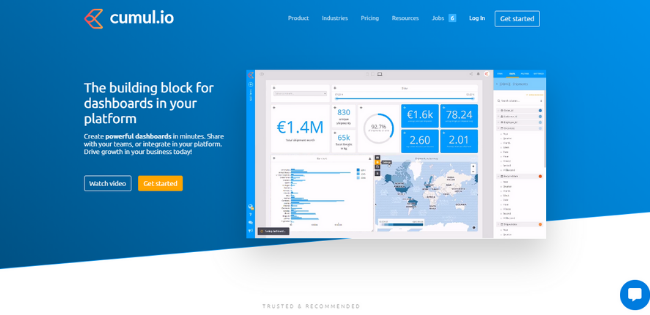 Cumul.io comes with a 10-day free trial. After the trial, there are three options to choose from when you pick a plan:
Basic: For $955 per month, you'll get 250,000 sessions that have Cumul.io's branding on them.

Professional: To remove the branding and get 500,000 sessions, you can upgrade to this plan for $1495 per month.

Enterprise: You must contact the company to get a price for this upper-level tier. It comes with a virtual private cloud, white-labeled editor, and training & consultancy from the companies success and engineering teams.
The service includes out-of-the-box connections with popular web services and online services.