A few days ago, I was returning home from work in a cab. The driver turned on the radio, and I was surprised by the first advertisement. It was a radio ad for Zoho. After a few days, I witnessed a TV commercial for Zoho. I was very surprised because one rarely hears Zoho's name outside of work. I was not expecting to hear Zoho's name on traditional marketing channels such as the radio or TV.
I started researching both the types of marketing – traditional marketing and digital marketing. In this article, we will discuss the integration of traditional marketing and digital marketing.
Why Integrate Traditional Marketing and Digital Marketing?
When I say traditional marketing, I mean TV commercials, radio advertisements, newspaper advertisements and even billboards. On the other hand, we all know what digital marketing comprises – search engine optimization, content marketing, paid advertisements, etc.
51% of the world's population is on the internet today. With 6000 tweets per second, there is no doubt that there are lesser eyeballs focussed on billboards today, compared to how it was a few years ago. Some marketing gurus believe that traditional marketing techniques are dying, and there are some counterarguments too. However, both the marketing methods are significantly important.
Let's take an example. Google used traditional billboards in the major cities of India to promote Google Maps. Despite having over a billion users across the world, Google felt the need to use location-specific billboards!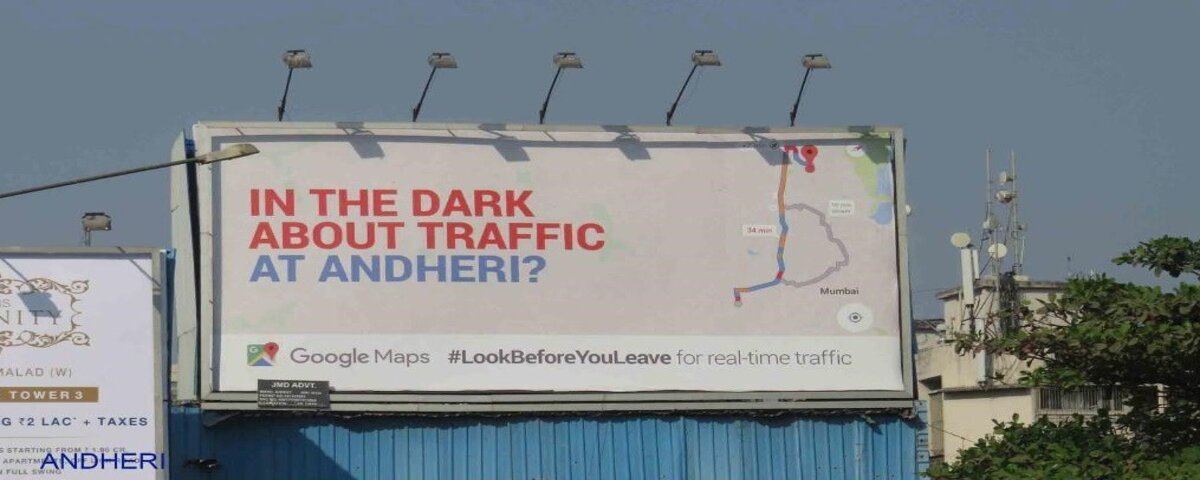 The motive behind Google delving into traditional marketing is not merely customer acquisition. Let's take a look at Zoho's example again.
If I simply look up "Accounting Software" on Google, I find Zoho's paid ad in the second place.
When I click on the link, it leads me to a page where I can directly start my 14-day free trial of the software.
If we notice closely, the aim was to invite a prospect and convert him into a customer.
However, it was the prospect that looked it up!
That's the main difference between traditional marketing and digital marketing. With digital marketing tools, you can get people to buy your products. However, they already know what your product does and are searching for it. Now, what if the prospect has no clue about your product and you want them to know about it? This is where traditional marketing comes into the picture. Even if you are not actively looking for a phone, a new Oppo camera phone will catch your attention on a billboard.
Digital marketing is highly effective in terms of customer acquisition, but when it comes to creating brand awareness and running promotional activities, traditional methods of advertising win hands down. By running a TV ad, Zoho is attempting to create awareness about its product.
Let's talk about the Google Maps campaign again. Here, the main motive of Google Maps was not necessarily customer acquisition. The motive was to promote the brand and advertise the various features of the product. The various billboards highlighted how Google Maps does not only show you directions, but it also shows you the most effective route with lesser traffic. Now, show me a Mumbaikar who would not love to know how to beat the traffic! As a result of these billboard advertisements, more people became aware of this specific feature and if Google Maps acquired more customers, that's just cherry on the cake!
What's Missing in Traditional Marketing and Digital Marketing?
As we discussed, search engine optimization and social media marketing show you advertisements for products or services in which you are already interested (at least, most of the time). Google or Facebook analyses the subjects in which you're interested and shows you relevant ads. However, that's clearly not the case with traditional advertisements. Most of us, on a daily basis, see a lot of ads on billboards for products or services we would not actively seek if we were on our laptops.
On the other hand, traditional marketing has its own disadvantages. It's difficult to measure the success of your campaigns. You don't know how many people noticed your billboard and you have no proper clue of the success rate of your TV ad.
Innovative Ways to Integrate Digital and Traditional Marketing:
Use QR Code:
As discussed, billboards kind of force you to look at a product and develop a brand impression. However, when you merge a billboard or a poster with a QR code, you have an innovative way to lead the viewers to your website. Calvin Klein took this idea very seriously and made a billboard of a big QR code.
People had to scan the QR code and an uncensored video of CK model would show up. The brand caught a lot of attention with this campaign. However, it could have been much more effective if US citizens were more familiar with the concept of QR codes back in 2010.
Brands have been using QR codes in innovative ways for these purposes:
Customer acquisition (Most brands put a QR code on the poster to get customers)
Public relations (Just like the Calvin Klein ad!)
Customer support (Mention various QR codes for various problems and a customer can directly find the answer)
Customer Survey
Smart Billboards:
It is hard to track the success of your billboard advertisements. But there certainly are some ways to track how your billboards are performing! Suppose that a brand has put up multiple billboards in various areas across the city. The idea is to put some detail on there differently so that you can track the results. For example, it could be a contact number or a discount coupon code.
Suppose, the brand has put 5 different billboards with unique contact numbers on each piece. The maximum number of callbacks on a particular contact number will be obvious as the most effective billboard in terms of reach.
Apart from small techniques like these, billboards have now evolved with the help of sophisticated new technology. Lexus – a well-known car manufacturer, used a smart billboard where it detected your car's brand and tried to convince you to switch to Lexus with a sly message!
The billboard would register the exact time and date, and would also recognize your car model. It would then send you a personalized message on your mobile device. Amazing!
Many giant companies like Yahoo, Samsung Gear, and British Airways have used this new method where billboards can sense the people around it and respond accordingly.
Use Social Media:
You will see this new method of marketing employed by a lot of food businesses, among others. The idea here is to increase the social media reach of a particular business. The cafe or a restaurant will typically put a flyer on the table requesting customers to like the social media pages (Facebook, Twitter or Instagram) of the restaurant in order to avail a discount.
In this way, the restaurant will gradually gather enough people on their social media pages to promote their other offerings.
Wrapping Up:
Many marketing gurus predicted the death of traditional marketing methods, but the truth is – they are still quite relevant! They may have lost their popularity because of rapidly evolving digital marketing methods. However, traditional marketing is also evolving by using cutting-edge technology. I hardly see it dying!