Date: October 20, 2022
If you run or manage a national or international firm, you must be well familiar with cloud phone systems. There are many chances that you may already have it or are planning to buy it. The purpose could be anything ranging from marketing, customer service, cold calling for sales, surveys, or so on. But we are happy that you are finally taking that step which you should have taken a long time ago!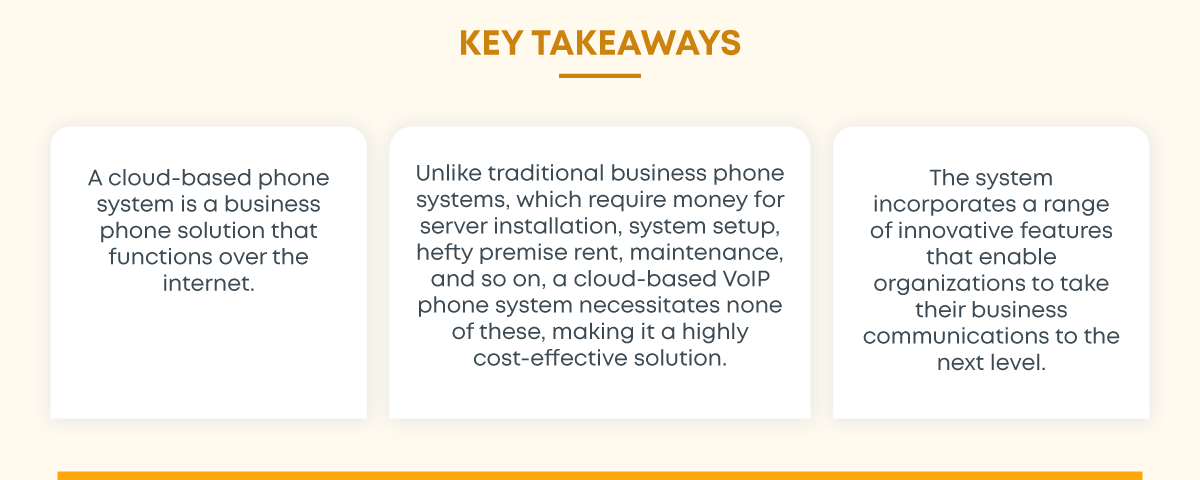 Anyway, there are still many business owners out there who are unsure about the pros and cons of cloud-based phone systems and are therefore hesitant to invest and embrace one.
This blog post will help these people clear their concerns by providing an in-depth analysis of all of the upsides and downsides of a cloud-based phone system. So, without further ado, let's begin with what a cloud phone system is in the first place.
What Is a Cloud Phone System?
A cloud phone system, also known as cloud telephony, is a business phone solution that functions over the internet and empowers businesses to perform a variety of communication activities such as making and receiving calls, sending voicemail messages, video conferencing and call conferencing, call recording, call forwarding, real-time performance monitoring and analysis, and many many more.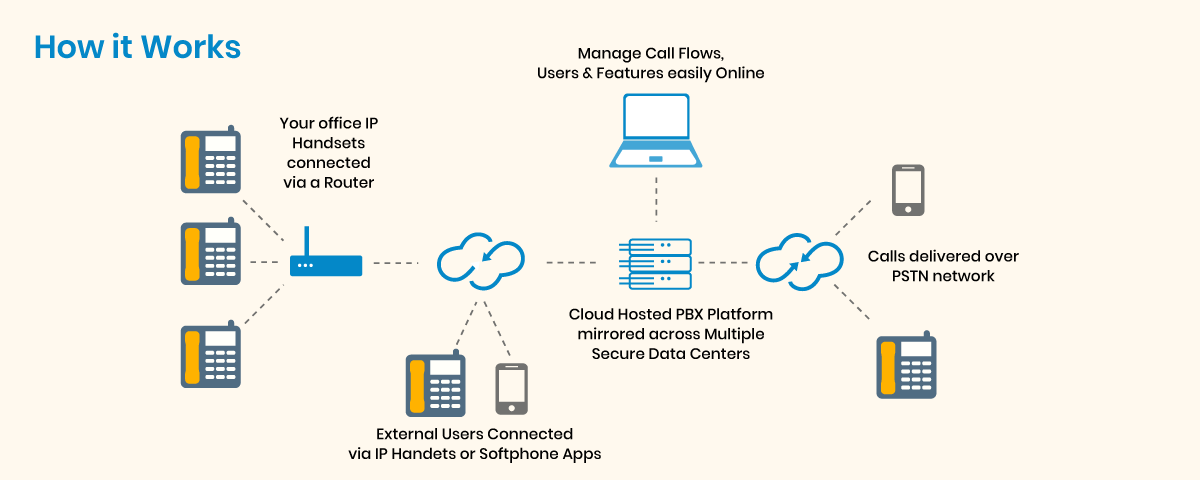 Also, note that these cloud phone systems are typically managed and maintained by VoIP (Voice over Internet Protocol) or cloud phone system providers such as CallHippo, who look after various aspects such as hardware & server maintenance, ensuring seamless service & optimum uptime, and so on. If you are interested in learning more, take a look at our guide on cloud phone systems.
Now, in the following section, we will look at how best cloud phone systems may benefit organizations or what the pros and cons of VoIP phone service are.
9 Pros of Cloud-Based Phone System
The 9 key advantages of cloud phone systems are listed below. We are confident that as you progress through each of the points, you will become more convinced of the importance of investing in a cloud phone system for small businesses.
1. Cost-Effective Business Phone Solution
The first and most significant advantage of cloud phone systems is their low cost. Unlike traditional business phone systems, which require you to spend money on things like server installation, system setup, hefty premise rent, maintenance, and so on, a cloud-based VoIP phone system does not require you to spend a dime on any of these things.
Moreover, since the cloud phone systems offer unified business communication, you will require fewer human resources to manage the operations. This means you can redirect and spend this saved money on other activities to strengthen your customer service even more.
2. Unified Communication
The cloud phone systems will allow you to centralize all of your customer communication that occurs over various channels such as social networking platforms, phone calls, file sharing, voicemails, messages, and so on. This practice is known as Unified Communication as a Service (UCaaS).
The UCaaS approach will dramatically increase the performance and productivity of your agents as well as remote teams because they will get access to all communication-related information from a single source. This will empower your agents to better understand the customers' problems besides knowing what steps have been taken so far and what needs to be done to provide the best resolution to the customers.
3. Scalability & Portability
Scalability and portability are two key benefits of a cloud phone system for small businesses. Scalability refers to the ability to scale up or scale down resources and infrastructure in tandem with business growth, while portability refers to the ability to perform business activities from anywhere at any time, regardless of location or time constraints.
Since most of the top cloud phone system providers, such as CallHippo, leverage the SaaS model, you can scale up or scale down resources as and when needed. In addition, because a cloud-based phone system operates over the internet, you may work from anywhere at any time simply by having a good internet connection and a VoIP desk phone.
4. Easy & Quick Installation
As you will no longer be required to install any hardware or equipment except IP phones at your business location, you will be able to set up a cloud phone system in a breeze of time. 
Moreover, unlike traditional phone systems, which require you to invest in and install a variety of hardware to get even started, VoIP phone systems need you to make a minimal investment and install only IP phones based on your initial requirements. As a result, you can easily scale the infrastructure later as your business grows.
5. Minimal Maintenance Cost
As we mentioned in the previous section, there is a minimal requirement for hardware and equipment that you will need to establish a cloud phone system. This also means lower maintenance costs! Additionally, unlike a traditional phone system, which requires you to maintain the premises where the server and other hardware are installed, a cloud-based phone system does not necessitate this kind of maintenance.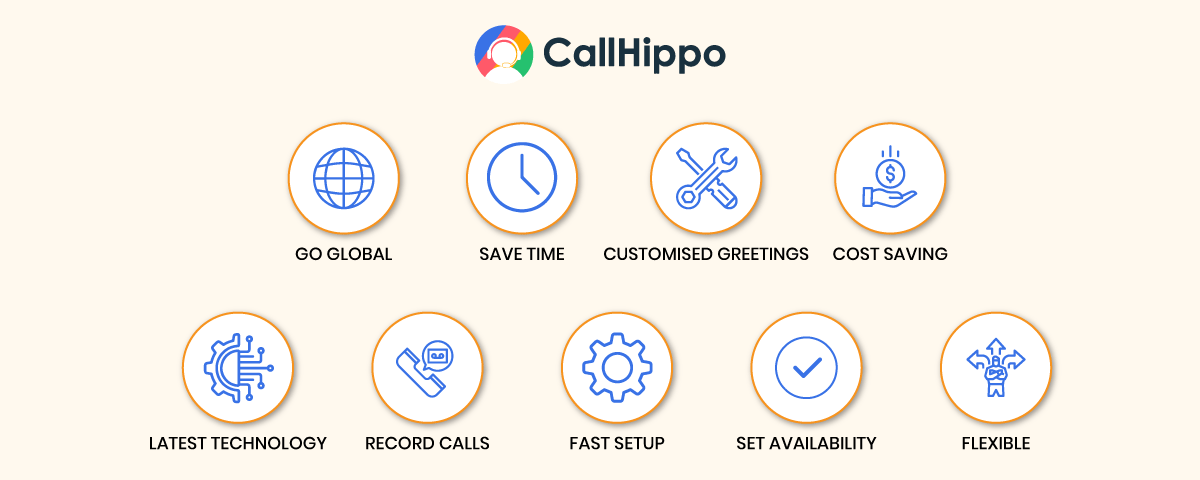 All of these maintenance cost savings can be diverted & used in other productive business operations, such as hiring bright minds, employees training programs, and so on, to help your company grow and prosper.
6. Establish Professional Image
It is common knowledge that customers often prefer to do business with companies that have a good reputation and credibility in the market. If the company is not well-known, customers would be hesitant to purchase its products or use its services. For this reason, building a professional image of your business is a necessary step. One of the most effective methods is to have a toll-free business number or a local phone number.
When you opt for cloud phone systems, you will have access to a dedicated toll-free customer service number for your business as well. So, when a customer receives or dials this number, they will get an impression that you are a well-established company that values its customers and has a dedicated customer service department in place. 
Besides, having a local phone number will develop trust among local customers about your company.
7. Access To Multiple Innovative Features
When you choose a cloud phone system, you will not only be able to make and receive calls like a traditional phone system, but you will also be able to perform a variety of other communication activities thanks to the advanced features that the system comes with.
Some of the most significant features and capabilities of a cloud phone system are call queuing, auto-attendant, call routing, call recording, Interactive Voice Response (IVR), voicemail to mail, call barging, power dialer, screen sharing, video conferencing, and so on. All of these features will undoubtedly improve your performance and play a key role in propelling your company to new heights.
8. Improved Performance & Productivity
Isn't it true that the ultimate purpose of implementing or adopting any service or solution is to improve performance and productivity? Of course, it is. Fortunately, with the help of cloud-based phone systems, you can achieve this goal to a significant extent. 
For example, by establishing a unified communication channel, your agents will be able to comprehend and deliver solutions in a timely and effective manner.
Moreover, you can redirect the money saved on maintenance and setup costs to an employee learning program, thereby increasing the competence and expertise of your team. Also, the cloud phone system's multiple innovative features will ensure that you reach out to and attend to every prospect and client on time, resulting in a higher customer retention rate.
9. Enhanced Customer Experience & Satisfaction
All these above-mentioned 8 advantages of cloud phone systems will help you streamline, simplify, and safeguard your customer communication. Besides, this will also have a long-term impact on the customer experience as well. Since the customers will receive prompt and precise responses to their inquiries, they will feel happy and satisfied with your services.
Furthermore, the guidance and support that you will be able to provide to your customers throughout their journey from product selection to implementation, will increase their trust in your organization. All of these factors will eventually turn even first-time customers into cult customers.
So those are the 9 benefits of cloud phone systems. But as every coin has two sides, there is another side to this coin as well– the limitations of cloud-based phone systems. Although the cons are substantially lesser and insignificant compared to the advantages, we believe they should also be discussed to have a clear picture of the cloud-based phone system and ultimately to make an informed decision.
Cons of Cloud-Based Phone Systems
The two key downsides of cloud phone systems are that they require stable and decent internet connectivity, and there are chances of network latency. Let's take a closer look at both of these.
1. Need Stable Internet Connectivity
The first major disadvantage of a cloud-based system is that it would require a stable internet connection all the time since its entire operation is dependent on the internet. Therefore, if your internet connection is weak or unstable, your performance will suffer, and productivity will be hampered.
This means that if you live in a remote place where stable internet connectivity is a distant dream, you should not choose cloud phone systems. Not only if you live in a rural place, but also if you live in an urban area, be sure your internet service provider delivers steady internet connectivity with a decent speed.
2. Network Latency
Network latency, often known as lag, is a term used to define delays in network communication. As we all know, cloud phone systems convert phone calls' voice into data packets at the sender's end, transmit them across the network, and then convert the data packets back into voice at the recipient's end. Any gap in this process will cause jitteriness in the communication and impact VoIP call quality.
Besides, the recipient may even receive a delayed or broken message, which complicates the information shared during the conversation. However, if you choose reputable cloud phone service providers such as CallHippo, you won't have to worry about latency because their system design and algorithms are capable of combating it to a significant extent.
So those are the pros and cons of cloud phone systems. However, it should be noted that both of the limitations can be easily bypassed with a good and stable internet service.
Summing Up
Like any other technology, cloud phone systems also have their own advantages and disadvantages. However, as we have seen, compared to the perks that the technology provides, the number of cons are substantially lesser, insignificant, and completely avoidable simply by having a good and steady internet service. Besides, you can always choose a reputable and the best cloud phone system or VoIP provider like CallHippo to circumvent such limitations easily.