Reading Time:
5
Minutes
Published :
April 8, 2021
Building effective team collaboration is crucial to make remote work productive. As more teams move to remote, work-from-home, and flex-work, establishing infrastructure for remote communication and collaboration is more important than ever. Strong communication entails discussions, team building, time management, and visibility. 
To avoid things slipping through the cracks, it's important to establish guidelines, set preferences, and allow teams to form their own decisions. It's easy to purchase a tool; it's much harder to gain compliance from everyone. Consider asking teams to try out different communication channels, and then pick whichever they like best.
Your goal is to ensure your team remains engaged and accessible throughout the day. Here are a few ways to achieve this.
Four Important Collaboration Channels for Remote Teams
1) Project Management Tools
Project management platforms like Jira, Asana, Trello, Confluence, and Monday.com are quite popular and affordable. Many industries also get unique platforms built to their specific needs.
These tools are essential in remote work for many reasons, such as:
Keeping work items in one place.

Allowing for ticketing and tracking work. 

Improving collaboration. 

Enabling work assignment with visible traceability. 

Linking to calendars and deadlines.

Reducing overhead.
Of course, proper incorporation of these project management platforms in various internal processes is critical.
Tools like Asana and Trello feature Kanban boards, scheduling, and assignments. If you integrate these functions into your creation, delegation, and tracking, they can add significant value.
Most importantly, they make delegating and managing remote work possible, no matter the team hierarchy.
2) Video and Voice Calling
The ability to see and hear your colleagues is important for maintaining clear communication and increasing camaraderie. While email and chat are useful, they don't allow teams to see body language, which dramatically reduces support and collaboration.
Video conferencing tools like Demio, Google Hangouts, Zoom, or multi-purpose tools like Slack and Discord. Depending on your organization and your work structure, some might be more beneficial than others. 
For example, CallHippo delivers virtual calling complete with call tracking, call analytics, and other business tools. Slack integrates directly with popular tools like Google Documents and Jira so teams can share work right in the chat. Discord offers powerful chat and call management tools like Push to Talk, and multi-channel management. Microsoft Teams is another resourceful tool, especially for organizations that already use Office 365.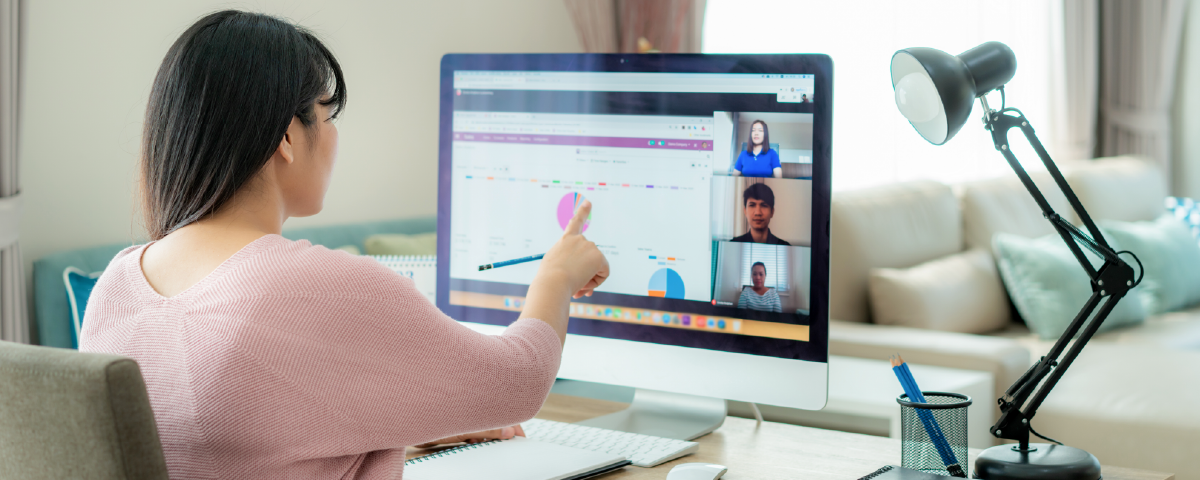 3) Chat Platforms
Chat is a necessity for most teams. You'd be hard pressed to maintain an eight-hour video call without it being a distraction. At the same time, ongoing communication is vital sudden occurrences, like questions or emergencies.
Using communication tools can improve the coordination among teammates and improve their overall efficiency. In many cases, a quick chat can save lot of time compared to following up through emails. You can use tools like Facebook Messenger, Slack, Discord, or even Viber to stay in touch with your team. Your choice will depend on personal preference, your work structure, and the type of support you need.
For example, Slack remains the most popular chat and calling solution for developers and technical workers. However, it has plenty to offer even for casual users, simply because you can easily organize information, mute specific channels, and integrate apps and data into the same place.
On the other hand, Viber and Facebook Messenger are widely used, so you wouldn't have to invest as much time into adoption and training. These options are a good fit for teams that don't need to communicate often during the day outside of phone calls and texts.
4) Time Management and Planning Apps
It's crucial for remote teams to share their time, availability, and other resources easily in a central place. This means being able to track time, book meetings, view schedules, and plan events with other team members.
Most organizations have multiple pathways for this. For example, Google Calendar and Microsoft Outlook are two of the most popular options for business meeting management. 
Programs like Wrike, TeamDeck, and Toggl are also prevalent, although each offers slightly different advantages. It's best to determine what you need for time management to choose an appropriate solution.
ALSO READ :
Making the Most of Remote Communication
A tool by itself will not get the job done unless implemented correctly. For remote teams, that usually means establishing practices for daily communication, holding regular video conferences, and aligning your channels and their purposes.
Here are some additional tips to help you communicate effectively with a remote team.
1. Hold Regular Calls
You can set up daily huddles or calls. These can be informal and should mostly focus on catching up, recapping what was done, and outlining goals for the day.
Hold weekly video calls. You don't necessarily have to make them about work. Consider using an hour of video calling for teambuilding and catching up once a week.
2. Set Boundaries
Define when it is okay and when it isn't to contact employees or colleagues. Tools like Slack can install apps such as Timey, which lets flex workers in different time zones schedule messaging to arrive at an appropriate time.
Establish guidelines for appropriate, respectful, and helpful communication. Some teams may require training or coaching to communicate properly over chat and email.
3. Focus on Ease of Use
Make it easy to use your tools. If teams have to go to one place to find processes and another to log them, they won't make it to that second step. If you use Confluence, Asana, or a similar work management platform, make sure reference material and other data is available in one place.
One example of this is work submission. If teams are supposed to track their work in a project management tool, it makes sense to handle review and submissions there, too, rather than moving it to email.
4. Give Your Teams a Choice
Let teams pick their communication tools when possible, with team-wide agreement. If most people prefer voice calls over video, it's counterproductive to force them into video calls. On the other hand, other teams might prefer seeing each other while talking. Giving teams the freedom to choose will go a long way towards establishing smooth and productive communication. 
Wrapping Up
The four collaboration channels we mentioned here aren't the only options for remote communication. Automation, work tracking, tool integration, and real-time collaboration (Office 365, Google Docs, Figma, Adobe Brackets, CodeShare, etc.) are also strong methods that enable remote coordination among teams. 
Remote teamwork is becoming the standard in today's world. Whether that manifests as some people working from home a few days a week, your entire team being remote, or outsourced remote workers, you can only expect the trend to grow.
Establishing clear guidelines on remote communication practices and policies, integrating strong communication into work policy, and leveraging the right communication tools will help keep your teams effective and efficient.