Date: November 15, 2022
In this digital era, imagining a day without using a communication asset or the telephonic system is daunting. They are not only leveraged for personal use but more so for businesses as well. Communication, a crucial part of any transaction, is also vital for the success of an enterprise. To achieve your goals and convey them to the people, you require not only good communication skills but also excellent equipment like hardware and software that can precisely pass on your message.
With continuous evolution in the telephonic systems since the past decade, they have now become the revolutionary tools for any business. Additionally, with the advent of VoIP technology-based virtual phone systems, has enabled enterprises across the globe manage business communication effectively and effortlessly. As opposed to traditional phone lines, the cloud telephony makes use of the internet to make and receive calls. 
Whether you are travelling in the US and want to place an overseas call or you're a US citizen and wish to dial in another country the use of virtual phone numbers has made international calling convenient and affordable. For example, if you want to make call to Singapore or any other country you can do it by using virtual Singapore phone number.
However, here, we will discuss how can make international calls from the US via traditional telephony and cloud telephony system.
Making international calls from the US with a conventional phone number
Let's comprehend this with an example!
Suppose that you want to place a call in Australia. With a traditional phone number, you will have to – 
Dial the US exit code i.e., 011

Then, dial the country code for Australia i.e., +61

Next, dial the area code of the region in Australia you want to call, and finally, dial the phone number
Undoubtedly, the traditional way of placing international calls is excellent, but it has some flaws. The foremost one is that it incurs extra international calling costs. Many a time, people reject the incoming call when they find a number from another country, thinking it might be a fraud call. This adversely affects business. To avoid such circumstances, consider using a VoIP phone system.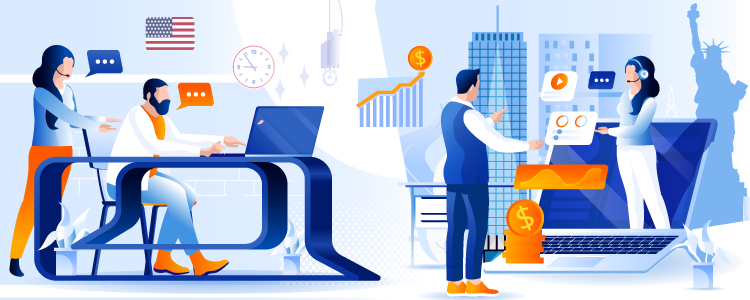 Making international calls from the US with a virtual phone number
If you live in the US, you can easily purchase a virtual phone number for the country you want to place calls.
For example, you run a business in the US while you have a substantial client base in Hong Kong. So, you can quickly get a Hong Kong virtual phone number from VoIP service providers like CallHippo. This number works as a local phone number for anyone receiving a call from this number in Hong Kong.
According to a report by Statista, there are 34 million US virtual number users in the united states. It is the highest number of users in the world.
So, how will you get your virtual phone number?
The best VoIP service providers like CallHippo offer local phone numbers, toll-free numbers, and mobile numbers for 50+ countries. With these numbers, you can place calls in more than 190 countries. Moreover, CallHippo is available on desktop as well as a mobile phone. Thus, you can easily access your telephony system even when on the go.
With CallHippo, you can set up your cloud telephony in 3 simple steps.
Sign up with CallHippo.

Traverse to the virtual phone number section, select the country you want to get the virtual number for, pick up the area code you like, and choose from the provided list of numbers.

After selecting the number, proceed to make the payment.
That's it! You are all set to make calls to the desired location.
Furthermore, the cloud telephony system for business brings along a lot of benefits. This includes:
You can use the virtual phone number on any communication device that supports CallHippo.

You can add multiple users to the same virtual phone number for a business or personal purposes.

You don't incur extra international calling charges.
If you think that this doesn't make a significant difference to you, do not worry. Providers like CallHippo offers a multitude of advanced calling features along with your virtual phone number.
VoIP Phone System Features
1. Compatible with Multiple Devices & Platforms
CallHippo numbers support Linux, Windows, Mac, Android, iPhone, and web-based devices. Thus, you no longer remain tied to your cell phone or desk phone. You can leverage its benefits from wherever you are.
Whether you are in the US or travelling abroad, you can leverage the benefits of your virtual phone number to the fullest with features like smart call forwarding. It lets you forward the incoming call to a registered number if you are unable to receive it.
Let's say you are on a flight or a place where there is low internet connectivity, and your clients, friends, or relatives are unable to reach you. How will your virtual number help in such a case? Well, functionality like Voicemail can help! It enables your callers to drop a message for you when you are out of reach. You can access these voicemails from anywhere and at any time.
4. Gives you a local presence
According to a study, 79% of customers will pick up the call if the number is local.
For instance, you bought an Argentina virtual phone number from CallHippo. When you place a call in Argentina using this number, the people receiving the call will find it local though you are in the US. Thus, they are more likely to pick up your call.
5. Transfer your Call
Call Transfer is an amazing feature that comes along with a virtual phone number. Instead of asking your customers to call from one number to another, redirect them to the right representative on the current call. It helps you deliver exceptional customer experience as well as look more professional.
6. Connect with your disparate team
With features like Team Collaboration, you can connect with your global teams on a single platform. It enables you to encourage teamwork and promote collaboration. Moreover, you can even use the metrics and smart integrations to determine their performance. CallHippo lets you integrate with HubSpot, Zoho, Slack, Groove, and many more platforms.
7. Ensure you make international calls from the US at the right time
You will be well aware of the fact that calling clients at a wrong time might cost your business. So, make sure that you place an international call at the right time.
GlobalConnect is an exclusive feature by CallHippo that lets you gauge your client's time zone. Simply hover the mouse on the number you want to call, and you will get to know the time, date, and time zone of the number you are calling. Besides, Global Connect also enables you to determine if the number is valid or not.
8. Save time while placing international calls
If you have more than one virtual phone number, make sure you place the call from the right number. For this, you can leverage the benefits of CallHippo's Auto-Switch feature. As soon as you enter the number you want to call, the system identifies the country code and automatically picks up the right dialing virtual phone number. This helps you save time in swapping between numbers.
If you are the one who requires making international calls from the US frequently, getting a virtual phone number will be immensely helpful.