HubSpot is one of the most popular software for inbound marketing, sales, and customer service. In fact, it is one of the most powerful software that has got over 100,000 customers across 120 countries. 
Besides, HubSpot's software does an exceptional job in collecting data from all your existing business systems and providing actionable insights. However, in order to do that, you will need to integrate your current applications with HubSpot. 
HubSpot supports over 500 applications, with several new ones joining each month. But the good part is that you don't need all of them to boost your return on investments (ROI): only a few good ones!
In this article, we will discuss the 20 best HubSpot integrations that can help you get the most out of your investments. If you are not using any of these software programs, you might want to reconsider your purchases. 
Best HubSpot Integrations 2022
Sales 
In this section, we will discuss third-party sales tools that you can integrate with HubSpot to increase conversions and your overall revenue.
1- CallHippo
CallHippo is a virtual phone system or VoIP provider that allows you to make and receive calls. Its voice AI helps analyze 100% of your calls to find moments that matter to your business within minutes. You can even use call tracking to analyze your campaign revenues and lower acquisition costs. 
With CallHippo, you can:
Get caller details and real-time report on-call status history.

Listen to calls in real-time and even after it has ended. 

Leverage the

power dialer

to increase your sales team's efficiency.

Use artificial intelligence to analyze calls and coach your sales representatives accordingly.
When integrated with HubSpot, CallHippo allows you to manage customer relationships, call leads directly from HubSpot, and automate workflows. 
Sync all your lead data into HubSpot, and the contacts will show up on the timeline for you to keep track of everything. Use the insights to boost your sales efficiency and deliver exceptional service to the customer.
2- Drift
Drift is a conversational sales and marketing platform that allows you to communicate with prospects (on your site) who are highly likely to convert. It also enables you to deliver personalized experiences across all your channels throughout the entire customer lifecycle. 
Drift integrates with three HubSpot features: CRM, marketing, and sales. Once integrated, you can sync your Drift's contact into HubSpot (and vice versa). You can also filter on any contact field, lists, or create a custom attribute. The chat data is automatically synced to your CRM for your sales representatives to take action later. 
Its connection health diagnostics screen helps keep track of how you are performing in terms of new contacts between both platforms. This helps determine how Drift and HubSpot are contributing to your bottom line. 
3- PandaDoc
PandaDoc is a document management and automation software that allows you to create, track, and sign proposals & contracts. You can create, send, and track documents by replicating your existing approval process to save time, look professional, and increase the chances of conversion. 
PandaDoc integrates with HubSpot Sales, enabling you to:
Build proposals and quotes with HubSpot.

Pull HubSpot data and products into your proposals and contracts.

Sign your contracts within HubSpot.

Track document progress.
To create a new contract, all you need to do is go to the contact record in HubSpot, choose the required template, and hit create.
PandaDoc also allows you to see if and when a prospect viewed your proposal. You can even check where they spend most of their time on the document. These insights can be used for refining contacts and closing deals. 
4- Zendesk Sell
Zendesk Sell is a sales CRM software that enhances pipeline visibility for sales teams, helps source leads, and improves internal collaboration. You can make calls, send emails, schedule meetings, and view deal history using a single platform, i.e., Zendesk Sell. 
Zendesk Sell integration with HubSpot provides you a seamless, automatic way to source leads that are highly likely to convert. You can even determine which sources generate the most opportunities and conversions (so you can focus more on these and prove ROI). 
HubSpot also sends leads to Zendesk once they have hit certain criteria (pre-set by you), so your sales representatives can engage immediately. Similarly, Zendesk will pass data to HubSpot to ensure customer data (and status) is up to date and accurate, enabling marketing teams to run targeted campaigns to boost your revenue. 
Marketing
In this section, we will discuss third-party marketing tools that you can integrate with HubSpot to improve your ROI. 
5- Seventh Sense
Seventh Sense is an AI-powered software program that helps find the best time to send emails to each recipient. It helps ensure that your subscribers receive emails at the optimal time, based on their previous interactions with your website or emails. 
Seventh Sense can help you:
Maximize the effectiveness and ROI of your email campaigns.

Improve email deliverability.

Shorten the sales cycle by sending the right email to the right person at the right time.

Empower your team with actionable insights on when individual customers engage with your organization.
When integrated with HubSpot, you can automatically create a personalized delivery time for each email you send from HubSpot Sales and HubSpot marketing. The tool even classifies each person's unique level of engagement with your email campaigns. 
6- Survey Monkey
Survey Monkey is the world's most popular online survey tool to gather insights and do market research. With Survey Monkey, you can get feedback from your customers and prospects in real-time and use them to make better decisions. 
By integrating Survey Monkey with HubSpot, you can segment email lists and create automated workflows based on survey responses to increase customer engagement. 
When someone fills in your survey, their responses are automatically synced with HubSpot. If the person is not on your HubSpot contact list, a new one will be created. 
7- Metadata
Metadata is an account-based marketing platform that empowers you to find, target, and engage with prospects who are highly likely to get converted. 
When integrated with HubSpot, Metadata allows you to create your ideal customer profile, identify target contacts, and then deliver personalized ads to them at scale to increase the ROI. 
With Metadata, you can create custom audience profiles for several ad channels, including Facebook and LinkedIn. The tool will then use AI to run multivariate tests of ads to drive inbound leads to HubSpot. It learns which ad combinations drive the most sales leads and optimizes your ad spend accordingly.
8- Quokka
Quokka is a retargeting platform that helps you reach people who have ignored your emails. It enables you to create a cross-channel approach to deliver the same message to increase the chances of conversion. 
When integrated with HubSpot, Quokka can:
Automatically detect email campaigns you sent from HubSpot.

Create custom audiences on ad networks like Google and Facebook.

Update the audience list every few hours to exclude people who opened your emails in the meantime.

Clean the list every 30 days to minimize your ad spend.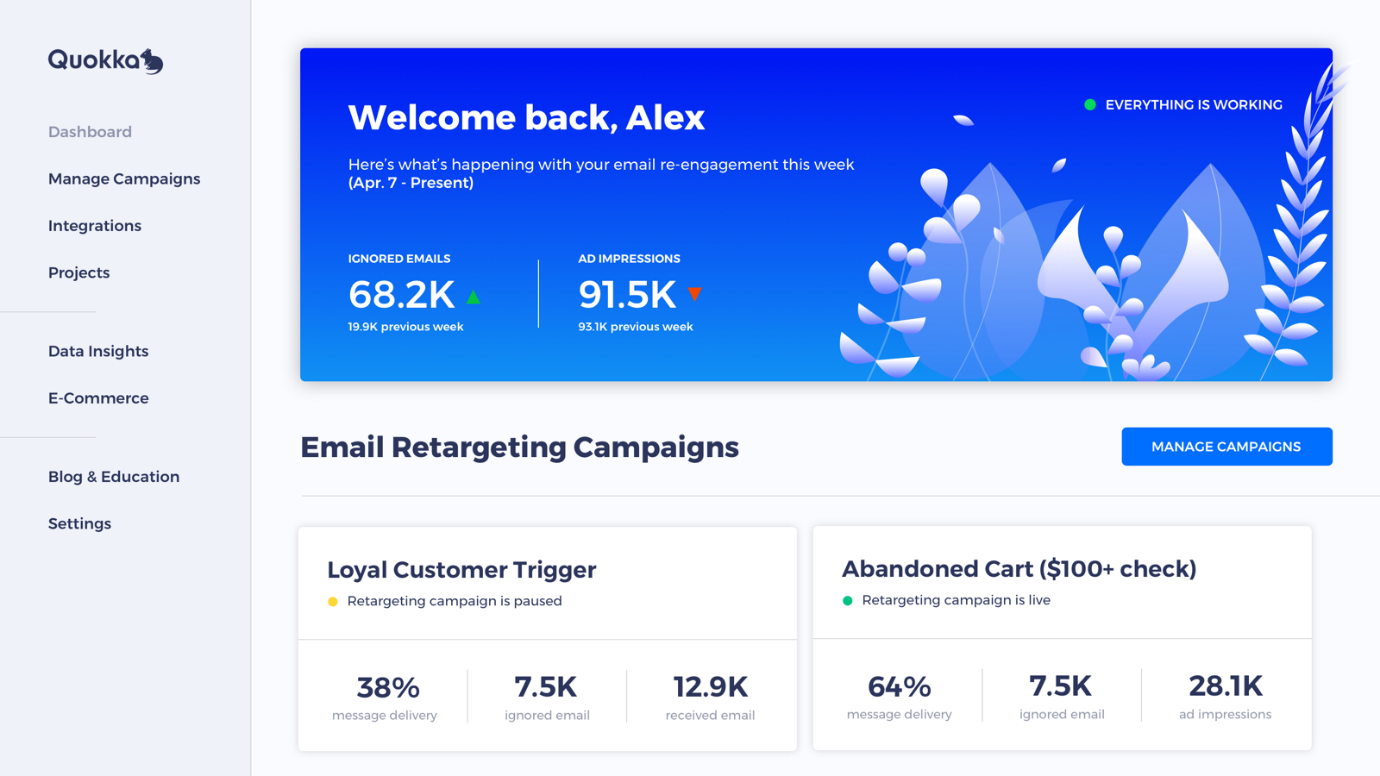 You can choose for which email campaigns you want to set retargeting messages, giving you full control of where you spend your marketing budget. 
Lead Generation
In this section, we will discuss third-party lead generation tools that you can integrate with HubSpot to get more leads. 
9- OptinMonster
OptinMonster is one of the most powerful lead generation tools out there. It uses Exit-Intent technology to show targeted messages and pop-ups right when a visitor is about to leave your website, thereby helping get more subscribers. 
You can create beautiful, high-converting opt-in forms to maximize lead generation. You can even use its analytics to test how different forms are performing. 
When you integrate OptinMonster with HubSpot, it will send all the lead details to the platform. You can then keep track of your leads using HubSpot Tracking Cookie. Its powerful segmentation and targeting engine enables you to display the right offer to the right people at the right time, thereby boosting conversions. 
10- Unbounce
Unbounce is a landing page builder that empowers you to create beautiful, professional, and high-converting pages without coding. Its AI feature (Smart Traffic) quickly analyzes your visitors' attributes and sends them the most relevant landing page, thereby boosting your conversions. 
Combining Unbounce and HubSpot gives you a full-fledged funnel for converting and nurturing leads. First, Unbounce sends lead details to HubSpot, which then enables you to create personalized email campaigns based on the customers' position in your sales cycle.
11- LinkedIn Sales Navigator
If you are in B2B, LinkedIn can be one of the best channels to generate leads. LinkedIn Sales Navigator helps you find, target, and engage with potential leads based on their job title, company, location, and more.
When you integrate LinkedIn Sales Navigator with HubSpot, you can: 
Send personalized InMail right from your contact record. 

View interests, mutual connections, and experiences.

Ask a mutual connection to introduce you to a contact.

Find other leads in the same company and add them to your contact list.

Get recommended leads and connections based on your HubSpot company records. 
Isn't that a great way to find leads without spending too much time on LinkedIn?
12- iCapture
iCapture is an intelligent lead capture tool for trade shows and events. If you organize events regularly, then iCapture can prove beneficial. It even helps your team segment and score leads, so you know which ones to prioritize. 
iCapture eliminates the need to carry business cards or lead scanners to the events. Besides, its advanced analytics help understand how successful your event was. 
When integrated with HubSpot, iCapture syncs leads automatically into your HubSpot account in real-time, thereby maximizing opportunities from events. You can then use HubSpot to send customized, relevant post-show communications to increase the chances of conversion.
Analytics
In this section, we will discuss third-party analytics tools that you can integrate with HubSpot to track and measure your performance.
13- Lucky Orange
Lucky Orange helps understand why your website conversion is low or high. You can find how many people are on your site and how they found you. It makes it easier for you to find what keywords, locations, referrers, and languages are driving traffic and behaviors on your site. 
When you integrate Lucky Orange with HubSpot, you can track and record every HubSpot contact's information on your website. These session recordings are automatically assigned to your contacts so you can quickly identify conversion opportunities. 
You can also generate heatmaps for any page in real-time to see where exactly your HubSpot contacts interacted. 
14- Databox
Databox is yet another great HubSpot integration. It is used by 70% of HubSpot's Platinum and Diamond partners. 
Databox pulls data from different platforms, including HubSpot, YouTube, Google, Facebook Advertising, Instagram, Twitter, and other sources, in just one click. 
By integrating Databox with HubSpot, you can track and report all your KPIs along with historic data. Get alerts and automated snapshots via email or Slack. Use hundreds of pre-built templates in HubSpot to show the ROI of your marketing efforts. 
You can even create your own custom dashboard to track the most important metrics to your business without any coding skills.
15- QuarterOne
QuarterOne is a sales forecasting software that helps create automated forecasts from HubSpot sales data within minutes. Use these insights to better understand your business's financial position and track your sales team's performance. 
When integrated with HubSpot, QuarterOne can help you:
Predict your future sales pipeline based on your team's ability to bring in and close deals. 

Generate accurate revenue forecasts.

Measure your team's performance based on the velocity they close deals. 

Track and compare performance against monthly targets.
16- Zoho Analytics
Zoho is one of the most popular software programs in the market. Zoho Analytics is a business intelligence and analytics software that allows you to analyze data, create stunning data visualizations, and discover actionable insights. 
HubSpot CRM, when combined with the power of Zoho Analytics, empowers you with deep sales analytical capabilities. It enables you to track your key sales performance metrics and optimize your sales processes for better results. 
With Zoho Analytics, you can merge your HubSpot CRM data with 100+ different data sources to create meaningful business reports. Besides, Zoho's AI-powered assistant helps you scroll through plenty of data and build powerful reports. 
Content Management
In this section, we will discuss third-party content management tools that you can integrate with HubSpot to get the most out of your content efforts.
17- StoryChief
StoryChief is an all-in-one tool to manage all your content marketing needs. It enables you to centralize your content publishing process and manage your content and social media from one platform. 
When integrated with HubSpot, StoryChief allows you to:
Publish to your HubSpot blog and share them on social media, newsletters, and other content hubs. 

Manage your content roadmap using a calendar.

Optimize your content for search engines and collaborate with your team. 

Encourage users to share your content via referral marketing. 

Invite writers and colleagues to write and review blog posts.
18- UpContent
UpContent is yet another great HubSpot integration that helps you build trust and deepen relationships with curated content. UpContent uses AI and machine learning to analyze millions of articles every month to help you develop the best content possible.
With UpContent and HubSpot, you can:
Improve your content strategy, including social media and email marketing. 

Provide a frictionless experience to your team by recommending, reviewing, and approving curated articles to ensure content relevancy. 

Minimize the time spent hunting for searching the best content for your team. 

Paste the article URLs in HubSpot to create and schedule social media posts. 
19- Canva
Canva is a content designing platform that empowers you to create unique images and social media posts. It has thousands of templates that you can use to create professional pictures within minutes. 
By integrating Canva with HubSpot, you can stop hopping between tools every time you need to design new things. You can create images within HubSpot and add them directly into your content workflow. 
Besides, you can create images once, and use them across your ads, emails, social media posts, and blogs. 
20- Atomic Reach
Atomic Reach is an artificial intelligence-powered content optimization platform. It helps eliminate the guesswork from your content marketing strategy and rewrites your content in the style your audience prefers. 
When integrated with HubSpot, Atomic AI analyzes your content and data within HubSpot and provides insights into creating blogs, emails, ads, landing pages, and product descriptions. 
It uses your existing customer segments and personas to create content profiles that ensure your copy contains words that deliver the ideal readability and emotional tone for your audience. 
Wrapping
HubSpot integration makes it easier for you to manage your business processes, including sales, marketing, content management, and lead generation. You can even track your performance by integrating analytics tools within HubSpot. The 20 HubSpot integrations mentioned above will help you get the most out of your investments and efforts. 
Have you tried any of these HubSpot integrations? Would you like to add anything to this list? Let us know in the comments.