Auto Dialer Software for Call Centers
Help Your Call Center Save Time On Outbound Calls Without Interruption
What Is A Auto Dialer?
Simply put, an auto dialer is a cloud based software that automatically dials a phone number and initiates a call as soon as the current phone call is over. When the customer support agent or operator concludes the ongoing call, this telephone technology will dial the next phone numbers on the contact list or in the queue. This is where you can bid adieu to manual dialing and the errors that follow with it.
The ultimate goal of the auto dialer system is to reduce idle time and boost productivity. Besides auto dialing, the technology enables workforce management, quality management and streamlines processes.
Let's now look at the different types of dialers.
What Are The Different Types Of Dialers?
There are many different types of dialers, but they all have something in common: they're designed to make reaching your customers easier. We have jotted down five types of dialers to help you evaluate the right one for your purpose.
Auto Dialers
Auto dialer is software that automatically dials the phone number using a list of phone numbers. It can be used to make sales calls, appointment settings or any other call where you want to make many calls in a short period. The top auto dialer software will rightly empower your business as they allow you to spend more time doing what you love and less time on the phone.
Auto-dialers are especially useful for appointment settings because they allow you to make hundreds of calls in just a few minutes without manually dialing each number. All in all, it helps you set up workflow automation in contact centers. To start with it, leveraging free auto dialer software is a great idea.
Power Dialers
Power dialers stick to the 'one call at a time' principle. It will only dial the next number after the previous call has been completed. Overall, it emphasizes personal interactions as much as efficiency. This strategy is appropriate for firms with a low call volume as well as for businesses that prioritize customer experience and quality over productivity.
However, one significant disadvantage of power dialer software is that sales agents will have to wait between calls or when customers do not pick up the phone, resulting in increased idle time.
Preview Dialers
Preview Dialer is a great tool to help you dial calls quicker and more efficiently.
Preview dialing software helps agents prepare for their next call. It allows them to check out the following number before finishing up with the previous one, so they'll be well-prepared before dialing the next call. In addition, there are no hassles of dialing calls manually, meaning that agents can spend more time on each call.
Progressive Dialers
A progressive dialer helps set up an auto-dial system widely used in outbound call centers. Hence, it automates outbound phone calls so call center agents don't have to dial each number from the contact list manually. They are the middle ground between manual dialing and predictive dialing solutions.
It comprises several technologies that allow for automatic calling. These include interactive voice response, automatic call distribution (ACD) systems, and more. The key idea behind these solutions is to provide an efficient way for call center agents to make outbound calls without manually dialing each number from their contact list.
Predictive Dialers
Predictive dialers are the market's most advanced type of outbound calling system. It usutilizes machine learning to maximize efficiency and predicts when human agents will be available to make the next call.
But what sets them apart from other automatic dialers is their ability to employ algorithms to forecast how long it will take for a call to be answered.
Unlike auto-dialers, this outbound calling approach ensures that your representatives only spend time on calls that are answered by customers and not on calls that go unanswered, resulting in far less idle time or time waste. However, although it increases productivity, it also increases the risk of losing leads that pick up the call when no agent is available to attend them.
So these are the fundamentals of the dialers currently available. However, automatic dialer and predictive dialers are the two most sought-after call center dialers.
Let's take a quick look at how auto dialers and predictive dialers differ in terms of productivity, compliance, working, and other criteria.
Auto Dialer Vs. Predictive Dialer: 5 Key Differences
The following are some of the critical differences between auto dialer software and predictive dialing software. Let's take a brief look at it.
A. Working
The first significant difference between the two dialers is how they work. On the one hand, whereas automated dialer software make calls only after the ongoing call is completed, a predictive dialer calls multiple numbers from the database even when the contact center agents are occupied on calls by determining various parameters such as possible agent availability and average call duration.
B. Call Quality
In the case of the predictive dialer, the agent is connected to prospects only after they answer the calls, which means that customers are sometimes placed on hold and served with Music On Hold until the agent answers the call. In the case of auto dialers, an agent is available on calls prior to making the call to the user, ensuring that customers do not have to wait or listen to Music On Hold commercials, resulting in higher call quality and customer satisfaction.
C. Productivity
When it comes to productivity, the predictive dialer clearly outperforms auto dialers since this technique prioritizes agents' time over call quality. As a result, a predictive dialer reduces idle time and increases agent efficiency. On the other hand, auto dialer software, which prioritize call quality, are slightly less efficient than the predictive technique because this approach dials another number only after the current call concludes.
D. Voicemail Support
According to a survey, more than 60% of outbound sales calls are routed to voicemail! This means that you must employ outbound technology or a call center software that allows you to leave a voicemail message. Fortunately, auto dialer software have the option of dropping a voicemail message which a predictive dialer does not have. In the case of the predictive dialer approach, all calls that go unanswered or are routed to the answering machine are disconnected.
E. Compliance
The 5th major distinction between the auto dialer and the predictive dialer is compliance. Customer support is governed by stringent rules and regulations in many nations.
For example, in the United States, the dropped-call rate (DCR) must be less than 3%. That is, while using a predictive dialer, you must be careful that the dropped ratio does not exceed 3% and remains within the limit to avoid any action from the government agency. In the case of auto dialers, you do not have to be worried about the dropped-call rate (DCR).
So those are the 5 principal distinctions between the auto dialer and the predictive dialer. Except for agents' productivity, auto dialer has outperformed predictive dialer in all three factors–call quality, voicemail support, and compliance making it the best outbound dialer for businesses that emphasizes quality.
Let's now take a look at behind the scenes (BTS) of a auto dialer to see how the software works.
How Does The Automatic Dialer Work?
The functioning of the auto dialer is quite simple and does not necessitate the use of any algorithm or machine language. As soon as the current conversation concludes, the system immediately dials the next contact in the contact database's queue. If the phoned number is busy, unreachable, or disconnected, it dials the next available phone numbers in the queue.
When a recipient answers the phone, the auto dialer connects them to one of your sales agents right away.
(source:ozonetel.com)
So by now, we've studied auto dialers, how they function, the distinction between auto dialer and predictive dialer, and other related topics. It is now time to look at some of the major benefits of auto dialers, which are the reasons for their widespread acceptance and growing popularity in the customer support industry.
5 Key Benefits of Auto Dialer Software
Following are the 5 major benefits of auto dialer that explain their popularity. Let's take a quick look at each one.
1. Time-Saving & Quick Approach
The first significant advantage of using auto dialing is that it saves time and is a quick approach. Contact center agents and members of sales teams will no longer have to wait or dial numbers manually, which will speed up the process and increase efficiency. Moreover, since the numbers are dialed automatically from the database, agents will not have to spend time on picking which number to dial next.
2. Improve Agent Productivity
Since the numbers are dialed automatically by machine, sales agents can focus on more productive tasks such as taking notes between calls so that the future agent can quickly and easily understand the issue or scheduling callbacks in case the prospect does not answer the call or is busy at the time. In a nutshell, a best auto dialer software empowers call center agents to focus on more critical tasks and thereby boosts performance.
(source:callcenterhosting.com)
3. Boosts Sales Conversion
Auto dialer service can play a major role in increasing sales. Businesses can integrate auto dialing software with third-party technologies like salesforce or CRM software to streamline and automate various operations, save time, and improve performance. For example, in addition to giving context for every call to sales representatives, the auto dialer will automatically detect numbers from prospects' websites and add them to the calling queue.
4. Voicemail Assistance
Voicemail assistance is a critical feature that auto dialers provide but other dialers, such as predictive dialer or smart dialer, do not. The voicemail feature will allow agents of sales teams to leave voicemail messages if they cannot reach prospects, preventing calls from turning into unsuccessful calls and wasting businesses' time and resources. Customers can play that voicemail call recording later to get information.
(source:shutterstock.com)
5. Better Lead Management
When you use a auto dialer, you drastically lower your chances of missing out on leads. For example, contact center agents will always be on the other end of the line when prospects pick up the call, reducing the chances of a call drop. In addition, if the agent is unable to contact the potential customers, he/she may leave a voicemail message and schedule a callback, ensuring that they do not lose the leads.
So those are the 5 major benefits of using auto dialers. As you can see, it clearly outperforms its peer technology– predictive dialing, in several ways. Let's now look at how to set up the auto dialer.
What Are The Requirements To Use The Auto Dialer System?
The majority of auto dialer for call centers, including CallHippo, run in a web browser and do not require any additional infrastructure to operate. Moreover, it can be accessed from both the office and the home. To use a auto dialer, you will need three things:
A. Computer with a web browser
B. Decent internet connection
C. A headset
These are the 3 fundamental requirements for using the auto dialer. However, if necessary, you can link additional third-party apps such as CRM and others to maximize the outcomes.
So we now know almost everything about auto dialers, including their types, functioning, benefits, and the distinction between the auto and predictive dialer, among other things. The only important thing that remains to be learned is how to set up a auto dialer. Let's learn this process step-by-step in the following section.
The Bottom Line:
A auto dialer is one of the must-have features or an outbound technology that every VoIP should have and every contact center requires. This automated telephone technology will dial the number for you, save your agents time, improve efficiency, and decrease idle time. Moreover, it will also allow you to leave a voicemail and schedule a call back if you cannot contact the prospect on the first attempt.
Is auto dialer legal?
Yes, auto dialer is absolutely legal but only if you follow the Federal Communication Commission or TCPA and state regulations.
What exactly does an auto dialer do?
An auto dialer (automatic dialer) is an outbound call center solution that automatically dials the phone numbers on a list. When the call is answered, the auto-dialer either connects the call to the agent or plays the prerecorded message. The auto dialer ensures that only connected calls are transferred to the agent, improving the call-connect ratio.
How much does an auto dialer cost?
The cost of an auto dialer software varies from provider to provider. The cost is determined by various factors, including integrations, APIs, data privacy, customer support, scalability, etc. Furthermore, some platforms such as CallHippo provide a free auto dialer as part of their business communication system.
How do I set up an auto dialer?
Most automatic dialers have a nearly identical setup process. First, you import the customer phone numbers that you want to dial or are part of your campaign into the auto dialer software. Then, press the dial. This will begin dialing one number at a time for each agent.
What factors should you consider when selecting an auto dialer?
Some of the critical factors to consider when selecting the right auto dialer software are Third-party software integrations, APIs, data privacy, platform scalability, customer support, and others. Above all, always select an automatic dialer capable of meeting your business objectives.
Top 3 Call Monitoring Software
1. CallHippo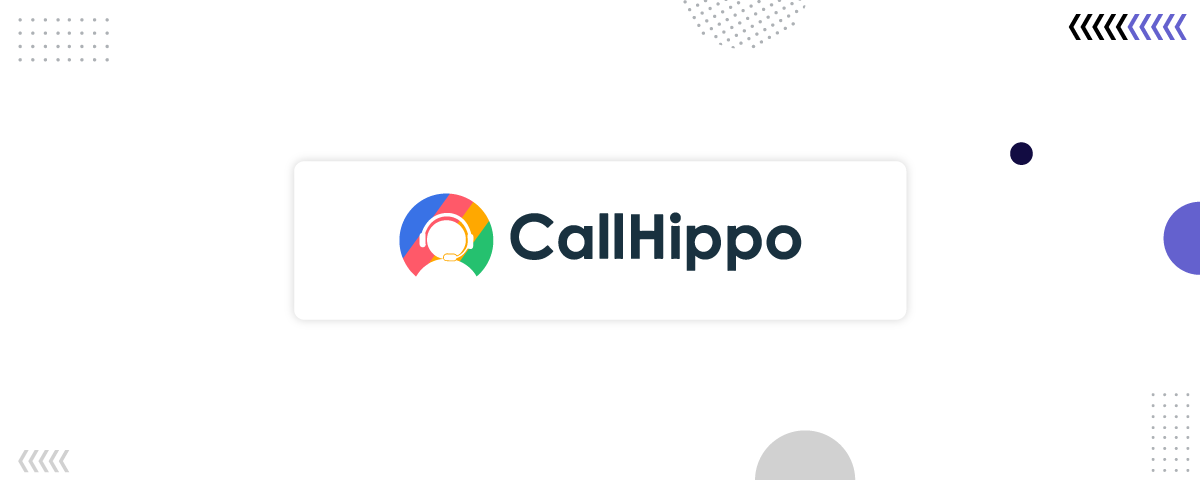 CallHippo is one of the best VoIP service providers with robust call monitoring features. Whether you want to monitor calls in real time or barge into a live call, CallHippo allows you to do it all. This can help you improve your agent's performance while enhancing the customer experience. 
Features of CallHippo
Live call monitoring

Call whispering

Call barging

Call recording

Voicemail

Skill-based call routing

Feedback for calls

Intelligent reports and analytics

Automatic machine detection
CallHippo Pros
Proactive customer support

In-depth analytics to help you understand your customers

Helps avoid FDCPA violations and the use of abusive language from either party

Offers better value for money than other call monitoring systems on this list
CallHippo Cons
The mobile app needs to be more robust

The user interface could be improved

Sometimes connections during calls get lagged 

Setting up voicemail is quite difficult
CallHippo Pricing
CallHippo has four plans.
Basic: $0 per month

Bronze: $16 per user per month

Silver: $24 per user per month

Platinum: $40 per user per month
2. TalkDesk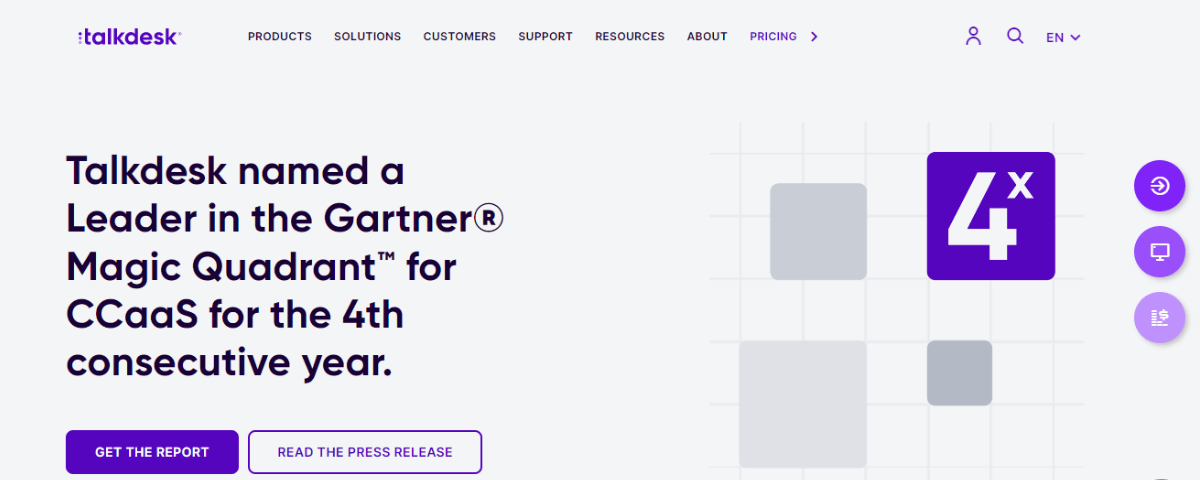 TalkDesk is another leading call monitoring software that empowers you to deliver a better customer experience. It allows you to monitor and check the quality of calls of all your support agents. Managers can see the ongoing calls from their "Live Calls" dashboard and barge in on them if required. 
Features of TalkDesk
Voice engagement

Studio and routing

Real-time dashboards

Knowledge management

Business intelligence

Virtual agent

AI trainer

Quality management

Screen recording

Customer experience analytics
TalkDesk Pros
Robust AI features like agent assistance and virtual agent

Even the basic plan comes with comprehensive voice capabilities

Supports a wide range of third-party integrations

Provides agents with step-by-step guidance via Smart Scripts
TalkDesk Cons
The mobile app is only available on premium plans.

AI-powered features are way too advanced for small and mid-range businesses.

It is more expensive than other call monitoring software on this list.

Customers report call drops, and quality issues are quite common.
TalkDesk Pricing
TalkDesk has four plans. 
CX Cloud Essentials:

$75 per user per month

CX Cloud Elevate:

$95 per user per month

CX Cloud Elite:

$125 per user per month

Experience Clouds:

Quote on request
3. Zoho Desk

Zoho Desk is a powerful phone system that comes with call monitoring capabilities. It has extensive ticket management features that are perfect for businesses receiving a high volume of daily queries. The dashboard provides a comprehensive view of agent activity, including response rates, ticket traffic, and customer sentiments.

Features of Zoho Desk
Agent collision detection

Contextual AI

Response editor

Omnichannel communication management

Sentiment analysis

Embeddable self-service

Work modes

Custom workflows
Zoho Desk Pros
Integrates seamlessly with other Zoho products

Affordable per-user pricing

Comes with a 15-day free trial to test the product

Robust analytics and reporting
Zoho Desk Cons
Complex to set up and customize

Does not have a desktop application

Has a high learning curve

Lack of customization options in the lower subscription tiers
Zoho Desk Pricing
Zoho Desk has three plans. 
Express

: $7 per user per month

Standard

: $12 per user per month

Professional

: $20 per user per month
Enterprise: $35 per user per month