Call Analytics
Renovate and assess the efficiency of your existing marketing policy with CallHippo's bespoke Call Analytics feature. Track records on call volume, call duration, routing of incoming and outbound calls all with the click of a button! Sign up now.
Optimize Your Sales Process & Make Data Driven Strategies With Call Analytics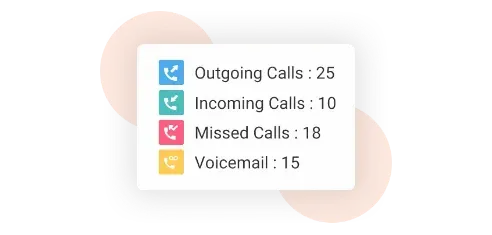 What Is Call Analytics software?
Call analytics uses the power of artificial intelligence to capture data from phone calls in contact centers. Apart from being able to find out callers' details like phone number, name, and the advertising source that drove the call to the contact center, call analytics also helps identify if the caller was a genuine lead. It also helps advertisers understand the product or service their prospects need and if they were converted to customers by the end of the call.
Call analytics software is extensively used by marketing teams to find out what prospects need and expect. The insights received from analytics also help improve the performance of agents and find out their shortcomings. If utilized correctly, call analytics can help in improving the effectiveness of ad campaigns and improving conversation rates. Since analytics identifies both the positive and negative aspects of a call, companies can use the insights received to target prospects with ads based on the contents of their interactions.
What's So Great About Call Analytics?
Well, to cut a long story short, phone-call analytics lets you govern a lot of stuff about your marketing policy. It determines if it is working and if your clienteles like your service. It concludes if your workforces are managing things the way they should.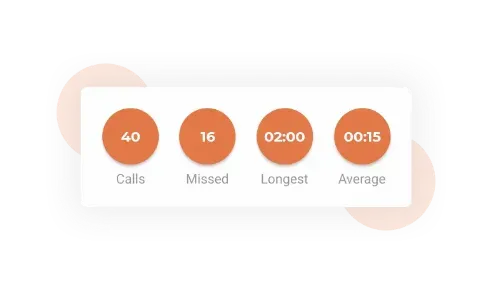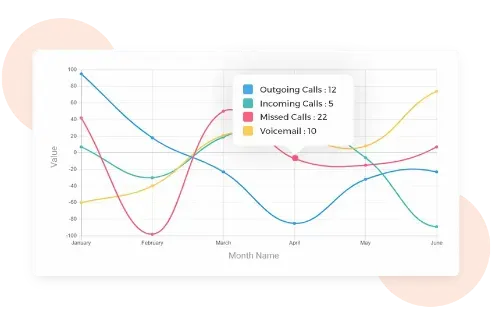 What are the potential benefits?
Call analytics technology lets you recognize sources of incoming calls that your company acquires.
The broader view offered by a cloud-based speech analytics package sanctions for better-quality and precise insights into client behaviors.
With cloud-based speech analytics, it is probable for companies to upsurge or decline levels of usage as needed.
Phone call tracking enables making more ingenious assessments for real-time phone tracking dashboards.
Prospective customers who call in response to your marketing and sales determinations must be in emphasis to conduct greater sales. This can be done by call analytics. To know more about the benefits check out our detail guide on call analytics and its benefits.
How Call Analytics Software work ?
Call analytics software works by assigning traceable phone numbers to your individual marketing channels. These numbers help capture various details about callers as soon as a call takes place. This includes their names, contact numbers, geographic location, and how they were convinced to make the call. The software also analyses the conversations in the call using speech-to-text software, which helps identify the words spoken. The transcribed conversation is then analyzed by AI to find out the following:
What kind of products/services do callers need?
What is their reason behind using a service or product?
What was the outcome of the call?
The data derived from call analytics is converted into reports using software. Advertisement teams utilize the data to analyze trends, measure performance and improve their services based on the needs of their prospects. The data derived can be used to personalize digital ads for users and improve customer relationships through integrations with CRM tools. The data accumulated can help firms make more conversions at lower costs and improve their training.
Call analytics not only tracks phone conversations but also monitors interactions via social media, emails, and other support channels. This not only helps improve the performance of all communication channels of a firm but also aids in the acquisition of more data that can be used to improve customer experience, decision making, and demand forecasting. Call analytics solutions often work in tandem with leading ad platforms, martech tools, CRM solutions, and contact center tools to offer a unified interface for gaining insights and improving marketing efforts.
Top 3 Call Monitoring Software
1. CallHippo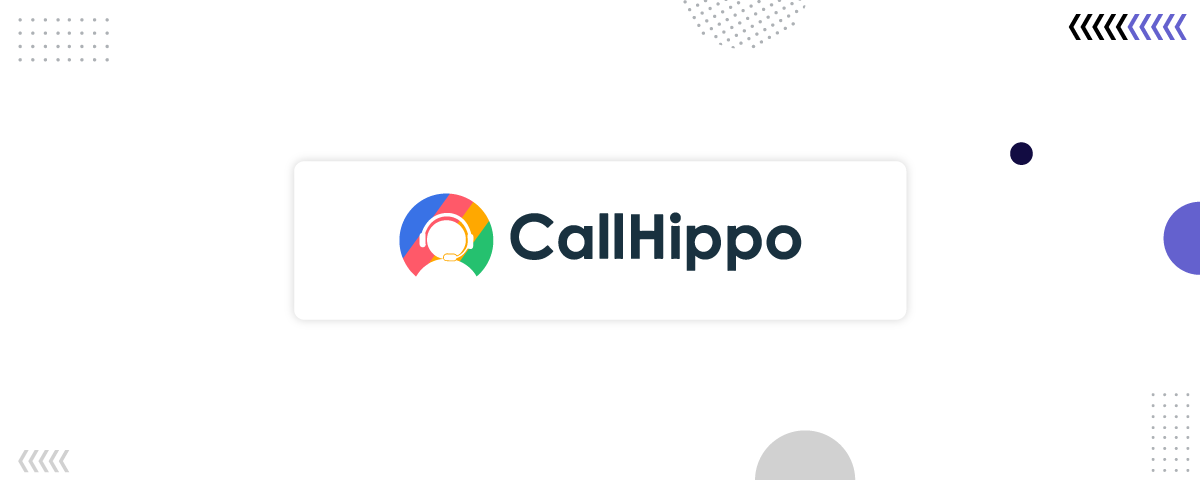 CallHippo is one of the best VoIP service providers with robust call monitoring features. Whether you want to monitor calls in real time or barge into a live call, CallHippo allows you to do it all. This can help you improve your agent's performance while enhancing the customer experience. 
Features of CallHippo
Live call monitoring

Call whispering

Call barging

Call recording

Voicemail

Skill-based call routing

Feedback for calls

Intelligent reports and analytics

Automatic machine detection
CallHippo Pros
Proactive customer support

In-depth analytics to help you understand your customers

Helps avoid FDCPA violations and the use of abusive language from either party

Offers better value for money than other call monitoring systems on this list
CallHippo Cons
The mobile app needs to be more robust

The user interface could be improved

Sometimes connections during calls get lagged 

Setting up voicemail is quite difficult
CallHippo Pricing
CallHippo has four plans.
Basic: $0 per month

Bronze: $16 per user per month

Silver: $24 per user per month

Platinum: $40 per user per month
2. TalkDesk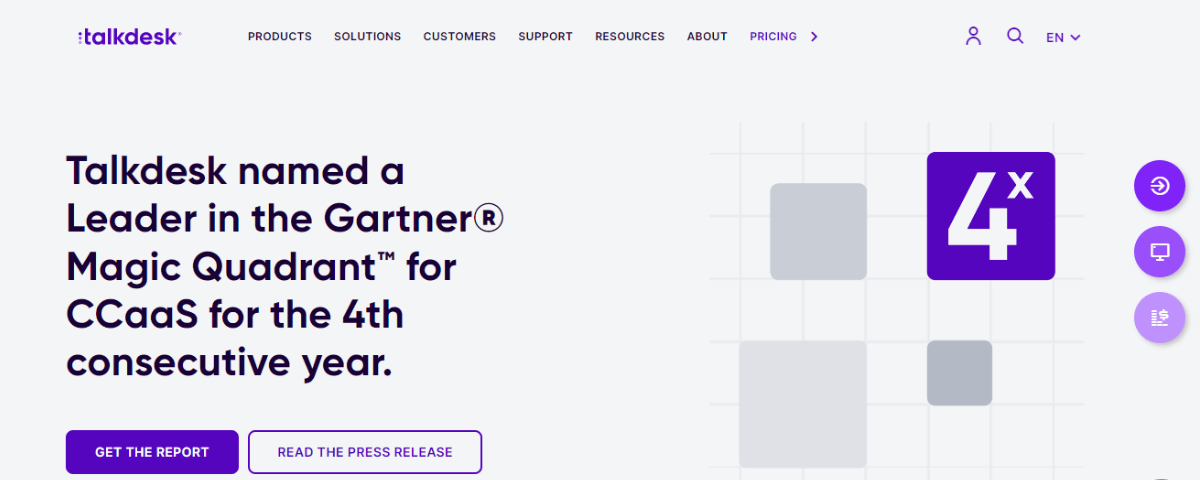 TalkDesk is another leading call monitoring software that empowers you to deliver a better customer experience. It allows you to monitor and check the quality of calls of all your support agents. Managers can see the ongoing calls from their "Live Calls" dashboard and barge in on them if required. 
Features of TalkDesk
Voice engagement

Studio and routing

Real-time dashboards

Knowledge management

Business intelligence

Virtual agent

AI trainer

Quality management

Screen recording

Customer experience analytics
TalkDesk Pros
Robust AI features like agent assistance and virtual agent

Even the basic plan comes with comprehensive voice capabilities

Supports a wide range of third-party integrations

Provides agents with step-by-step guidance via Smart Scripts
TalkDesk Cons
The mobile app is only available on premium plans.

AI-powered features are way too advanced for small and mid-range businesses.

It is more expensive than other call monitoring software on this list.

Customers report call drops, and quality issues are quite common.
TalkDesk Pricing
TalkDesk has four plans. 
CX Cloud Essentials:

$75 per user per month

CX Cloud Elevate:

$95 per user per month

CX Cloud Elite:

$125 per user per month

Experience Clouds:

Quote on request
3. Zoho Desk

Zoho Desk is a powerful phone system that comes with call monitoring capabilities. It has extensive ticket management features that are perfect for businesses receiving a high volume of daily queries. The dashboard provides a comprehensive view of agent activity, including response rates, ticket traffic, and customer sentiments.

Features of Zoho Desk
Agent collision detection

Contextual AI

Response editor

Omnichannel communication management

Sentiment analysis

Embeddable self-service

Work modes

Custom workflows
Zoho Desk Pros
Integrates seamlessly with other Zoho products

Affordable per-user pricing

Comes with a 15-day free trial to test the product

Robust analytics and reporting
Zoho Desk Cons
Complex to set up and customize

Does not have a desktop application

Has a high learning curve

Lack of customization options in the lower subscription tiers
Zoho Desk Pricing
Zoho Desk has three plans. 
Express

: $7 per user per month

Standard

: $12 per user per month

Professional

: $20 per user per month
Enterprise: $35 per user per month
Frequently Asked Question
How can call analytics help your business?
Call analytics is a must-have business tool that can improve bottom-line results by measuring important call metrics and identifying trends. It helps marketers understand customer requirements better to improve their product and service offerings and improve service quality.
What industries should use call analytics solutions?
Call analytics solutions are helpful for any industry that relies on inbound calls for operations. Some industries that frequently use call analytics include B2B marketing, e-commerce, financial services, healthcare, automotive, and tourism.
What data can call analytics capture?
Call analytics can provide real-time business insights and track metrics such as:
Campaign, keyword, advert, or webpage that led to a call
Day and time of the call
Call duration
Caller's name and phone number
Monitor if the call was answered or went to voicemail
Call abandonment rate