Home » Call Center Softwares
Best Call Center Software for Your Business in 2022
With CallHippo's call center software, get access to the most flexible software and enjoy unparalleled efficiency with 99.5% uptime.
The Best 12 Call Center Software for 2022
1. Vonage
Vonage is one of the best call center software companies for businesses such as hospitality and travel, logistics and transportation, retail, real estate, marketing, law firms, insurance, finance, and accounting.
It provides robust functionality to virtual teams, call centers, and branch offices.
Multiple advanced call features are offered, such as virtual receptionist, call monitoring, customizable call routing, call recordings, video conferencing, and traffic prioritization.
The system also allows you to set up multiple Virtual Receptionists and personalize them to handle calls after hours, during lunch, or on holidays.
The system has an occasional latency issue. Call quality should be improved to avoid disturbances.
Some very basic features are missing from the standard plan.
Vonage call center software provides several custom pricing plans for each product, including business unified communication and call centers. To get a quote, contact their sales team.
2. Nextiva
Nextiva is a simple-to-use and the best contact center software that can be installed and used on both your phone and your home computer.
The application allows you to interact and communicate with your employees, partners, and customers through different channels, including phone calls, emails, chats, conferences, and messages.
Nextiva's suite of advanced features enables customer support teams to automate repetitive communication processes and instead focus on consumer engagement.
With virtual workspaces, video conferencing, mobile apps, and feature-rich cloud PBX all in one system, Nextiva call center tracking software gives small businesses and organizations a competitive advantage.
Although the system integrates with third-party services, it does not integrate as thoroughly as some other VOIP providers.
The system UI can be a bit confusing for some of the users.
Nextiva call center software's primary offerings are Business Communication and call center. Both of these products are available in a number of versions based on the number of users and services you choose.
3. Dialpad
With Dialpad, you can quickly port your business phone number from your current provider to your virtual phone service provider.
Dialpad has an easy-to-use interface that allows you to personalize your phone system to meet your specific business requirements.
Dialpad contact center software integrates with popular business technologies such as Google Workspace, Microsoft 365, Salesforce, and others, allowing you to build a comprehensive business phone system.
This call center management software also has a call switching feature that allows users to seamlessly switch calls from a desktop to a smartphone or tablet or from one carrier to another.
Dialpad charges an additional $15 per user each month if you want to host video conferences with more than 10 participants.
The system has a poor user interface and poor interoperability with other apps.
Dialpad contact center software's primary offerings include business communication systems, customer engagement services, and platform solutions. All of these products have different pricing options based on the number of users and services you select. To find out more, visit the website.
4. RingCentral
RingCentral call center system provides access to a variety of pre-installed features such as call handling, BYOD (bring your own device), text messages, fax, voice calls, recording, and so on.
It also allows integration with a wide range of well-known business tools and services, including Salesforce, Zendesk, Google, Dropbox, and others.
RingCentral is relatively simple to configure and can be used as both a call center and a business communication app.
The call center software is extensively guarded with multiple layers of security, including bi-coastal Tier 1 data centers for cloud hosting, physical and biometric security, system hardening, 24/7 monitoring, and failover technologies.
The Glip application's team chat interface isn't as smooth as other chat interfaces. For example, it does not show when team members have read a message.
You cannot customize the conference call greeting message in the current version.
RingCentral–one of the best call center software solutions in the market, has three products to offer– RingCentral MVP, RingCentral Video, and RingCentral call center. Each product has different pricing plans based on the services you select and the number of users. To get a quote, contact the RingCentral sales team.
5. Five9
Five9 call center solution provider enables agents to be more effective on the phone, allowing them to sell more and provide better service.
The system enables you to make data-driven decisions to accelerate your business by leveraging AI, analytics, business intelligence, and real-time reporting capabilities.
Five9 offers robust pre-built integrations with popular CRM solutions, including Salesforce, Oracle, Microsoft, Zendesk, NetSuite, and Velocify, to help agents provide better service.
The system's Intelligent Routing function ensures that every call is routed to the appropriate resource at the right time, every time.
The wide number of functions that this call center software offers eventually makes the UI a little confusing.
The system's reliability can be improved further.
Five9 has four different pricing plans to choose from– Ultimate, Optimum, Premium, and Core. Every plan comprises its own set of features and functionalities. Contact the Five9 sales team to get a customized quote.
6. Google Voice
A free of cost & flexible business phone service that lets you initiate calls by just typing any contact name or number. It makes phone numbers on websites callable via Google Voice by just clicking on them.
Equipped with a free US-based number, voicemail service, call recording feature, and more, it makes for an apt choice for smartphone users and biz holders using devices that support Google products.
Even though this call center management system has fewer options when compared to other call center apps, it nevertheless proves to be a cool option for smooth communication between business owners and consumers.
7. Grasshopper
A good choice for those who need a business VoIP system for making calls on the go, Grasshopper doesn't disappoint! Amongst a market flooded by call center software solutions providing call center apps, Grasshopper has managed to carve a niche for itself. 
With an extremely easy setup and lack of any special device upgradations (yes, you read that right!), this one's a piece of cake. Take your pick between Grasshopper or Grasshopper Connect based on your business needs and download the application on your device. You may then start calling or texting right away.
No credit card? No issue! Try using Grasshopper call center software for free for the first 7 days and then if you wish to continue, you may choose from the following paid plans; Grasshopper Solo ($26 with annual contract), Grasshopper Partner ($44 with annual contract), Grasshopper Small Business  ($80 with annual contract), and Grasshopper Connect ($35 with annual contract).
8. CallHippo
CallHippo is the leading call center solution provider for businesses of all sizes. Whether you want to deliver a smooth customer experience or improve your agents' sales capabilities, CallHippo has specific features for each of your goals.
Provides different numbers for different countries and departments. Seamless collaboration with team members. Smart call forwarding ensures there are no missed calls by routing the call to your cell phone
CallHippo contact center software integrates with 100+ apps, including Shopify, Zapier, Freshdesk, and HubSpot. Its IVR (Interactive Voice Response) system allows you to share important and relevant messages with the customers while they wait in the queue
9. 8×8
Formerly known as Virtual Office, 8×8 call center management software has an excellent record for connectivity. It offers one solution for voice, video, and chat across devices, making it easier for you to handle customer queries. 8×8 combines call recording, call conferencing, and self-attendance features to meet the needs of small and medium businesses with a business phone system.
This contact center software allows you to forward your office calls to your cell phone. Resolve customer queries with inter-company chat. Collaborate with your team with web, video, and audio conferencing.
Equip your teams with all the tools they need to handle inbound and outbound calls like caller ID, blocking, and parking.
10. Bitrix24
Bitrix24 is an all-in-one call center system provider. With Bitrix24, you will get a phone system, messengers for social networks, and free live chat for your website. It also has in-built CRM and marketing automation tools.
Bitrix24 call center software is available in both cloud and on-premise with source code access. You can customize the software as you find necessary.
API and REST API are available so you can create your own integrations. Also, you can create quotes, invoices and do email marketing from the platform itself.
11. Verizon
Verizon contact center software lets businesses manage calls with features like call forwarding, voicemail, on-hold music, and mobile capabilities. However, it is one of the most expensive call center programs on this list.
It has a virtual assistant that allows customers to self-select who they need to talk to. Automatically forwards calls to a pre-set number to help you maintain service during a power outage.
This call center management system lets you seamlessly transfer calls between your IP and mobile phones.
12. Avoxi
Avoxi call center software helps small, medium, and large enterprises streamline their customer service and sales operations. It has a centralized dashboard that allows you to track inbound calls and sales activities using KPIs (key performance indicators).
It allows you to route calls to the right recipient through automated prompts and dialpad. And Sends the voicemails for missed calls to your email inbox along with a transcription of the message.
Avoxi's SIP trunking feature ensures secure call routing, amazing voice quality, and affordable SIP termination.
This contact center software has a live coaching feature that enables you to coach agents during calls.
What is Call Center Software?
Call center software is a digital platform that enables direct communication between a business and its clients. Modern contact center software has many advanced features and functionality. It can automate the receiving and address of customer concerns in the cloud.
A top call center system enhances the brand's image during client interactions. So it does not matter if there are thousands of agents in several call centers or one designated agent to handle customer service. The best contact center solutions must be in place to win the competition.
Modern clients like to experiment with newer communication channels like chat, text, and social media. Can conventional call center platforms handle them? The advanced version of a call center is the concept of a contact center.
A call center manages inbound and outbound customer calls, but a contact center is omnichannel. Besides phone calls, contact centers can handle customer contacts via email, live chat, SMS, and social media.
Types of call center software
On-premise call center software
Conventional call center system operates through in-house servers, software, hardware, and other associated infrastructure.
The company can exercise complete control over the call center software solutions. The in-house IT team handles implementation, repairs, maintenance work, and upgrades.
Cloud call center software
Cloud call center software is hosted in the cloud by a third-party service provider. The software resides on servers hosted in the Service Provider Data Center. As a result, call center agents can access it from anywhere using a stable internet connection.
The service provider handles the implementation and maintains all the necessary infrastructure in their data centers. Clients do not have to worry about the technical aspects of the contact center software.
Why Do You Need Contact Center Software?
Companies often use a call center system to improve their contact center services. Here are a few reasons why VoIP call center solutions are being used by businesses worldwide:
1. Effective Call Distribution
Contact center software can drastically improve your team's productivity. Automatically distributing calls based on volume and agent availability makes call distribution easy, efficient, and quick.
2. Easy Dialing
Dialing numbers manually can often cause errors and take a significant amount of time. call center software solutions can automatically dial numbers from a given list, saving time, reducing efforts, and minimizing errors.
3. Call Recording and Analysis
Call center platforms also help you record calls and analyze them. As a result, they help you gain valuable insights, understand customer sentiments, and improve agents' performance through better training.
4. Call Categorization
Today, interactive voice response (IVR) can help you categorize calls for better and faster resolutions. Contact center software allows you to segregate calls and send them to different queues based on their requirements, saving much time and effort.
5. Skill-based Call Routing
To ensure the best customer experience, contact center solutions offer skill-based routing features that automatically route calls to the right teams/agents/departments, ensuring better resolutions and higher customer satisfaction.
Key Call Center Software Features
Make life easier for your callers, agents, and call center managers by using our simple call center software loaded with a host of features.
IVR
Interactive voice responses help callers reach the right department based on their needs. Based on caller input, the software effectively routes calls to the right department and reduces average call time.
Call Monitoring
This feature allows call center managers to listen to call in real-time and provide feedback. Managers can also whisper, barge, and record calls for better agent feedback.
Auto Dialer
This call center phone system saves agents time by automatically dialing the numbers for them on outbound calls. Reduce the number of manual errors in the dialing process.
Automatic Call Distribution
CallHippo's call center management uses automatic call distribution (ACD) extensively to route calls to the best-suited agents through routing.
Computer Telephony Integration
By integrating telephone operations with computers, you get quick access to critical customer information in real-time. Help your agents solve problems faster.
Dashboards & Analytics
Get access to a real-time dashboard to monitor the performance of teams and individual agents. Generate reports on various KPIs, including agents' performance, conversion rates, average calling times, and more.
Why Choose CallHippo for Your Call Center Calling Needs
With our specialized call management tools, you can now simplify your call center operations, boost efficiency, and assist your clients better.
1. Enhanced Control
cloud based call center software gives you Features such as call forwarding, call conferencing, power dialing, call barging, predictive dialer, call recording, and analytics which allows you to enjoy better control over all your inbound and outbound calls.
2. User-Friendliness
CallHippo offers an intuitive and rich dashboard that is easy to navigate and use. Save your agent's time and give access to all functionalities from a single platform. No technical training required!
3. Highly Scalable
This call center system for small businesses scales easily to accommodate business growth. Add more users and various other features without undertaking any major infrastructural changes.
4. Cost-Effectiveness
Cloud-based contact centre systems are more affordable than traditional PBX phone systems. They do not require any additional hardware, infrastructural investments, or regular maintenance.
Get a Cloud Based Call Center Software
CallHippo's robust and feature-rich voip call center software is the perfect solution for all your business communication needs.
1. AI-based Calling Capabilities for call centers
Deliver your daily calling commitments with multiple calling features, including calling solutions, including call barging, call tracking, and call analytics. Onboard offshore clients and take your business to higher echelons of success with CallHippo.
2. Best-in-class Customer Support
Expect quick, reliable, and superior technical support from CallHippo's team. Get in touch via live chat, emails, or calls. You can even raise tickets to contact our agents, who are always happy to help you.
3. Advanced Call Analytics and Reporting
Make informed decisions with detailed and accurate reports using CallHippo. Recover lost leads, better train your agents, and eliminate wasted ad expenditure with the best customer service insights. Set the frequency of reports – daily, weekly, or monthly, and get them directly in your inbox.
Get Started With CallHippo in Just 3 Minutes!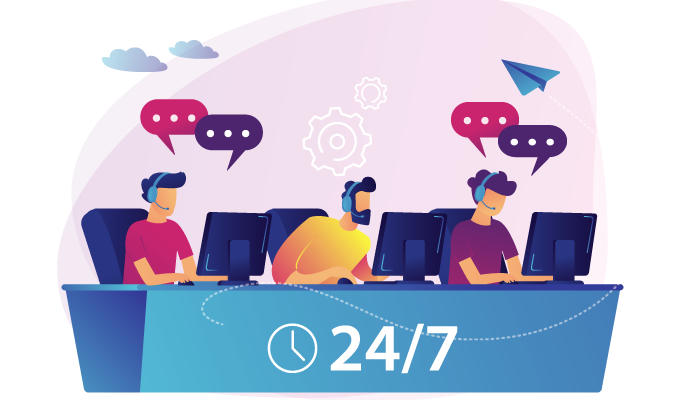 CallHippo is a trusted call center solution provider to businesses in over 50 countries worldwide. Sign up with CallHippo today so that you can get the best calling software for call center in just a few simple steps!
Here is what you need to do:
1. Pick Your Business Phone Number
Choose a virtual local phone number or a toll-free number. You can set up as many numbers as you like. With CallHippo, you can get any type of phone number at highly affordable rates. To know more about our flexible monthly and annual subscription plans, get in touch with our sales experts.
2. Customize Your Software
Personalize your call center system based on your specific business needs. Choose from CallHippo's wide range of features and call analytics to create a solution that is right for your business. Pay only for the features that you use.
3. Add Extensions For All Your Employees
Set up extensions for various agents and departments within the company. Also, CallHippo's virtual phone menu feature facilitates call routing to ensure customers get the right agent or department even when they do not know the extension.
4. Get Set, Call!
That's it! All done.
That is pretty much all you need to do to set up the best call center software for your enterprise with CallHippo. Just 3 simple steps to a cost-efficient and comprehensive virtual calling solution that will take care of all your business communication needs!
Frequently Asked Question
What is call center software?
A cloud call center system enables the comprehensive management of all your business phone calls. It automates the process of transferring and responding to calls with features like call forwarding, call routing, etc. Investing in top-notch call management software elevates the overall customer experience.
How does call center software work?
A call center software is operated through agents or customer representatives. An agent can use a computer or a phone, with which an agent can automatically dial numbers, forward calls, and look at customers' call history.
Should only large enterprises use CallHippo's call center calling software?
Absolutely no. Companies of any size – small, medium, or large – having a client-facing team, can benefit from a CallHippo's call center solution. If you want to streamline your customer communication processes, CallHippo is the best choice.
What is the best call center software?
CallHippo is a leading service provider for implementing a call center system to meet your business communication needs. Features like power dialer, automatic call distribution, smart switch, call barging, etc., ensure effective customer communication. 
Additionally, it manages large numbers of agents and calls. The user interface is easy to use, making it convenient for agents to navigate the system, providing support 24/7 and desktop and mobile devices accessibility.
CallHippo integrates with Slack, Zapier, Pipedrive, Enthu.AI, Zendesk, Intercom, Groove, Freshdesk, Zoho, and more than 100 third-party applications.
How much does call center software cost?
Choosing a call center software solution often depends on its price. However, there are many factors to consider when it comes to cost. 
A call center system's direct costs are determined by the number of numbers, users, features, and software delivery model. For example, cloud-based call center phones range from $20 to $150 annually per user, with one-time development costs ranging from a few thousand and charges for usage of $0.10 per minute or more.
You can always take advantage of a free trial to validate your decision. But, before you sign up for a new contact center software, confirm what's included in the package.
How to choose a call center software?
There are many factors to consider when choosing the right call center software for your business, such as your industry, your present number of agents, your proposed call center type, which features you don't (and do) require, and of course, your budget. Every tool has benefits and drawbacks based on how it is used.
To choose the right tool, develop a list of desired features and select your top options. For example – CallHippo helps your company communicate better with customers, providing best-in-class functionality, including auto dialer, call monitoring, call center management, and more.
What software do call centers use?
A call center uses inbound, outbound, or blended contact center software like CallHippo, to manage call volume and agent efficiency better, provide self-service to callers, and improve customer experience. 
Some call centers also use omnichannel business communications software, which offers real-time voice calls, SMS texting, live chat, social media messaging, and email. Additionally, call centers often use CRM software to store customer information.