Best Virtual Call Center Software for Business
CallHippo's feature-rich virtual call center software is the perfect software for all your business needs.
Keep sales and support teams connected
Enjoy unparalleled efficiency with 99.5% uptime
Make informed decisions with detailed and accurate reports
Scale as you grow
24/7 support available
What Is Virtual Call Center Software?
A virtual call center refers to running a support or sales team in which the agents are dispersed geographically instead of being located in a single location (e.g., your office).
Virtual call center software is a cloud-based system that enables you to meet the challenges of managing a remote team and connect with your customers across different time zones.
Instead of a typical setup where agents have to stick to their desks, virtual call center software allows your representatives to handle business calls from anywhere, anytime. Besides, virtual call center software eliminates the need for setting up expensive equipment like EPABX systems.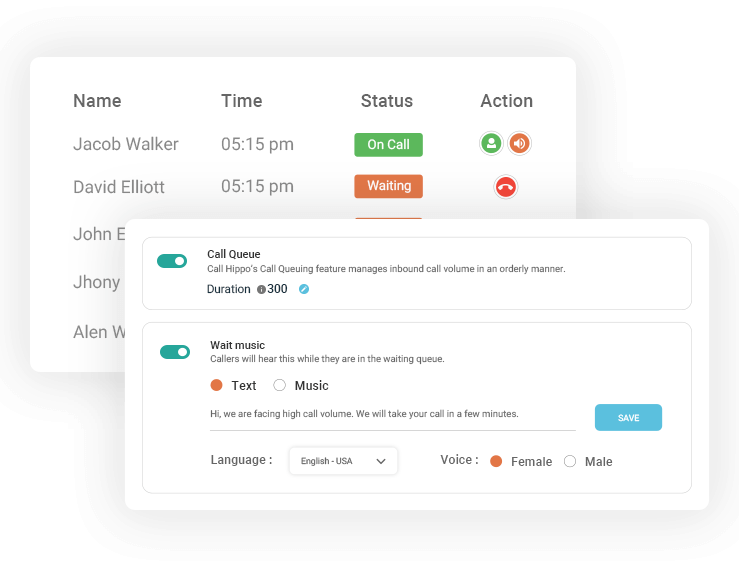 How Does a Virtual Call Center Work?
Virtual call centers are operated through a cloud that lets your agents stay connected with each other. Moreover, these call centers work from remote locations and provide exceptional customer service solutions to clients.
CallHippos's business phone system comes with features like skills-based routing, call recording, call distribution, call monitoring, and other tools to maximize call efficiency.
Buy A Virtual Call Center Software
---
Benefits of CallHippo's Virtual Call Center Software
1. High Call Quality
The farther the caller and the agent are (geographically), the more likely voice quality will become an issue. Fortunately, CallHippo has a solution for it. CallHippo's Automatic Call Distribution (ACD) feature connects your customer to their nearest agent, thereby ensuring high call quality all the time.
2. No Geographical Limitations
With CallHippo virtual call center software, you get the flexibility of hiring agents from all over the world. This allows you to pick highly talented individuals. Also, it is extremely helpful when you have customers all over the globe, calling your team in different timezones. Besides, you don't need to send them additional hardware to do the work effectively.
3. Business Continuity
COVID-19 taught us that we have to prepare for the worst and ensure business continuity even when local offices and business settings face interruptions. CallHippo ensures your call center runs smoothly no matter the conditions (even during natural disasters). Since CallHippo's virtual call center is based on the cloud, you will never experience any interruptions.
4. Centrally Manage Your Call Center
CallHippo virtual call center software allows you to centrally manage your dispersed remote team. You can check when they logged in and logged out, how many calls they handle each day, average call duration, and more. You can also filter calls and agents based on their location. Furthermore, you can add/remove users from the software within minutes.
5. Eliminate the Drawbacks of a VPN
Contact centers powered by a VPN or WebRTC often experience call drops and inconsistent voice quality. CallHippo hosts the call over the PSTN network, meaning the voice quality is independent of call drops or disruptions due to low bandwidth.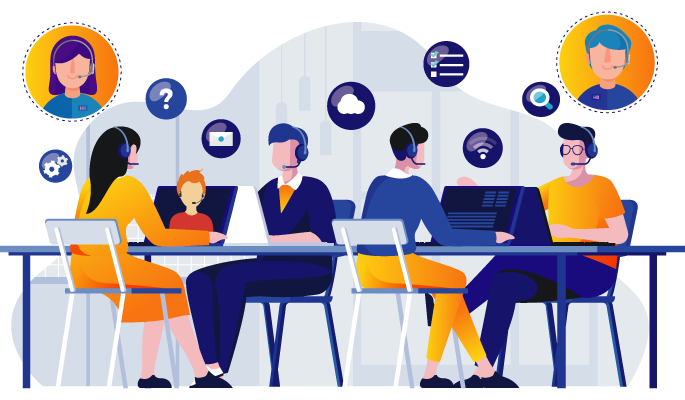 6. Improved Data Security and Privacy
Contact centers need to comply with several rules and regulations to run their business efficiently. For instance, some countries require you to store call data (including recordings) to be held in the caller's region of origin. To ensure compliance and data security, CallHippo implements advanced encryption and maintains local points of presence to store calls. Besides, we continually update our services to comply with the calling rules of every country we serve in.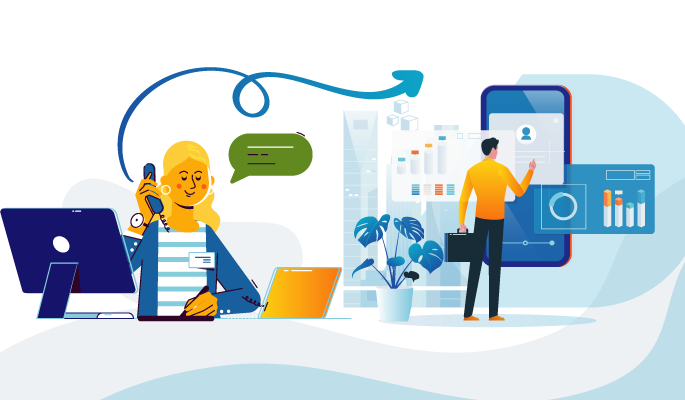 7. Real-Time Call Management
Listen to all your calls in real-time. You can even whisper to the agent to help him/her better handle the customer. The best part is that the caller won't be able to hear you, thereby improving the customer experience.
8. Improve Productivity
CallHippo virtual call center software allows your agents to work from anywhere. And when they have the flexibility to work from their preferred locations, they will automatically manage customer interactions effortlessly. Your agents can even use CallHippo mobile app to handle calls using their smartphones.
9. Powerful Integrations
CallHippo integrates with hundreds of business systems to improve productivity and create efficient workflows. CallHippo's integration environment includes Salesforce, HubSpot, PipeDrive, Zapier, Zendesk, Freshdesk, Shopify, Zoho, Slack, and more.
How To Set Up a Virtual Call Center ?
Here is how you can set up a call center in minutes.
1. Define the type of call center you need
Inbound call center setup
Outbound call center setup
Blended call center setup
2. Set up your Interactive Voice Response (IVR)
Determine whether your callers get connected to the agent directly or via an IVR. Add a welcome message and offer a menu of choices.
3. Create a Team of Agents
Create different skilled groups by identifying agent expertise
4. Distribute Calls
Divide the number of calls in a round-robin manner and handle high call volumes
Features of Virtual Call Center Software
No Downtime
CallHippo has data centers spread across the globe. This allows us to ensure 99.999% uptime throughout the year. Even during maintenance and upgrades, we do our best to limit downtime to minutes.
Load Balancing
CallHippo has set up automatic load balancing to ensure you enjoy the best possible service all the time. If one call center is overflowing, your software will automatically switch to the nearest data center to help with the workload.
Fully Compliant
Being in the industry for so long, CallHippo knows and complies with all the required standards. CallHippo virtual call center is PCI, GDPR, TCPA, HIPAA, and SOC compliant.
Skills-Based Routing
Route customers' calls to agents who are the best fit to handle their queries. This enables you to improve customer satisfaction, reduce frustration, and improve first-call resolution.
Call Transcription
You don't need to spend hours listening to each call. CallHippo virtual call software transcribes each call, so you can skim through the important moments and identify trends to better meet your customers' needs.
Advanced Analytics
Analytics is a vital part of managing a remote team. Assess your remote agents' efficiency by tracking call volume, duration of calls, customer satisfaction levels, and determine whether they follow the call handling best practices.
Call Transfer
Did the customer call the wrong department? Is there any agent who can better handle the customer's query? Use the call transfer feature to re-route the connected call to your team member.
Interactive Voice Response (IVR)
Help customers reach the right person or department using a custom IVR system. You can even create custom messages to let customers know about your latest offers.
Automatic Dialers (Power Dialer and Predictive Dialer)
Power dialer allows you to automatically dial phone numbers in a sequential manner. On the other hand, a predictive dialer uses an algorithm to determine when the agent will be available to handle the call and dials the number accordingly, thereby improving productivity.
Why CallHippo?
Trusted by over 5000+ brands, CallHippo is one of the leading virtual call center software providers in the market. With CallHippo, you can set up your virtual call center software in 3 minutes.
Another reason to choose CallHippo is that it is the most cost-effective solution in the market. CallHippo plans start from as low as $14. And you get access to all the necessary features.
CallHippo also allows you to buy local phone numbers of 50+ countries to establish a strong local presence. This is extremely helpful if you have countries from across the globe. You can even give different local numbers to your agents who are from different regions.
CallHippo's vast integration environment allows you to build smooth workflows for your sales and support teams and enhance the overall customer experience.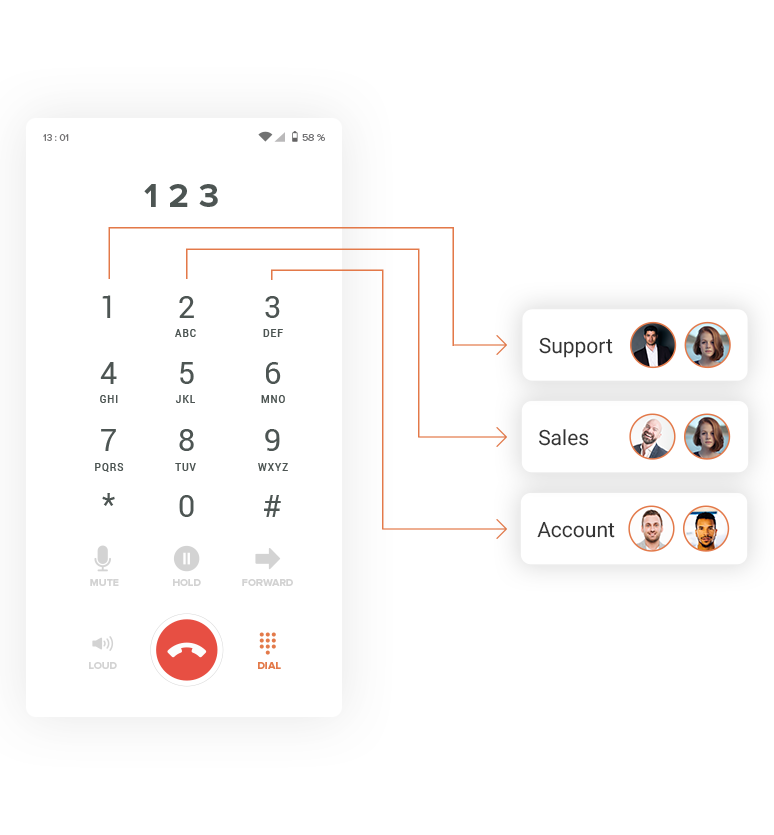 Last but not least, CallHippo's 24/7 support program ensures you get all the help as and when required. Irrespective of where your agents are located, they can reach out to CallHippo's support team and get instant solutions.
Book a demo now to see how CallHippo virtual call center software can help your business!
Why Is Remote Calling The Future ?
Here is why remote calling is the future.
1. Higher Call Quality
Say goodbye to compromising on call quality even when internet bandwidth is low
2. Call Queuing
Let customers schedule a call when their call is queued
3. Real-time Resource Management
Shuffle and assign agents in real-time to different campaigns during peak traffic
4. Monitor All Calls
Monitor live calls with features like call barging, call whispering, call recording and call analytics.
Get The Vitual Call Center Software For Your Business Today!
Get your call center software up and running in less than 3 minutes
Frequently Asked Questions
To set up a virtual call center, you will need reliable cloud-based call center software. You need to configure the software as per your calling needs, add agents, phone numbers, and your call strategy to create a fully functional virtual call center.
A virtual call center allows agents from different geographical locations to log in and collaborate remotely through cloud software. Agents do not require any specialized hardware to connect with customers. Using just their smartphones, agents can dial and communicate with customers while on the move.
CallHippo is widely regarded as one of the most advanced virtual call center software with features like call analytics, call recording, voicemail, on-hold music, and many others. It is suitable for businesses of all sizes and offers flexible plans to get your business started in no time.
Setup Your Phone System In Less Than 3 Minutes