Reading Time:
9
Minutes
Published :
November 27, 2020
Years ago, people used to choose the product solely based on price and the company's reputation. However, the scenario has changed a lot in the past few years, and now consumers have become more conscious of the overall purchasing experience, which also involves efficient customer service. According to research, companies with a customer-centric mindset drive revenue 4-8% higher than their competitors.
Companies who invest in customer service see positive customer-focused cultures and own the potential to disrupt their industries, in addition to financial gains. With these opportunities in mind, many businesses have begun to move toward digital transformation, which is the first step toward being more customer-centric and delivering efficient customer support.
But what exactly is customer service, and what are the best customer service tips to follow? Let's find out.
What is Customer Service?
Customer service can be clearly described as the support and assistance you give to your customers before, during, and after they purchase your products or use your services in order to ensure that they have a positive and enjoyable experience.
( source:revechat.com )
Excellent customer service is vital for several reasons, including the fact that it helps create a long-term, positive relationship around your product or service and brand, as well as helps retain customers and grow your business.
Let's look at the top 15 customer service tips you must remember all the time and practice them as and when needed in order to offer customer service to your beloved customers.
15 Customer Service Tips To Level Up Customer Experience
The following are the top 15 customer service tips that will certainly help you provide the highest level of customer satisfaction. Let's take a quick look at each one.
1. Know Your Products/Services Inside Out
Knowing your goods and services is the first step in providing good customer support. A thorough understanding of your product's features enables you to comprehend the scope of a customer's concern. Furthermore, this will also make the customer service team sound more positive, allowing them to craft better responses.
Therefore, before you sit in the customer service representative chair, ensure that you are well-versed in all of the company's products or services.
Statistical Fact: According to an Experticity study, 73 percent of customers claim product awareness is the most important thing they want from a customer service representative.
2. Be An Active Listener
Listening is truly an art when it comes to customer service. A good customer service necessitates giving the customer your undivided attention. The customer will feel genuinely heard, understood, and served if you listen actively. Moreover, this approach will also allow customers to vent out their frustration. Ask a lot of follow-up questions to reassure the customer that you're paying attention and comprehending the issue.
Don't interrupt the customer when he or she is talking. Pay attention to the voice tone as well as their level of anger. Take short notes and sometimes repeat back to the customer what they've said to ensure you have the correct details and to show your attentiveness.
Statistical Fact: According to a Salesforce report, 89 percent of customers are more likely to make another purchase after a positive customer service experience.
3.  Figure Out The Customer's Problem
Once the customer has finished narrating his ordeal, summarise what you've learned from the short notes. Then, figure out what's causing the issue and how to fix it. As a customer service associate, it is expected that you have a problem-solving mindset.
However, it is not necessary for every problem to have a straightforward solution. For example, some issues may require more time or escalation to the senior team or another department. In such circumstances, clearly communicate your customer complaint resolution procedure and the resolution period to the customer.
Statistical Fact: According to a McKinsey survey, 70 percent of a customer's loyalty is determined by how they believe they are being served.
4. 
Maintain Positive Attitude
When a customer approaches you for help, it is presumed that you will entertain him with a positive attitude and refrain from using negative language. Since the customer is already annoyed by the issue, using harsh language would just add fuel to the fire, costing you a customer and damaging your credibility.
On the other hand, a positive mindset would assist you in establishing an emotional bond with consumers, understanding the issue thoroughly, and providing the customer a positive experience.
Statistical Fact: According to a Zendesk survey, nearly three out of five customers believe that good customer service is critical to feeling loyal to a company.
5. Emphasize Personalization Service
Be it marketing or customer service– personalization is a very important aspect. Personalized customer service is all about making an effort to customize service to a customer's individual needs and underlying desires. It gives customers the impression that you really care about them, as well as making them feel more connected to your company.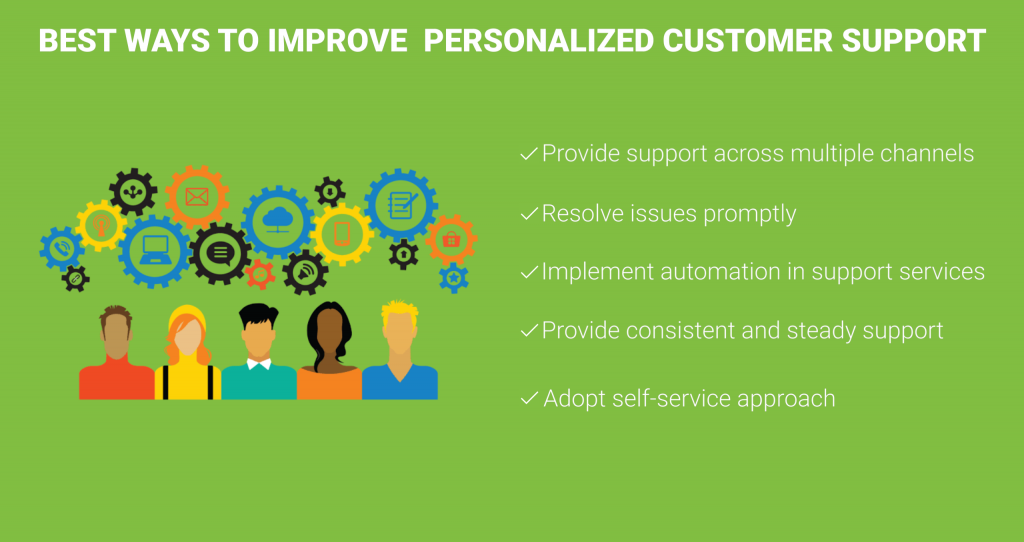 (source: ngdesk.com )
Personalized customer service may include things like addressing the customers by their first name during the interaction, creating a mental bond, and introducing a loyalty program.
Statistical Fact: According to a Trust Pilot survey, adding customized user experiences to your customer service can improve your online conversion rate by about 8%.
6. Respond As Quickly As Possible
Customers expect you to respond quickly and fairly when they approach you with an issue related to your products or services. Delaying the solution or response time would only lower customer satisfaction levels. Instead, you should make every effort to contact your customers as soon as possible. According to several surveys, 0-30 minutes is the ideal response time.
Offering 24×7 omnichannel support, adopting a First Contact Resolution (FCR) strategy for customer service, and using CRM software are some of the easiest ways to provide quick customer service or minimize response time.
Statistical Fact: 71% of customers (ages 16 to 24) agree that a fast response from your customer service team will boost their customer experience significantly. (Source: Comm100)
7. Communicate Clearly
When it comes to customer service, communication is paramount. As a customer service representative, you should be able to express yourself clearly, both verbally and in writing. Since even a slight change in the terms can change the whole context, the response to the customer's question or the answer must be straightforward and concise.
You should often end the conversation with the question, "Is there something else I can help you with?" This will allow customers to ask any questions they might have and clear their minds of any concerns or uncertainty.
Statistical Fact: According to Forrester's research, 73 percent of online adults in the United States believe that the best thing a brand can do to provide them with better customer support is to value their time.
8. Use CRM Software
A Customer Relationship Management (CRM) platform can be an effective way of managing all customer engagement. It will assist you in integrating various networks, platforms, and resources into a single piece of software and creating a centralized communication framework.
( source:techasoft.com )
Furthermore, the CRM system would streamline and simplify all the operations. It will also share real-time data with multiple teams, allow you to scale the business as needed, and provide valuable analytics to help you plan future customer service strategies.
Statistical Fact: According to Forester statistics, using a mobile CRM increases team productivity by 50%.
9. Adopt First Contact Resolution (FCR)
No customer wants to keep contacting you for a solution to his complaint. Every consumer expects their problem to be answered and resolved on the first call itself with a customer service representative. This is only possible if you use the First Contact Resolution (FCR) approach.
FCR aims to address the customer's issue on the first contact, whether by mail, phone, or other means. The strategy also emphasizes avoiding needless escalation and deferring resolution.
Statistical Fact: According to the report, 80 percent of customers who switched loyalties said they would have stayed if their complaints had been addressed on the first touch.
10. Offer 24X7 Omnichannel Support
The degree to which your customer service representatives are accessible to customers makes a significant difference in the quality of your service. Choose an omnichannel model to ensure that you are available to your customers 24X7 through all channels.
According to a study, 64% of customers expect you to have real-time assistance regardless of the platform they use. In terms of profitability, a good omnichannel strategy has the potential to raise sales by approximately 10% year over year!
Statistical Fact: As per the survey conducted by DigitalCommerce360, companies with extremely high omnichannel customer engagement retain 89% of their customers, while companies with poor omnichannel customer engagement retain just 33%.
11. Use Non-Generic Auto Replies
Auto-replies are an important aspect of Customer Service because they provide consumers with a simple indication that their message has been received. However, it is not advised that you use simple or generic responses.
(source: formtitan.com )
Always apply a personal touch to the responses to make them more meaningful and engaging. For example, instead of "We got your complaint," make the subject line more polite, such as "Hi, thanks for getting in touch. We're working on it."
Statistical Fact: 80% of consumers are more likely to buy from a company that offers personalized experiences. (Source: SmarterHQ)
12. Actively Track The Complaints
Regular follow-ups are an important facet of providing excellent customer service. If the complaint hasn't been resolved for any reason, make sure you get daily updates from the appropriate team or individual and notify the same to customer via email, text, or phone. Get a custom phone number for your company to appear more professional when it comes to customer care and communication.
This will give consumers the impression that you are taking the complaint seriously and making progress. Furthermore, always keep the customer updated on the status of the complaint. Don't hide or lie about anything.
Statistical Fact: According to a PwC study of 15,000 consumers, 1/3rd of customers will abandon a brand they love after only one poor customer service encounter, and 92 percent will abandon the brand after two or three unpleasant experiences.
13. Ask Customers For Feedback
Don't wait for clients to provide feedback; be quick and ask for it whenever you have the chance. For example, after they've made a purchase, send them a survey or have a conversation with your customer service team to see how happy they are with your business.
Since surveys are an effective way to boost customer experience and satisfaction, perform social media surveys on a regular basis to gauge user reactions and expectations. Also, use this technique whenever you launch a new product or service.
Statistical Fact: According to a Microsoft survey, 53% of shoppers believe their input isn't passed on to someone who can actually act on it.
14. Respond To Every Feedback- Positive or Negative
Customer feedback is a mirror that reflects how good your customer service is. However, attending and responding to all of the reviews, whether positive or negative, is a perfect way to polish the brand image further. So make sure you acknowledge all reviews, whether good or bad.
Check all channels and social media platforms for reviews on a regular basis. This will raise the company's online exposure and increase the likelihood of future customers visiting or doing business with you.
Statistical Fact: Nearly 78 percent of customers agree that when management reacts to their online feedback, they feel like the company cares more about them.
15. Continue to strengthen your customer service skills
At last but not least, we suggest that you keep honing your customer service skills regularly. Keep track of the most recent customer service software or applications that have been introduced to the market. Analyze the customer feedback data to see where you fall short and where you excel.
Provide periodic training to the customer service representatives to help them improve their skill set. Follow multinational corporations with a great customer service record. Also, keep an eye on the rivals' social media channels to see how they handle their customers.
Statistical Fact: According to a HubSpot report, 93 percent of consumers are more likely to make repeat purchases from businesses that provide outstanding customer service.
These are the 15 most important customer service tips to remember and share with your customer service staff in order to prepare them to handle any kind of customer complaints with utmost ease and ultimately offer the best possible customer solutions.
Summary:
Every business is built on four pillars: product quality, price, company credibility, and customer service. In order to ensure that the organization stands tall forever, all of the columns must be strong, in good shape, and efficient. Use new technologies, prioritize your customers, keep a positive attitude, and deliver the best service possible to your valued customers.