Date: October 20, 2022
Even in this digital world, phone calls are important. When making urgent or complex purchases, people prefer to call businesses directly. And, now, with social distancing in place, phone calls are the easiest way to connect with companies. Recent research by Dialogtech indicates that every industry saw an increase in phone calls due to COVID-19.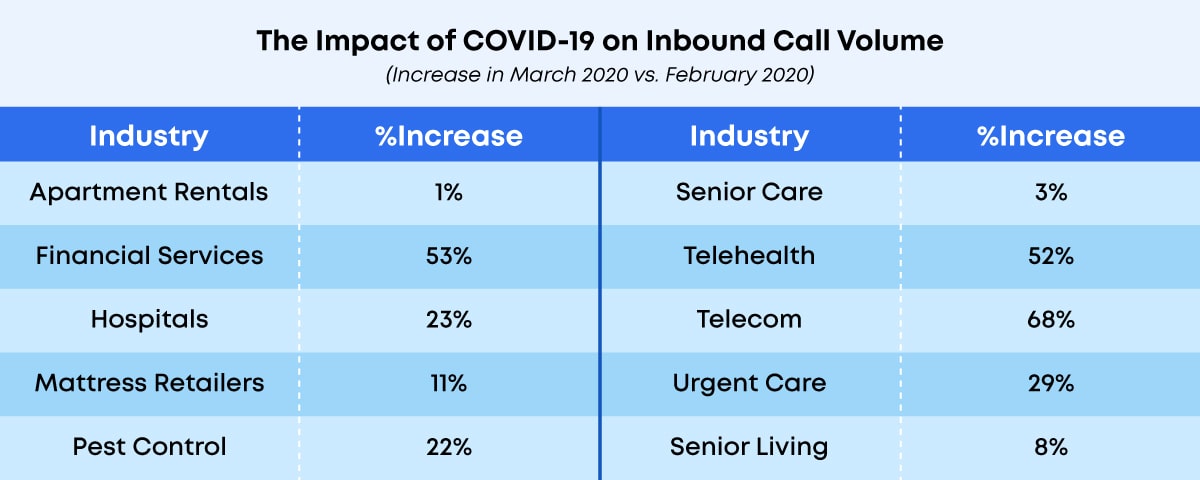 (Source: dialogtech.com)
Besides, 84% of marketers report that phone calls have higher conversion rates with larger average order values than other engagement forms. Another report suggests that calls convert at 10 to 15 times the rate of web clicks. 
But that's just the average across industries. The exact numbers vary from business to business. And, to know the specific number for your organization, you will need to track the results. That's where call analytics comes into the picture. 
Call analytics makes it easy for you to determine which marketing campaigns are generating conversions. You can then use these insights to optimize your campaigns and boost the return on investment. 
That said, let's better understand what call analytics is and how marketers can benefit from it. 
What is Call Analytics?
Call analytics is a technology that uses artificial intelligence to capture data from phone calls. The data includes the caller's name, phone number, the marketing campaign that drove the call, and call duration.
Call analytics also helps determine if the caller was a genuine lead and the products they were interested in. 
You can use these details to optimize your marketing campaigns for better performance, eliminate underperforming ones, create retargeting ads to reach callers based on the content of their conversations, and reduce your CPA (cost per acquisition). 
Information Call Analytics Can Provide
While the exact level of insights a call analytics system provides depends on if it uses AI to analyze calls and how advanced the AI is, you can expect the following from the best VoIP service provider for business.
Caller's name and phone number

The day and time of the call

The device used to engage with your marketing campaign

The geographic location of the caller

If they are new or repeat caller

If the call was answered and who answered the call

If the caller abandoned the call

Call duration

The products and services the caller was interested in

If it was a sales opportunity

The call's lead score (the likelihood of conversion)

If the call resulted in sales
Benefits of Call Analytics for Marketers
Now that you know what call analytics is and what insights it can provide to your marketing team, let's look at the reasons to invest in it.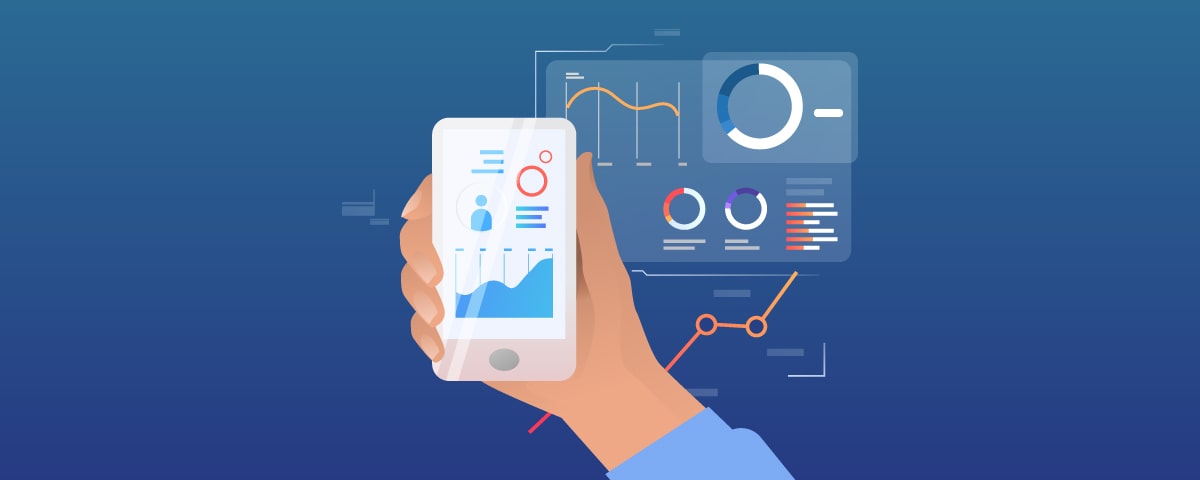 (Source: martechlive.com)
1- Get a Birds-eye View of Your Marketing Campaigns
In order to prove your marketing ROI, you need to measure both online and offline conversions. However, tracking conversions from phone calls can be difficult. That's where the secret to smart call analytics lie. That is, the more data you collect, the better you can judge your campaign's performance. 
In general, call analytics allows you to track all the inbound calls from each campaign, enabling you to prove the ROI to your superiors. Then, depending on your software, you can go beyond basic details to find the keywords that drove the call. 
Also, if you notice more calls but fewer conversions, the issue might lie with the people handling sales calls. So, it might be time to review and optimize the sales process. 
2- Provide a Seamless Omnichannel Experience
Many marketers struggle to offer a seamless omnichannel experience to their customers. Call analytics can combine the online and offline journey to provide the best possible experience to each individual. In other words, you can better manage customers with call analytics. 
For instance, when you integrate your VoIP system with the CRM, the inbound call details will be stored in the CRM. With call analytics, you can capture even more data like the product the prospect was interested in, their concerns, and the campaign that drove them. 
You can then combine these details to prepare for possible objections and concerns to increase conversions. 
3- Attract More Customers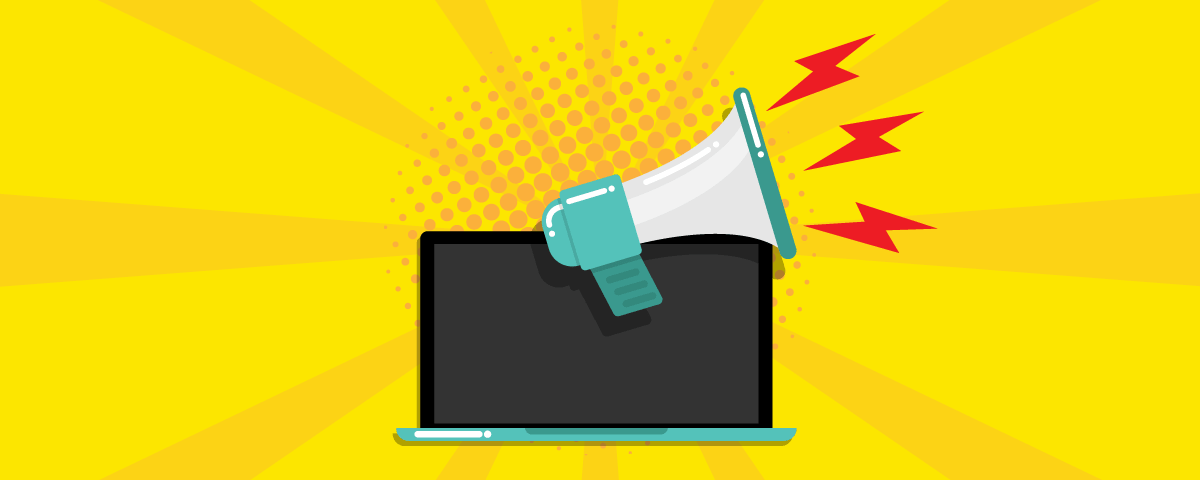 As mentioned above, call analytics powered by AI enables you to better understand the performance of each campaign. This means you can determine what brings prospects to your business, which you can use to create new high-performing campaigns.  
In other words, sales potential with intelligent call analytics is high when done right. You can even track what keywords drive customers to your business. These keywords combined with a powerful, compelling copy can further increase conversions. 
4- Improves Employee Performance
Call analytics is not only about tracking. It also includes call recording. You can listen to calls to determine what converts or deters away prospects. This makes it easier to pinpoint areas where most of your agents are going wrong. Once identified, you can create strategies to target inaccuracies and prepare your agents to better address customers' concerns. 
This will also help identify your best performers and those who need more training. You can also use the best and worst calls to coach new employees. That way, you can stay assured that your potential customers are super delighted every time they reach you. 
5- Understand Customer Behavior and Trends
One thing that's common in every business is change. Customers' demands and expectations from companies change very often. And, you must be prepared for these changes. If not, you will probably lose customers to your competitors who are prepared. 
AI-powered call analytics help identifies key moments in each call, such as keywords mentioned, competitor mention, and objections. You can use these insights to understand what customers expect from you and create targeted marketing campaigns accordingly. 
It also enables you to better prepare for changing customer behavior and increase the chances of retention. 
Conclusion
Call analytics has quickly become a part of modern marketers' everyday life. It helps determine which campaigns are generating the highest ROI and which ones need to be stopped. It also enables you to better understand your prospects' needs and prepare for changing customer behavior. 
Have you invested in call analytics? If not, what's stopping you? Let us know in the comment section, and we will address your concerns immediately!
WORDS THAT MAKE SENSE!
Read The Most Well Researched & Insightful Articles From CallHippo Team