Date: August 25, 2023
A VoIP (Voice over Internet Protocol) has become an inevitable part of every business, owing to increased remote working. In fact, there were seven million people working remotely in the US in 2020 (before the pandemic broke out). 
In 2021, UpWork estimates that almost 26% of the American workforce will be working remotely. By 2028, 73% of all departments are expected to have remote workers. 
These numbers indicate that having a phone system that routes your calls through your internet connection, reduces operating costs, and improves the overall customer experience is a must in 2021. 
And when it comes to choosing a VoIP system, the two names that appear everywhere are Ooma and MagicJack. This is because they are leading VoIP providers and have a high adoption rate. 
Choosing between the two can be confusing because they have similar plans, features, and pricing models. 
To make it easy for you to choose the right VoIP provider, we've created this comprehensive comparison guide covering every aspect of Ooma and magicJack.


( Source: theandroidportal )
Later in this blog, we will compare both of these VoIP providers with CallHippo. We will also analyze what makes CallHippo better than Ooma and magicJack. 
But before we get there, let's understand the key benefits of virtual phone systems for your business.
Benefits of Virtual Phone Systems
Here are some major ways you can benefit from a virtual phone system.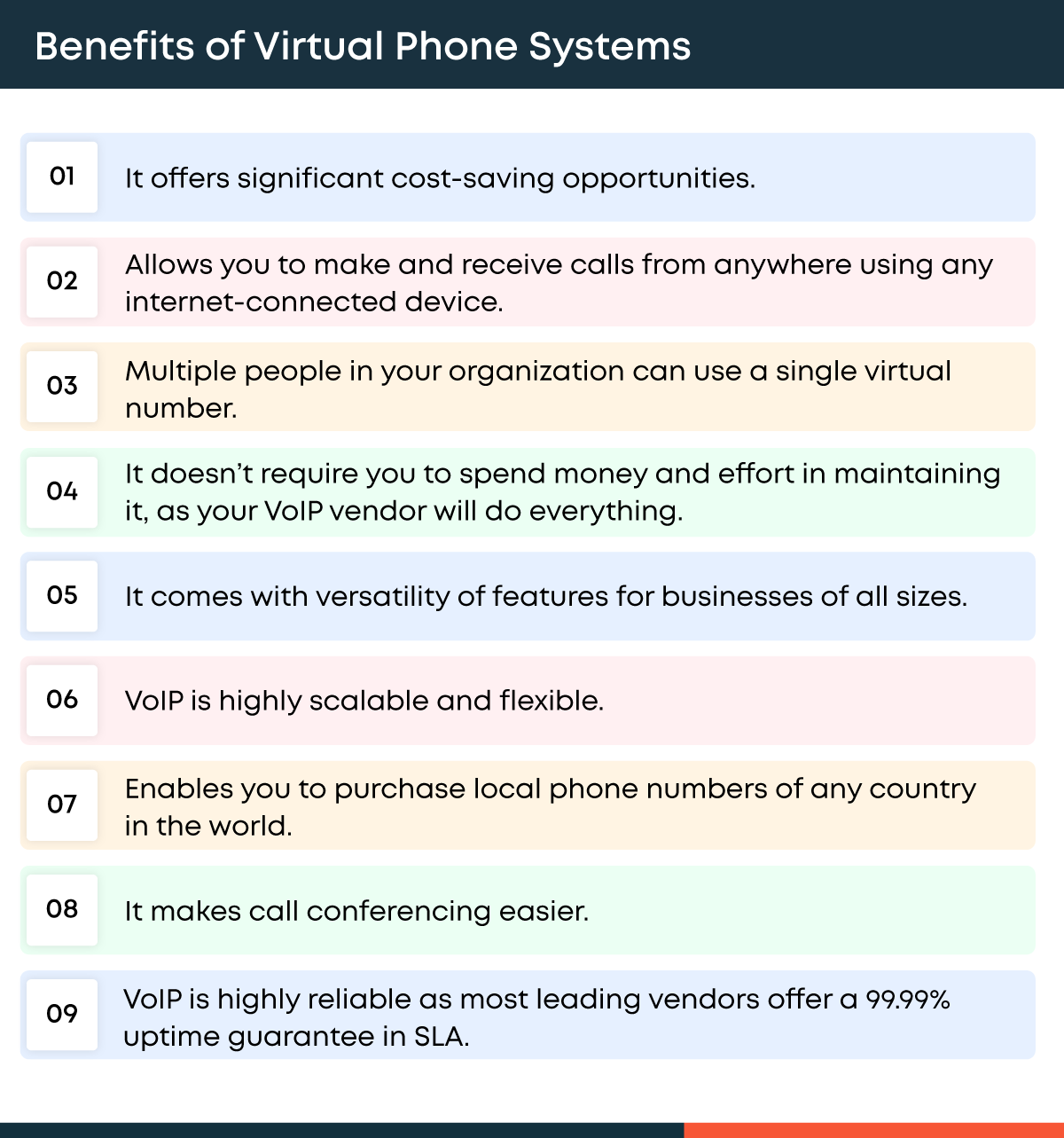 These benefits indicate that by investing in a VoIP system, you can benefit a lot. That said, let's get to the main part of the blog, i.e., Ooma vs. magicJack.
Ooma vs. magicJack – Comparing the Two
Let's begin with a quick overview of Ooma and magicJack.
Founded in 2004, Ooma provides VoIP services to both offices and residents. However, Ooma is better for small businesses as it allows for better flexibility in terms of pricing. Additionally, Ooma offers toll-free numbers with every plan. Ooma also offers unlimited calling to Mexico, Canada, and Puerto Rico.
magicJack, founded in 2007, offers a myriad of business phone features at a low cost. It also offers free unlimited local and long-distance calls to the US and Canada. Unlike Ooma, magicJack comes with a device that you can carry anywhere to make and receive calls via VoIP. 
Both Ooma and magicJack are highly reliable, provide decent after-sales service and sophisticated calling features with multiple pricing plans for businesses of all sizes. 
However, their features (in each plan) are quite unique, making it crucial to make an informed decision. That's because choosing the wrong VoIP system can do more harm than good to your business. For instance, it can hurt the customer experience, affect your performance, and negatively impact your brand reputation. 
But the good news is, by the time you finish reading this blog, you will have a better idea of Ooma, magicJack, and CallHippo. This will enable you to make an informed decision about the VoIP for your business. Let's get started!
Ooma vs. magicJack: Features
Both Ooma and magicJack offer several advanced features to make the customer experience as better as possible. 
Let's take a look at what Ooma has to offer. 
Ooma's call center features include one toll-free number, mobile app, virtual receptionist, call transfer, multi-extension dialing, music on hold, voicemail with audio email attachments, call forwarding, overhead paging, and virtual extensions. You can also get a desktop app, video conferencing, call recording, and voicemail transcription in the premium plan. 
magicJack is also not very behind in terms of features. It offers auto-attendant, 3-way calling, call blocking, call queue, call transfer, caller ID, do not disturb, enhanced call forwarding, music on hold, online call logs, voicemail, and virtual fax. It also gives you unlimited calls within the US and Canada.
Here is a tabular representation of the features that Ooma and magicJack offer.* indicates the feature is available only with premium plans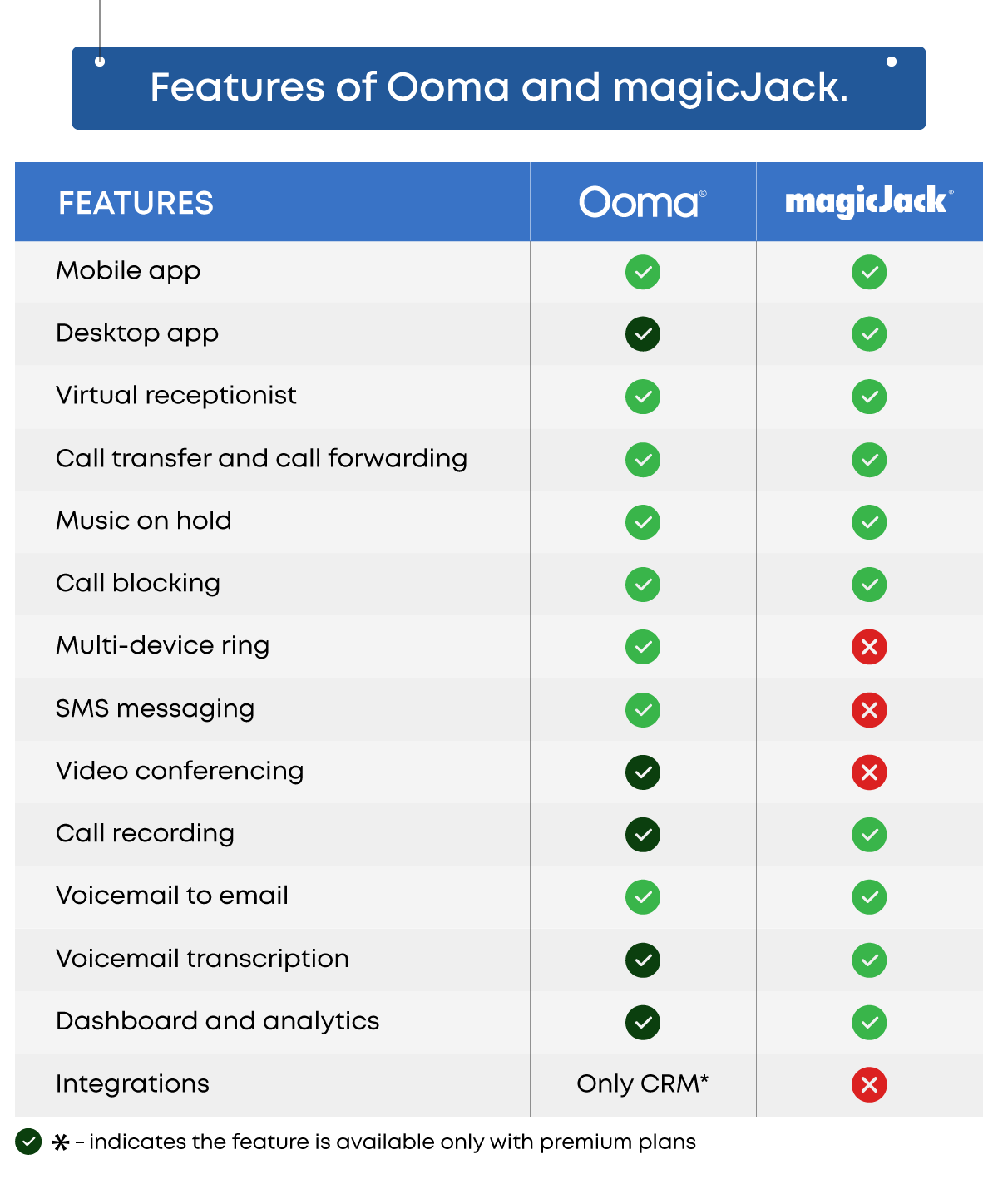 In conclusion, when you compare Ooma vs. magicJack, you will find that both offer a wide range of features. However, Ooma has a little edge over magicJack, owing to its additional features like SMS messaging, advanced analytics, and CRM integration.
Ooma vs. magicJack: Plans & Pricing
Price plays a crucial role in choosing the right office phone system for your business. That said, let's look at how the plans of Ooma and magicJack compare. 
Ooma has two plans- Ooma Office and Ooma Office Pro. Ooma Office is priced at $19.95 per month per user. In the basic plan, you will get access to the Ooma mobile app and 35 business features (such as virtual receptionist, call transfer, multi-extension dialing, music on hold, voicemail with audio email attachments, intercom, SMS, and more). 
Should you need advanced features like video conferencing, desktop app, voicemail transcription, or caller info match, you will need to upgrade to Ooma Office Pro, costing $24.95 per month per user.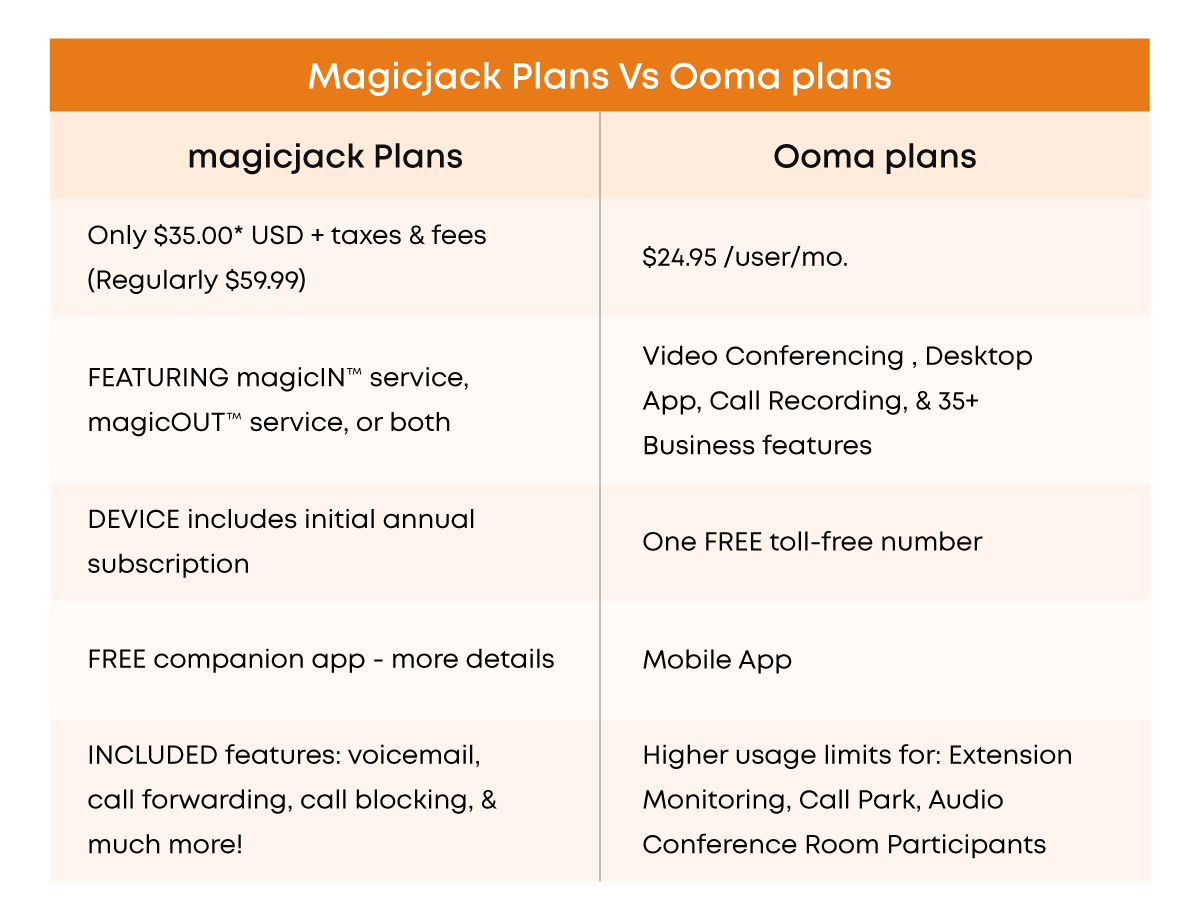 When it comes to magicJack, it has only one plan priced at $49.99 per user per year. It includes a free companion app, a device with an initial annual subscription, and features like voicemail, call forwarding, call blocking, and more. 
After one year, you will be charged $39 per year. You can even purchase long-term plans for more savings, such as $99 for three years and $130 for five years. 
Overall, when comparing the prices of Ooma and magicJack, the latter is more affordable. However, when you compare the features and prices, magicJack doesn't offer many features that you need to run your VoIP system efficiently. So, here pricing is not the only factor that you should consider.
Ooma vs. magicJack: Customer Support
Suppose you're facing issues in calling. Who would you reach out to? Your VoIP vendor's support team, right? This is why you need to consider how great their support is before investing. 
Starting with Ooma, it offers 24/7 support and a live chat option for all plans. It also has an extensive knowledge base and community forum. To reach Ooma's customer support, you can call 1-866-939-6662. Their support team is available 24 hours, 7 days a week.

( Source: smarttask )
On the other hand, magicJack offers live support from 9 a.m. to 9 p.m. between Monday to Friday and 10 a.m. to 7 p.m. on Saturday and Sunday. If you want phone support, you will need to subscribe to magicJack Concierge that costs $14.99 per year. 
Overall, in the war of customer support between Ooma vs. magicJack, the former is definitely a winner. That's because it offers 24/7 live support and phone support while magicJack charges an additional fee for phone support.
Ooma vs. magicJack: Third-Party Integrations
Integrations enable your business systems to talk with each other, reducing redundant processes and improving productivity. The more integration options a tool offers, the better. 
Unfortunately, both Ooma and magicJack are not very good with integrations. 
Ooma allows you to integrate your VoIP system with your CRM. A few major tools that Ooma works with are Salesforce, Microsoft Dynamics, Zendesk, Office 365, and G-Suite.


( Source: ooma )
On the other hand, magicJack does not support any third-party integrations, making it difficult for businesses to sync their systems. 
This means, when you choose magicJack, your agents will have to shift between tools to know the customer, check their previous interactions, and more. As a result, it will hamper productivity and the overall customer experience. 
Overall, Ooma wins the integration competition against magicJack even though it also supports only a few tools.
Ooma vs. magicJack: Best for International Calling
While Ooma and magicJack offer free calls to US and Canada, you need to consider the additional fees if you make regular international calls. 
For instance, if you want to call your customers in the UK, Ooma will charge an additional $0.028 per minute while $0.029 per minute on calls to India. 
Similarly, the charges for calling in the UK via magicJack starts from $0.0350 per minute. To call your customers in India, you will have to pay $0.0250 per minute.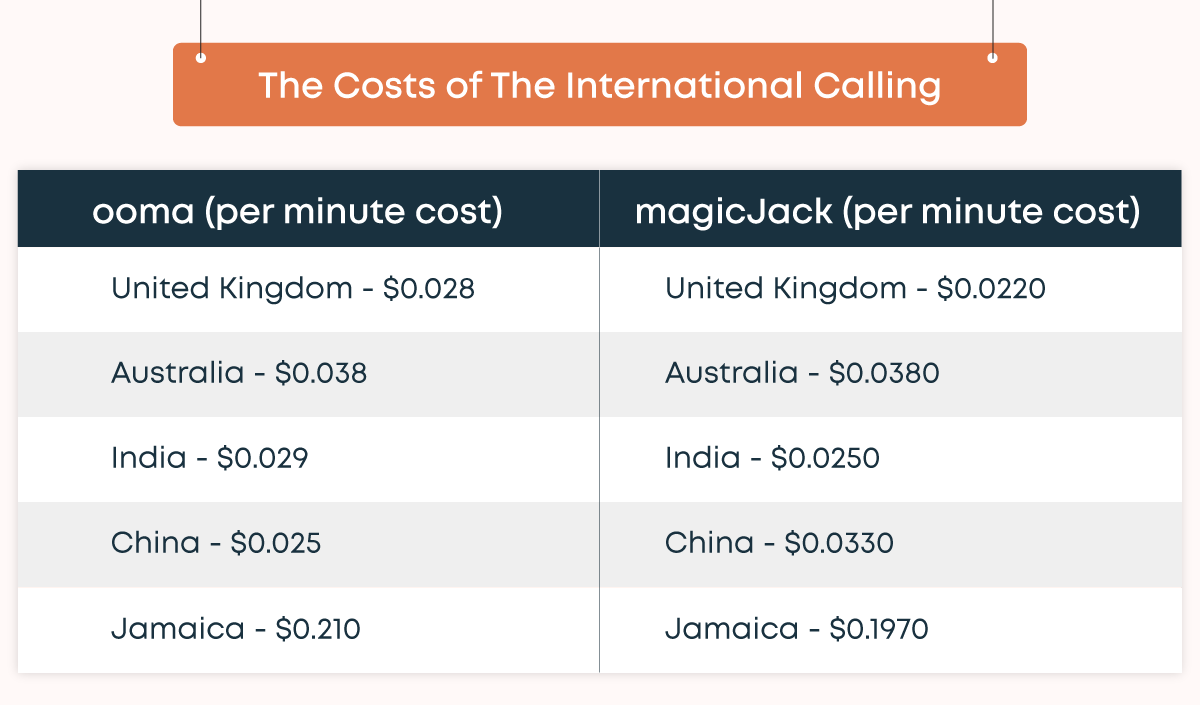 While this might seem like a small difference, the cost adds up if your company makes hundreds or thousands of calls every month. 
Ultimately, when comparing the international plans of Ooma and magicJack, the former has the edge over the latter as it offers cheaper per minute calls to most countries. However, it is best to compare their plans for the countries you operate in for more savings.
Ooma vs. magicJack: Which One Should You Choose?
The right one for your business depends on your unique requirements. Both the VoIP systems are undoubtedly efficient and make handling business calls easier. However, they are very different from each other in terms of features, pricing, and integrations. 
We recommend the Ooma phone system if you need more features and integration options. Although Ooma is a little more expensive than magicJack, its 24/7 customer support ensures that your services are not disrupted even for a minute, making it worth the money. 
We recommend the magicJack phone system if you have a limited budget, don't need as many features, or if you don't offer 24/7 support to your customers. 
If none of the VoIP providers meet your business's unique requirements, we have a perfect alternative for you- CallHippo. Here's what makes CallHippo better than Ooma and magicJack.
The Best Alternative to Ooma and magicJack- CallHippo
Though younger than Ooma and magicJack, CallHippo offers several features that suit the requirements of SMEs and enterprises alike. 
Trusted by more than 5000 global brands, CallHippo works by adding a new phone number (of your choice) to your existing mobile phones. You can even use CallHippo's desktop app to access the phone system. 
But that's not it. When compared with Ooma and magicJack, CallHippo outranks them in several categories, including:
1- More Features at a Reasonable Price
Irrespective of the plan you choose, you will get one free phone number of your choice per user. The same number can be assigned to multiple users to make and receive calls. 
Even with the most basic plan (which costs $16 per month per user), you can forward calls to a number of your choice, making remote work more efficient. Other key features in the most basic plan include voicemail, teams, shared inbox, and skill-based call routing.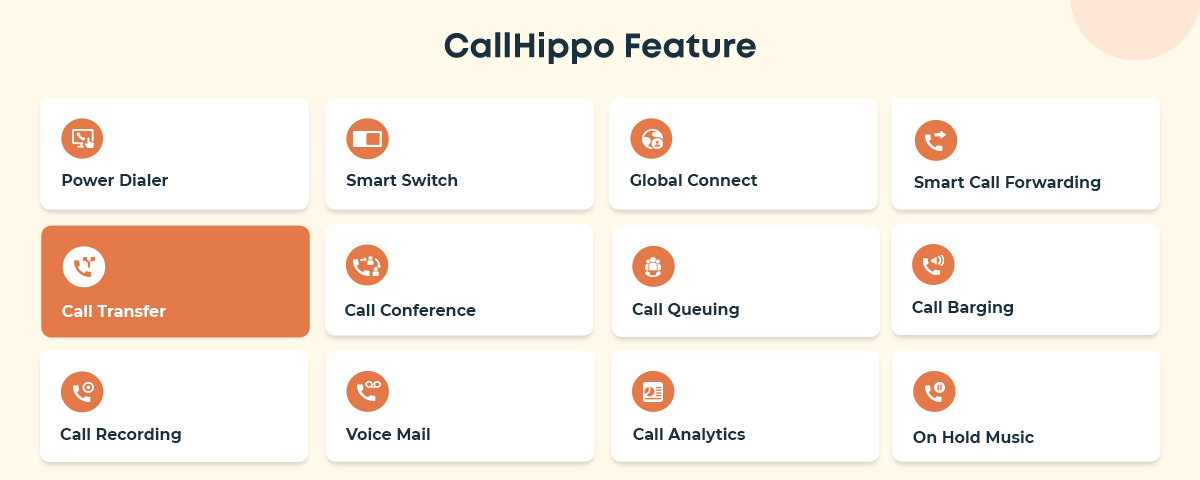 The Silver plan (which costs $24 per month per user) offers free call recording, IVR, call queuing, user working hours, call reminder, after-call work, internal team calling, holiday routing, intelligent reports, call tagging, gamification, and reports via email. 
When you further upgrade your plan to Platinum (which costs $40 per month per user), you get a dedicated account manager, sticky agent, power dialer, voice broadcasting, multi-level IVR, call transfer, call barging, call whisper, and call script. 
You can even create a custom plan for your business with only the features that you need, avoiding unnecessary spending.
2- Integrates With All Your Tools
CallHippo integrates with more than 85+ tools. So whether you use Salesforce, Zapier, HubSpot, Microsoft Dynamics, Freshdesk, Intercom, Zendesk, Shopify, or Zoho, CallHippo integrates with them all. 
You can check our complete list of integrations here. 
These integrations help you automate tedious processes like syncing call details in your CRM, generating customer information before the call, and more, helping you boost productivity throughout the organization.
3- Local & International Numbers
CallHippo allows you to purchase local phone numbers for 190+ countries. This means, though you're located in a different country, you can access a local business number of the region you operate in. This will significantly cut down the long-distance charges as you will pay as per local rates when interacting with your customers. 
Another benefit of using local business numbers is that it makes customers more comfortable and helps build trust with them. As a result, you will see an increase in engagement rate and conversions. 
You can even purchase unique numbers for different marketing campaigns from CallHippo and route them to your primary business line. This will help you determine the effectiveness of each campaign and boost your ROI (this feature comes as an add-on).
4- Call Barging and Call Whisper
In the premium plan, CallHippo offers a call barging and whispering facility. 
Call whisper allows you to listen to calls in real-time and advise the agents on the next steps. And while you do this, the customer on the line won't be able to hear you, only the agent can listen to what you're saying. This helps improve the agent's understanding and handling of different situations over time. 
Call barging, on the other hand, allows you to jump into calls in real-time. This comes in handy when the customer is angry or frustrated, and the agent is unable to handle them. Managers can barge into calls to solve their queries and prevent escalation and bad customer experience. This helps protect the brand image in the long run.
5- Compliant With Necessary Regulations
As a leading VoIP provider, CallHippo prioritizes security and compliance for its customers. 
CallHippo is HIPPA (Health Insurance Portability and Accountability Act)-compliant that aims to keep patients' sensitive information private and secure.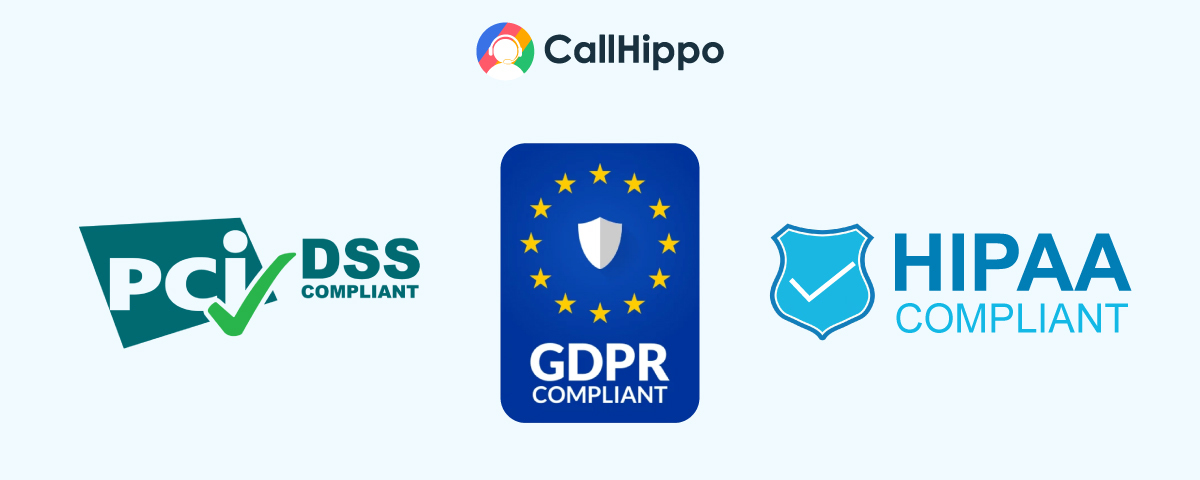 Additionally, CallHippo complies with the GDPR (General Data Protection Regulation), helping you protect your data safely and increase the credibility of your services. 
That's not it. CallHippo is also PCI-compliant. This means you can make payment transactions fast and frictionless over the phone while keeping sensitive card information away from the system.
Other major benefits of CallHippo VoIP include:
99.99% uptime guarantee

You can call your entire team at one go

Robust analytics and dashboard to help you understand the agent's performance, enabling you to coach them accordingly
Final Thoughts
Choosing the right VoIP service for your business can be a challenging task. However, the research also ensures that you get the best value for money from your VoIP vendor. While Ooma and magicJack are great options, they don't offer as many features as CallHippo in the same price range. Plus, our patent-pending technology helps enhance the call experience in real-time. 
Still have questions? Shoot them in the comment section, and we will answer them ASAP!
More Comparisons:
WORDS THAT MAKE SENSE!
Read The Most Well Researched & Insightful Articles From CallHippo Team