Date: January 16, 2023
VoIP (Voice over Internet Protocol) solutions have become a crucial part of business communications these days. In fact, 61% of businesses have already switched to a VoIP system. 
And why not? Companies that switch to a VoIP system experience a 90% reduction in communication costs. 
However, it is crucial to pick the right VoIP solution for your business. If not, it will do more harm than good. For instance, it can hurt the customer experience and disrupt your services. 
RingCentral and Grasshopper are among the two most reliable VoIP providers, serving businesses for years. Both of these cloud business phone systems are feature-rich, provide decent customer support, have a variety of third-party integrations, and offer multiple pricing options.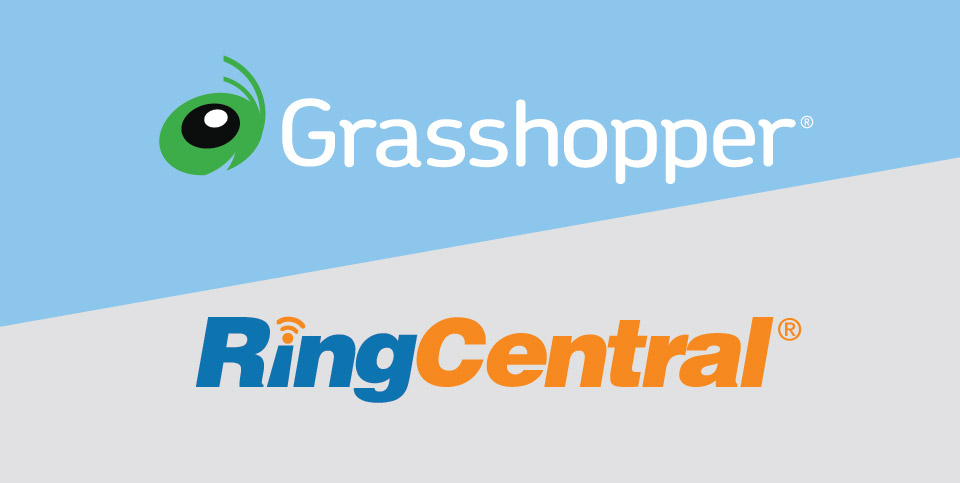 ( Source: solutionscout )
But the question is, which one is right for your business? Or is there a better choice?
In this article, we will compare the features, pricing, user experience, and customer support to help you make a more informed decision. 
Disclaimer: The comparison between Grasshopper vs. RingCentral is based solely on the information available on their website with no bias against the providers. 
Let's get started!
RingCentral vs. Grasshopper: An Overview
Ideal for small businesses and solopreneurs, Grasshopper, offers versatile calling and messaging features. With Grasshopper, you can choose from a wide range of toll-free, vanity, and local numbers to facilitate business communications. You can also port your existing business number to Grasshopper. That way, your personal number stays private, enabling you to separate your personal and business communications.
On the other hand, RingCentral is ideal for companies of all sizes and offers a myriad of advanced features. RingCentral provides toll-free minutes on every plan (starting from 100 minutes, going up by as much as 10,000 minutes per month). It offers extensive integration options, making it perfect for businesses that use various cloud-based tools. You can also collaborate with your team members, assign tasks, share calendars, and more. 
When it comes to similarities, both Grasshopper and RingCentral have a mobile app that enables you to facilitate business communications on the go. Also, you get unlimited calls within the US and Canada. 
Another similarity between Grasshopper and RingCentral is that they both offer 24/7 support irrespective of the plan you choose. 
But, these are the only similarities. Grasshopper and RingCentral differ in terms of features, plans, ease of use, and integrations. And that's what we will discuss now.
RingCentral vs. Grasshopper: Features
Let's begin with analyzing the features of RingCentral. 
RingCentral makes communication seamless by integrating all the channels – message, phone, and video. Plus, it works on all your devices as long as you have an internet connection. 
That said, here are some of the notable features of RingCentral.
Business phone or toll-free numbers

Business SMS

Voicemail-to-text

Team messaging

Document sharing

Analytics 

Live reports

Desktop and mobile app

Audio and video conferencing

Intercom
In addition to these ten features, RingCentral also offers a wide range of basic and advanced functionalities, such as extensions, call screening, call forwarding, answering rules, and roles & permissions (for security).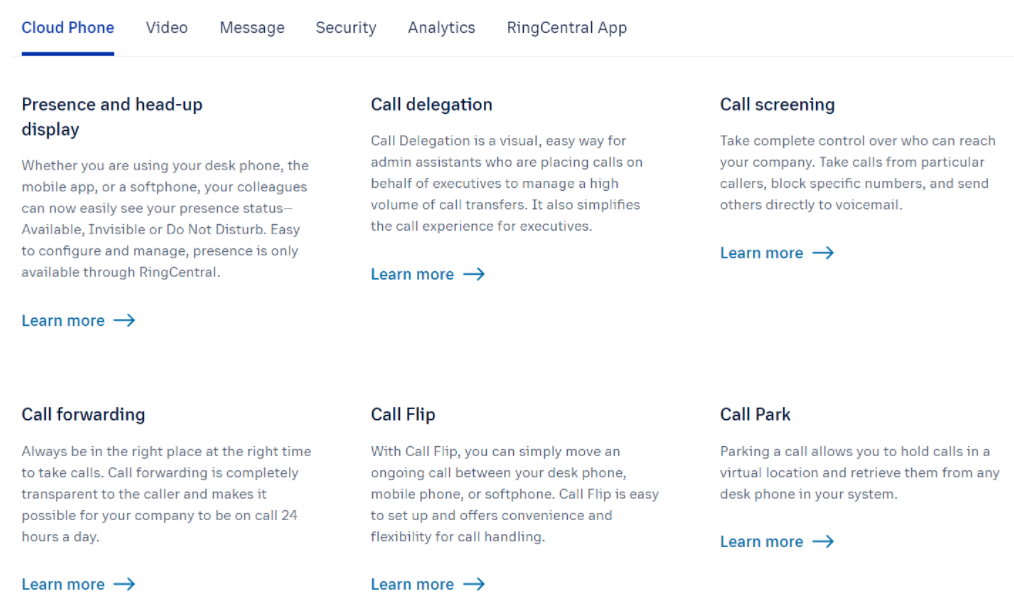 These features can altogether help you offer the best possible experience to your customers. For instance, call forwarding enables you to redirect the call to another number when you're unavailable. Similarly, call analytics help you understand your agent's performance and improve them over time. 
Moving on to what Grasshopper has to offer. 
Grasshopper is also a cloud-based VoIP system that offers several innovative features to make business communications quick and more effective. 
All Grasshopper plans include
Mobile & desktop apps

One business phone number

Business texting

Call forwarding 

VoIP + WiFi calling

Virtual fax

Extensions 

Instant response

Custom greetings
The premium plans offer more business phone numbers and extensions. You can also purchase add-on features to further enhance the functionality of your phone system. For instance, you can buy a virtual receptionist to deliver a personalized experience to callers. You can also purchase additional phone numbers at $10 per month.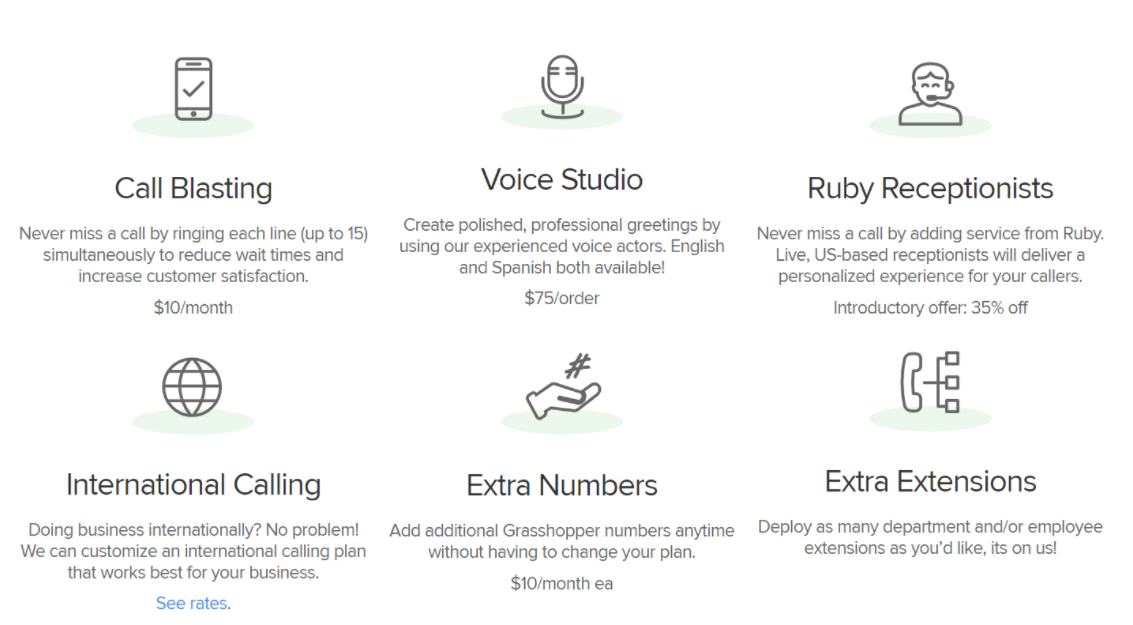 Note: The features vary depending on the plan you pick. 
It is also worth mentioning that you will be charged as per international rates if you call your customers in a different country (which we will discuss in the following sections).
RingCentral vs. Grasshopper: Plans & Pricing
VoIP systems are based on the cloud, meaning you have to pay a monthly fee to continue to use your phone system. Thus, price plays a crucial factor in choosing the right VoIP tool for your business. 
That said, let's look at how Grasshopper vs. RingCentral compare in terms of pricing. 
Starting with Grasshopper, it offers three plans: Solo, Partner, and Small Business.
The Solo is priced at $29 per month. It offers all the basic features mentioned in the previous section, i.e., one business phone number, business texting, call forwarding, custom greetings, call transfers, etc. 
When you upgrade your plan to Partner at $49 per month, you will get all the above benefits plus three phone numbers and six extensions. 
The top-tier plan of Grasshopper, Small Business, is priced at $89 per month and offers five phone numbers with unlimited extensions.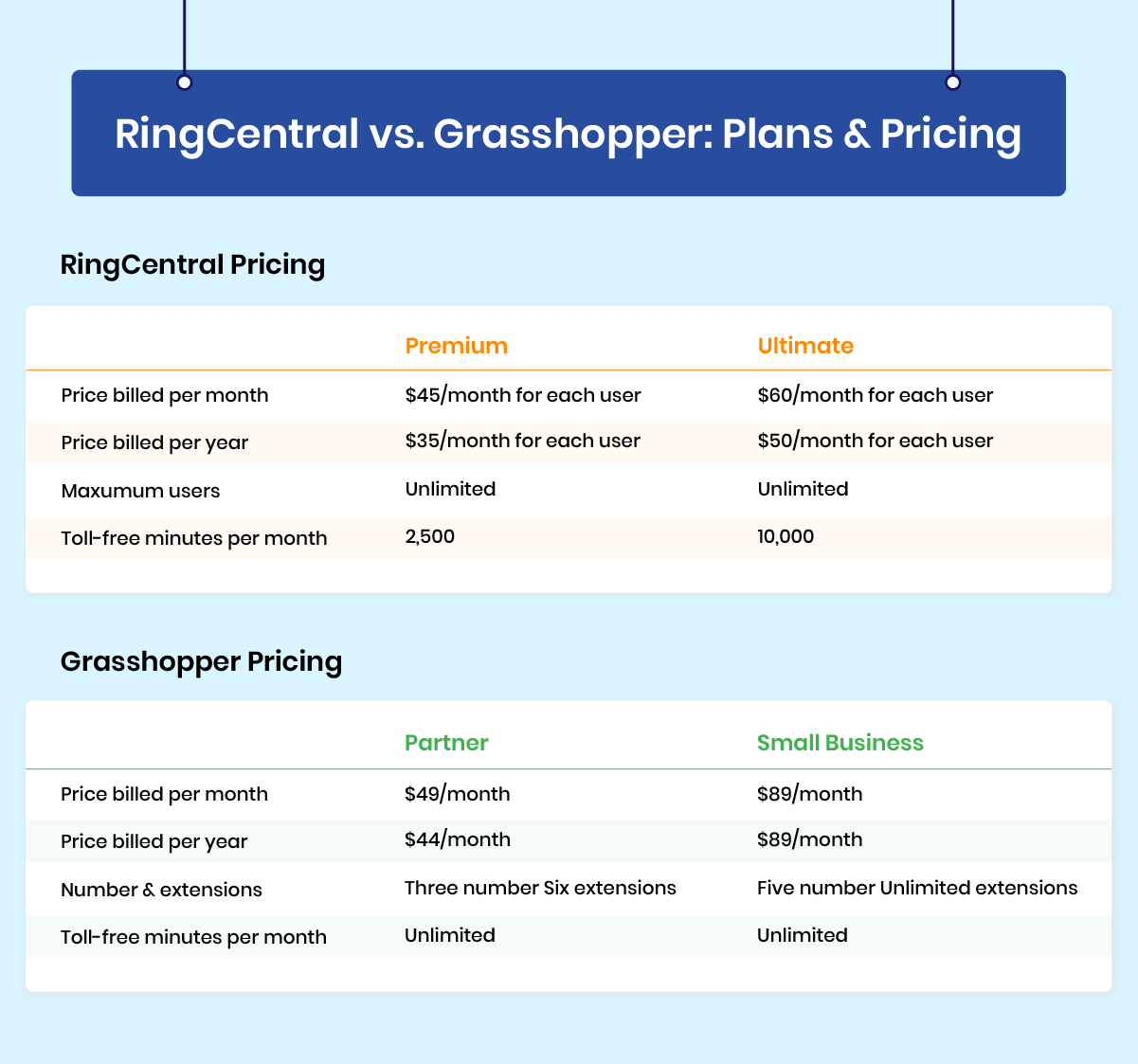 Coming to RingCentral, it offers four plans: Essentials, Standard, Premium, and Ultimate. 
Essentials is priced at $29.99 per month. Choose this plan if you need only basic features like a business/toll-free number, business SMS, voicemail-to-text, team messaging, and document sharing. 
However, if you need features like a business phone number in over 100 countries, unlimited audio conferencing, video conferencing (with up to 100 participants), quality-of-service reports, or 24/7 support, you will need to upgrade to the Standard plan, which costs $37.99 per month. 
The Premium plan is priced at $44.99 per month. It offers automatic call recording, single sign-on, multi-site admin & management, hot desking, advanced call handling (whisper, barge, and more), and real-time analytics. 
However, if you also need device status reports, device status alerts, and unlimited storage, you will have to upgrade to the Ultimate plan, which costs $59.99 per month. 
Tip: Choose annual plans to get a discount on your VoIP package. 
If you are a rapidly growing business, RingCentral offers more features than Grasshopper. However, if you are a solopreneur looking for a cost-effective solution, Grasshopper could be the ideal choice.
RingCentral vs. Grasshopper: Best for International Calling
As mentioned above, the subscription fee is only for the features you get with your VoIP system. You will have to pay an additional amount for every minute, especially when making long-distance calls. 
For instance, when calling your customers in the UK, you will have to pay $0.02 per minute in Grasshopper. In RingCentral, the price starts from $0.039 per minute. 
Similarly, to call Australia, Grasshopper's prices start from $0.03 per minute while RingCentral charges $0.039 per minute. 
While the differences look very small, the bill could increase significantly, especially if you make hundreds (or thousands) of international calls every month. 
Therefore, it is crucial to compare the international charges of both vendors before choosing one.
Here are Grasshopper's International Calling Rates and RingCentral's International Calling Rates. 
In conclusion, Grasshopper offers more cost-effective international calling rates than RingCentral. But, it is worth checking the cost of calling in countries you have customers in.
RingCentral vs. Grasshopper: Customer Support
Like features and pricing, customer support is a crucial factor to consider when choosing a VoIP provider. 
After all, it would be pointless to partner with a VoIP vendor that offers tons of features but doesn't offer help when you need it, right?
Let's start with RingCentral customer service. 
RingCentral offers support via multiple channels: phone, live chat, support case online, and community support. Additionally, you can reach out to the RingCentral team via social media for any queries. It is worth mentioning that RingCentral offers 24/7 phone support. 
Note that all these channels are designed to solve issues based on urgency. For instance, for simple problems, you can browse through their community support for answers or even ask a question. You can also reach the team via live chat. However, support cases online are the right choice for complex queries that need escalation but are not time-sensitive.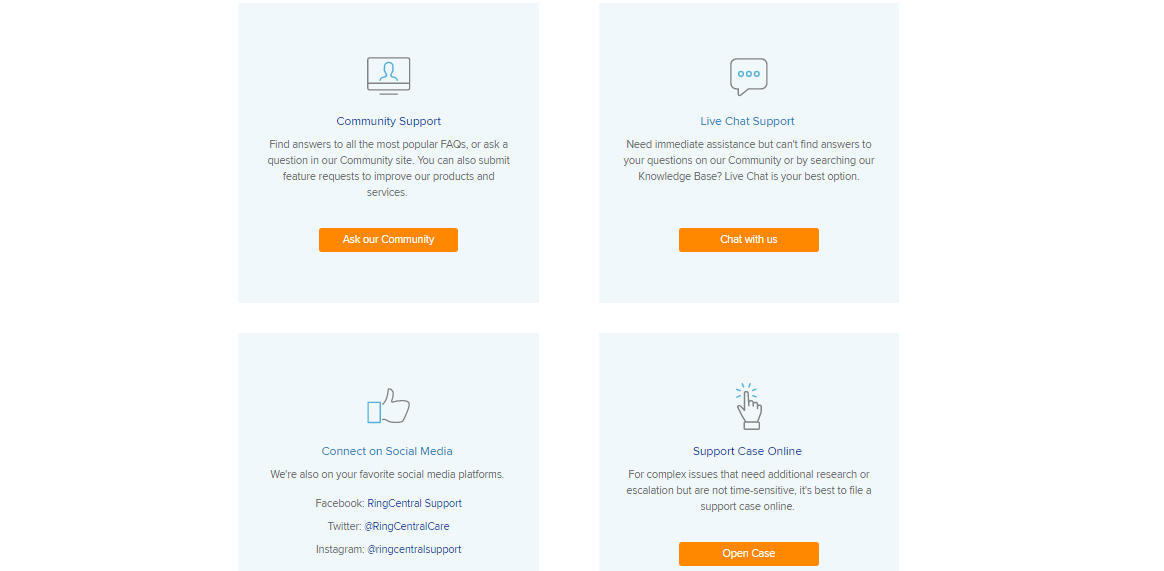 When it comes to Grasshopper, it also offers 24/7 phone support to all its customers. Additionally, you can find solutions to your queries in its knowledge section. Here's the Grasshopper customer service number: 800-820-8210.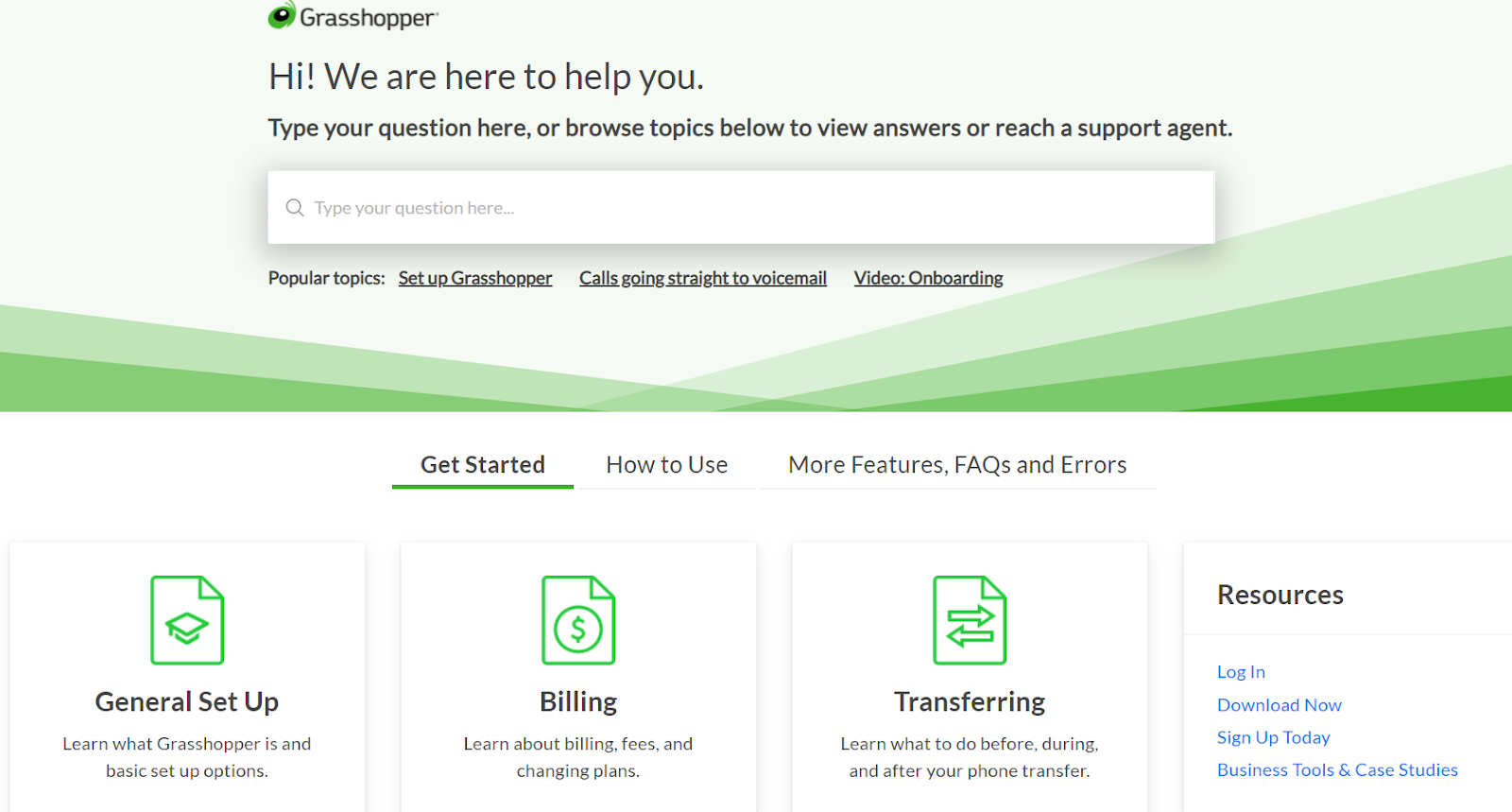 In conclusion, RingCentral offers more support options than Grasshopper. However, this doesn't mean Grasshopper lags behind.
RingCentral vs. Grasshopper: Integrations
Integration is also a crucial aspect of a VoIP solution. The more integrations a VoIP tool offers, the better. That's because integrations help connect all your tools, thereby enhancing the efficiency and productivity of your employees. 
RingCentral allows you to integrate popular tools like Microsoft 365, Google Workspace, Slack, Salesforce, Zendesk, and more. For premium users, RingCentral also offers industry-specific integrations, such as Canvas and Smarsh.
Additionally, the RingCentral APIs lets you seamlessly integrate your business processes with the VoIP solution. 
When it comes to Grasshopper, it has very limited integration options. It includes:
Skype

Zapier

LiveChat

Shift

Firepoint
In conclusion, RingCentral offers more integration options than Grasshopper. So, if you are looking to create a connected environment, RingCentral is the ideal choice.
RingCentral vs. Grasshopper: Which One Should You Choose?
In the battle of Grasshopper vs. RingCentral, the right VoIP solution for your business depends on your business's unique requirements. 
Both RingCentral and Grasshopper are undoubtedly efficient and reliable. They also offer several advanced features to make your communications seamless. 
To make things easier for you, here's when to choose which one.
Choose RingCentral if: You are looking for a VoIP system that integrates with all your existing business solutions and offers advanced features such as business texting, audio & video conferencing, and document sharing. 
Choose Grasshopper if: You are looking for a cost-effective solution for your communication needs. It also has several advanced features to make business communication seamless for you. 
However, if you are not satisfied with either VoIP provider: Grasshopper or RingCentral, we have the perfect solution for you – CallHippo. 
Let's understand what makes CallHippo better than Grasshopper and RingCentral.
CallHippo – The Perfect Alternative to Grasshopper vs. RingCentral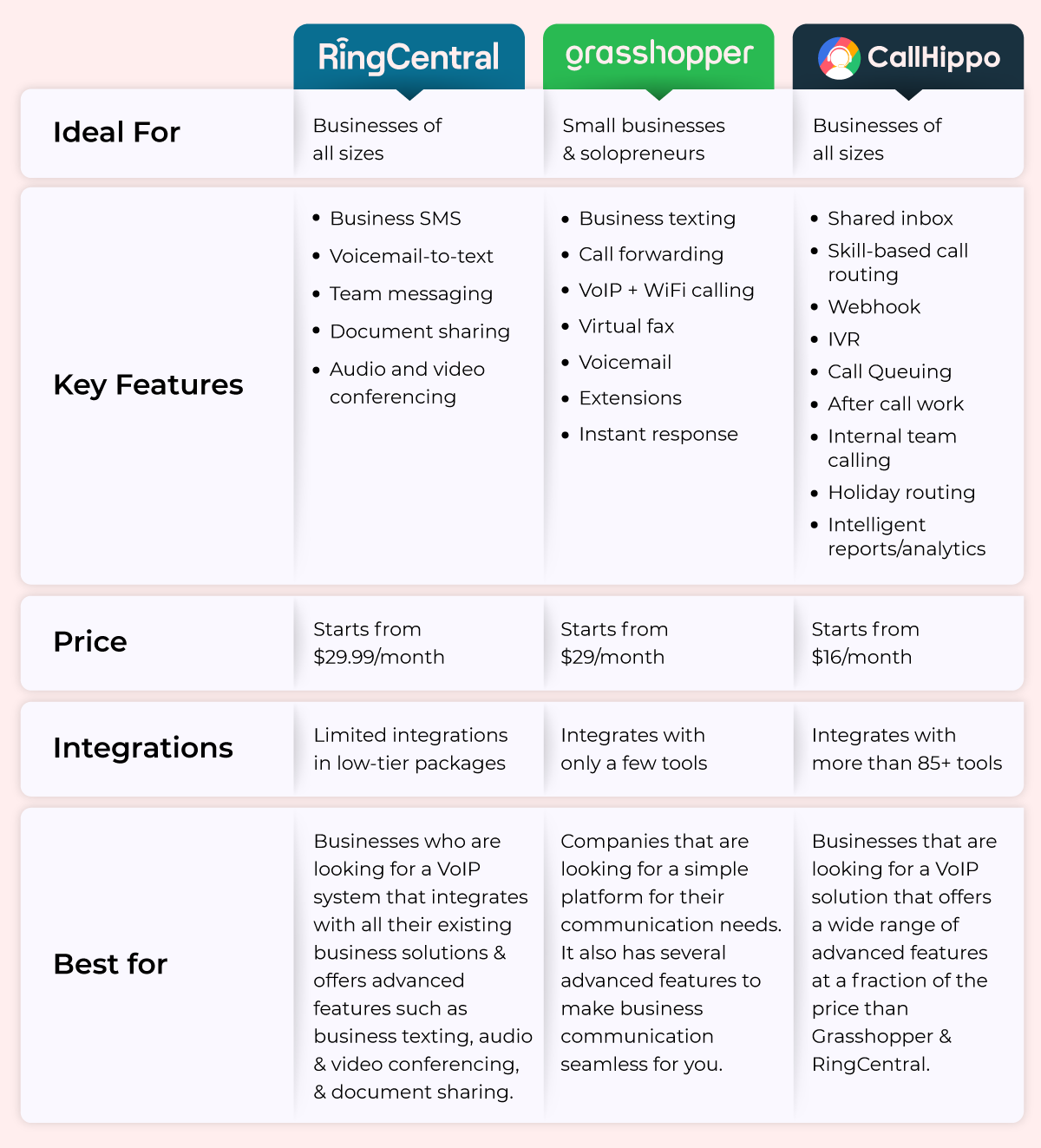 Callhippo is a cloud-based phone system similar to RingCentral and Grasshopper, but with more robust features, integrations, and affordable pricing plans. 
Trusted by more than 5,000+ global brands, CallHippo allows you to purchase local and toll-free numbers in over 190 countries. You can also port your existing business number to CallHippo and leverage all the advanced call center communication features. 
Here are some reasons that highlight what makes CallHippo a better choice than Grasshopper and RingCentral, any given day.
1- More Advanced Features in Less Price
Designed for SMEs and enterprises alike, CallHippo offers a wide range of advanced features. Plus, you will get a free phone number of your choice on every plan.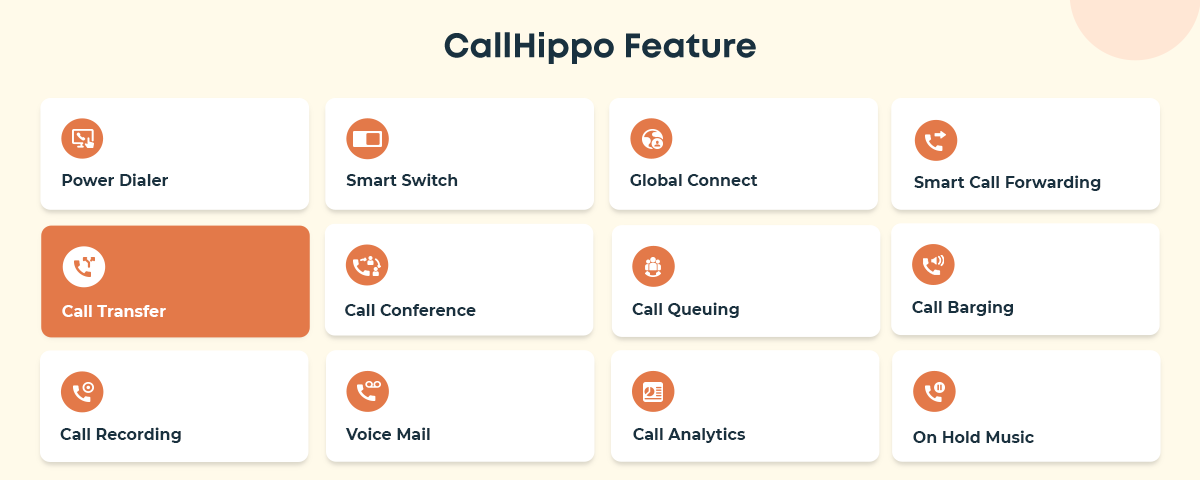 Here are some notable features of CallHippo.
One free number

Call forwarding

Business texting

Voicemail

Teams

Shared inbox

Skill-based call routing

Webhook 

IVR

Call Queuing

After call work

Internal team calling

Holiday routing

Call barging

Intelligent reports/analytics
Moreover, CallHippo is available on multiple platforms and devices, including web, iOS, macOS, Windows, and Android. 
The CallHippo VoIP starts at $16 per month. It offers features like a free number, call forwarding, voicemail, shared inbox, skill-based call routing, and more. 
Should you need more advanced features like user working hours, IVR, call reminder, after-call work, and reports via email, you can upgrade to the Silver plan that costs $24 per month. 
Here are some key features of CallHippo that RingCentral and Grasshopper lack:
Power dialer

Smart switch

Warm transfer

Multi-level IVR
When RingCentral offers the basic features at around $29, CallHippo offers it for $16 only.
2- Advanced Integrations
CallHippo integrates with more than 85+ business tools. No matter which software you use, chances are it can be integrated with CallHippo, making it easy for you to connect all your business processes. 
For instance, CallHippo integrates with
Zoho CRM

Zapier

Pipedrive

Salesforce

Zendesk

Shopify

Intercom
Check the entire list of CallHippo Integrations here. 
This is more than what RingCentral and Grasshopper offer.
3- Compliant With Necessary Regulations
Meeting compliance requirements related to customer data handling could be challenging. You have to keep track of the changing laws and regulations in all the countries you operate in. 
The good news is, CallHippo makes it easier for you. If you are in the Insurance or healthcare industry, you won't have to worry about ensuring HIPAA (Health Insurance Portability and Accountability Act) compliance as CallHippo takes care of that. CallHippo ensures that your patients' sensitive information remains private and secure even when they share their details with your agents.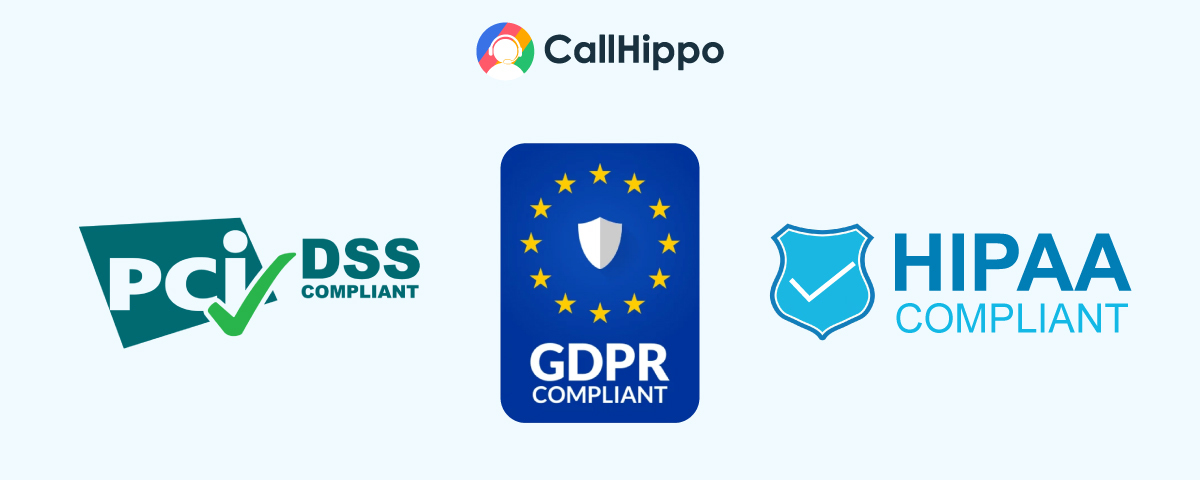 Additionally, CallHippo complies with the GDPR (General Data Protection Regulation), protecting your data safely and increasing the credibility of your services. 
4- Local and International Numbers
Customers are highly likely to pick your phone when you call them from a local number. Plus, it reduces your calling costs drastically. 
At CallHippo, we understand that. Therefore, we allow you to purchase local phone numbers of more than 190 countries. This means, even though you are located in a different country, you can access a local number of another region. 
You can also consider purchasing various numbers for your marketing campaigns. You can then assign each campaign a unique number to determine the ROI. 
All the qualities of CallHippo certainly make it better than RingCentral and Grasshopper. CallHippo is not only cost-friendly but also offers more features and integrations than Grasshopper and RingCentral.
Wrapping Up
In the battle between Grasshopper vs. RingCentral, we found that both the VoIP systems are suitable for organizations of different sizes and needs. However, even though they offer a set of advanced calling features, they both lack one or the other thing. For example, RingCentral lacks affordable pricing plans, while Grasshopper is not very good with integrations. 
Fortunately, CallHippo addresses all these shortcomings, making it the perfect alternative to both the VoIP providers.
WORDS THAT MAKE SENSE!
Read The Most Well Researched & Insightful Articles From CallHippo Team