Invest in CallHippo -the ideal Ringcentral alternative that has advanced functionality and state-of-the-art reporting capabilities. A one-stop solution for call management, CallHippo has an intuitive interface and provides excellent customer support. So end your search for a RingCentral alternative now and choose CallHippo to achieve key strategic goals!
Compare Features & Pricing And Select The Best Ringcentral Alternative
About RingCentral
For businesses looking for their own VoIP phone system, RingCentral is a popular choice to make. It comes equipped with a plethora of features and various third-party integrations like Hubspot integration, Zapier integration, etc. Besides, it is easy to set up, flexible, secure, offers unified communication and is reliable. Businesses can start with a free trial of RingCentral.
Below are some of the notable features of RingCentral:
1. Cloud PBX
RingCentral is a cloud-based virtual phone system provider, so it is a secure way of handling all your business communication. It also makes sure to maintain a backup of essential information on the cloud so that there is no data loss in case of any unforeseen event.
2. Automatic Call Recording
RingCentral automatically records all conversations and maintains a log so that they can be accessed at any time to improve service and train staff members better.
3. Number Portability
Number portability is another helpful feature of RingCentral as portability enables organizations to carry on with the same number and not lose valuable clients in the long run.
4. Greetings and Music on Hold
RingCentral provides personalized greetings for customers and also plays music on hold to offer a seamless calling experience with a personal touch.
5. Caller ID
All RingCentral's virtual phone systems have an advanced caller ID system so that team members can be aware of where the call is coming from and provide better service.
6. Pricing Plans
RingCentral has a number of plans to suit your organizational requirement, with the essentials plan at $19, the standard plan at $24, the premium plan at $34 and the ultimate plan at $49.
However, if they want to take advantage of RingCentral's full-range features, they can choose any of its three paid plans. All these plans vary in price, the number of users, and the number of minutes.
Though RingCentral is affordable, it has its own limitations. And it works only for companies and organizations. So, those who are looking for a better cloud telephony system must look into RingCentral alternatives.
Why CallHippo is An Ideal RingCentral Alternative
When it comes to delivering cloud telephony solutions, CallHippo is the leader in the VoIP market and a potential alternative to RingCentral with more features. It has assisted multiple professionals, enterprises, and organizations in accelerating growth by offering a feature-rich business phone system, unified communication and full-service support.
Besides virtual phone numbers, CallHippo caters to local, toll-free, online, and vanity phone numbers for more than 80 countries across the globe. Here are some of CallHippo's key features that demonstrate why it is better than RingCentral or the perfect RingCentral alternative:
1. Call Transfer
Call transfer is a very useful facility as it allows for the seamless redirection of a connected call from your phone number to another team member. The transferred call is established as a new connection, and it is the easiest way to ensure better service from extensions or departments in your organization.
2. Call Conferencing
CallHippo virtual phone numbers make it very simple to engage with global partners, clients, customers and stakeholders through virtual call conferencing. It enables users to add a third party to a call and convert it to a streamlined conference experience, thereby escalating operational efficiency.
3. Interactive Voice Response (IVR)
Automated voice response provided by CallHippo virtual phone numbers is a massive time, money, and energy saver as it eliminates the need for a receptionist to answer calls at the front desk. Customers can avail better service at any time of the day and automatically redirect themselves to a particular extension or department.
4. Call Queuing
This is one of the best of all CallHippo features – call queuing is a dynamic facility that places a client in an orderly queue while an agent is attending to another call. In addition, CallHippo also allows for personalized pre-recorded messages or music to play while customers are waiting in the queue – a customized touch to show clients that their patience is appreciated!
5. Call Barging
CallHippo virtual phone platforms have a revolutionary feature of call barging, which facilitates supervisors to silently monitor calls and enter a particular call through a three-way conference if required. This is very helpful in training new agents and providing superior service to existing customers.
6. Pricing Plans
CallHippo primarily offers three plans: Bronze, Silver, and Platinum. The Bronze plan costs $16 per user per month, the Silver plan costs $24 per user per month, and the Platinum plan costs $45 per user per month. Moreover, CallHippo also provides enterprise-customizable solutions to fit the clients' specific needs.
*The Platinum plan is available on annual subscription only
Why Choose CallHippo as a RingCentral Alternative?
Here are some compelling reasons to pick CallHippo over RingCentral:
1. CallHippo Enables You To Pre-Identify Your Clients' Time Zone
Often, people end up calling their international clients at the wrong time. Thus, it creates a negative impression. Besides, searching for the client's time zone every time you place a call takes up a lot of time. To eliminate these hassles, CallHippo came up with a unique feature named GlobalConnect.
With GlobalConnect, all you need to do is hover your mouse cursor over the number you want to dial. It will pop up the relative time zone and determine if the number is valid or not in a fraction of a second. Hence, you always assure connecting with your prospects or clients at the right time.
2. CallHippo Promotes Team Collaboration
CallHippo's capability to enable employees to make calls among themselves makes it a better RingCentral alternative. Internal calling not only helps in building stronger relationships but also in enhancing customer support.
For example, while talking to clients, your employees can seek assistance from colleagues and resolve queries immediately. This feature is crucial for companies with teams at multiple sites.
3. CallHippo Reduces The International Calling Costs
When you deal with multinational clients, you own multiple virtual phone numbers. For instance, calling an Australian customer from an Australian virtual phone number would be more cost-effective than placing a call from a US number.
If you are using CallHippo, you can free yourself from the fuss of dialing from a wrong number. Its feature named Auto-Switch automatically chooses the right virtual number you own as soon as you enter the number you are dialing to.
Overall, CallHippo is the best choice for professionals looking for a RingCentral alternative because it offers a range of features that are better to RingCentral while remaining affordable.
Comparison of RingCentral with CallHippo
-

Plans
Bronze - $16, Silver - $24, Platinum - $40, Enterprise- Customized Solutions
Standard - $24.99, Premium - $34.99, Enterprise - $44.99
Price Scheme
Monthly payment | Annual Subscription
Monthly payment | Quote Based
Product Info
CallHhippo.com provides you with ultimate solution adhering to all your business requirements associated with Phone Support Systems.
A cloud phone system designed to make business communications easier.
Features

Automatic Call Distribution
IVR System
Custom Messages
Call Recording
Forward to Cellphones
Voice Mail
Working Hours Per User
Contact Management
Shared Contacts
Email Support
Priority Email
Free Calling Credits
Call from Any Number
Ring All Devices
Office/Number Opening Hours
Call Hold
Call Hold With Custom Music
Call Mute
Click to Call
Voicemail in Email
Voicemail Custom Greeting
Custom Integration
Call Notifications
Android App
iOS app
Outbound Caller ID
International Numbers
3-Digit Editable Extension
Call Conference
Call Barging
Call transfer
On Call Notes
Call Reminder
Analytics
Concurrent Calls
Global connect
Dynamic Number insertion
Auto-switch numbers

Call Recording
Voicemail
Call Disposition and Notes
Call Queues
Call Control
Unlimited Concurrent Calls
International Numbers
Outbound Caller ID
Personalized Greetings
IVR System
Skill Based Routing
Forward to Phone
Contact History
Built-In CRM
Enhanced Caller ID
Contact Tags and Custom Fields
Automated Tasks
Compile Contact Lists
Integrations
Data import and Synchronization
Call Monitoring
Historical Reporting
Real-Time Reporting
Power Dialer
Web to Lead
Email Notifications
Desktop Notifications

Customer Support
Phone, Live Support, Ticket, Training
Phone, Ticket, Live Support
Types of Customers
Small Business | Large Enterprises | Medium Business
Small Business | Large Enterprises | Medium Business | Freelancers
OS Supported
Windows, Mac, Web-based, Android, iOS
Windows, Mac, Web-based, Android, iOS
Declaration : We hereby declare that the information furnished above is true, complete, and correct to the best of our knowledge and belief
Here Are the Top 13 RingCentral Alternatives.
While RingCentral is one of the most popular VOIP systems, it is not perfect for every company. So, here we bring the 13 best alternatives to RingCentral. 
1- CallHippo
CallHippo is one of the leading RingCentral Alternative because it has built a phone business solution that works for businesses of all sizes. CallHippo provides international phone numbers (of up to 80 countries) at an affordable price. 
Reasons to choose CallHippo over RingCentral:
You get 24*7 support, every day

It has workflow automation for improved productivity

Can be set up within minutes

CallHippo also has an IVR (Interactive Voice Response) system and power dialer for connecting with customers more efficiently

Works with over 100 integrations (like Zapier, HubSpot, Salesforce, etc.)
Pros
Extremely affordable

Excellent customer service

User-friendly
Cons
Connectivity issues

Metered Calling

Some features are difficult to set up
CallHippo Pricing
| | | |
| --- | --- | --- |
| Bronze ($20/user/month) | Silver ($30/user/month) | Platinum ($35/user/month) |
| Free number, forward to device, SMS, Voicemail, call recording, and more | Everything in bronze + IVR, live call, after call work, call cascading, holiday routing, and more | Everything in silver + power dialer, 3-way calling, call barging, IP whitelisting, customer caller id, and more |
2- GrassHopper
GrassHopper is yet another popular name in the VoIP industry as Ringcentral alternative. However, unlike CallHippo, which is perfect for businesses of all sizes, GrassHopper focuses on individuals and small companies. 
Here are the key reasons to choose GrassHopper over RingCentral:
It allows you to automatically transcribe voicemails so you can refer to the written document when needed

24*7 automated attendant that interacts with your callers when you are not around

It has a virtual fax machine that allows you to send and receive faxes from the same number
You can also read a detailed review of ringcentral vs grasshopper on our blog.
Pros
Awesome texting features 

Customized greetings

Fast and easy setup
Cons
Setting up calls can be cumbersome

Not recommended for larger businesses
Grasshopper Pricing
| | | |
| --- | --- | --- |
| Solo ($26/month billed annually) | Partner ($44/month billed annually) | Small Business ($80/month billed annually) |
| 1 phone number and 3 extensions | 3 phone numbers and 6 extensions | 5 phone numbers and unlimited extensions |
3- Nextiva
Nextiva is one of the best RingCentral alternatives. Started in 2006, Nextiva serves over 150,000 companies. Like GrassHopper, Nextiva also provides an online faxing facility. 
Here are the key reasons to choose Nextiva over RingCentral:
It offers unlimited calling and SMS

Allows you to access customer and team communication within the same dashboard
Pros:
99.99% Uptime

Flexible and scalable

Professional implementation of service plans
Cons:
Expensive SMB plans

Steep learning curve

Poor call quality
Nextiva Pricing
| | | |
| --- | --- | --- |
| Essential ($19.95/user/month) | Professional ($20.95/user/month) | Enterprise ($27.95/user/month) |
| Unlimited calling within the US and Canada, free local and toll-free number, unlimited audio conference calls (up to 4 participants), and more | unlimited audio conference calls (up to 40 participants), screen sharing with audio and video, unlimited business SMS, and more | 10000 toll-free minutes, unlimited audio conference calls, Amazon Chime, voice analytics, mobile app calls, and more |
4- 8×8
8×8 offers multiple VoIP solutions to fit the needs of different companies and industries. Its hosted voice calls, voicemail, video conferencing, and text messaging features make it one of the top RingCentral alternatives. 
Here are some more reasons to choose 8×8 over RingCentral:
Built-in CRM integration for various platforms like Hubspot, GSuite, and Salesforce

Skill-based routing

Quality-management and speech analytics
Pros
There are cheaper price plans available for larger businesses

It provides 30 Days of free trial.

Works great on mobile and desktop
Cons
Missing productive features

The analytics reports are not configurable

Voice delay

You won't be able to call countries, including Japan, Italy, Poland, etc
8×8 Pricing
| | | |
| --- | --- | --- |
| Small business phone system ($12) | All-in-one voice, video, and chat (starts from $25) | Analytics for administrators and supervisors (starts from $45) |
| Unlimited calls (within the US and Canada), call handling, intelligent call routing, and more | Unlimited calls within 14 countries, business SMS/MMS, call recording, and more  | Unlimited calls within 47 countries, multi-level auto attendant, historical analytics, and more |
5- Dialpad
Dialpad has native voice intelligence feature increases productivity with real-time transcriptions and post-call summaries. If you are looking for such advanced featured Dailpad is the perfect RingCentral alternative for you.
Here are some reasons to choose Dialpad over RingCentral:
Works seamlessly across devices

Allows you to pen down key points during virtual meetings
Pros
Excellent customer support

AI-based voice intelligence is available on every plan

Offers a wide variety of feature

s
Cons
Scalability is difficult

Not available worldwide

Platforms eligible for integration are limited

No 24/7 support on the basic plan
Dialpad Pricing
| | |
| --- | --- |
| Standard ($15/user/month billed annually) | Pro ($25/user/month billed annually) |
| Unlimited calling, call controls (transfer, hold, mute), custom voicemail greeting, voicemail transcription, and more | All standard features, local number support in 50+ countries, custom off-hours routing, API & webhooks, and more |
6- Vonage
Launched in 2001, Vonage is one of the popular VoIP providers in the market. The primary reason to choose Vonage over RingCentral is that it uses cloud-based technology to continually update its communication ability over time. 
Here are some more reasons to choose Vonage over RingCentral:
You get a VoIP system with unlimited calls, SMS, and team collaboration tools

Allows video conferencing with over 100 people

Vonage promises 99.99% reliability
Pros
Easy and rich interface

Microsoft Teams integration

Reliable customer support
Cons
It can be on the expensive side

Bad customer service quality

Feature add-ons are expensive
Vonage Pricing
| | | |
| --- | --- | --- |
| Mobile ($19.99/month/line) | Premium ($29.99/month/line) | Advanced ($39.99/month/line) |
| Unlimited calls and SMS, Vonage app centers, and unlimited team messaging | Unlimited video for up to 100 people, multi-level auto attendant, CRM integration, and more | On-demand call recording, call group, visual voicemail, white glove set up, and more |
7- Intermedia
Intermedia is one of the top RingCentral alternatives because of its tiered services that fit businesses of all sizes. It doesn't have any annual contracts, which is great for new and small companies. 
Here are some reasons to choose Intermedia over RingCentral:
Intermedia promises 99.999% uptime and backs the claim in its service-level agreement

It allows you to check support tickets and access live chat

Provides 24×7 support
Pros
Ample features for video conferencing

Multiple software integration options

Live Chat is always quick and helpful
Cons
Not a smooth working on Firefox

Quite expensive than its competitors

Frequent call drops

You have to pay extra for additional services, like toll-free numbers
Intermedia Pricing
Intermedia has not made its pricing public. You will have to contact the company for a custom quote.
8- MightyCall
Designed especially for small businesses, MightyCall offers almost 99.99% uptime. MightyCall scores over RingCentral as its alternative as is that it doesn't charge you "per user."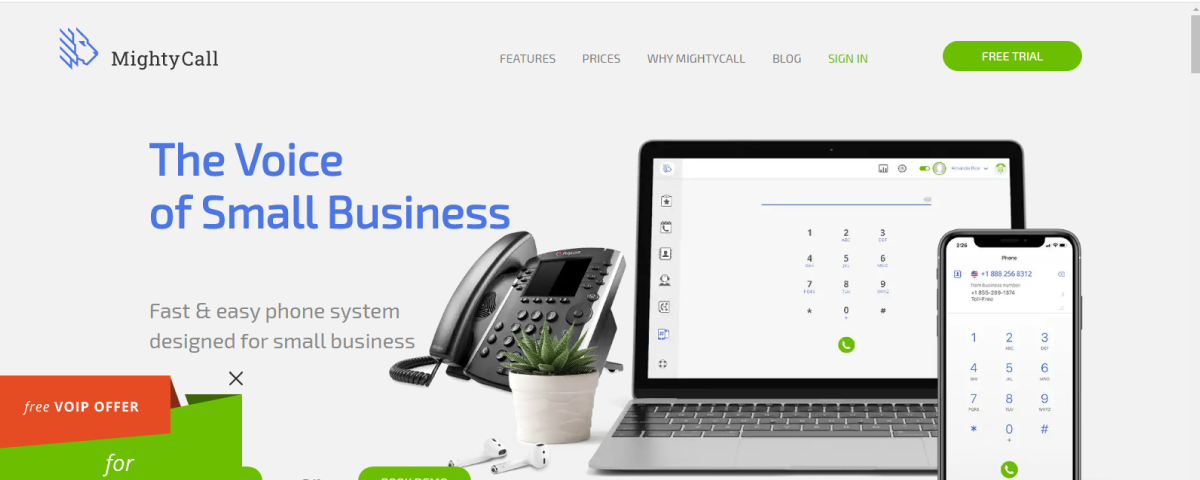 Here are some reasons to choose MightyCall over RingCentral:
Affordable for new and small businesses

It has a multi-channel activity dashboard that displays text messages, calls, emails, and social media interactions for each representative
Pros
MightyCall offers dial-by-name directory with all plans

Voicemail transcription

In addition, to call recording, MightyCall offers unlimited storage, an uncommon feature in the industry.
Cons
Few unified communications features

The free trial is only 7 days

The IP phone is only supported above the base tier

MightyCall auto-attendant doesn't offer self-service or voice support
MightyCall Pricing
| | | |
| --- | --- | --- |
| Basic ($29.99/month) | Standard ($39.99/month) | Ultimate ($99.99/month) |
| 1000 minutes, 2 toll-free numbers, unlimited users, voicemail, and more | Unlimited minutes, 5 toll-free numbers, call recording, voice to text, and more | Unlimited minutes, 10 toll-free numbers, presence indicator, voice studio recording, and more |
9- GoToConnect
Formerly known as Jive, GoToConnect provides unified communication solutions to organizations of all sizes. With its integrated suite, GoToConnect offers a PBX call routing system, automatic call distribution, and internet fax.
Reasons to choose GoToConnect over RingCentral:
Allows you to customize your calling schedules

Tracks agents' productivity and provides real-time business reports so you can improve your call center's efficiency over time
Pros
Robust portfolio of tools

Free calls to over 50 countries

Easy to use drag-and-drop call flow editor
Cons
There is a limit of 25 HD video streams per conference

Expensive

Poor call quality, as well as crackling and choppy audio

No cloud data storage
GoToConnect Pricing
User-based pricing starts from $19.95 per user per month
Cloud PBX, custom hold music, call routing, advanced ring strategies, up to 250 meeting participants, caller ID, do not disturb, unlimited call queues, and more
10- Aircall
Aircall is yet another great RingCentral alternative. It provides features like a power dialer and click-to-call. It also has dynamic switch capability, helping you avoid unwanted disruptions. 
Reasons to choose Aircall over RingCentral:
Consistent 99.99% uptime

Enables you to forward calls to your mobile device

The "call whispering" feature allows your agents to speak to teammates for better advice
Pros:
Good support team

Simple user-interface
Cons:
Software incompatible with most Bluetooth devices

Connection often gets lost
Aircall Pricing
| | |
| --- | --- |
| Essentials ($30/user/month billed annually) | Professional ($50/user/month billed annually) |
| Unlimited calls within the U.S. & Canada, call recording, IVR, voicemail, click-to-dial, and more | Salesforce integration, advanced analytics, live call monitoring, call tagging, power dialer, and more |
11- CloudTalk
CloudTalk is mostly used by customer support and sales teams working in startups, small businesses, and ecommerce. This RingCentral alternative offers more than 50+ advanced calling features, including IVR, real-time customer card, custom reporting, and conference call. 
Here are some key reasons to choose CloudTalk over RingCentral:
CloudTalk's wallboard provides real-time visibility across staff activities and identity behavior using sentiment or emotional analytics

It has an ACW (after call work) functionality that allows agents to complete follow-up tasks, thereby improving customer satisfaction

CloudTalk's "speech to text" feature helps you convert your calls to text to facilitate search in your recordings and train your agents
Pros:
Integrations with several popular CRMs

Internal phone number tags

Call Masking

Free trial available
Cons:
Mobile app is unreliable

Poor customer support

Call drops

Multimedia messaging isn't available
CloudTalk Pricing
| | | |
| --- | --- | --- |
| Starter ($15/user/month) | Essential ($20/user/month) | Expert ($35/user/month) |
| Unlimited inbound and intracompany calls, click to call, automated call distribution, mobile app, and more  | All Starter features plus advanced analytics, real-time client dashboard, skill-based routing, smart queuing, and more | All Essential features plus power dialer, smart dialer, call monitoring, wallboards, and more |
12- Ooma
Ideal for small businesses, Ooma helps you run your business from anywhere, provided you have an internet connection. However, unlike other VoIP systems in this list, Ooma is a standalone device that does not require a computer to run. All you need to do is connect your internet cable to the device. 
Here are some key reasons to choose Ooma:
Its virtual receptionist can help answer FAQs (frequently asked questions) when you are not in the office, keeping your customers engaged

It has a mobile and desktop app that allows you to run your business from anywhere

Multiple extensions for each of your employee
Pros:
Provides exceptional customer service

Easy and quick setup

User friendly
Cons:
No International free calls

Toll-free service costs extra

$29.95 activation fee

A Premier account is required for most standard features
Ooma Pricing
| | |
| --- | --- |
| Ooma Office ($19.95/month/user) | Ooma Office Pro ($24.95/month/user) |
| A mobile app, virtual receptionist, call parking, music on hold, call transfer, intercom, call forwarding, SMS, and more | Everything in Ooma Office plus desktop app, call recording, enhanced call blocking, and voicemail transcription |
13- Line2
Built especially for startups and SMEs, Line2 is a modern business phone service that's affordable and easy to set up. All you need to do is sign up, and you will have a second phone line for work. You can then make and also forward calls using Wi-Fi. 
Here are some key reasons to choose Line2 over RingCentral:
It allows you to design your IVR system with an auto-attendant feature 

It enables you to communicate with people one-on-one and with multiple groups via SMS and MMS

Has a call whispering feature that allows you to coach your agents in real-time and ensure customer satisfaction
Pros:
Provides 60 Days Free trial.

Good call quality
Cons:
Only suitable for small businesses
Line2 Pricing
| | | |
| --- | --- | --- |
| Starter ($14.99/month) | Growth ($19.99/month) | Business ($24.99/month) |
| 1 free toll-free number, up to 5 lines, unlimited toll-free minutes, caller ID, call forwarding, and more | Everything from Starter plus call scheduler, auto-attendant, and more | Everything from Growth plus call recording, voicemail transcriptions, and advanced reporting |
Conclusion
VoIP systems are quickly replacing traditional telephones in contact centers. When choosing a VoIP solution provider, make sure it has all the features that you need. 
Did we miss any of the top RingCentral alternatives? Which VoIP system do you use? Let us know in the comments.
List of other Ringcentral alternative alternative
Frequently Asked Question on RingCentral Alternative
What are ringCentral's disadvantages?
Some of RingCentral's disadvantages include:
Jittery customer support
Downtime issues
3-way calling could be simpler