Date: November 15, 2022
Whether you are the owner of a small drive-through or multi-location pizzeria, you must use a professional business phone system. But if you are still using a traditional phone system for your pizza restaurant, this article will help you understand how a business phone system can help you save time as well as money. At the same time, it will provide you with better service as well as efficient operations. 
You must be aware of how important first impressions are. For instance, if a potential customer calls your outlet instead of reaching directly to one of your executives, they get no answer to the call or an unfriendly welcome. In such cases, there are high chances they will either hang up or never order from you again because who wants to be treated like that. 
But imagine if the same customer is greeted with a friendly automated response or the call is redirected to another executive, which saves customers waiting in queue to give an order. How amazing would that be? 
If you are lucky and receive a high volume of phone calls every minute, you must understand the pain of customer handling because the business runs if they are handled professionally. If you have a centralized call handling phone system with a modern VoIP phone system, it can help your outlet to manage everything and reduce the customer wait time. This means more happy customers. 

Remember that no one wants to sit around and hold on to the call when there are millions of other options. If you have a phone system for a pizza restaurant, you can record calls easily and refer back to them in case you have hired someone new. This will also help the employees forget regular customers' go-to orders. 
List of benefits of phone system for a pizza restaurant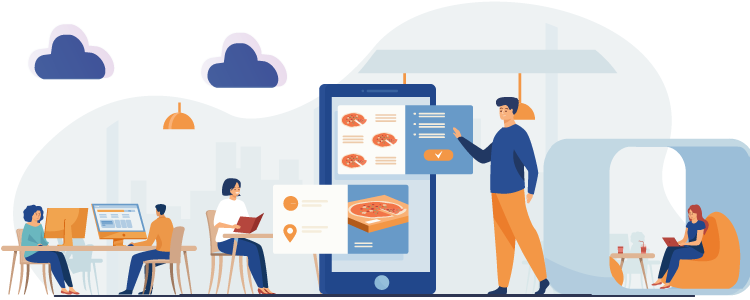 Before you make any decision, we thought we'd explain a few benefits of a business phone system to make you inclined towards it more. 
Can you tell us how your potential customers interact with your restaurant phone system? We know it is just a piece of the puzzle. So, you must know how having a professional restaurant phone system influences you and your staff?
i) Modern Technology: The phone system provided by CallHippo works on VoIP (Voice Over Internet Protocol). It is the same as the traditional phone system except now it works over the internet, and all the data is stored in the cloud. 
ii) Convenient Data Storage: All your data, automated responses, and voicemails will be stored safe and secure in the cloud, which can be accessed anytime, anywhere. 

iii) Cost-Effective: As everything is over the internet, unlike old landlines, the pricing is considerably lower. You can compare it to your present phone system and yes, it is way cheaper, more functional, practical, managed, and has a fantastic support team. If a restaurant runs VoIP, it can substantially cut costs. Customers save anywhere between 15-40% as compared to the traditional phone systems they used before. In short, you will be saving money in unexpected ways. 
iv) Make Long Distance Calls: As the sub-heading suggests, you can make local calls anywhere in the USA using USA virtual phone number, plus you can use international calling facilities if needed. That means you know what you are paying for in advance and your business will never hit unexpected fees at the month-end. 
v) Send Faxes: Everyone has a unique client base and then there is this one customer who always insists on something unarranged. For example, if you are stuck with a vendor who wants you to send an invoice over fax which is not possible if you don't own a fax machine. With a VoIP restaurant phone system, you can use an email fax system, you can ditch the fax machine, and start emailing the faxes. 
vi) More efficient workforce: As the VoIP phone system works on the cloud and is fully loaded with features, you can make the best out of it. Having these many features will improve your security, allow you to auto-block failed registration, SIP port scanning, velocity filters for wrong digits, and so on. You can integrate your phone system with all your internet-based systems like Salesforce, WordPress, etc. When the system takes all the extra load than your employees, you can save time and work with higher efficiency. 
vii)Improvise your marketing game: By now, you are aware that the VoIP phone system lets you record phone calls, but have you imagined how beneficial this is for your marketing strategies? You can review the recorded calls anytime and keep track of the calls made or received throughout the day. 
With the help of this fully loaded data, you can generate a marketing strategy and promotional plans that can target the needs and desires of your consumer base. 
What are the different types of restaurant phone systems?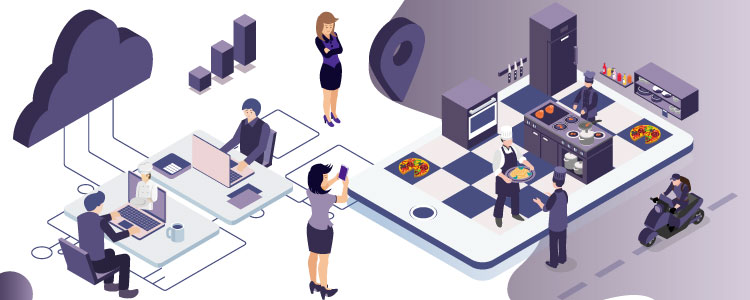 By now you are aware of the impact a phone system can have on your business. We have curated a list of terms that you should know before you start using one. 
KSU

– It stands for Key Service Unit telephones, and such units are used only by businesses. This sort of system is connected to a central unit present on the premises. It has a connection to the external services supplied by the service provider. If you have a restaurant that needs several extensions, then the service provider will require you to purchase a service and maintenance plan. 

Non-KSU

– This is generally your traditional home phone system and is suitable for small restaurants that have just started and use less than five lines. The restaurants should be pre-wired for the phone service before the local service provider can activate it. 

PBX:

It is one of the second most used terms if you are talking about a sound phone system. This type of phone system is used by restaurants that have a franchise. Exactly like KSU, every phone from a private must be installed by a licensed professional. The most significant difference between a KSU system and PBX is that a PBX system can maintain over 40 extensions and cover more than one location. That is the reason why franchise restaurants use it. 

VOIP – VOIP stands for Voice Over Internet Protocol. This phone system is very close to your landline phone system. The difference is that everything works on the internet, and all the data is stored over the cloud. It provides you with features that make your phone service excel. It reduces the monthly phone system cost by 15-40%. 
Now we are unquestionably more inclined towards VoIP systems as they can be customized to fit your needs. Still, you can choose which phone system will suit the needs of your restaurant. The best business phone systems will be that which can provide you with the most features and benefits at a pocket-friendly price. That's why we tell our clients to go ahead with VoIP.
Conclusion
Each restaurant has its share of hurdles before they make it big. Embracing cloud technology for the efficiency of service and success of the business with an increase in customer satisfaction is removing one hurdle off the list. Having a business phone system allows you to camouflage your presence everywhere. 

It is simple as that cloud telephony can extract more out of the food tech industry. Now you can not only make calls and send text messages, but you will own a smart telephone system. Now you can maintain customer privacy, verify orders, and deliver with small & simple methods.  

So, get ready to step into a new age of telephony for your pizza restaurant. 
Connect with CallHippo's well-knowledgeable executives for any queries regarding the business phone system.
WORDS THAT MAKE SENSE!
Read The Most Well Researched & Insightful Articles From CallHippo Team