Date: August 22, 2023
If you own an inbound call center or are thinking of setting up one, you must get well-versed with the concept of call queuing. Call queues are central to ensuring the efficacy of customer service call centers and delivering a seamless customer experience.
We aim to drive home specific points of relevance such as the what, why, and how of call queuing in inbound call centers. Read on to know more!
What is the call queuing feature?
When customers place a call to a business phone number system that uses call queueing facilities, a customized message and an IVR menu greet them. Their call gets placed in the queue where they hear pleasant on-hold music and position announcements until an agent becomes available to attend to their concerns.
It is important to note that the objective is to lower the average call queue time as it has a direct effect on customer satisfaction levels. The generic approach to distributing calls in the queue is the first-in, first-out approach. Call centers have an Automatic Call Distributor (ACD) software in place to redirect incoming calls to specific agents in the team. So basically, ACDs are responsible for holding up calls until an agent becomes available to attend to the same. 
We at CallHippo.com realize the necessity and benefits of having an efficient call queuing system in place. The latest update comes with the added option of customizing the waiting time in queues from anywhere in the range of one to five minutes, post which the call gets ultimately transferred to voicemail.
Improve level of customer engagements and communication with soothing on-hold music or customized messages that let them know that their call is of paramount importance to the firm.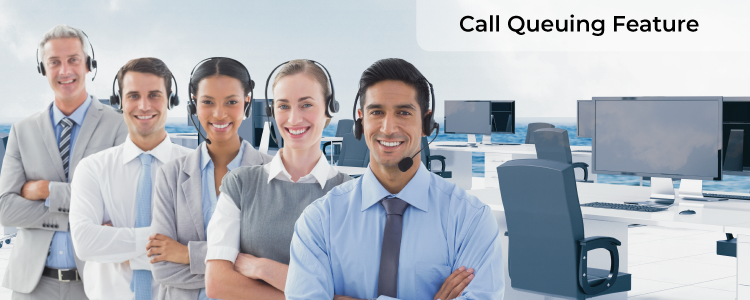 Call queues prove to be useful for both businesses as well as consumers. Callers can get acquainted with the telephony services while the call center staff can breathe a sigh of relief due to efficiently managed ACD queues.
Some call queues also have a provision for dynamic agent login, wherein additional staff members can log in to their phones at times of high call volumes to ensure smooth service for customers. It ensures that your business doesn't get overextended without compromising on the quality of customer service. Once the call load decreases, the additional agents can log out from the queue and resume their tasks. 
Why is Call Queue Management important?
Call queue management aims at improving the quality of service offered by call centers. To deliver an enhanced customer service, we must understand customer pain points. The following brings such challenges into perspective: 
Even a cursory glance at the above video points towards the requirement of having the right call queuing system in place.
Enhanced customer satisfaction :
Customers appreciate the prompt response and resolution of their queries and grievances. A negative customer experience or an unanswered call can prove to be detrimental for your business. 
The longer the caller has to stay on hold, the lower is the customer satisfaction. One surely doesn't want such a situation to surface for his/her business. Thereby it is essential to lower the call queuing time. 
Improved first call resolution rates :
The primary objective of any customer service call center is to offer a workable and effective solution to the customer's grievance in the first call itself, ideally. It not only empowers the customer but also allows the call center to handle higher call volumes and provide par excellence customer service. 
A decrease in call abandonment rate :
Customers are more likely to hang up when they are stuck in a queue for long periods. Customer dissatisfaction and call abandonment rates go up in the absence of suitable call queuing software. CallHippo understands the implications and allows you to redirect your call queues to voicemail so that you very lose your valuable customers. 
10 Power tips for improving call queue management 
Now that we have understood the importance of having an efficient call queuing system in place let us look at some ways by which we can accelerate the growth of our firm by ensuring happy customers!
1. Utilize virtual queueing or queue call back facility :
Virtual queuing involves holding a caller online without actually having them stay on hold. It consists of collecting the caller's number, and an agent calls him/her back when available. 
Virtual queueing is an effective strategy for call centers to tackle occasional volume spikes. According to a recent study of 200 call centers conducted by Contact Babel, the ones that offered a callback option to callers reported a 32% lower call abandonment rate. 
Queue callback empowers callers with the option of exiting the call queue and waiting for an agent to get back. Queue call back feature augments customer satisfaction, retention as well as reduced call abandonment rates. It results in a win-win situation for both the customer and the business.
2. Establish an effective IVR system :
Every growing business should have an Interactive Voice Response system as it solves basic queries of customers, which doesn't require an agent's intervention, such as; account balances, plan validity, etc. CallHippo provides an intuitive multi-level IVR system that directs customers to the right queue.
3. Allow agents access to queue metrics :
Giving your agents the option to review KPIs such as Average Time in Queue, Service Level, and Averaging Answering Speed ensures self-regulatory behavior amongst them. They can keep track of when they need to step up the game and when they are progressing as per standards. 
Also, giving them the freedom to monitor their matrics encourages them to make changes in their interactions with consumers to improve their KPIs. 
4. Create cross-functional teams to minimize waiting time :
Managers can help alleviate long waiting times by training team members to be skilled in different areas of the business. In case one department or team is extremely occupied at the moment, the managers can quickly fill the gap with cross-trained team members. 
5. Call recording, call analytics feature :
Recording calls works well for training your agents and team members. Managers have the opportunity to measure and improve productivity by tracking consumer grievance resolution quality.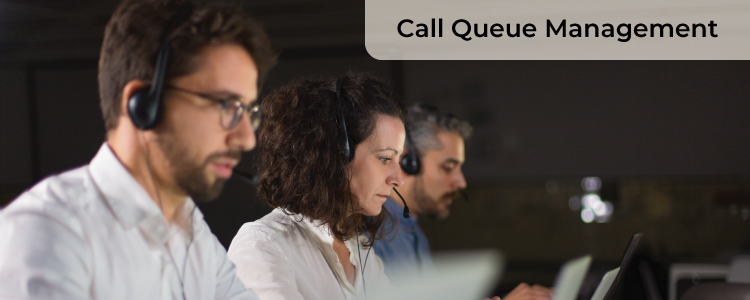 The longer calls indicate issues such as the agent interrupting the caller, not listening to the problem effectively, and being unable to take corrective action. Such features come in-built with CallHippo's business phone system. 
6. Implement effective workforce management strategies :
Often, a lengthy call queue boils down to having too few agents on board to resolve customer concerns. This is essentially a workforce management lacuna. The most appropriate step would be to staff up or down to ensure efficient call handling. You can keep a check on when the workforce predicts peak call volumes, and then choose to staff accordingly.
7. Upgrade to more efficient and intuitive technologies :
Consider investing in intuitive, efficient, and all-in-one call queuing software to improve customer experience. When you sign up with CallHippo, you get a plethora of productivity-enhancing features at affordable prices. 
8. Ensure testing of your call queues :
Before making the facility accessible to customers, have your call queues tested by employees, agents, and partner vendors. Fix any performance bottlenecks such as gaps, bugs, or glitches that could result in an unsatisfactory customer experience.
9. Onboard on-call agents :
To avoid overstaffing, get on-call agents who can help share the load when call volumes are high. This reduces waiting time during peak periods as well as for holidays, new product releases, or promotional events. 
10. Fix an upper limit on customer waiting time :
To avoid call abandonment and reduce customer dissatisfaction, fix a limit on the on-hold waiting time before shifting the call to voicemail or another channel. 
Summary
To ensure a smooth and hassle-free resolution of customer queries, proper management of the call queues is essential.  Equip your call center agents with the tools to track average waiting time as well as the total number of calls. The lower the waiting time and the shorter the call with a sufficient resolution, the higher is the customer satisfaction level. Happier customers translate into better business growth. Choose wisely and sign up with us today at CallHippo.com. 
WORDS THAT MAKE SENSE!
Read The Most Well Researched & Insightful Articles From CallHippo Team