Home » Automatic Call Distribution
Automatic Call Distribution
Sign up with CallHippo to experience an automatic call distribution system that follows a predetermined system and distributes calls equally amongst all your executives. You can select the order in which you wish to distribute the incoming calls to your virtual phone number and it will automatically route it in that order, making it easier to handle multiple calls.
What is Automatic Call Distribution?
Automatic Call Distributor also called ACD, is a system that sorts the incoming calls on the basis of some predefined conditions and then directs the call to the correct path. It allowing you to distribute your calls and route it to the right executive at the receiving end.
Automatic Call Distribution follows a predetermined system. You can select the order in which you want to distribute the incoming calls to your virtual phone number and it will automatically route it in that order, making it easier to handle your calls.
Modern contact centers has become fairly advanced and efficient. Several new software is being introduced to cut down on manual labor and help manage calls. Softwares like IVR, ACD, CRM, etc. have significantly eased the process of business telecommunication.
How to use Call Cascading function in CallHippo (Video)
What are different type of ACD Method?
It is highly beneficial for contact center who want to handle multiple calls at the same time. The 3 ways in which you can use Automatic Call Distribution software is as follows.
1. Simultaneously
This option allows you to route your call to all your members in the team at the same time.
2. Fixed Order
It will fix the order in which you want to route your calls to your team members. The calls will follow the same order every time a call is received and it will be transferred to the next executive in the order only if the first executive is busy.
3. Round Robin
You can fix the way in which you want to route your calls. Every new call will automatically be allotted to the consecutive executive in the Round Robin Order. This option allows you to equally distribute your calls among your executives.
How Automatic Call Distribution Software Benefits the Businesses?
As the calls are handled by a team instead of an individual, it allows better manageability.
It has an added advantage of equal automated call distribution to all your executives and sharing the number of calls received amongst the team.
It enhances the efficiency of handling calls, in turn increasing the Return on Investment.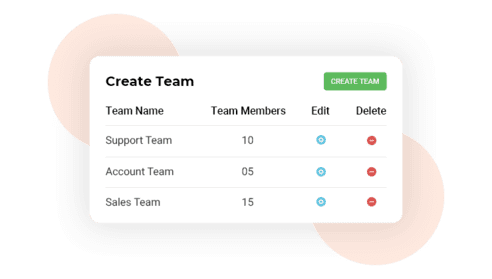 Why do you need an Automatic Call Distribution System?
Some of you might argue the need for an automatic call distribution (ACD) at all. Well, think about this. It is an extremely busy day at the office. There are a huge number of calls rolling in. Your receptionist is frantically trying to manage these calls and get through the ones on hold. In a frenzy, she transfers the calls to the wrong agents. As a result, the agents get worked up, the customers are dissatisfied, and your contact center is the one that's losing out. Oh, what a mess!
This is where the need for ACD, or automatic call distribution, comes in. Having an ACD software can really help you out in times when the call traffic is extremely high. Instead of hiring more and more manpower to deal with those call volumes, one can simply install this software.
It also comes to your rescue when your call center agents or your receptionist doesn't show up for work. Also, why limit contact center hours only to business hours? With the automatic call distribution (ACD), you can answer calls at any time of the day! This is especially useful for contact centers having global customers living in separate time zones.
Automatic Call Distribution ACD and IVR – What is the difference?
To a layman, the automatic call distribution and interactive voice response software might seem like the same thing. Both receive calls and forward them according to some conditions. However, professionals know that there is a vast difference between the two.
IVR can be said to be a part of ACD calls system. The automatic call distribution system a much wider use and application as compared to the interactive voice response software. Let us have a closer look at how and where they differ.
Automatic call distribution software identifies and analyzes incoming calls based on a variety of factors like area code, time of calling, etc. and hence routes call to various agents, teams, or menus. Interactive voice response softwares, on the other hand, offers the caller with a menu. The caller can navigate through the menu using the numbers on their keypad. They are then given the desired information or redirected to an agent as per their requirement.
To understand the difference more clearly, let us have a look at some examples. ACD software has the ability to recognize loyal and premium customers by analyzing the phone number. These customers are then given priority and connected to an agent faster than the rest.
IVR software greets the caller and gives them a variety of options like – Press 1 for a new inquiry, press 2 for a new order, press 3 for tracking your package, press 4 to talk to an agent, and so on.
How does an automatic call distribution software work?
By now, we have understood what an automatic call distribution system does – routes and directs calls in as little time as possible. But how does it do this? How does it filter and decide which calls goes where? How does it actually work?
Let us have a look at a few factors which determine how an ACD works:
1. Pre-programmed order of distributing calls
The call center or office, which uses an automatic call distribution system, makes a priority order of agents in which the calls are to be transferred and programs this into the ACD system. This order may be based on skills, expertise, languages, etc.
2. All-round even distribution of calls
The automatic call distribution software ensures that all agents get more or less the same number of calls. It does not bombard a few agents with calls while others are sitting idle. It works its way through the list of agents in a systematic loop so that the call distribution is even.
The system is programmed in a manner that recognizes the on-call time of the agents. It can, thus, identify which agents have been idle or have a lesser amount of calling time. This ensures that all agents work for a fair amount during their shifts and do not simply waste time.
3. Weighted call distribution
Each agent in a team is assigned a particular weight referring to the weightage of calls he can, or should, take. This weight depends on his expertise, skills, and any other factors that the employer wishes to take into account. The acd phone system keeps track of these weights and routes calls accordingly.
This system goes a long way in ensuring that the caller is connected with the correct agent.
Thus, these are the pillars on which the proper functioning of an automated call distributor system rests.
What are the features of an Automatic Call Distribution System?
I have already told you how the call center acd is a great system that will help you manage calls more efficiently. Well, let us talk about some of its features that make it so great.
1. Call queuing
It often happens that due to a large number of calls, all agents are busy and cannot attend to a customer's call right away. However, when a customer's call is kept on hold, the complete silence makes it difficult for them to understand whether they are still on call or not.
This is where the call queuing feature comes in handy. The ACD software greets the customer and plays some music or message in the background to assure the customer that their call will be connected soon.
Apart from this, the system also has the ability to form separate call queues for different agents, teams, or for specific purposes. The system can also alter and adjust the queue depending on the urgency of the matter and the rank of the customers.
2. Smart call routing
This is a very useful feature of the ACD system. Some conditions are programmed into call center acd, which helps the system transfer calls smartly.
What is meant by smart call routing? Well, it essentially means routing calls in a way that best caters to the needs of the caller and the agents. For example, any calls made after office hours will be transferred to IVR or voicemail. Calls made from say, France, will be transferred to French-speaking agents. If the caller seeks assistance on how to use the product, then his call will be routed to a team of agents who understand the product well.
3. Voicemail
This feature comes in handy during the times when all agents are busy, and the caller does not want to wait for his turn. He can then simply leave a voicemail, and the concerned agent can call back to him when he's available. This feature is also extensively used by global clients who live in different time zones and may call after office hours as per their convenience.
4. Automatic call back request
But what if the caller wants to talk to an agent instead of leaving a message? Should the callers keep calling back until they get through? But that's highly inconvenient and can get annoying for customers! This is why the call center acd system provides an option for the caller to request a call back.
The callers can dial the extension of their desired agents (as informed by the ACD system) and simply opt for the automatic call back option. The respective agent will get notified of the call back request. He can then reach out to the customer as soon as he is free.
5. Call monitoring
It is a requisite for every contact center or office to monitor the calls of their agent. It proves to be extremely useful, if not crucial, in some aspects. It helps supervisors to monitor the performance of the agents. Conversations with difficult customers are recorded and used for training purposes. It also proves to be useful in case of any discrepancy between the customer and the agent.
An automatic call distributor system provides features like call barging, call conferencing, and whisper coaching enable supervisors to monitor client-agent calls. Whisper coaching feature is extremely useful for coaching new recruits. This feature allows the supervisor to listen to an ongoing call and give tips to the agent during the call. His voice will be muted for the caller and will only be audible to the agent.
6. Integration with third-party software
The automatic call distributor system enables integration with third-party software like CRM, thereby making it easier for agents to answer and attend to calls.
What are the real time benefits of an automatic call distribution system?
Now that we know how the ACD call system works and what features it provides let us have a look at all the benefits of automatic call distribution that we can derive from the system.
Routing acd calls to the right agent – The system helps serve the customer better by connecting their calls to the right agents depending upon language, skills, etc.
Increase agent productivity –  Receiving optimal amounts of calls per day keeps the agents from getting fatigued or lethargic and hence increases their productivity.
Be in business 24*7 – With the help of an acd phone system, one can attend to call throughout the day and night.
Reduced call waiting times – With the help of customized queues and menus, the ACD system helps transfer calls quickly and accurately to available agents.
High priority calls get quick responses – Calls made by premium customers or those in need of urgent attention are given higher priority and tended to by experts faster than usual.
These are only a few of the advantages that come along with a call center acd system. The system has a wide range of applications that can truly help agents manage calls efficiently. At the same time, it also proves to be a blessing for the caller!
Why you need to choose Advance Call Distribution system ?
It is essential in handling calls and makes sure that you are able to manage your calls effectively in a hassle free manner.
Is it a free or Paid service?
It is a free service and available in all the plans.
How can I use Advance Call Distribution system ?
You can go to the Teams section on your dashboard and specify the order in which you want to use your Advance Call Distribution system.
How can you choose the order of Advance Call Distribution system ?
First Log In to your CallHippo account.
Go to Teams options from Dashboard.
Mention the Team Name.
Select the Cascading Order of your choice
Allocate members to your Team.
Click on Create option to get going.