Date: August 9, 2023
Retaining your valued customers is not easy in the current competitive business arena. If you are not at the top of your game, they will immediately move towards rival organizations. This makes it super important to be extremely responsive and facilitate two-way communication with clients for deeper engagement levels.
Keeping customers satisfied is the prime reason that organizations all over the globe are investing in sophisticated tools to set up their call centers. Automating all processes through solutions such as call center software can go a long way in increasing productivity and making sure that your customers remain delighted with your superior service levels.
If there is one thing that irritates customers, it is waiting for long periods of time to be attended by a service agent. After all, who wants to be put on hold, hear music or messages, and waste their precious time. In such cases, most customers drop the call and do not bother to communicate with the particular organization again. They also develop a negative perception of the company based on the way they treat their customers.
It is important to send across a strong message to your customers that says – "Your call is important to us and we will do everything in our power to serve you fast!'. While the wait time differs according to the organization, industry vertical, time of day, and staff availability, there are many hacks that you can implement to reduce it dramatically. Let's have a closer look at this key performance indicator, understand the concept of average call wait time, and find out just how much it can impact your customer satisfaction and retention rate.
What Is Call Center Average Wait Time?
Call centers are crucial for delivering good service and hence customer service should be offered in multiple languages. The digital era is fast-paced, and customers want the companies they endorse to provide them speedy service. If you have a call center that has well-trained support representatives, all your customers have to do is dial the phone number to get their grievances or problems instantly resolved. One way to increase the efficacy of your call center is to reduce the call center's average wait time. 
Call center average wait time is the approximate time that inbound calls spend in the queue waiting for service before the customer is connected to a live agent. This metric is also known as average hold time. So, what exactly is an acceptable average hold time? Well, the global call center industry standard is 80/20 – this means that 80% of calls should be answered within 20 seconds. It may seem like a challenge to answer the majority of customer calls within 20 seconds, but it is surely not impossible.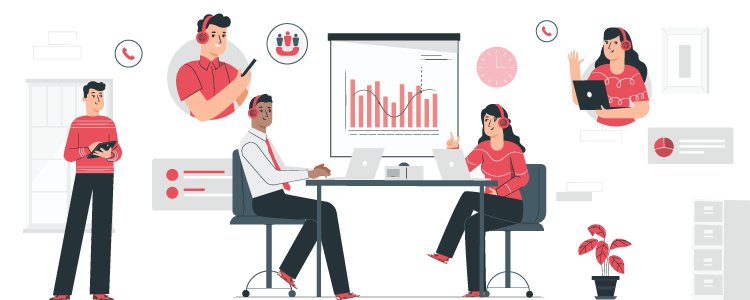 Since more than 50% of sales calls are disconnected after a 45-second wait, it is important to let your customers know if you are going to keep them on hold beyond 20 seconds and let them know you are working to provide them with satisfactory service. Since it is frustrating for your customers to be on hold for extended periods of time, make sure to keep on discovering innovative ways to reduce the average wait time in your call centers.
Smart tips to reduce waiting time in a call center
1. Optimize Call Queue Configuration
Most call systems have interactive voice response (IVR) systems that have to be configured to give optimal performance. They need to be highly intuitive in nature so that callers can be prompted into the right queues. If your IVR routes call incorrectly, give a multitude of confusing dialer options, or misreads data inputs, you will surely end up having long wait times that will irritate your customers. Repeatedly test your IVR for any glitches in routing, and ensure that it enables your callers to get through to the right department for speedy assistance.
Configure the settings to have different queues for teams and call agents so that the average hold time is minimum for your valued client base. You can also give an option to your customers to leave the queue if there is an extra-long wait time, and let them know that an agent will call them back soon – this will help them save precious time instead of wasting time waiting during peak hours.
2. Monitor Call Metrics
There are several sophisticated call metrics that can help call agents to monitor their performance in real-time. Live call monitoring in the call center allows managers to listen to conversations and analyze their interactions. This enables managers to provide better training so that problems can be resolved in a speedy manner. Call recording is another vital metric that can help managers pinpoint reasons due to which average call hold time is more, hence call agents can be motivated to improve interaction during client calls. 
If you continuously track key indicators, you will be able to formulate trends and understand what is working for your call center. Agents will be able to handle calls in a more knowledgeable and responsive way, which will lead to a significant reduction in the average wait time.
3. Create A Knowledge Base for Self-Service
It is important for you to analyze the most common and frequently reported problems that are addressed to support representatives in your call center. Organizations should work on creating a knowledge base where they can store useful data that will benefit both customers along call center agents. 
Your interactive voice response system can self-direct customers to this data repository for convenient solutions so that they do not need to waste long hours in call queues. Another way this knowledge base can reduce the average call holding time is by providing a rich source of information to agents right at their fingertips. They will not need to spend a long time looking for the right answers to technical queries, rather will be able to provide customers with accurate solutions in a couple of minutes! It is a win-win situation for both – callers and call center staff members as creating a platform with real-time information will definitely reduce the call holding time.
4. Invest in Customer Center Tools
Technology has changed the way organizations function, and it is necessary to invest in cutting-edge tools to gain a competitive edge. Investing in advanced call center software can help any organization to increase customer satisfaction levels by improving agent performance and reducing long average call wait time. Most call center software platforms have an array of sophisticated features that can track customer calls, and provide information on reasons for the delay in service. These problems can be addressed by giving frequent training sessions or increasing the number of phone lines to cater to additional traffic. An effective call center software can go a long way in increasing customer engagement levels, and ensuring that they spend the least possible amount of time waiting in a queue for service.
5. Staff Agents Appropriately
It is vital to manage your staff members' schedules in a wise manner. You need to monitor the average call volume so that you can adjust the size of the team accordingly. If you are expecting high call traffic during holidays, you can call extra call agents so that customer calls can be diverted to available agents immediately. Most call center software solutions have a specialized workforce management module that helps organizations refine their recruitment and staffing approaches in the call center. If you feel that you are continuously facing a shortage of staff members, it may be time to increase the hiring numbers so that you have a team of adequate members to serve your customers to their requirements.
Reducing the average call wait time is super important for your customers. It can make or break your business reputation. So, take some time and analyze how you can deliver fast and speedy service to your clients, and keep them hooked on your organization for life!
WORDS THAT MAKE SENSE!
Read The Most Well Researched & Insightful Articles From CallHippo Team