Date: October 21, 2022
While all call centers want to improve their agents' performance and processes, most of them find it difficult to do so due to the sheer volume of calls they need to review. Listening to thousands of calls manually each day is neither feasible nor practical for contact centers. Hence most call centers only listen to a small percentage of calls to estimate how effective their calling strategies are.
Most call centers fail to improve their productivity because they hardly screen through 5-10% of the total calls made/received by them. With almost 90-95% of their data slipping through the cracks, such organizations find it challenging to detect customer issues and pain areas. This not only causes business losses but also leads to an inferior perception of the brand involved. 
Most individuals already have a poor impression of customer service, thanks to the apathy and the indifference shown to them by poorly-trained agents over the past decades. Therefore consumers that experience poor customer service instantly switch brands. 
Until a few years, call centers could do very little to improve their services, and as a result, they frequently lost customers. However, technology has come to the rescue of such institutions by offering powerful tools that help analyze thousands of calls in minutes. Known as Speech Analytics, this technology allows call centers to screen several calls simultaneously to discover and explore various aspects of call quality and efficacy. The technology is, therefore, being widely adopted globally by big and small call centers alike. Let us now take a look at speech analytics and how it can help organizations grow.
What is Speech Analytics?
Speech analytics is a technology that analyses voice recordings or live calls to gain insights into customer behavior and call quality. Almost all leading call centers worldwide use speech analytics today to identify words and phrases uttered during calls and determine how fruitful they were.
Speech analytics solutions can help recognize audio patterns and detect stress and emotions in a speaker's voice. Hence they work as an effective tool to measure the quality of a call, customer satisfaction levels, and agents' performance. Customer support or sales team can also learn about changing consumer preferences and needs using call analytics, which can help improve the overall customer experience.
How Call Centers Use Speech Analytics
Speech analytics can be an effective tool to learn about consumer expectations. Companies can use such tools to understand which of competitors' features/functionalities they should adopt. Besides improving customer experience, speech analytics tools can provide deeper insights into call quality, e.g., the moment when a customer is convinced or the moment where a customer loses interest.
Speech analytics solutions use Artificial Intelligence to analyze various aspects within a call, such as speech rate, tone, pauses, the vocabulary used, etc. They use natural language processing (NLP), transcription, and speech recognition technology to 'know' what happens during a call and identify issues, deviations, or errors made. 
Modern speech analysis tools also include sentiment analysis, which helps understand whether a customer has a positive, negative, or neutral impression of the call. This technology analyses and evaluates the language used, rate of speech, and the amount of stress in a customer's voice to understand how a call is going/went and what happened during the call. 
Sentiment analysis has now evolved into conversation analytics, which helps understand the overall attitude of the caller/customer and understand if they are likely to churn. In addition, these tools help convert speech into data and make the data searchable. So, if you want to look for calls where a particular phrase has been used, you can quickly find them through this technology. Data recorded from calls can also be represented graphically using advanced speech analytics tools, which helps marketers make sense of the information and prompt remedial greater or promotional actions swiftly.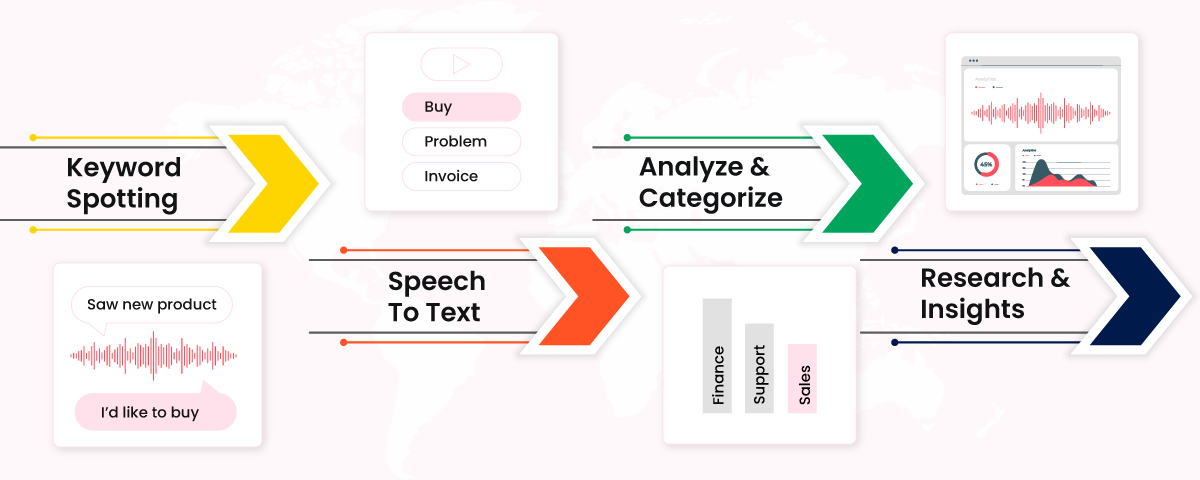 Analytics can also be a boon for marketers since it helps qualify leads swiftly and boost conversions. Statistics suggest that companies have a 4X chance of converting a qualified lead by following up within the first five minutes. Speech analytics also helps firms score and rate leads and identify patterns without listening to calls. They provide information at a glance about:
What was said during a call?

Number of leads qualified 

Number of leads converted into customers
The above information helps marketers tighten their conversation, improving the accuracy and effectiveness of the outreach, which leads to higher rates of conversion.
Benefits of Speech Analytics
The use of speech analytics offers several advantages to organizations, which are described below:
1. Understanding customers better
Speech analytics helps organizations understand what their users/prospects desire and their concerns. By having an understanding of the needs and interests of consumers, firms can improve their products/services and their marketing strategies. In addition, such tools help marketers quantify data to understand the percentage of satisfied or dissatisfied users with their service, helping them take concrete actions that lead to better customer satisfaction levels.
2. Identifying customer needs and interests
Speech analytics can also understand customers' ever-changing needs and expectations from a product or service. Speech analytics tools can help marketers discover what interests their customers the most and the factors that govern their purchasing decisions. This not only allows firms to come up with more successful features but also prolongs their market hold. Speech analytics can also help predict future needs, which can further boost sales and streamline promotions.
3. Understanding Agent Performance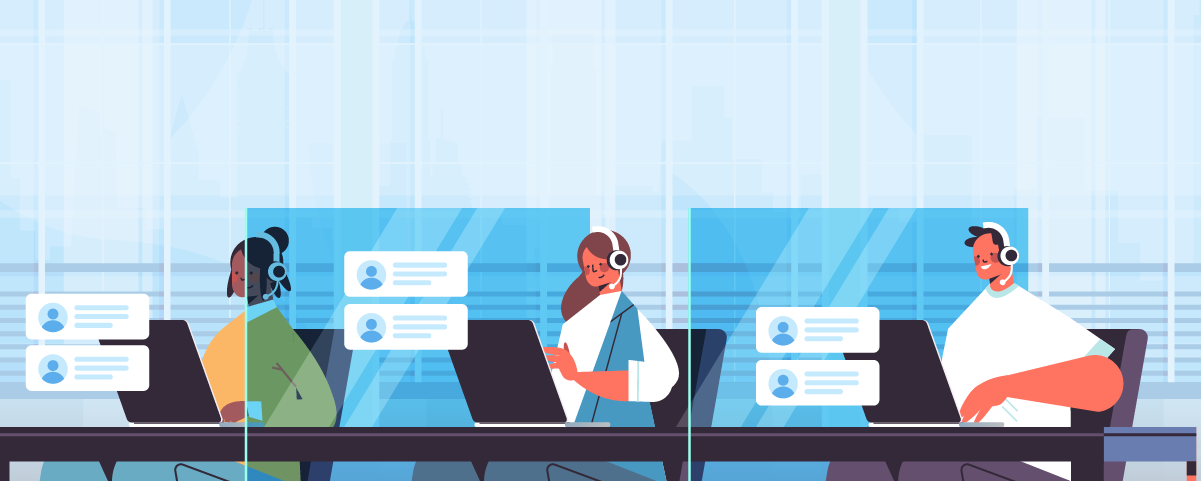 Speech analytics can be a powerful way of determining how well your agents serve your customers. It can quickly give you an idea about the efforts made by each of your agents and the deviations they made from the script. You can also understand where your agents are lagging and what kind of training would benefit them. By tracking customer sentiments and speech throughout a call, such tools can also help you decipher what gets your customers the most and which part of the conversation they find the most tedious. This could help you alter call scripts and mold them for greater effectiveness.
4. Offering personalized services
By getting to know each customer/prospect and their motivations using speech analytics, firms can personalize their approach and offerings as per clients' needs. This improves chances of conversions and customers' loyalty towards your business since they receive products and services customized as per their needs. Knowing customers also helps agents create a good rapport with customers and emphasize how your product or service is a perfect solution for them. It also allows you to upselling or cross-selling products or services that match users' requirements.
5. Reducing churn
Discovering why your loyal customers are leaving your brand can be instrumental in turning your business around and retaining your market share. Again, speech analytics can help you spot why customers are dissatisfied with your brand, and that too in a graphical format. Using such solutions, you can effortlessly find out the main elements that lead to customer dissatisfaction and force them to move towards your competitors. 
6. Mitigating compliance & risks
Call centers around the globe need to adhere to several regulations and guidelines to run their operations smoothly. Using speech analytics tools can help detect if your agents are compliant with such guidelines while on calls. They can also detect script deviations, data leakage, and factors that increase business risks, notifying you promptly and allowing you to nip problems in the bud. 
7. Reducing Business Losses
Accurate detection of problems and timely forecasts can be a great way to reduce business losses. Speech analytics tools offer accurate predictions about possible slumps and anticipate changing customer needs to help you stay afloat in a turbulent market and avoid significant business losses.
8. Saving Money
Last but not least, speech analytics tools can also help you save a great deal of money by enabling you to focus your efforts more accurately. The data collected can help you reduce unnecessary costs and make your products/services and selling approach more effective, improving your probability of success.
If used correctly, speech analytics can help you take your business to new heights and scale your business smoothly. Having such conversation intelligence tools will help you monitor and report 100% of the conversations within your contact center and help derive critical insights that would be almost impossible to gain otherwise. Converting speech into raw data and organizing and analyzing it saves you time and a great deal of effort. This helps your contact center to improve agent productivity, customer satisfaction, service efficiency, and understanding. All of which are pivotal in enhancing consumer experience and profit margin.