Get VOIP Phone System Instantly
Buy VOIP System that Supports Virtual Number In More Than 50+ Countries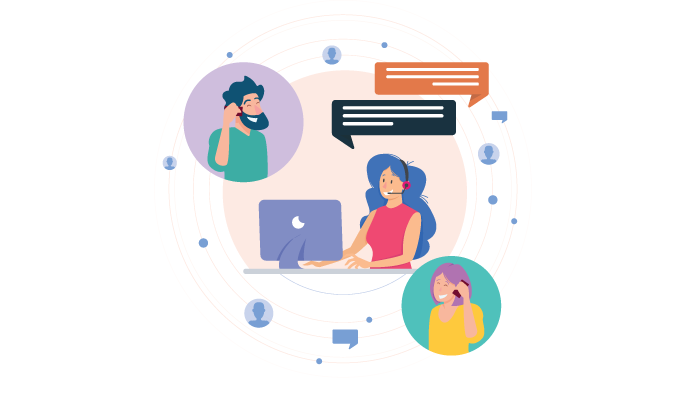 What is a VoIP Phone System?
The VoIP (Voice over Internet Protocol) phone system is a technology that allows you to make and receive phone calls over the internet rather than traditional phone lines. The technology converts your voice into a digital signal, compresses it, and sends it over the internet.
This modern phone system is widely popular among enterprises due to the multiple benefits it provides, such as on-demand scalability, secure and uninterrupted transmission, improved VoIP call quality, cost-effectiveness, and more. Also, the system is simple to set up and requires only a few resources, such as an internet connection and internet protocol desk phone.
Get Started with Your VoIP Phone System
How Does VoIP Phone System Work?
Unlike traditional phone systems, which use circuit switching to connect business calls, VoIP system use packet switching. It converts your voice signal into digital signal packets, much like an electronic envelope, and sends them across any VoIP-compatible network, such as a local area network (LAN).
Also, the business VoIP system are directly plugged into the router and connected to its VoIP service providers over the internet. The VoIP provider uses a series of servers to make the connection between VoIP phones. Besides, they can also route the phones between landlines and cellphones.
Compared to traditional phone systems, VoIP phone systems are far quicker, more secure, efficient, and offer exceptional uptime. This will eventually ensure that your business remains operational most of the time.
How To Choose VoIP Phone System Plan For Your Business?
If you are a small business that wants to get started with a VoIP system by avoiding an international calling card for calling your customers, you can get hold of a VoIP telephone system through a VoIP service provider. You can sign up for our VoIP service plan according to your budget and requirement and reduce your communication costs while having access to various features and functionality.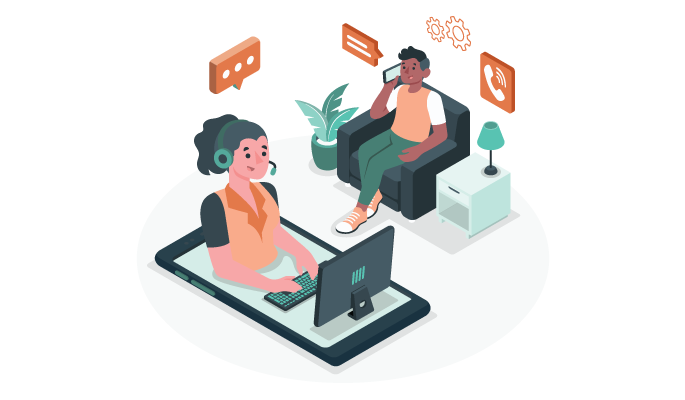 How Much Does A VOIP Phone System Cost?
*The Platinum plan is available on annual subscription only
CallHippo Offers Industry's Best VoIP Phone System.
1. Incur Low Cost-per-call
All communication in VoIP is carried over the internet, making long calls cheaper. Organizations save tons of money by using IP phone system platforms as the internet rates are relatively cheaper. Moreover, providers often allow free calls if the phone number chosen for business is within the "lower 48" in the US.
2. Remove Location Barriers
You can establish your business presence anywhere without having to move your physical office. Unlike a traditional phone system, a VoIP phone works over the internet. It removes any physical limitations and allows you to serve your clients overseas.
3. Get Better Call Outputs
A VoIP telephone system allows you to multitask by integrating with other useful software. It brings out operational efficiency and quality outputs. For example, the call queue feature enables you to better strategize your approach to client calls you have missed. It is possible via voicemail-to-text transcriptions that are sent directly to your inbox.
What Are The Features of VoIP Phone System for Small Businesses?
CallHippo's VoIP platform offers a wide range of features at an affordable cost, making it the best VoIP phone system.
Benefits Of Using VoIP Phone System Over Landline
1. Great First Impressions
Customer perception depends greatly on how you make them feel and the experience you provide. Using a VoIP system, you can create custom welcome notes, IVR, and easy instructions for your callers. You can also route callers to different queues based on their responses, which saves their time, improves resolution speed, and leads to better client satisfaction.
2. Premium Call Quality
Advancements in internet calling technology and high speed internet connection have greatly enhanced the call quality of VoIP phone system for small business. Along with better call quality, you also have to deal with fewer upkeeps and maintenance changes, which improve your business profitability.
3. Reduced Calling Costs
As mentioned above, a VoIP system for small business can significantly lower your phone charges. These systems ensure that you save a lot of money from lower phone bills to lower setup fees. Additionally, with VoIP technology, you can get additional features like call recording, call routing, call forwarding, intercom and call queuing, which would incur additional costs when used with a traditional landline phones.
What Are The Different Types Of VoIP Phones?
VoIP phone systems can vary greatly depending upon their purpose and technology used. However, they can broadly be classified into two categories, namely 'Hard Phones' & 'Soft Phones'.
1. Hard Phones
Hard phones have physical handsets that are typically used for office-based communications. They can be further divided into :-
This is the most widely used VoIP system for small business that delivers all the functionalities you need from an internet business phone system. These phone systems have LCD screens that display caller ID, transfer information, and call history. Additionally, a desk VoIP phone system for small business comes with several program buttons and offers options for speed dialing, call holding, etc. Desk IP phones are connected to routers or computers for connectivity and receive power from ethernet cables, allowing them to function as call center phones, reception phones, and regular phones.
This VoIP phone system is designed to simultaneously phone calls with multiple parties. Such systems help you make conference calls with multiple callers and improve the productivity of teams.
A USB-based VoIP system can be plugged directly into your devices using a USB port. They are easy to use and can be used alongside digital phone systems for greater convenience.
2. Softphones
These phone systems do not have any hardware element and typically use software to make and receive phone calls. Such a VoIP system runs through a cloud telephony software application installed on your computer or smartphone for interacting on the go. They can also be connected to other pieces of hardware via Bluetooth, USB, etc., and be used just like a regular phone.
Connecting softphones to external hardware often lead to better overall call quality. Hence if a situation requires you to switch to a traditional phone system, you can easily do so through technology. Therefore, a softphone VoIP phone system is highly flexible, convenient, and dynamic.
Is VoIP Reliable For Your Business?
Well, the answer is no. Even after all the security risks, VoIP phones can be 100% trusted. Think of it this way. You know that the internet is not a safe place and that it is full of hackers. Well so does your service provider! VoIP providers know the amount of risk that is involved in their system and hence they take sufficient precautions to prevent any data leaks. VoIP phone service risks can always be mitigated and connections installed from trusted professional service providers are highly secure.
Security is one of the main reasons why one should be extremely wary while choosing a service provider for their business. CallHippo is the trusted VoIP service provider of several business in european markets & across the globe. Come join us and get your business a safe and secure VoIP connection in under 3 minutes. Sign up now!
Differences Between VoIP and Traditional PSTN Calls.
So many people randomly throw around statements like "The traditional PSTN (Public Switched Telephone Network) phones are more secure than the new internet based network" without knowing the actual facts. Let me clear it out for you.
PSTN phone lines are almost as insecure, if not more, than VoIP networks. Here's why. PSTN transmits calls using analog signals. Somebody who is really intent on tapping into the network can simply tap into the wires carrying these signals. It requires physical effort and special equipment, but it is very much possible and even prevalent in many cases. Securing such lines is a lot more difficult because one has to physically secure their building or the transmission wires. Thus, one can conclude that VoIP is relatively better compared to the traditional PSTN lines.
Different Ways Of Making Calls Using VoIP System.
1. Analog Telephone Adapter (ATA)
With ATA, you can connect its one end to your telephone and the other end to your modem. It converts the audio signal into packets and transfers it over the internet until it reaches the desired receiver. It is the easiest and simplest way to communicate over VoIP. You can connect your old phone and ethernet cable with ATA. After the connection, power it to engage with the voice calls over the internet.
2. Softphones
Basically, it is an application or software that you can download on your computer to make the calls. It is a backup calling platform that uses the same line as that of your desktop phone. The best part about it is that it's not limited to your PCs or laptops, but you can also install it on your smartphones. The reason behind its popularity is that it leverages the existing features of the platform like in-built microphone, web-enabled camera, and many more to place the calls.
3. IP Phone
The third way is using an IP phone. It is specially engineered for VoIP. Instead of using traditional connectors, this platform uses ethernet connectors for dialing and receiving the call. There are two types of IP phones available in the market. One that connects to your modem or router and second that wirelessly connects to the network. It uses internet connectivity to give a detailed insight into every phone call placed or received.
VoIP is rising to immense popularity because of its ease of usage and seamless connectivity. You can set up the VoIP phone system for business in hardly four to five minutes, and also, it doesn't require any technical skills to operate. If you are looking to streamline your communication, then adapting to VoIP is the smartest decision you could take.
Get Best VoIP Phones For Small Business Now!
Sign up now and get your VoIP Telephone System in less than 3 minutes
Frequently Asked Questions of VOIP Phone System
What is VoIP Phone System?
The word VoIP stands for Voice over Internet Protocol, which describes how to make and receive phone calls over the internet.
The VoIP phone system allows you to make and receive voice calls using a broadband Internet connection instead of a regular (or analog) telephone line.
How does a VoIP phone system work?
A VoIP system converts analog voice signals into digital signals over your broadband connection. A VoIP server is used to connect calls to other telephone networks. It is a technology to make phone calls through your internet connection instead of a regular landline or a mobile network.VoIP is better than SIP.
Can I use an IP phone like a regular phone?
Yes, an IP phone system works just like your regular phone. It has a handset that rings and is dialed in the same way just like your regular phone.
What is the best VoIP phone system?
CallHippo gives access to the best of features in a VoIP phone system at affordable pricing. Starting from making and receiving calls, you can forward calls, transfer calls internally, get local area codes, and many more functionalities. try best VoIP Headsets for your business.
Does the VoIP system work if the internet is down?
VoIP systems work through the internet connection, which means if the internet goes down, the system won't work anymore. However, there are variants available in the VoIP systems such as IP PBX through which will direct any incoming calls straight to your mobile phones.