VoIP Phone System
With CallHippo you can buy VoIP phone system in less than 3 minutes from anywhere in the world. Sign up now for the best in class IP phone system which assists you in handling all business-related calls.
Setup VoIP Phone System For More Than 50+ Countries
Reduce your communication costs and get access to advanced features
Enjoy access to tools like call transfers, call queuing, IVR, and call distribution 
Play voicemail directly from your email 
Track your phone support performance
Assess 100% calls in a fraction of time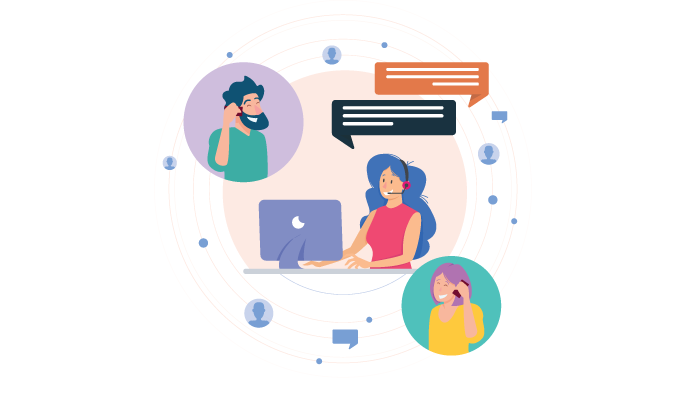 What Is VoIP Phone System?
VoIP (Voice Over Internet Protocol) phone system is a virtual phone number that can be accessed through an internet-using device to make phone calls via a standard internet connection.
These internet-using devices can be a desktop computer, laptop, smartphone, tablet, or even a landline telephone. These VoIP phone numbers look and function just like any other number to make calls.
Benefits Of Using VoIP Telephone System For Businesses
1. Low Cost-Per-Call
Since all communication in a VoIP system is carried over the internet, it can make domestic and long calls cheaper.
Organizations can save tons of money by using VoIP platforms to make free domestic and international calls. For example, if the phone number chosen for business is of the United States, providers often allow free calls within the "lower 48" in the United States.
2. Service Mobility
With a traditional phone system, you need to contact phone companies to transfer services and phone numbers to new locations. However, with a VoIP phone system, there are no physical limitations.
3. Improved Productivity
A VoIP system allows you to multitask and integrate with other useful software. Thus, allowing you to be efficient and give quality outputs. For example, if you are on a call queue, you can strategize your approach to client calls you have missed.
This is possible as several VoIP provide voicemail-to-text transcriptions that are sent directly to your inbox.
4. Call Forwarding
A VoIP phone system allows you to select how to receive calls. Now, what does this mean?
You can choose to divert your calls. It means that if someone from your office doesn't pick the call in a few rings, it will be transferred to other devices. These devices might be a mobile phone or laptop. Thus, you never miss out on any important calls.
Moreover, with a VoIP system, you can also e-fax your documents rather than relying on a fax machine.
Types of VoIP Phone Systems
1. Conference Phones
Just as the name suggests, these are helpful in case of connecting two or more people over the call. A VoIP conference phone functions similar to a traditional conference phone.
They allow many people to communicate with each other. However, the lines are balanced, so each speaker is audible. Through a conference bridge, you can add several party members to the call.
2. Wireless IP Phones
A wireless phone introduces the functionality of a mobile device to the desk phone. These portable devices have built-in Wi-fi that can be connected to a Hotspot. So, you're ready to call as soon as you establish a connection with a Wi-Fi hotspot.
3. Desk VoIP Phone
This type of VoIP system is most popular. In the case of desktop VoIP, you get all of the functionality of a traditional phone, plus the advantages of VoIP technology. It connects your phone system through Ethernet, guaranteeing that you always have high-quality calls.
The phone comes with an LCD screen where the caller id is displayed. Callers also get options like speed dialler.
4. USB Phones
USB phones, as the name says, connect directly to your device via a USB jack. They're usually used in conjunction with a softphone to make VoIP calls more comfortable.
5. Softphones
Softphones refer to virtual phones. A softphone is set up by installing VoIP software on a computer or any device to enable it to send and receive calls.
If you have software installed on your computer, you can make a VoIP call through it, just by connecting your microphone.
Features Of Best VoIP Phone System
CallHippo VoIP telephone system comes with a whole suite of features like call transfers, call recording, on-hold music, IVR answer, call distribution and many more. As it offers such wide features at an affordable cost, it is considered as best VoIP system for small business. Let's have a close look on below features.
How Do I Get A VoIP Phone System
Although there are many online software available for community usage, if you are a small business that wants to get started with calling your customers, you can get hold of a VoIP phone system through a VoIP service provider.
You can sign up for a VoIP system plan according to your budget and requirement and reduce your communication costs while having access to various features and functionality.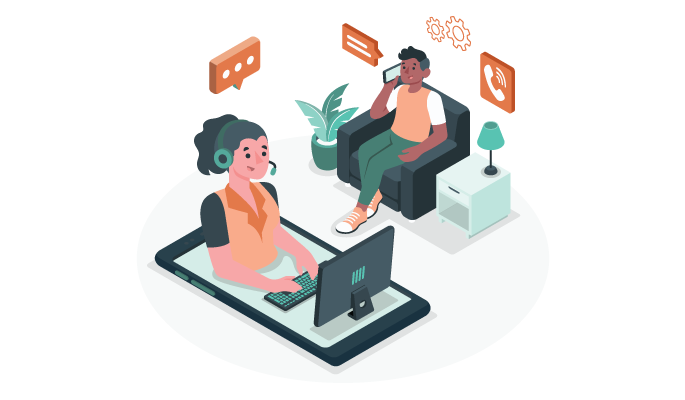 Get Your VoIP System Now!
Sign up now and get your VoIP Telephone System in less than 3 minutes
Sign Up Now!
How Does A VoIP Phone System Work?
When using a regular phone, a specific path is provided by a service provider. The path is between your number and the number that you call. This system works on traditional telephony infrastructure, which means it is dependent on the network phone lines
With a VoIP service, the audio at your end is converted into digital packets. Let us consider them as envelopes of data. The conversion of these audio voice signals is handled by "codecs." They can either be hardware devices or software-based processes.
After the voice signals are compressed, these data packets are transmitted via the internet protocol (IP). They are often sent via the Secure Real-time Transport Protocol (SRTP). This stage can be thought of as a postman picking up mail and taking them to their respective destination.
However, unlike a mail carrier, the data packets reach their destination almost instantly. But, they need to be decoded and decompressed. Codecs are then used to convert the data packets into audio signals.
Most VoIP phones also let you use voicemails, employ call routing systems, use voicemail, and transfer calls.
Frequently Asked Questions
A VoIP phone systems work with the help of your internet connection wherein your analog voice signals are converted into digital signals by your broadband connection and sent across to the call receiver.
Yes, a IP phone system works just like your regular phone. It has a handset, rings, dialed the same way, and you can make and receive calls just like your regular phone.
CallHippo gives access to the best of features in a VoIP phone system. From making and receiving calls, you can forward calls, transfer internally, get local area codes, and many more just to name a few.
A VoIP systems work through your internet connection, which means if your internet goes down, the system won't work anymore. However, there are variants available in the VoIP systems such as IPPBX through which will direct any incoming calls straight to your mobile phone.
Setup Your Phone System In Less Than 3 Minutes