Date: September 15, 2023
Businesses must adapt quickly to the demands of a global market in the digital age. Conference call services have grown in popularity as a tool for staying in touch with remote employees, clients, and partners because communication is essential to success. Multiple participants can join a teleconference from different places using a conference call service, saving time and avoiding the need for costly travel. Businesses can convene meetings, work together on projects, and make decisions all from the convenience of their own workplaces or homes.

Conference call services have many advantages. They boost production, save costs, and enhance communication. Teams may communicate and make decisions in the moment via conference calls, no matter where they are. This is crucial for companies that use remote workers because it keeps them involved and connected to the team. Additionally, conference call services give organizations of all sizes a flexible and scalable solution that makes it simple to add or remove participants as needed.
What is a Conference Call?
It's also called concall which is a feature that will enable you to add a third person to your two-way call and turn it into a 3-way conference. This third guest can be a manager, a supervisor, or another agent. It's more like a warm call transfer- you inform the new recipient about the call, transfer the call after his permission, introduce the caller and the new recipient and according to the requirement either stay or leave the 3-way conference call.


Expert Advice
"To choose the best conference call service, look for high-quality audio and video, user-friendly interface, screen sharing and recording options, and strong security measures. Zoom, Microsoft Teams, and Google Meet are good options to consider. Do your research and choose the service that fits your needs and budget."
Let's have a look at the feature, pros and cons of 10 best conference call services in the market that suits your business.
13 Best Conference Call Service For Business in 2023
Brand Name
Rating
Key Features
Pricing
Genesys
Inbound call routing
Call analytics
Call scripts
Genesys Cloud CX 1: $75
Genesys Cloud CX 2: $110
Genesys Cloud CX 3: $140
CallHippo
Call forwarding
Call recording
Voicemail
Text messaging
Basic: $0
Bronze: $16 /month
Silver: $24 /month
Platinum: $40 /month
Twilio
Call transfer
Ticket management
Call recording
Number portability
Starts at $1 per active user
Vonage
AI virtual assistant
High-definition call quality
Unlimited calling and text messaging on all plans
Free video conferencing
Mobile: $14.99
Premium: $24.99
Advanced: $34.99
RingCentral
Business phone or toll-free numbers
Unlimited calling within the US and Canada
Business SMS
IVR
Core: $20
Advanced: $25
Ultra: $35
Grasshopper
Unlimited free calls in Canada and the US
Offers toll-free numbers
Custom greetings
Call forwarding
Solo: $26
Partner: $44
Small Business: $80
Zoom
Unlimited outbound calling
HD call quality
Voicemail transcription
ACD with call queueing
METERED - $120.00
UNLIMITED - $180.00
PRO GLOBAL SELECT - $240.00
Zoho Voice
Interactive Voice Response
Call queues
Call recording
Call transferring
Monitoring live conversations
Browser extensions
Basic Plan – $34 per
Standard Plan – $49
Nextiva
Auto attendant
Hold music
Mobile app and desktop app
Video conferencing
Audio-only conferencing
Advanced IVR systems
Caller ID
Essentials: $18.95
Professional: $22.95
Enterprise: $32.95

Genesys is an all-in-one and one of the best conference call service providers that also lets you manage business calls, emails, chat, social media, messaging, self-service options, and optimize the workforce via analytics.
Plus, it converts calls, emails, chats, social comments, and instant messages into a seamless conversation, enabling you to personalize the customer service.
Its artificial intelligence (AI)-powered resource management feature helps you better forecast and schedule the workforce to meet the surge in call volumes better. In addition, its quality assurance and monitoring functionality help you measure productivity in your contact center, thus improving agent performance and helping you meet customers' expectations.
Genesys Features
Interactive voice response (IVR)
Conference call service
Digital channels support (live chat, email, messaging, and social)
Voice bots and chatbots
Customer self-service
Automated routing
Employee performance management
Genesys Platform Support: Web-based, iOS, Android, Desktop
Genesys Is Ideal For: Medium Business, Enterprise
Genesys Integrations: Microsoft, Siemens, IBM, Cisco, Zendesk
Genesys Pros and Cons

Let agents manage contact channels from a centralized point

Add-on professional services available for system maintenance and updates

Expensive

No progressive features like AI and chatbots

If you're looking for a powerful conference call feature at a pocket-friendly price, look no further than CallHippo's business phone system. You can also get a free conference call service if you have a platinum plan subscription of CallHippo.
Trusted by more than 5000+ global brands, CallHippo enables you to set up your conference call feature in less than three minutes. In addition, you can buy local and toll-free numbers from more than 50+ countries. This helps you build trust with native customers and encourage engagement.
Moreover, whether you want to manage inbound & outbound calls or internal calls (via conferencing), CallHippo has a personalized solution for you. Its power dialer feature allows you to automate the dialing process, thereby increasing your sales team's productivity. It also has a global connect option that provides you the best time to call your customers in different countries.
CallHippo Features
Automatic call distribution
Smart switch
Conference call services
Global connect
Smart call forwarding
Interactive Voice Response (IVR)
Advanced Analytics
CallHippo Platform Support: Web-based, iOS, Android, Desktop
CallHippo Is Ideal For: Small Business, Medium Business, and Enterprise
CallHippo Integrations: Zoho, Slack, Zapier, Pipedrive, Intercom
CallHippo Pros and Cons

Best-in-class support and live demos

10-day free trial and a tiered pricing structure

Complimentary product training

The mobile app is missing a few advanced features.

Twilio is yet another cloud-based and one of the best conference call companies that allow you to make unlimited conference calls. It also offers intelligent chatbots to handle common queries.
By bringing all your customer communications in one place, your team will be able to offer personalized service to every customer. In addition, you can automate routine tasks using Twilio's AI, such as qualifying sales leads, scheduling appointments, rule-based call routing, and auto-respond using SMS, voice, chat, and WhatsApp from one platform.
Its analytics dashboard gives agents complete visibility into their performance. Managers can also monitor each representative's performance and provide coaching accordingly.
Twilio Features
IVR
Speech recognition
Embedded calling
Masked calling
Conference call service
Voice insights
Dual-channel recording
Recording transcriptions
Twilio Platform Support: Web-based
Twilio Is Ideal For: Medium Business, and Enterprise
Twilio Integrations: TwilioTMessaging, Voice, REST APIs, Webhooks
Twilio Pros and Cons

All features available that you must need

Very affordable

Integration with third-party productivity applications

Very complex to setup

The customer support system is very poor

Mobile applications could be better
You May Also Read : 11 Best VoIP Conference Phones in 2023

Vonage is the best conference call service that provides both audio conferencing and video conference calls as well that help you serve your customers better and sell faster. Its click-to-dial feature allows you to call customers from within your CRM.
When it comes to incoming calls, you can connect them to the best available agent through skills-based routing or case-owner routing. Vonage helps your live agents find the best answers faster with artificial intelligence designed especially for contact centers.
Its AI also enhances the self-service experience by engaging callers in a natural language. Moreover, Since Vonage equips virtual teams, contact centers, and branch offices with robust capabilities, productivity can be improved, and profitability maximized.
Key Features
Automatic call distribution
Dialer capabilities
Dynamic call routing
Global call plan
Conference call services
Dashboards and reporting
Analytics integration
Contact center coaching
Screen recording
Vonage Pros and Cons

It offers 24/7 customer support with every plan

Plenty of features for mid and large-sized businesses

Unlimited team messaging

Easy to use, intuitive interface

The basic plan doesn't allow you to connect desktop phones

Advanced features come at a high cost

What makes LiveCall one of the best call conference software is its excellent support system. It is also known for showing which campaigns, ads, and keywords drive the most calls so that you can optimize your marketing spending accordingly.
LiveCall Features
Call scoring feature allows you to define how successful a call was.
Listen to each call your sales team is attending or export them to your CRM.
Call whispering feature lets you pass necessary lead information to agents before they attend calls.
Conference call service
LiveCall Pros and Cons

Easy to set up and use

Moderate Pricing

Fully customizable widget

The dashboard is a bit outdated

One of the best conference call service providers on the market, RingCentral, is flexible enough to match your needs, regardless of the type of conference calls you need to make or the features you need.
Besides its robust collection of business communication tools in one package, it also offers a standalone conference call plan ideal for those who need it.
There are many extra communication and collaboration tools included in RingCentral Office, in addition to the conference call features, including a phone system, integrated Slack and MS Office, document sharing functionality, and CRM integrations on the higher plans.
Key Features
Screen and file sharing
Unlimited recording and file storage
Unlimited audio conferencing (up to 1,000 participants)
Video conferencing (up to 100 participants)
Ringcentral Pros and Cons

Easy to set up conference calls.

It has a nice, easy-to-use user interface.

RingCentral provides ghost numbers for different states.

Excellent uptime and quality of service.

RingCentral is quite expensive when compared to other providers.

Invoices need to be simpler to decipher.
Pricing
RingCentral MVP plans range from $19.99 per user per month to $59.99 per user per month.

Although Grasshopper is not one of the traditional conference call providers, it is widely used due to its versatility. Instead of being used solely for conference calls, it is a virtual telephone system for small businesses.
The app lets you operate your phone as a business phone with a different number and voicemail system to split business calls from personal calls.
With Grasshopper, you can hold as many conferences as you like. However, you must manually call each participant rather than let them call you.
Key Features
Custom greetings & call handling
Call forwarding & Voicemail transcription services
Call forwarding and transfers
Conference call services
Incoming call control
Phone extensions & detailed call reports
Grasshopper Pros and Cons

The admin dashboard is exceptionally user-friendly.

Grasshopper can link to numerous contact accounts.

Grasshopper converts your voicemails into text so you can read them on your phone or computer.

It connects customers and businesses instantly.

Initial setup can be very challenging.

The customer service is poor, and it takes hours to resolve an issue.

Transcribing text messages is not authentic.
Pricing
Grasshopper's pricing plans range from $26 to $80 per month  (with five phone numbers and unlimited extensions).

Zoom, one of the best conference call services providers, specializes in video conferencing, with the power to accommodate 1,000 video participants and 10,000 spectators. In addition, it's simple and affordable, so it's a great choice for conference call services.
One of the simplest conferencing tools on the market, it doesn't require users to install any software to join or start a call. Instead, all users have to do is click a link and accept the Zoom browser client.
Key Features
Conference ID passwords
Noise cancellation
Conference call service
"Call Me" feature to remind participants of the meeting
Cross-platform messaging
Meeting recording & SIP connected audio
Zoom Pros and Cons

The user interface is very easy to use.

Zoom filters background noises during meetings.

Adding people and forwarding invitations is easy during a conference call.

Dial-in toll numbers are available with all paid plans

Zoom lacks compatibility with VoIP phones.

The chat window needs more improvement.

Zoom comes out expensive when adding items to the basic plan.
Pricing
Zoom's pricing plans range from $149 – $199.90 per year per host
You May Also Read : What is Call Barging & Its Use In Contact Center Solution


Zoho Meeting, one of the best conference call services, delivers audio and video communication, group messaging, CRM, and collaboration tools for remote workers.
Besides offering comparable webinars, Zoho Meeting supports YouTube live streaming, registration moderation, and up to 1,000 participants.
Additionally, Zoho Meeting newly incorporated anonymous Q&A sessions during meetings, which is perfect for teams seeking detailed analytic and subjective feedback on business strategies and meeting quality.
Key Features
RSVP and reminders
Virtual backgrounds and remote screen sharing
Instant & one-click meetings
Conference call service
Google Workspace and Microsoft 365 integrations
Broadcast messaging & automatic meeting follow-up emails
Zoho Meeting Pros and Cons

Great tool for presentations and product promotions.

Superb audio and video quality.

Interactive web meetings with audio & video conferencing.

Zoho Meeting comes with an integrated calendar app. and an RSVP scheduling feature.

Meetings and webinars lack proper HD video support.

Connection stability needs improvement.

Customer support isn't available by phone.
Pricing
Zoho meeting's pricing range from $1.20/month/host for 10 participants to $360/month/organizer ( for 3000 attendees ).


One of the most widespread conference call services, Google Meet, is prepared to work with other workspace tools like Gmail, Google Docs, & Calendar. For recurring meetings, you can get a unique meeting code as well.
You can do a recording of a call or in-meeting chat on-demand. The recording can be automatically shared to Google Calendar or Google Drive using integrated Workspace tools. Recording links are also available via email.
In addition, polling, Q&A sessions, Breakout Rooms, and Attendance Tracking, which shows the participant's name, contact information, and length of time spent in the meeting, can also be emailed.
Key Features
Anonymous participants
Noise cancellation
Conference call services
Translated video caption
Whiteboarding and screen sharing
Dial-in & dial-out meeting access
Google Meet Pros and Cons

It is very easy to integrate Google Meet with other applications.

Excellent video and audio quality.

An unstable network will never cause Google Meet to buffer.

One can easily schedule meetings in Google Calendar.

Requires higher bandwidth for better video quality.

The interface can be made more user-friendly and interactive.

There are limited features in the free version.
Pricing
Google Meet's pricing plans range from $6.00 to $18.00+ per user per month.

Nextiva is one of the leading conference call services providers that can easily facilitate your business meetings and webinars. Its user-friendly interface allows you to smoothly schedule calls, invite participants via email, and initiate instant meetings using a dedicated dial-in number and access code.
During calls, you have control over muting/unmuting participants, recording the call, and accessing useful features like polling, screen sharing, chat, and more. Nextiva also provides toll-free numbers, HD audio quality, and unlimited US and Canada calling on all plans.
Besides, Nextiva offers industry-leading reliability, robust security, and an extensive feature set optimized for businesses. However, its basic plan doesn't offer conferencing capabilities. You must choose the Professional ($22.95/user/month) or Enterprise ($32.95/user/month). 
Nextiva Features
Unlimited conference calls, 40 participants

Unlimited video conferencing

Screen sharing

Auto attendant (multi-level)

Mobile and Desktop SMS/MMS

Unlimited faxing and texting in the US

Call recording
Nextiva Platform Support: Web-based, iOS, Android, Windows, and Linux
Nextiva Is Ideal For: Medium Businesses, and Enterprise
Nextiva Integrations: Zoho, Salesforce, HubSpot, Zendesk, Oracle, and more
Nextiva Pros and Cons

User-friendly interface enables quick scheduling and starting of conference calls.

Engaging features like polling and chat make meetings interactive.

Unlimited US/Canada conferencing is available on all plans.

Recording transcripts are only available on higher tiers.

Conferencing capabilities are unavailable on the basic plan.

FreeConferenceCall.com is a popular free conference call services provider that offers an easy way to host conference calls for businesses, organizations, and personal use. It offers free access to various conferencing features, including screen sharing, video conferencing, online meeting rooms, and recording capabilities. 
FreeConferenceCall.com assigns you a dedicated dial-in number and access code to start instant conference calls with up to 1,000 participants. During calls, you can mute/unmute participants, record the session, and conduct polls or Q&A. It uses HD audio with noise cancellation technology for clear voice quality. 
Although it lacks some advanced features of paid services, FreeConferenceCall.com delivers an impressive set of conferencing tools at no cost. For basic yet reliable conference call needs, FreeConferenceCall.com is a great free alternative for seamless collaboration and communication.
FreeConferenceCall.com Features
1,000 participants

Audio conferencing

Call recording

Video meetings

Screen sharing

Custom greeting
FreeConferenceCall.com Platform Support: Web-based
FreeConferenceCall.com Is Ideal For: Startups and small businesses
FreeConferenceCall.com Integrations: Nil
FreeConferenceCall Pros and Cons

It provides free access to essential conferencing features like dial-in numbers, screen sharing, and recording.

It supports large calls with up to 1,000 participants.

It uses HD audio and noise cancellation for clear voice quality.

It doesn't integrate with third-party tools.

Audio quality can be inconsistent at times compared to paid services.

Monetizes free service by injecting advertisements during calls.

Vast Conference is a feature-rich conference call services solution for business collaboration and webinars. It provides an intuitive interface to schedule and start instant conference calls using your dedicated dial-in numbers and access codes. 
During calls, engage participants with real-time screen sharing, live polls and surveys, Q&A sessions, and group chat. Control the call experience with handy moderator tools like muting participants or playing entry/exit chimes. 
Vast Conference delivers reliable HD audio powered by a global VoIP network for crisp, clear sound. It also offers video conferencing, meeting transcripts, international dial-in numbers, and toll-free calling options. 
Vast Conference Features
Online meetings

Screen sharing

Mobile meetings

Integrations

Toll-Free-Dial-In

International conferencing
Vast Conference Platform Support: Desktop, iOS, and Android 
Vast Conference Is Ideal for: Small and mid-sized businesses
Vast Conference Integrations: Google Calendar, Microsoft Office 365, and Outlook Plugin
Vast Conference Pros and Cons

Intuitive interface and robust moderator tools optimize call control.

Engaging features like polls, Q&A, and chat keep participants attentive.

Global VoIP network provides consistent HD audio quality.

The mobile app functionality is limited compared to the web interface.

Lacks some advanced webinar features like breakout rooms.

It can be costlier than basic conferencing solutions.
CallHippo Call Conference Feature Can be Used To:
Conduct meetings from anywhere
You will have a dedicated virtual Phone number that will let you host conference calls from any computer or phone. You can schedule meetings, activate conference calls and manage features of the meeting.
Reach your goals quickly
A concall using a Virtual Phone number means participants no longer have to meet physically in order to make a decision. The convenient conference call feature will allow you to seamlessly connect and work with your partners from all over the globe. Businesses can effectively use a conference line to meet with remote parties both internally and outside the company.
The conference calls are made during important client meetings, sales presentations, project meetings, regular team meetings, training, and to communicate with employees who work at remote locations. It is the best way to cut the travel costs and allow workers to be more productive as they don't have to travel every now and then to attend the meetings.
FAQs:
1. Is there an additional cost for call conferencing?
Absolutely not! You can add a third person in between calls at any time without paying an extra penny. Since call conferencing is a fundamental feature of the CallHippo VoIP system, it will be included in all plans at no additional cost. Also, there is no geographical boundary, allowing you to conduct a conference call with anyone on the planet.
2. How to start a conference call?
To start a conference call,
Step 1: Call the first person and wait for the call to connect.
Step 2: Tap "Add Call."
Step 3: Call the second person and wait for the call to connect.
Step 4: Click "Merge Calls."
Step 5: The two calls are merged into a conference call.
Follow steps 2-4 to add more people.
3. How to lead a conference call?
Follow the tips below to lead a conference call:
Create and share a meeting agenda with attendees before the conference call.
Use advanced technologies like CallHippo to make conference calls.
Keep the agenda in front of you during the call.
Allow everyone the opportunity to speak; mute yourself when necessary.
Before wrapping up the call, summarize what was decided and outline any next steps. Also, thank everyone for their participation.
4. Are there different types of conference call services?
Yes, there are two types of conference call services: 1. Reservation-less conference calling service and 2. Operator-assisted conference calling service.
5. How many members can participate in a call conference?
CallHippo, being a cloud-based telephony system, allows you to add up to 100 participants during a call conference. The 100-person capacity is enough to facilitate you to organize mega virtual meetings while working remotely. Moreover, the CallHippo conferencing calling system does not cap call time, letting you continue the call for as long as you need.
6. How do I use the call conferencing feature?
CallHippo's conferencing calling system is simple to use and functions similarly to typical call conferencing. First, dial the number of the first person you wish to invite to a conference. Once added, add another member to the conference and then merge the call. Repeat this process for as many people as you wish to add up to 100.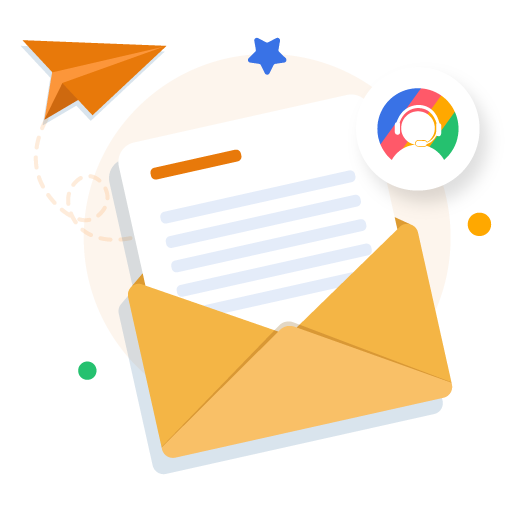 Let's Stay in Touch
Subscribe to our newsletter & never miss our latest news and promotions.

+21K people have already subscribed