Effective communication is the backbone of any successful business organization. The better you communicate with your partners, vendors, stakeholders, and clients, the more they will endorse your brand. You need to make sure that you open multiple channels of transparent two-way communication so that they can get in touch whenever they want.
So, what is the solution, and how can organizations keep on top of their communication game? The answer is simple. Move towards a hosted enterprise phone system powered by a virtual telephone system. After all, if you are not on virtual phone platforms, you are already missing out on tons of benefits. 
All over the world, corporate organizations have transitioned to VoIP technology, as they are ideal for business communication and come loaded with tons of features. So popular are virtual phone systems that the voice-over-internet-protocol market size is expected to reach 55 billion USD by the year 2020. 
Is A Hosted Phone System Right For Your Business?
Having a cost-efficient and powerful phone system is crucial for all kinds of business organizations. Considering that over 56% of customers prefer phone calls for support, it is imperative to invest in a great communication network. However, many companies are still hesitant to make the switch from traditional wired phone lines to an enterprise phone system.
It could be due to several reasons – they may feel that it would be too technical or maintenance would be difficult in the long run. Well, that is far from the truth. VoIP phone solutions are hassle-free, low on maintenance, and very pocket-friendly too. 
With the rise in digital mobility, it is definitely a wise decision to jump on board the VoIP technology bandwagon. One of the biggest benefits that you would have is a high level of accessibility. Your organization will be able to enter any overseas market and compete with local companies easily.
For example, let us suppose your organization is headquartered in New Delhi, India, but you are planning to expand your business operations to Singapore. One of the first things that you will have to do is cater to an effective channel of communication to get in touch with local clients there so that you can respond to their requirements effectively. Getting a Singapore virtual phone number with a local area code would be a smart move as you can ensure that your organization provides ready support and service to local clients. As an added advantage, local customers will also develop a positive perception about your brand, and give it a shot over established rival companies.
A hosted phone system is a must-have marketing and communication tool. Whether you are part of a growing start-up, an established mid-sized enterprise, or a giant multi-national firm, virtual phone systems will be an asset and aid in overall team collaboration.
What To Know Before Getting An Enterprise Phone System?
It is often a daunting task to decide upon the best VoIP phone solution for your company. There are so many variants in the market with high levels of customization – how does one decide upon the best one?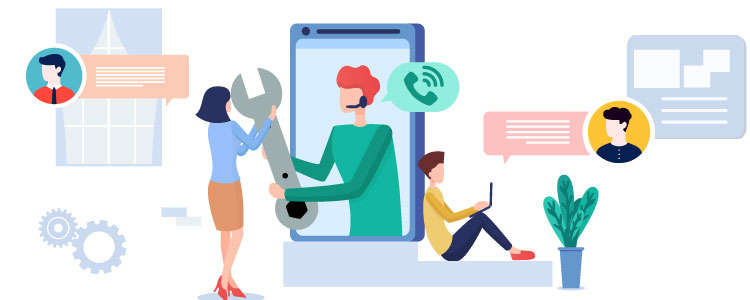 There is no one-size-fits-all buyer's guide that can help decision-makers choose the best communication system for their organization. However, one must have a blueprint in mind before researching all the possible options. Here are some useful pointers to keep in mind that will help you in evaluating various vendor offerings so that you can narrow down your choice:
Define Your Business Requirements:
Every business has unique requirements, and it is essential to choose a business phone system that will fulfill those needs. Find out how many phone lines you require, which are the features that you will require for certain, and what budget are you looking at. Once you have a clear idea about your exact requirements, you can let VoIP phone providers know so that they can let you know your best options. You can also discuss specific customization so that your organization can benefit from vital core communication modules and tweak them  to your specific business needs.
Ensure A Scalable Phone System:
While you may start on a smaller level, remember that your business is bound to grow with time. So, when you choose a hosted VoIP phone system, make sure that it is scalable and can expand in accordance with changing business requirements. Most reliable vendors offer additional modules at a later stage, so you only need to purchase the bare minimum to get started. You also need to make sure that your service provider will take care of any after-purchase maintenance and up-gradation of the system.
Define Your Timeframe and Budget:
You need to let the VoIP phone service vendor know by when you want the system installed and what monetary budget is acceptable for your organization. Most credible phone solution providers will be able to set up your VoIP phone platform in just a couple of hours as there are no complicated hardware or software requirements. You will need to bargain to reach an acceptable mid-point in the financial budget, and many VoIP service providers can remove certain features that you do not need so that you only pay for the essential modules.
Conduct A Cost-Benefit Analysis:
Buying an enterprise phone system is not a short-term decision; rather, it is one that will have a long-lasting impact on your profitability and brand reputation. You will need to conduct a detailed cost-benefit analysis to help you decide whether you need a cloud model or an on-premise solution. You may wish to consider the nature of your business, and the investment involved to come to the best decision. Once you are certain about the type of hosted phone system that you want, you can enter into a contractual agreement that spells out all terms and conditions. It will make sure that you get a quick return on investment that will boost your business revenues.
Get Useful Features:
Virtual phone systems have a vast array of useful business communication features. You need to be very specific about what features you need for your business. For example: If your organization is customer-centric, you would want facilities such as call queuing and call forwarding so that you can serve your clients better. Call queuing will help to structure customer calls so that support representatives attend priority calls, and call forwarding makes sure that not even a single call is missed, as they are forwarded to available call agents. Other beneficial features include interactive voice response, call cascading, call recording and voicemail.
Invest in Advanced Call Analytics:
One aspect where you would not want to compromise would be on call analytics. While choosing on an enterprise phone system, ensure that your vendor provides sophisticated call analytics so that you can get better business insights. You should be able to view the call length, location of the caller, and know about previous calls made by the same number. It can help managers analyze customer interactions, improve their product/service offerings, and enhance the entire support experience.
Once you have determined that you are going ahead, and replacing your traditional phone system, you must shift the focus on the available variants in the market. Virtual telephony is a raging trend in the business world. So, invest in a reliable VoIP service provider that can carve a distinct package suited to your corporate needs.
A phone system builds the foundation of any company's communication structure. Do not be in a hurry, discuss options with all possible service providers, and check out the reviews by other users so that you know what to expect. A hosted phone system will surely transform your office environment positively, and enhance the work culture. It will lead to an incremental increase in revenues and all-important bottom-line results!