Date: May 31, 2023
In today's world, staying connected is crucial for businesses to succeed. That's where cloud phone systems come in, offering a flexible and cost-effective way to communicate.
In this blog, we will explore the benefits of cloud phone systems, how they work, and the top providers in the market. Whether you're a small business owner or part of a large enterprise, you'll find useful information to help you make an informed decision about whether a cloud phone system is right for your organization.
What Is Cloud Phone System?
A cloud voip phone system has its home in the cloud. In other words, data is securely stored in a virtual server that can be accessed over the internet. This means that all incoming and outgoing calls will be routed through the internet.
Capable of replacing traditional landlines in the most effective ways, a virtual phone system for small business houses is provided by third-party service providers like CallHippo.
Internet-based virtual phone systems is simply a web-based service that's tailored to handle calls, voice mails, and messages for your business efficiently with the help of the internet and modern technology.
The major difference between the traditional phone systems and cloud call system is that a cloud phone doesn't require any extra hardware device or complex cables running all around your office and it can be used by any business, whether its a startup or a small business or an enterprise.
A virtual phone system is also much more cost-efficient for your business than the traditional PBX one.
Thus, using a cloud telephone system is much more efficient and beneficial than using a traditional phone system.
How Does A Cloud Based Phone System Work?

In order to understand how the process of a cloud phone system differs from traditional phone systems, we must first understand how traditional systems function.
In a traditional phone system, sound waves are carried to a thin metal disc inside the phone, known as a diaphragm, and converted into electrical signals. The electrical signals are then transferred to another phone via copper wires and converted back to electrical signals at the other end. Whereas in the case of cloud-based phone systems, all data transmission occurs over the internet, and there is no dedicated physical channel. The analog voice signal or sound you make is converted into data packets and sent over the internet to recipients.
Furthermore, there are very few hardware or components required in the case of cloud based phone systems. One of them is cloud-based private branch exchange, which is used to route calls. Besides that, unlike landline phones, a cloud phone will require the use of a VoIP desk phone.In addition, there is an alternative to VoIP desk phones– you can use a softphone and an application installed on your smartphone, tablet, or computer.
What Are The Differences Between Cloud Phone System and On-Premise Phone System?

YOUR QUESTIONS
CLOUD BASED PHONE SYSTEM
ON-PREMISE PHONE SYSTEM
What are similar features?

Call management
Call control
Voicemail
Messaging
Web-based management
Call training
Analytics

Call management
Call control
Voicemail
Messaging
Web-based management
Call training
Analytics

What is the cost involved?

Setup cost of cloud phone service is low
There are no maintenance costs at the business owner's end.
(OpEX)Operational expenditure is applicable.
Potentially higher ongoing service.

Setup cost is high
Long-term maintenance costs at the business owner's end.
No risk of fee increases
The total cost of ownership is low, especially as the system grows.

What if we want to expand our phone systems?

Your cloud phone service provider does the work involved in the expansion.

Growth or retraction is not a hassle.
 You always have an updated system as software updates happen automatically.

You have complete control in terms of expansion.
Every expansion increases the complexity of the system.

Who exercises the actual control?

Your service provider handles the software updates and maintenance processes for you.
You gain the ability to allocate your IT resources to other revenue-generating tasks.
Your cloud phone service provider is better equipped, and thus exercises the actual control over your system.

You have to handle all software updates and maintenance processes; you have to get it done by your internal IT staff, or outsource the task.
You need to micromanage all the details by yourself.
You gain control over every detail.

Are there any more characteristics that we should know?

Service providers are experts who are better equipped than you to implement a solution.
Some Cloud options are not cost-effective when deployed on a large scale.

You can do what you want with your equipment, but with great power comes great responsibility, remember?
In contrast to your service provider, you may lack enough internal resources or the budget to make highly customized changes.

But what about the implementation?

Implementation is quick and hassle-free.
There is little dependency on in-house IT resources.
Your cloud phone system provider may or may not lend the facility to train your in-house users.

Implementation is a lengthy process.
 Implementation time and cost is higher as compared to the cloud-based phone systems.
Your solution provider may or may not lend the facility to train your in-house users.

Can you discuss some of the pros?

Minimal hardware requirements.
Complete geographical independence.
Expansion is easy.
Heavy backup.
Rare disruptions.

Operations costs get lower with time.
Complete control over the system.
You can know the cause of disruption in real-time.

What about the cons?

Some service providers may ask for high initial installation costs.
Service subscription for a few months.
Surprise charges may be added if you choose the wrong service provider.

The set-up cost is high.
You may not enjoy complete geographical independence.
Expansion can be a mess.

What if we ask you to recommend any one?

If your business is experiencing growth and does not have in-house IT resources, then cloud phone system is the way to go.

If your business can support an IT department and has the needed resources, and if you can handle complete control over your phone system, then an on-premise phone system is for you.
Why Use A Cloud Based Phone Service For Small Businesses?
Communication with customers is the most crucial aspect of any Sales or Service is driven business. And there are many benefits of a cloud business phone system for your business, any dropped calls, delays in replies, poor communication quality, expensive hardware, etc. can definitely result in loss of leads and existing customers.
The traditional phone system is being unable to keep up with the extensive communication needs of businesses. The best cloud phone system was created to be a solution for all the above issues.
A cloud PBX also comes in handy while scaling or growing a business. Business owners all around the world pay boatloads of money in buying new hardware and upgrading their call plans while expanding their business.
However, a cloud based phone system is extremely flexible. It grows effortlessly alongside a business without incurring any extravagant up-gradation charges.
Working with international clients? A cloud based VoIP is the perfect communication solution for your business and in turn you can better manage your international clients.
Making international calls over traditional phone systems can rack up huge telephone bills. However, a cloud telephone system allows you to get local virtual phone numbers of almost all countries across the globe.
Using these virtual numbers, one can make international calls at minimal call costs. All you need to pay for is a high-speed internet connection!
Businesses with poor communication channels have to deal with long delays, disconnected calls, unclear audio quality, etc. that adversely impact their productivity and may also drive away customers.
This is why it is extremely important for all businesses, whether big or small, to switch to cloud phone systems in order to keep up with all their business communication needs!
9 Pros of Cloud-Based Phone System
The 9 key advantages of cloud phone systems are listed below. We are confident that as you progress through each of the points, you will become more convinced of the importance of investing in a cloud phone system for small businesses.
1. Cost-Effective Business Phone Solution
The first and most significant advantage of cloud phone systems is their low cost. Unlike traditional business phone systems, which require you to spend money on things like server installation, system setup, hefty premise rent, maintenance, and so on, a cloud-based VoIP phone system does not require you to spend a dime on any of these things.
Moreover, since the cloud phone systems offer unified business communication, you will require fewer human resources to manage the operations. This means you can redirect and spend this saved money on other activities to strengthen your customer service even more.
2. Unified Communication
The cloud phone systems will allow you to centralize all of your customer communication that occurs over various channels such as social networking platforms, phone calls, file sharing, voicemails, messages, and so on. This practice is known as Unified Communication as a Service (UCaaS).

The UCaaS approach will dramatically increase the performance and productivity of your agents as well as remote teams because they will get access to all communication-related information from a single source. This will empower your agents to better understand the customers' problems besides knowing what steps have been taken so far and what needs to be done to provide the best resolution to the customers.
3. Scalability & Portability
Scalability and portability are two key benefits of a cloud business phone system for small businesses. Scalability refers to the ability to scale up or scale down resources and infrastructure in tandem with business growth, while portability refers to the ability to perform business activities from anywhere at any time, regardless of location or time constraints.
Since most of the top cloud phone system providers, such as CallHippo, leverage the SaaS model, you can scale up or scale down resources as and when needed. In addition, because a cloud-based phone system operates over the internet, you may work from anywhere at any time simply by having a good internet connection and a VoIP desk phone.
4. Easy & Quick Installation
As you will no longer be required to install any hardware or equipment except IP phones at your business location, you will be able to set up a cloud phone system in a breeze of time. 
Moreover, unlike traditional phone systems, which require you to invest in and install a variety of hardware to get even started, VoIP phone systems need you to make a minimal investment and install only IP phones based on your initial requirements. As a result, you can easily scale the infrastructure later as your business grows.
5. Minimal Maintenance Cost
As we mentioned in the previous section, there is a minimal requirement for hardware and equipment that you will need to establish a cloud phone system. This also means lower maintenance costs! Additionally, unlike a traditional phone system, which requires you to maintain the premises where the server and other hardware are installed, a cloud-based phone system does not necessitate this kind of maintenance.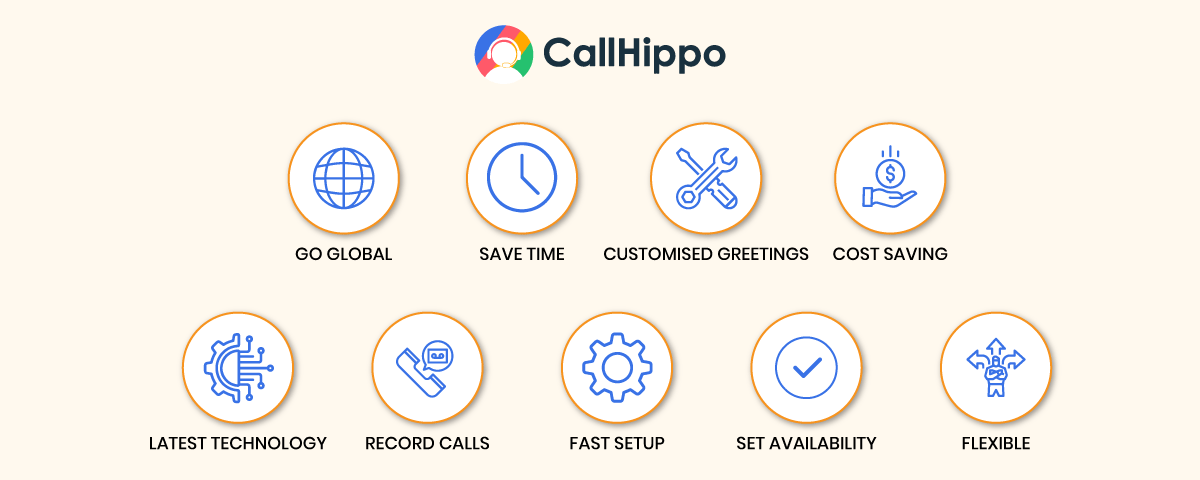 All of these maintenance cost savings can be diverted & used in other productive business operations, such as hiring bright minds, employees training programs, and so on, to help your company grow and prosper.
6. Establish Professional Image
It is common knowledge that customers often prefer to do business with companies that have a good reputation and credibility in the market. If the company is not well-known, customers would be hesitant to purchase its products or use its services. For this reason, building a professional image of your business is a necessary step. One of the most effective methods is to have a toll-free business number or a local phone number.
When you opt for cloud phone systems, you will have access to a dedicated toll-free customer service number for your business as well. So, when a customer receives or dials this number, they will get an impression that you are a well-established company that values its customers and has a dedicated customer service department in place. 
Besides, having a local phone number will develop trust among local customers about your company.
7. Access To Multiple Innovative Features
When you choose a cloud phone system, you will not only be able to make and receive calls like a traditional phone system, but you will also be able to perform a variety of other communication activities thanks to the advanced features that the system comes with.
Some of the most significant features and capabilities of a cloud phone system are call queuing, auto-attendant, call routing, call recording, Interactive Voice Response (IVR), voicemail to mail, call barging, power dialer, screen sharing, video conferencing, and so on. All of these features will undoubtedly improve your performance and play a key role in propelling your company to new heights.
8. Improved Performance & Productivity
Isn't it true that the ultimate purpose of implementing or adopting any service or solution is to improve performance and productivity? Of course, it is. Fortunately, with the help of cloud-based phone systems, you can achieve this goal to a significant extent. 
For example, by establishing a unified communication channel, your agents will be able to comprehend and deliver solutions in a timely and effective manner.

Moreover, you can redirect the money saved on maintenance and setup costs to an employee learning program, thereby increasing the competence and expertise of your team. Also, the cloud phone system's multiple innovative features will ensure that you reach out to and attend to every prospect and client on time, resulting in a higher customer retention rate.
9. Enhanced Customer Experience & Satisfaction
All these above-mentioned 8 advantages of cloud phone systems will help you streamline, simplify, and safeguard your customer communication. Besides, this will also have a long-term impact on the customer experience as well. Since the customers will receive prompt and precise responses to their inquiries, they will feel happy and satisfied with your services.
Furthermore, the guidance and support that you will be able to provide to your customers throughout their journey from product selection to implementation, will increase their trust in your organization. All of these factors will eventually turn even first-time customers into cult customers.
So those are the 9 benefits of cloud phone systems. But as every coin has two sides, there is another side to this coin as well– the limitations of cloud-based phone systems. Although the cons are substantially lesser and insignificant compared to the advantages, we believe they should also be discussed to have a clear picture of the cloud-based phone system and ultimately to make an informed decision.
Cons of Cloud-Based Phone Systems
The two key downsides of cloud phone systems are that they require stable and decent internet connectivity, and there are chances of network latency. Let's take a closer look at both of these.
1. Need Stable Internet Connectivity
The first major disadvantage of a cloud-based system is that it would require a stable internet connection all the time since its entire operation is dependent on the internet. Therefore, if your internet connection is weak or unstable, your performance will suffer, and productivity will be hampered.
This means that if you live in a remote place where stable internet connectivity is a distant dream, you should not choose cloud phone systems. Not only if you live in a rural place, but also if you live in an urban area, be sure your internet service provider delivers steady internet connectivity with a decent speed.
2. Network Latency
Network latency, often known as lag, is a term used to define delays in network communication. As we all know, cloud phone systems convert phone calls' voice into data packets at the sender's end, transmit them across the network, and then convert the data packets back into voice at the recipient's end. Any gap in this process will cause jitteriness in the communication and impact VoIP call quality.

Besides, the recipient may even receive a delayed or broken message, which complicates the information shared during the conversation. However, if you choose reputable cloud phone service providers such as CallHippo, you won't have to worry about latency because their system design and algorithms are capable of combating it to a significant extent.
So those are the pros and cons of cloud phone systems. However, it should be noted that both of the limitations can be easily bypassed with a good and stable internet service.
How To Get a Cloud Phone System?
1. Get a Virtual Business Phone Number
To make and receive calls on your cloud based telephone, you will need a virtual phone number. You can choose to get a local virtual number or a toll-free one. This virtual phone number will serve as your central business phone number. All interactions using your cloud phone will be made by this number. If you already have a business number that you do not wish to change, then you can simply get a virtual number and re-route all your calls to it.
2. Add Users
Everyone in your office will use the same cloud phone system and virtual number for business communications. This is achieved with the help of extensions. Every department or agent in your office will have a different extension to the main business phone number. One can reach the desired agent by simply dialing the extension after the virtual number. Having one central business number makes it easier for customers to get in touch with you. It also eases internal communication within the business organization. Moreover, you do not even need to remember all the different extensions! You can customize your cloud based phone system with virtual assistants and menus that automatically dial the extension for you.
3. Customize Your cloud telephone
There are a lot of exciting features that you can integrate with your cloud phone system for small business.
Top 5 Cloud Phone System Providers In World

The first in our list of cloud phone system providers is CallHippo All it takes is 3 minutes to set up a virtual phone system with CallHippo. 
Besides, you can use it to integrate with 100+ tools and get access to local numbers from 50+ countries. What's more? 
It offers an easy-to-use interface, a robust backend facility, and 24/7 customer support. 
Pros:
50+ third-party integrations on all plans

Set up an account within three minutes
Cons:
Features of CallHippo
It lets you make calls from the browser

Purchase local phone numbers at the drop of the hat

Supports call forwarding, analytics, tracking recording, and queuing

Facilitates easy collaboration with your team

It helps you interact with callers, gather information, and route calls to the right agent

RingCentral offers the best cloud business phone system for business collaboration solutions for small and medium-sized businesses. You can use it for team messaging, video conferencing needs, and calling. 
Besides, you need not install any hardware with it, and it is very easy to install it. RingCentral cloud phone is one of the best options when it comes to HD quality calling. 
Pros:
Unlimited calls within the U.S. and Canada 

HigherPlans include 10,000 toll-free minutes
Cons:
The base plan is limited to only 20 users

Expensive for startups.
Features of RingCentral 
Provides call forwarding facilities

Lets you host a maximum of 100 participants in an online meeting

Facilitates management of both incoming/ outgoing faxes online

It is available in 100+ countries with a local dialing plan and international virtual numbers service.

It lets you share file tasks and files online

Nextiva is one of the leading cloud-based phone system providers in the market and offers superb-quality audio and video conferencing. Using the Nextiva cloud phone, you can easily send/receive SMS and text messages from your mobile app. It even offers you a local toll-free number so that you can build credibility with local audiences. 
Pros:
All plans include video calling

24/7 customer support.
Cons:
Limited integrations with the base plan
Features of Nextiva
Provides access to customer's information when they call

Get automatic feedback from your clients.

Facilitates centralized information storage 

It lets you track customer interactions and provides a real-time view of clients 

Send online fax, text message, and SMS

Supports unlimited conference calling

Ooma Office Phone is a cloud-based phone system provider that offers call recording, voicemail, and automatic call distribution facilities. You can set it up in less than 5 minutes and even port your number with ease. 
Pros:
For startups, an entry-level plan is affordable

Usable with existing analog phones.
Cons:
Toll-free service costs extra

Call duration is not trackable.
Features of Ooma Office Phone
No need to install hardware

Offers a cloud voice and business app

Provides local and toll-free numbers 

Offers 24/7 customer support

Lets you block any calls

Manage your phone calls from a smartphone

Virtualphone offers cloud phone service in 120+ countries and lets you record incoming and outgoing calls. You can even use it to send SMS to your phone number. Besides, it gives detailed information of callers like local time, operating system, web browser, and geolocation.
Pros:
Call scheduling

Live chat with voice
Cons:
The web version lacks advanced features.

Limited support channels

UI/UX needs to be enhanced
Features of Virtualphone
Supports live chat with voice

It lets you forward calls with ease

Send voicemail and fax

It lets you schedule calls with ease 

It lets you place international calls with ease
What Makes CallHippo Unique in the Market?
CallHippo got some amazing features that provide over the edge benefits like GlobalConnect, Call Distribution, Welcome music and message, smart call forwarding, Call Analyst, Auto-Switch, and many more. Let's get some insights about these over the edge features.
GlobalConnect helps you to know the right time to call your clients. This feature gives you information about the time zone of the country where you wish to call. Many times it happens that executives end up calling the clients at the wrong time resulting in a bad customer service experience. 
GlobalConnect saves you from such situations by giving the exact time zone of your clients just by entering the client's phone number within a fraction of time. You just need to hover your cursor on the number you wish to dial, and a popup will appear, providing the details like time, date, day of that country, and whether the number you are about to dial is valid or not.
Smart Switch is another marvelous feature of CallHippo; it automatically identifies the number you enter and place the call from the right virtual number. Basically, Auto Switch focuses on the county code of the number you enter and makes the call from your respective country's number.
Suppose you want to call in Canada. Once you enter the client's number with Canada's country code '+1' Auto-Switch identifies the client's country by this code and automatically calls the client from your Canadian virtual phone number. Isn't this just amazing?

No need to look for the country code while dialing the number because you have CallHippo's Auto-Switch to automate your work up to a great extent. 
Auto-Switch not only saves time but also helps to get rid of failed call attempts by routing the call from the right country's mobile number. This saved time can be put into some more important task that can help the business to grow. 
Call Distribution allows you to equally distribute calls at the receiving end among the available executives. Call Distribution improves manageability by distributing incoming calls in an equal manner. You can also select a particular manner in which you want to route the calls.
You got three different ways to use call distribution – Simultaneously, Fixed Order, or Round Robin. You can choose any of these ways to manage your incoming calls and route them in the desired manner. The best part is that this Call Distribution feature is FREE in all plans of CallHippo.
Call Analytics enables tracking records on call volume, duration of calls, and routing of incoming and outgoing calls. Call Analytics conducts phone call analysis and generates reports based on that. It gives you overall insights about the effectiveness of your workforce and the satisfaction level of your clients with your company by analyzing the calls.
In short, Call analytics gives an idea about the call quality, prospect client calling, lead generated from calls, lead closed from these calls, and about many more things. The reports generated after such analysis helps the business to recover the market plan and forecast future business from the current outputs.
Smart Call Forwarding provides users to forward incoming calls to an alternate number. It's very important to answer each and every call of clients to provide attentive services. No calls should remain unattained. But many times the situation comes where the intended executive is not available to take the incoming call so with the help of smart call forwarding, he or she can divert these calls to another executive to make sure that the client's call gets responded.
FAQs About Cloud Phone System
1 ) Does cloud telephone systems operate on different hardware?
No, it does not require the additional hardware it can be efficiently operated by the computers smartphones or IP telephone system.
2 ) Is cloud based phone expensive?
As compared to the traditional telephone system, Cloud phone is affordable and also deliver the advanced features for the global communication.
3 ) Can I avail the basic telephone features from cloud phone systems?
Hosted phone system provides all the basic call functions like call queuing, call forwarding, voicemail, etc in the best manner.
4 ) Is cloud call system best for small business?
Yes, the Cloud Based phone system is the best communication tool for the small business & enterprises due to its flexibility and multiple application.
WORDS THAT MAKE SENSE!
Read The Most Well Researched & Insightful Articles From CallHippo Team