Date: December 28, 2022
Effective communication is the key to running a successful venture. Start-ups and small businesses need to set up a seamless communication structure to keep in touch with partners, vendors, stakeholders, and clients. On an international level, most companies have made the transition towards internet phone numbers as they give advanced features at an affordable price. In fact, adopting an office phone system can save your business about 50-75% every year on your communication expenditure.
Business calls are an integral part of office life. People need to talk to their customers, team members, and other business partners. While making business calls, you need to make sure that you have the best headphones as they can make sure that you are heard loud and clear. 
Headphones are an essential corporate tool, and they are being used by millions of employees worldwide to improve the quality of communication. In fact, in the year 2018, the total revenue of the headphones sector touched a whopping $3.94 billion. This demonstrates how important good headsets are for business and personal communication.
It is the age of virtual telephony, and if you don't invest in regular headphones, you will not get crystal clear voice quality. So, if you have got an internet phone number, the next step is to get the best pair of headphones for your call center executives. It can make a world of positive difference by enhancing the audio tone and clarity.
There are tons of options available in the market when it comes to earphones. It can surely be confusing, and you need to be sure about what you are looking for – price, features, brand name, and quality. This is where our curated guide of the best headphones can help as it gives you a holistic picture of the 10 best available options. 
Check out some fabulous headphones for your office phone system:
Philips Fidelio X2:

This is a brilliant device that offers supreme comfort and superior sound quality. Philips headphones have a comfortable design; hence, they can be worn by the user for an extended period. With an open acoustic design and high-frequency response, they are a popular choice amongst organizations as they give immense value for money. Philips Fidelio will prove to be a smart buy for organizations that rely heavily on office phone systems for business calls and networking.

Jabra Evolve 65 UC:

A state-of-the-art professional headset, Jabra Evolve has a diverse range of features and functions very smoothly. One of the best aspects about this headset is that it has a noise-canceling option; hence, this leads to disturbance-free calls. It is hassle-free and effortless to set up – it just takes a couple of minutes, and you can start making calls. Jabra Evolve is a perfect choice for managers who make a high volume of daily calls and can mainly enhance audio quality.

Bose QuietComfort 36:

One of the most wide-selling headphones in the market, Bose QuietComfort has a long battery life and noise-canceling technology. It is a wireless headphone piece with a sleek outer look. Bose QuietComfort has a closed acoustic design and a battery life of over 20 hours. The long battery life makes it highly convenient as employees can use it even while traveling as it doesn't need to be changed frequently. It is on the high price range in the spectrum; however, Bose headphones are top on comfort and quality that make them worth the cost.

Plantronics Voyager 4220 UC:

An easy-to-use external design and excellent voice clarity ensure that Plantronics Voyager ranks high on the best headphones list. It also has a robust boom mic that offers highly clear speaking clarity. Plantronics can easily switch between internet phone numbers, softphones, and mobile devices, making it a flexible corporate tool. It comes at an affordable price and provides a long battery life of over 13 hours. Plantronics is the smartest choice for organizations that are focusing on voice quality and functionality.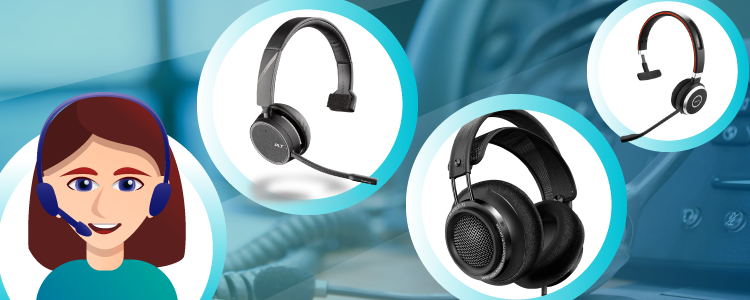 Sennheiser MB 660 UC MS:

A hands-free headphone set, Sennheiser has advanced technology that eliminates all external noise and enhances sound clarity. The unique aspect of Sennheiser is that it provides an extremely long battery life. Users can speak on the headset for 30 hours without charging it; hence, it is a great productivity booster for all kinds of organizations. Sennheiser is the best headset as it can be set up quickly and provides long talk time due to extended battery life.

Logitech H600:

This is a super light-weight and comfortable headphone. Logitech offers apex audio quality and is designed to facilitate maximum talk time usage. It is highly popular as it is affordable and has a diverse range of business communication features. Going in for Logitech H600 would be a smart decision for companies that have adopted virtual phone systems as they will help team members function better and in a more organized manner.

Microsoft LifeChat LX-6000:

This phone is the ideal device for employees who work in a busy office environment as it reduces external noise. The noise-cancellation technology ensures better job engagement and productivity. Microsoft LifeChat is a versatile headphone that has impressive features and is very user-friendly. It has an average talk time battery life of eight hours and ensures distance-free clear calls for users. It is incredibly affordable and provides value for money, making it the best option for companies that are looking for budget-friendly headphone sets.

Shure SE215:

This is an excellent mid-range option headphone set that is optimal for office use. Shure SE215 has a futuristic design and has several useful features. It enhances voice clarity and has a long-lasting battery that is beneficial for busy call center executives. With an active noise-cancellation feature, affordable price range, and excellent sound quality, Shure is one of the best-selling headphone products in the market right now.

Plantronics CS540:

Powered with sophisticated Voice-Dedicated technology, Plantronics CS540 elevates the level of sound clarity and eliminates interference from surrounding wi-fi networks. It has a wireless convertible headset and offers high-definition audio quality. One of the prime reasons for its popularity is that it takes very less time to set-up and gives a reasonable talk time of eight hours.

Jabra Biz 2400:

Highly intuitive controls, HD audio quality, and a 360-turnaround boom mic are some advantages of Jabra Biz 2400. It is a preferred tool for business communication due to an affordable price range and a long battery life. It removes any loud sounds in the background and gives maximum emphasis on crystal clear call quality.
It's time to face the truth – your business needs the best headphone set in the market to thrust up operational efficiency. If you have made the transition from traditional wired phone systems to internet business phone numbers, the next big purchase to make is headphones.
You can't keep wasting money by buying cheap headsets and replacing them when they don't work. Assess your business requirements, scan the market, and make sure to choose the best pair of headphones for your company. It is a long term asset that can increase team collaboration and communication to the highest levels possible!
WORDS THAT MAKE SENSE!
Read The Most Well Researched & Insightful Articles From CallHippo Team