Date: October 17, 2023
In today's digitized globe, effective communication grabs a crucial spot. As we witness a shift towards remote work setups and global collaborations, having a reliable VoIP (Voice over Internet Protocol) headset is more important than ever before.
Whether you're in a small business, leading a team, or striving to advance your career, the right VoIP headset can greatly improve your daily interactions. According to research, the global VoIP market will be worth $102.5 billion by 2026. VoIP headsets offer several benefits that are essential for modern business operations.
They ensure clear and uninterrupted communication, which not only boosts productivity but also reduces the chances of misunderstandings. In this blog, we will take a closer look at the top VoIP headsets and how you can choose the best one as per your requirements. Let's dive!

Expert Advice
"The ideal VoIP communication experience requires consideration of a number of crucial criteria. These include things like noise cancellation, the caliber of the microphone, whether to use a premium wireless or cable headset, and compatibility with your specific VoIP program. To prioritize comfort and durability and eventually ensure a pleasant experience for both remote work and business conversations, do rigorous research by examining user feedback."
Key VoIP Headset Features to Consider
When choosing a VoIP headset, you should think about important features to make sure it suits your needs. VoIP services help scale up your small business, and its headsets are important for clear communication in business, gaming, and remote work. Here are some key features to consider when choosing the best VoIP headsets around:
1. Voice Quality and Clarity
VoIP headset selection must prioritize voice clarity and quality. Consider using headsets with cutting-edge features like noise-canceling technology to ensure successful conversation. By actively reducing background noise, this technology makes sure that the person on the other end of the conversation can still clearly hear you.
Wideband audio and high-definition audio are qualities to look for in headsets since they improve overall sound quality. With these improvements, you may conduct talks that are more fruitful and natural-sounding, reducing misconceptions and ensuring that every piece of information is adequately delivered.
2. Comfort and Ergonomics
The importance of comfort and ergonomics in choosing the best VoIP headset cannot be overstated. Adjustable headbands and padded ear cups give a comfortable fit even after long hours of use. Ergonomic features, such as lightweight materials and airy ear cushions, aid in the prevention of discomfort and tiredness.
With a comfy headset, you may concentrate on your work or discussions without being distracted. Whether you work in a hectic office or at home, a well-designed, ergonomic headset will help you stay productive without sacrificing comfort.
3. Connectivity Options
When shopping for VoIP headsets, keep your connectivity requirements in mind. Plug-and-play USB headsets are convenient and compatible with the vast majority of PCs. Bluetooth and DECT wireless solutions provide versatility and mobility.
Whether you're using a softphone, IP phone, or PC, it's vital that the headset you choose is compatible with your VoIP software or hardware. The correct connectivity solution, by providing seamless integration with your communication tools, can not only simplify setup but also improve your overall experience, making calls more effective and hassle-free.
4. Microphone Quality and Flexibility
A crucial component of the best headset for business calls is the quality of the microphone. For effective conversation, a good microphone should precisely record your speech and reduce outside noise. Noise-canceling microphones are very useful since they lessen background noise, preserving the clarity and intelligibility of your speech.
A flexible microphone boom also enables you to precisely position the microphone for the best speech pickup. This versatility makes sure that even in loud surroundings, your voice is audible. No matter if you're in a quiet office or a busy contact center, choosing a headset with an outstanding microphone, clear audio quality, and adaptability guarantees that your talks are always of the highest caliber.
5. Battery Life
Concerns about battery life are significant when using cordless VoIP headsets. The amount of time that various headsets may run on a single battery varies. It's crucial to pick a headset whose battery life matches your typical usage patterns. If you need to refuel during a busy workday, several versions provide quick-charging capabilities.
The need for frequent recharge is eliminated by longer battery life, which also ensures ongoing communication during crucial conversations. By considering your usage patterns and choosing a headset with sufficient and long battery life throughout, you can reduce interruptions and maintain productivity.
6. Durability and Build Quality
The durability and build quality of VoIP headsets are essential for long-term use. Look for headsets constructed from high-quality materials that can withstand daily wear and tear, as well as accidental drops. Features like reinforced cables, sturdy hinges, and durable ear cushions contribute to a headset's resilience.
Checking for warranties and reading user reviews can also provide insight into a headset's reliability. A sturdy headset not only provides a longer lifespan but also reduces the need for replacements, making it a cost-effective choice for both personal and professional use in the long term.
10 Best VoIP Headsets

Since now you are clear with what a VoIP number is, it's time to take a closer look at some of the best VoIP headsets. Considering all the options, selecting the best VoIP headset for your company may be a challenging task. Today's industry is expanding swiftly, and many businesses are vying for the best headset models. Some of the most common VoIP headsets include:
1. Jabra Evolve 75

Effective business calls require excellent audio quality. A renowned Bluetooth headset made for professionals, the Jabra Evolve 75. With its HD speech technology, you may communicate with customers without needing to ask for clarification. Additionally, even when you're up to 30 feet away from a Bluetooth-enabled device, its excellent speakers keep you engaged in your discussion.
This best headset for business calls also has a sophisticated noise-canceling microphone. This function actively shuts out background noise, ensuring that you sound professional and engaged on your calls regardless of where you are, whether it's a packed coffee shop or a noisy co-working environment.
Key Features
Noise cancellation (passive and active)
Listen-in feature for announcements
Built-in volume controls
18-hour talk time battery life
Pros
The smartphone has an impressive battery life, lasting for hours on end.
Its noise reduction capabilities are exceptional, providing a relaxing auditory experience.
It's lightweight and comfortable for lengthy periods of use.
Cons
Some may find it a little pricey for their budget.
While satisfactory, the audio output may be improved.
It lacks important functionality like play/pause/skip music control.
Pricing
2. Poly CS540

The Poly CS540 headset claims to be the lightest in the DECT market. It offers convenient call management, excellent voice quality with DECT technology and wideband audio, and effective noise cancellation. The headset comes in four options: convertible, over-the-ear, over-the-head, and behind-the-head.
If you prefer to keep one ear open for office conversations or household tasks, the CS540 monaural headset is a practical choice. It is renowned for its impressive wireless range, allowing you to stay connected up to 350 feet away.
Key Features
HD voice quality
Noise cancellation
V Diverse wearables
Extended wireless range
Pros
This headset is proudly the lightest on the DECT headset market.
You can easily customize your comfort with its convertible design, which allows you to wear it in a variety of ways.
This headset provides high-definition speech quality for a better calling experience.
Cons
Lacks extra padding to enhance comfort during extended use.
Users question the base's wide and deep dimensions, suggesting more practical design alternatives.
Pricing
3. Poly Voyager Focus UC

The Poly Voyager Focus UC VoIP headset is ideal for professionals. You'll adore its incredible sound quality, and it's excellent at filtering out background noise, allowing you to focus entirely on your calls.
If you like wireless headphones and want the greatest audio experience imaginable, this is the headset for you. This best VoIP wireless headset eliminates distractions and takes your calls to a whole new level of clarity and ease.
Key Features
Adjustable headband
Mute button on the headset
150 ft wireless range
Noise-canceling technology
Pros
This headset has a convenient smart mute feature for call control.
With a 12-hour usage time and 15-hour talk time, it has advanced earphones.
It offers Bluetooth connectivity with a wide 98-foot roaming range.
Cons
People with glasses struggle to utilize headsets efficiently due to usability issues.
These headphones are somewhat pricey, making them an expensive option.
Pricing
4. Sennheiser MB 660

The MB 660 headphones are excellent for enjoying high-quality sound and making crystal-clear internet calls. They have noise suppression and multiple microphones, so you can talk to different people without being disturbed. You may also customize your listening experience by selecting stereo sound from several sound modes, such as Movie, Director, Club, or Speech.
This best headset for business calls features a handy design. They are made of high-quality materials, fold up neatly, and are both stylish and comfortable. You won't have to worry about charging them continually because they contain a powerful battery that lasts for 30 hours.
Key Features
Adaptive ANC
Versatile connectivity
Bluetooth 4.2
Micro-USB cable
Pros
The headset offers an 82-foot range and a 30-hour battery life.
It has an excellent battery life of 15 days in standby mode.
It has improved clarity, comfort, and speech recognition, as well as three microphones for flexibility.
Cons
It's expensive, and occasionally, it poses connectivity problems.
There is no external mic for added audio flexibility.
Pricing
5. Poly Voyager 8200

The Poly Voyager 8200 is a top-notch Bluetooth headset that performs admirably in a variety of settings. It is made to interact with speech platforms, and it includes useful software called Poly Lens to keep it up-to-date and functioning properly.
For remote work, this headset is a fantastic option. Additionally, it includes a powerful battery that won't let you down in the middle of a crucial meeting or while listening to your preferred music.
Key Features
Four-mic design
C Extended Comfortability
Accurate voice capture
Solid sound quality
Pros
These headsets stand out because of their remarkable comfort and long-lasting battery.
It provides hours of incredible battery life and excellent sound features.
They excel in terms of comfort and sound quality with noise cancellation.
Cons
Despite strange design choices and a sidetone delay, these headphones are expensive.
They use Micro-USB instead of USB-C.
Pricing
6. Poly Blackwire 7225

A VoIP headset with great comfort, the Poly Blackwire 7225 is a mono headset made for extended use for business talks or casual listening. This headset's four omnidirectional microphones provide good audio transmission by picking up your speech from all directions, resulting in interactions with friends and coworkers that are amazingly clear and crisp.
Furthermore, the Poly Blackwire 7225 includes active noise cancellation, allowing you to focus during calls or listen to music without interruption, even in busy surroundings. Aside from its excellent audio performance, the headset also has handy media controls, allowing you to easily regulate playing, mute, and skip tracks without having to reach for your connected device.
Key Features
Bluetooth 4.2
Omnidirectional microphones
Noise cancellation
Media controls
Pros
This best softphone headset has excellent noise reduction, delivering a relaxing listening experience.
Its stylish and comfortable design makes it ideal for lengthy listening sessions.
The headset has a variety of settings as well as superior active noise-canceling technology.
Cons
This headset doesn't use wireless technology; instead, it connects via USB A or C.
It may cause occasional sound problems in audio quality.
Pricing
7. BlueParrott M300-XT

BlueParrott specializes in Bluetooth headsets for loud areas, and the M300-XT is ideal for people who are always on the go. The lightweight earpiece is comfortable and secure, and the microphone is unobtrusive.
It is crucial to remember, however, that it is weather-resistant but not completely waterproof, so it may not be suitable for some professions that need waterproof clothing. Aside from that, the M300-XT finds an excellent combination of performance and pricing.
Key Features
High sound capture
Adjustable boom mic
Multiple ear gel sizes
IP54 durability rating
Pros
It is affordable and offers excellent voice clarity even in noisy environments.
This headset offers superior voice intelligibility and cozy ear gels.
With its comfortable, affordable design, it communicates clearly in noisy settings.
Cons
Be careful around water because this headset is not completely waterproof.
It could take some work and adjusting to have a good in-ear seal.
Pricing
8. Logitech H600

The Logitech H600 Wireless Headset is a low-cost solution that blends value and performance. It's a light headset that's ideal for VoIP calls. However, there is one drawback: the battery only lasts six hours on a single charge. The good thing is that you can continue to use it while charging it through a USB cord.
This wireless headset connects to your PC or Mac from up to 33 feet away and provides superb audio quality. Keep in mind that it is primarily intended for use with computers and desk phones and may not function with other devices. While its audio quality may not be ideal for music enthusiasts, it does include noise-cancellation functions, which is a plus for clear calls.
Key Features
Wireless VoIP headset
Stereo quality sound
High battery life
360 degree microphone
Pros
These headphones are available to the majority of consumers due to their low pricing.
In noisy settings, these noise-canceling headsets guarantee clear communication.
They have mediocre sound quality but are portable and convenient because of their fold-up construction.
Cons
It lacks cushioning, which makes it less comfortable.
This headset lacks HD audio quality.
Pricing
9. Avaya L139

Avaya L139 is designed to effectively remove background noise, ensuring that your conversations are uninterrupted and clear. Its movable microphone, which provides you more adaptability when on calls, is its distinguishing feature. This Avaya-only feature keeps you from feeling weary during extended phone talks.
Avaya L139 is a reliable option for handling a large number of calls without losing quality. In addition to its noise-canceling capabilities, the headset's microphone can spin 360 degrees, making it more convenient and adaptable.
Key Features
Active noise cancellation
Easy web management
360-degree microphone
Flexible headband
Pros
The Avaya L139, a comfortable headset, offers a high-quality sound that helps to manage numerous phone calls with ease.
Clear communication is provided by its aluminum headband and 360-degree microphone.
A reliable option for clear interactions in contact centers that delivers exceptional performance.
Cons
Achieving a snug fit in your ear might require a bit of effort and adjustment.
It may have sound quality issues at times
Pricing
10. Microsoft Modern USB Headset

Microsoft Modern USB Headset eliminates the hassle of software installs, making it incredibly user-friendly. This is a low-cost headset with a noise-canceling microphone for clear conversation.
Its seamless connection with Microsoft Teams enhances its use by providing a dedicated button for quick access to the application window. You get the best of both worlds with this headset: the reliability of tethered communication and the simplicity of wireless connectivity.
Key Features
High sound capture
Superior sound quality
Multiple control options
Teams headset certification
Pros
The Microsoft Modern USB Headset has a cozy design that is suitable for prolonged use.
Thanks to its simple setup and user-friendly design, setting it up is a breeze.
For easy functionality, it has distinct call and Teams buttons.
Cons
The accessories app lacks significant customization possibilities, necessitating the installation of new features.
Unfortunately, the Teams button cannot be customized to meet particular needs.
Pricing
Factors To Consider While Choosing A VoIP Service
The VoIP (Voice over Internet Protocol) service you choose will rely on your individual requirements and preferences. Numerous reliable VoIP service providers exist, each with a unique set of features, prices, and target markets. Here are the top factors to consider for choosing the best VoIP service provider:
1. Understand VoIP Services
It's critical to understand the fundamentals before choosing a VoIP service. VoIP converts your voice into data packets that are transported over the internet and reassembled at the other end, allowing you to make audio and video calls anywhere over the world.
2. Consider Your Needs
Be sure to take into account your unique needs when choosing a VoIP provider. Knowing what you require will enable you to make the best option from the several providers that each offer different benefits.
Consider the number of users, call volume, and any supplementary features you might need, such as video chats, voicemail, or call recording. You can select a VoIP provider that works for your particular situation by analyzing your needs.
3. Review Popular VoIP Services
Several popular VoIP services cater to both personal and commercial needs. Skype's user-friendly design makes it ideal for small-scale use. Zoom, which was originally designed for video conferencing, now provides VoIP calling for organizations that want both phone and video functionality.
Google Voice provides a free phone number as well as integration with Gmail. Microsoft Teams is a robust collaboration platform. RingCentral is a flexible solution for companies of all sizes.
4. Compare Key Features
Consider only the most important characteristics when selecting a VoIP provider. Make sure your internet connection is reliable because call quality is crucial. Compare the supplied level of security, scalability, integration possibilities, and price schemes. Your experience and effectiveness may be considerably impacted by these factors. Make sure you carefully weigh them.
5. Assess User Feedback and Support
Check user reviews and ratings for the VoIP service you're considering before making a decision. Hearing from individuals who have used the service can provide significant insights regarding its performance in the real world. Consider the level of client service as well.
6. Price and Budget Considerations
Your spending limit should be taken into account while choosing VoIP headphones. These headsets come in a range of price points, from budget-friendly options to high-end models with cutting-edge features. Finding the ideal balance between your spending plan and your unique demands is crucial.
Carefully consider your needs and rank the items that are essential to you. Purchasing a high-quality VoIP headset might result in more efficient and productive communication, making it a fantastic investment for both professional and personal use. By taking into account your spending limit and preferred feature set, you may choose wisely and have a crystal-clear, enjoyable VoIP connection
You May Also Read : VoIP Security Best Practices for Safe and Reliable Communications
Try CallHippo for Free
CallHippo is a standout virtual phone system that excels at increasing client connections. It interacts smoothly with numerous platforms and provides full reporting capabilities to improve your interactions with clients. Notably, CallHippo is the pioneer in giving virtual business phone systems in India, making it extremely simple to set up.
CallHippo differs from traditional landline systems in that it sends voice data packets across IP networks. This cutting-edge technology enables users to make phone calls over the Internet, eliminating the need for separate phone lines. Because of its comprehensive features and user-friendly UI, CallHippo is a useful tool for organizations trying to increase their communication and client engagement.
Conclusion
Picking the best VoIP headset for your business matters a lot in today's fast-paced work world. Good communication lies at the heart of productivity, and having the right headset can truly boost your interactions.
This article has covered the important things to think about when selecting the best VoIP phone headset: sound quality, comfort, how it connects, microphone quality, battery life, durability, and budget. Connect with our professionals to dig deep into the vast world of wired headsets today!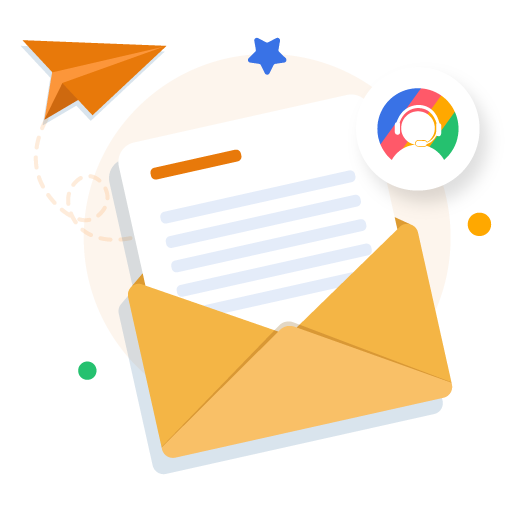 Let's Stay in Touch
Subscribe to our newsletter & never miss our latest news and promotions.

+21K people have already subscribed