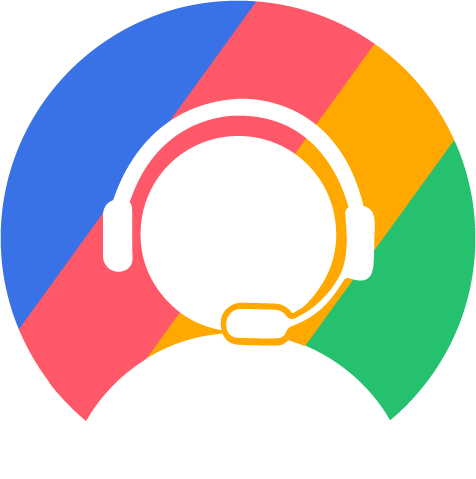 Date: November 28, 2022
Data analytics is critical for businesses because it allows them to gauge and optimize their process and performance. And for result-oriented or effective data analytics, you will certainly need a significant amount of data. The same rule of thumb applies when it comes to call center operations.
One of the most effective ways to collect and analyze data in a call center is call recording software. With the help of call recording software, businesses can record, track, and analyze calls, eventually assisting them in internal training and improving customer experience.
In this article, we will look at the 10 best call recording software for business in 2022, including their features, pricing, and more. But first, let's take a quick look at what call recorder software is and its benefits.
What Is A Call Recording Software?
Call recording software, as the name implies, is a telephony technology or call center solution that records telephone conversations over PSTN or VoIP in a digital audio file format. In addition to recording, call recording software ensures the safety and management of call recording data.
(Source: desk-phone)
It's worth noting that business call recorder software is not the same as call logging or call tracking software. Unlike these software, which only tracks call details, call recording software records conversations as well.
Benefits of Call Recording Software for Call Centers For Business
Call recording provides more than one advantage. You can use the recorded calls for training, improving customer service, and staying compliant. Some of the primary advantages of call recording software are as follows:
Improved team coaching and training

Market analysis

Help capture missed details

Better understanding of customer requirements

Improved customer satisfaction

Help optimize process & performance

Maintain regulatory compliance
All of these advantages of call recording systems make them a must-have technology for businesses, particularly those that deal directly with customers through phones.
Now, let's take a look at the top 10 call recording software in 2022 to see how they can help businesses and which one is best for yours.
Top 10 Call Center Call Recording Softwares In 2023
The following are the top 10 call recording software options to consider when buying one.
1. CallHippo
CallHippo is a well-known VoIP call recording software for call centers that aids in the productivity of customer success teams. You can use this telephony solution to record calls to analyze employee productivity, review customer interactions, coach team members, and better understand your customers and their needs.
Unlike traditional software for call recording, CallHippo automatically records calls and stores it in the cloud. This way, the database remains protected from uninvited guests and malicious cyber-attacks. Moreover, all inbound and outbound calls are automatically saved in call logs and can be downloaded for up to 90 days.
CallHippo Call Recording Software Key Features:
Automatic recording and cloud storage of each call

PCI (Payment Card Industry) compliant

Auto-pause and disable call recording as needed

Automated call transcription

100,000 recordings per account

In-depth analytics of each call

90-days storage period
Pros
User-friendly dashboard

The support system is quick

Easy and quick to setup
Cons
Pricing is a little expensive

A few bugs are there
Pricing: CallHippo call center call recording software is part of the larger CallHippo call center software. This means that by subscribing to the CallHippo virtual phone system, you will also gain access to call recorder software. You will not be charged any additional fees for this benefit.
2. CallRail
CallRail is second on our list of the best software for call recording in 2022. CallRail lets you record every inbound and outbound call, as well as every conversation between your team and your customers. These recorded calls enable you to understand what your customers seek when they contact your company, allowing you to evaluate the quality of campaigns and determine what needs to be changed.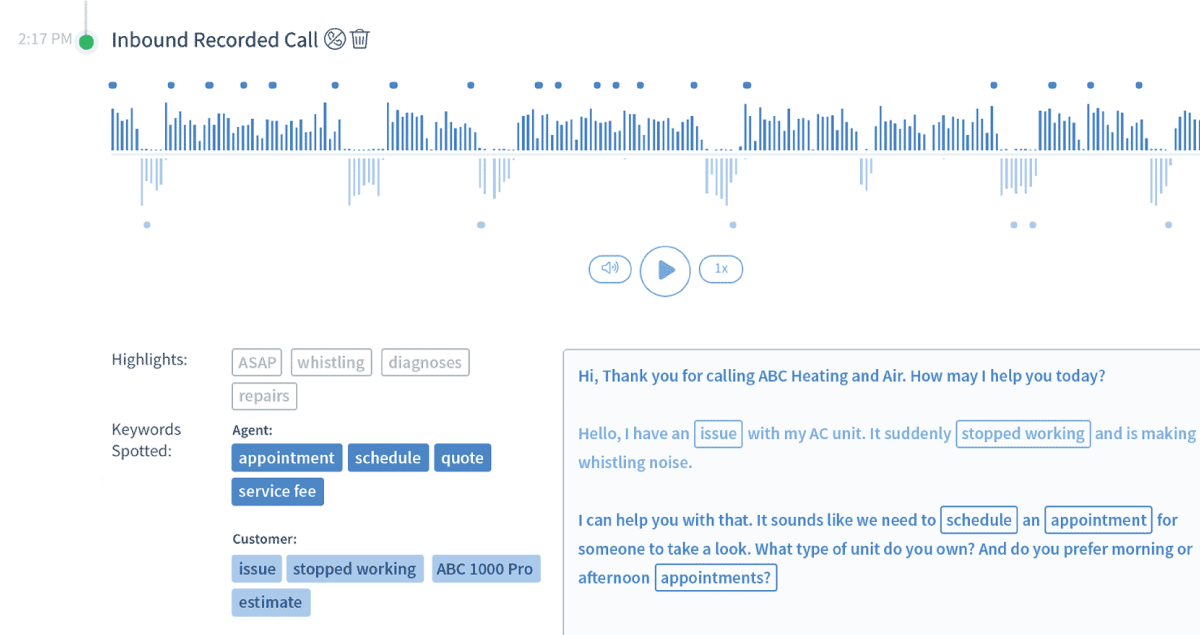 Moreover, this call recording software for business allows you to comply with call recording regulations by establishing a pre-call voice announcement that informs your callers that their call may be monitored for quality and training purposes.
CallRail Call Recorder Software Key Features:
Automatic phone call transcription

Review call recordings in emails

Customize the system to meet your needs

Compliance with local or federal regulations

AI-powered conversation intelligence tool

Set up pre-call announcements
Pros
Easy to Use and setup

Tracks the type of calls

Integration with Analytics Systems
Cons
The support system is inferior

Pricing keeps increasing

Its integration feature is a little weak
Pricing: Just like CallHippo, CallRail recording software is a part of a comprehensive call center software. In other words, by subscribing to CallRail, you gain access to its business call recorder software. It is one of most popular software for call recording.
3. Twilio
Twilio helps you with programmable call recording. This software for call recording software allows you to record, save, transcribe, and retrieve voice recordings in the cloud. The system also allows you to select single or dual-party recordings to meet your privacy and compliance requirements. Moreover, you can start, pause, stop, and resume recordings whenever you want using a simple API.
Besides that, with a single line of code, you can enable call recording for all types of calls, including PSTN, WebRTC, SIP Trunking, conference calls, and voice. Moreover, the system allows you to pause recordings when customers provide personally identifiable or financial information in order to protect sensitive data.
Twilio Call Recording Software Key Features:
Intelligent transcription

Sensitive data protection

Flexible call recording data retention

Record all types of phone calls

Post-call processing for improved analytics

PCI-compliant call recorder software
Pros
All features available that you must need

Very affordable

Integration with third-party productivity applications
Cons
Very complex to setup

The customer support system is very poor

Mobile applications could be better
Pricing: Twilio offers pay-as-you-go pricing. The following are the various prices for their call recording service:
Call recording: $0.0025/Minute

Storage: $0.0025/Minute/Month

Transcription: $0.05/Minute
Also, keep in mind that they provide free storage for the first 10,000 minutes per month.
4. Freshdesk
Freshdesk cloud contact center offers software for call recording software that allows you to listen to, store, and analyze phone conversations between your agents and customers. This data gives you greater visibility into the performance of your phone team and insight into the quality of your customer conversations.

Additionally, the system generates transcripts for each conversation, saving you from having to listen to each call from beginning to end in order to understand the customer's issue and the effectiveness of the process. Instead, look over the transcript to see what went well and what parts of the calling process or verbiages need to be revised or improved.
Freshdesk Call Recording Software Key Features:
Automatic call recording of each call

Allow customers to opt-in or opt-out

Pause, resume, disable call recording

Single-click configuration

GDPR-compliant call recorder software

Easy storage and download of recordings
Pros
Good Support System

Affordable pricing

customizable options to manage client tickets
Cons
The onboarding process is complex

You cannot multitask

This software is not user-friendly
Pricing: Freshdesk charges $0.0032/Min for call recording. Visit this page to learn more about Freshdesk pricing and additional charges.
5. Aircall
The Aircall virtual phone system includes modern software for call recording  for business, which gets activated whenever your team picks up the phone. With this feature, you can understand the entire conversation or issue by listening to clear, complete audio files. Furthermore, Aircall's VoIP call recording system allows you to change your inbound and outbound call recording settings anytime.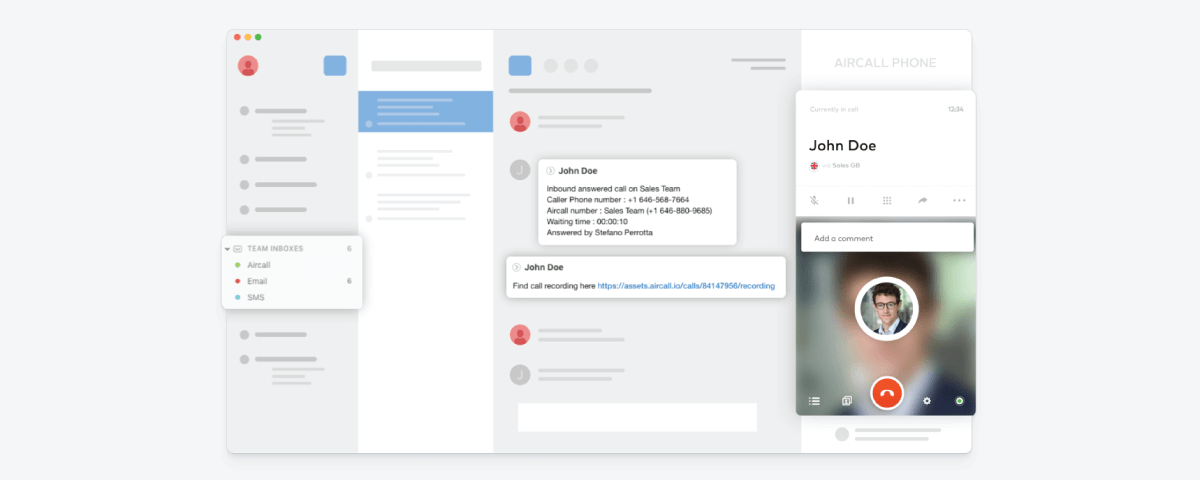 Additionally, the system allows you to access the recordings at any time via the Aircall software or the integrated CRM. In a nutshell, Aircall possesses all the characteristics that help them make it to the top call recorder apps & software in the 2022 list.
Aircall Call recording Software Features:
Precise and automatic call recording

Inbound and outbound call recording

On-demand recording playback

Easy customization

Detailed call analytics

PCI-compliant call recording software
Pros
Seamless integration with Hubspot

Easy to set up

Very easy to use
Cons
The quality of calls is not so good

Customer Service is poor

Too many bugs in the chrome extension

Not all area codes are available for new numbers
Pricing: Aircall is a full-featured VoIP phone system that comes with a business call recorder facility. The system costs $30-$50 per user per month, depending on the package you choose. For more pricing information, contact Aircall's sales team.
6. Talkdesk
Talkdesk is another well-known software for call recording that provides a complete picture of every customer interaction. This software allows you to maintain compliance while giving you complete control over your recording and storage preferences. You can also pause and resume live recordings, as well as change the voice recording and retention settings.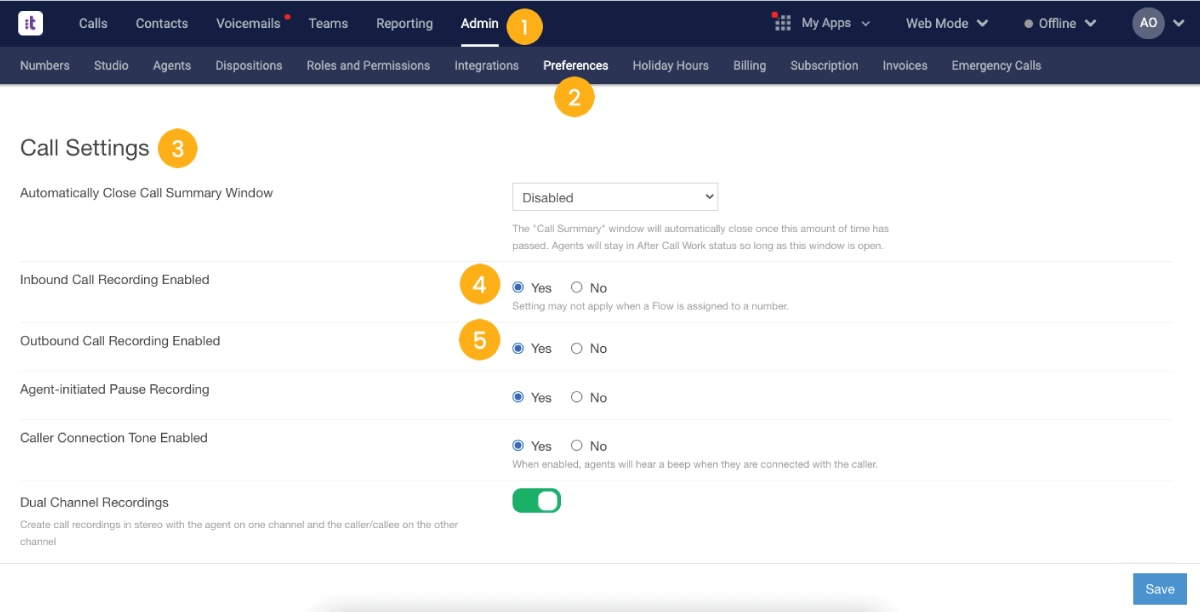 Furthermore, this call recording solution allows you to store calls on your cloud or their cloud for as long as you need them. Besides that, Talkdesk Quality Management will enable you to review recordings, fill out scorecards, gain additional insights, and add time-stamped annotations for agents to review.
Talkdesk Call Recording Software Key Features:
Complete control over your call recordings

Pause, resume, and turn off live recordings

Customize recording and retention settings

Keep recordings for as long as you want

Integrated with Talkdesk Quality Management

Stay compliant with local or federal regulations
Pros
Simple to use and regular updates

Quick resolutions

Easy to understand
Cons
Some issues sometimes faced for connecting 3 way or conference calls

Internal call transfer facility missing

The dashboard should be a bit more user-friendly

Call drops
Pricing: The Talkdesk call recording feature is part of the larger system- Talkdesk cloud contact center software. When you subscribe to any of the four Talkdesk packages, you also get access to the call recording system.
7. Dialpad
Dialpad is a full-service business phone system with multiple features and modules. One of them is call recording. The dialpad call recording feature allows you to easily record business phone calls while remaining compliant. The AI-powered call recording system provides real-time transcriptions of calls, data storage in the cloud– eventually enabling you to improve your customer service and performance.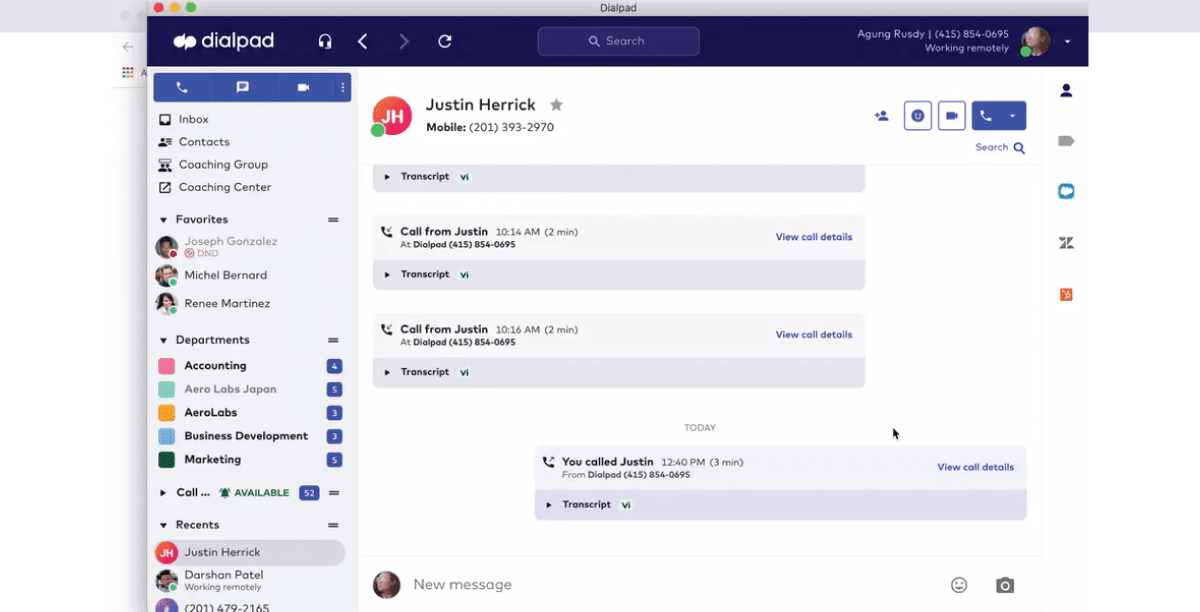 The platform also includes a user-friendly dashboard that provides real-time insights into each call and lets you take immediate action. For example, you can track live customer calls, operators, on-call customer sentiment, and more.
Dialpad Call Recording Software Key Features:
One-click recording

Real-time guidance

Quick training and onboarding

Searchable transcripts

Unparalleled privacy and security

Regulations adherence
Pros
Can set up automatic responses for calls and messages

Call quality is good

Affordable
Cons
Voice-to-text could be improved

Poor customer service

The app can be glitchy at times
Pricing: Dialpad provides multiple packages based on the product you select. Visit their website to get a better idea of their pricing options.
8. RingCentral MVP
RingCentral offers a call recording app to anyone who uses their RingCentral Phone desktop app or RingCentral app. It allows automatic as well as manual recording, depending on your needs. Once an administrator activates an extension, the automatic call recorder will record all incoming and outgoing calls for that extension.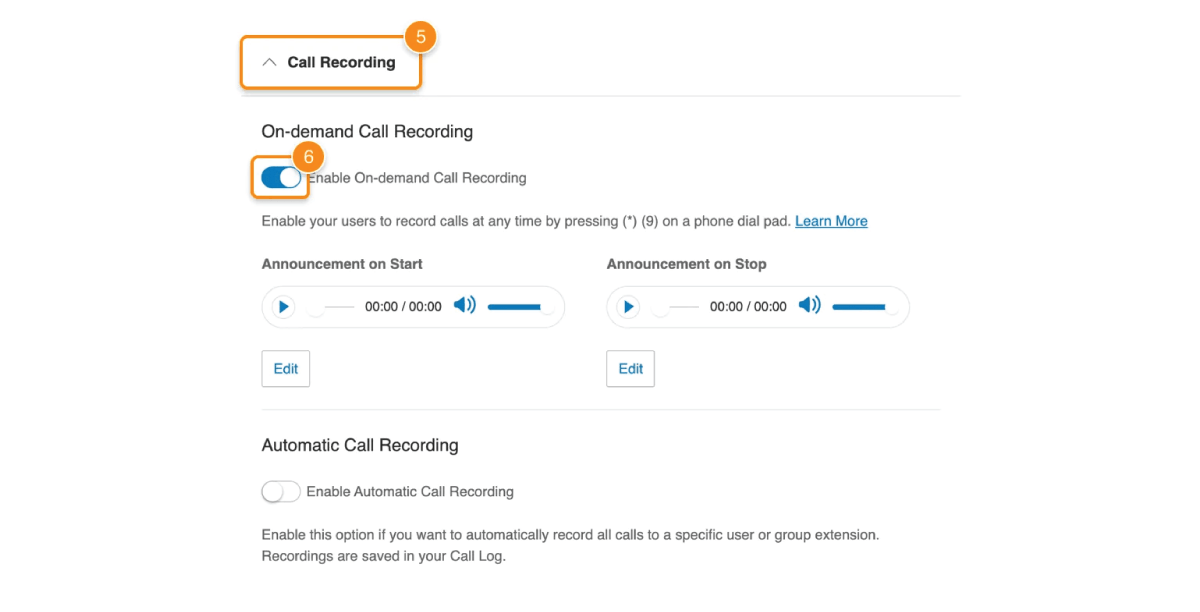 The app lets you save recorded calls in call logs for up to 90 days, with a maximum of 100,000 recordings per account. You can also download the recordings for your own records or future playback. You can also enable recordings for individual or multiple users, which you can download or playback at any time.
RingCentral Call Recording App Features:
Easy to setup app

100,000 recordings per account

Easy download and on-demand playback for up to 90 days

Custom announcements for inbound and outbound calls

Auto emails to parties who have opted in to call recording

Call recording is possible on any device, at any time
Pros
Easy to use a mobile application

It has an extensive reporting system

They have too many features available
Cons
Significant delays in the call

Pricing is high

The support system is not so good
Pricing: RingCentral business call recorder app is available to all RingCentral Phone desktop app and RingCentral app subscribers. You don't have to pay anything extra for this benefit.
9. LiveAgent
The LiveAgent call recording software allows you to save an unlimited number of recordings of any length. The single multi-channel help desk software allows you to create, store, and manage all call recordings. Moreover, you can search, listen to, or download any calls anytime, regardless of when they were recorded or stored.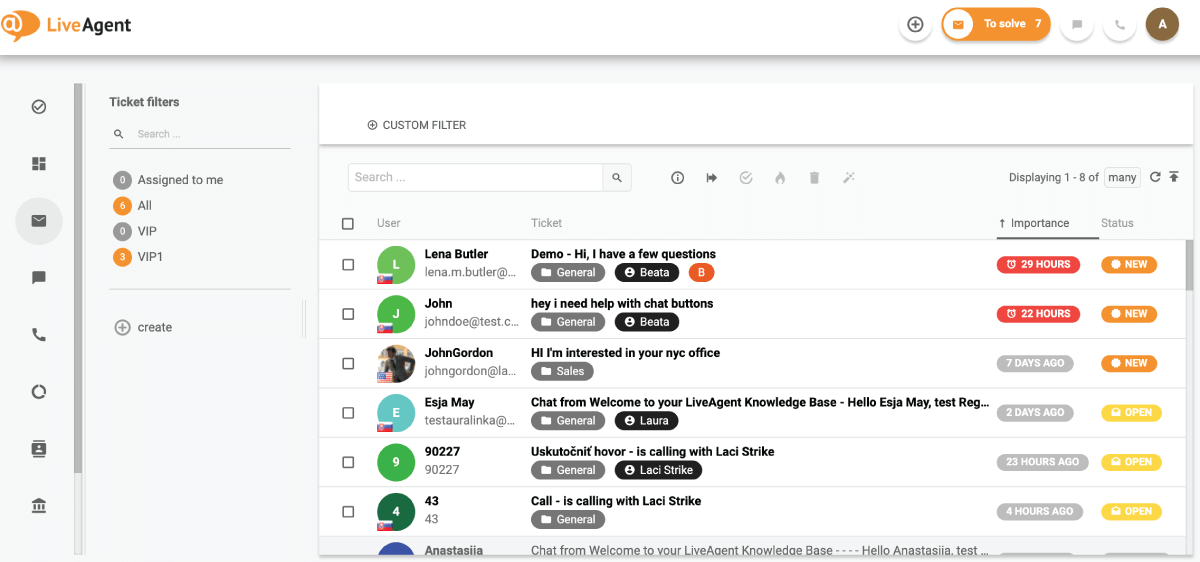 One feature that distinguishes LiveAgent from other software for call recording is that each call recording is converted to a regular ticket with its own unique ticket ID. To improve the search, you can even add notes to the tickets. In addition to storing an unlimited number of call recordings, LiveAgent also stores all of your voicemail, ensuring that no calls or words are ever lost.
LiveAgent Call Recording Software Key Features:
No need for a third-party application

Unlimited storage

Easy data storing and searching

Access to voicemail anywhere

Single-click control of all the recordings

Robust data safety and privacy
Pros
They have a live chat feature

The support system is very quick

Easy integration to every platform
Cons
The setup is very lengthy and complex

The mobile app has multiple bugs

Outdated design
Pricing: LiveAgent provides a call recording feature for the All-inclusive and higher plans. The all-inclusive plan costs $49 per agent per month. Basic plans– Ticket and Ticket+ Chat do not include call recording.
10. Cloudtalk
Cloudtalk is the last name on our list of the best call recording software in 2022. Cloudtalk automatically records inbound as well as outbound calls. Once the call has ended, you can listen to it from your internet browser at any time and from any location. Furthermore, Cloudtalk lets you download call recordings as a standard HTTPS link (website link), which you can then save and store wherever you want.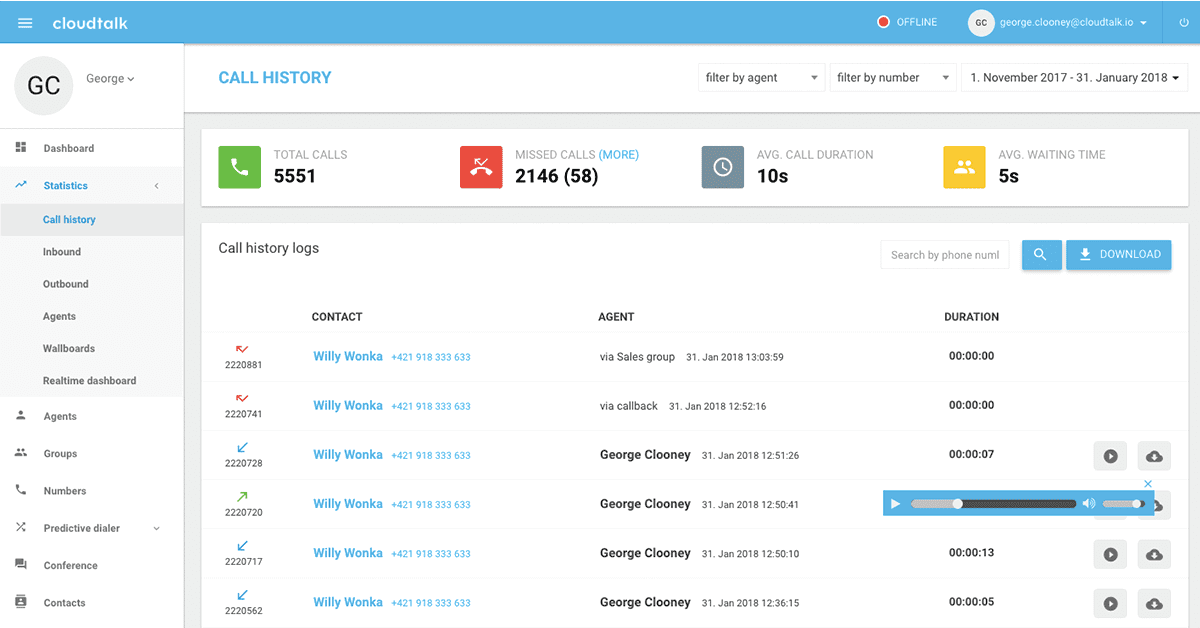 By listening to these call recordings or gaining insights into conversations, agents can better understand their mistakes, customers' issues, and the scope of changes in their process.
Cloudtalk Call Recording Software Key Features:
Automated recording

Easy storage & download of recordings

Access to data through any device

Rich analytics that helps improve the process

Easy setup

Compliances with local & federal regulations
Pros
It's extremely simple to install and integrate

Friendly User Interface

The support system is good
Cons
Windows application could be improved

Onboarding is complex

Integration with other apps is not easy
Pricing: Cloudtalk provides call recording with all four plans: Starter, Essential, Expert, and Custom. These plans cost $25, $30, and $50, respectively. However, the storage period varies from plan to plan. Visit the website to learn more about the pricing.
These are the top 10 call recording software for business in 2022. As you can see, each of the 10 has a unique set of advanced features, pricing, and purpose. To make an informed decision, we recommend you visit their official website and read online customer reviews.
Bottom Line: Call recording softwares are necessary for businesses that provide primary customer support via phone. Customer call recordings can be a goldmine for businesses since they provide vital information about customer demand, issues, agent proficiency, and more. However, ensure that you thoroughly evaluate all of the 10 call recording software options listed above to select the best one that perfectly aligns with your organizational requirements, goals, and budget.