Date: July 31, 2023
If you are the owner of a small business, then you need a virtual phone number However, for small businesses and offices, owning an online phone number can help solve a long list of work-related issues that would otherwise be tricky to handle. An internet-based business phone number can provide a whole world of power and versatility to your work-related operations while streamlining your communications related tasks into organized channels.
To break it down in more detail, business numbers use specialized contact channels, which provide significant cost benefits for businesses. Furthermore, the virtual mobile number presents a more professional appearance in front of your customers, thereby giving you greater potential to expand your business by lending it a more credible outlook. Here's looking at five ways in which your business can benefit from using a virtual phone number, and help you in carving out your own niche.


The power of internet telephony
Using an online phone number gives you the flexibility and freedom of designating a special number to your workplace. This has multiple advantages — for one, it helps segregate between your personal calls and official calls. Secondly, using such a number helps in streamlining customer service, by designating internet-routed IVR and automated response systems, which largely make handling bulk calls easy.
Furthermore, using a business phone number allows you to mask your contact, and with service providers such as CallHippo, you further get the freedom of phone number masking customer contacts to local numbers in multiple countries. For instance, if you are a service provider that can operate remotely from one location, using international local virtual number helps your business to expand in multiple countries like you can get a UK mobile number and you can easily operate it from anywhere in the world.
This instills confidence in customers, who tend to trust national providers more than a small business operator that sits at the other end of the world. Furthermore, it reduces customer call and message rates with a fixed cost, which automatically increases the chances of more users reaching out to you globally. As your business grows, you can continue to manage calls by subscribing to a suitable internet-based calling plan through proficient providers such as CallHippo and leverage the ultimate advantages of modern day telephony.
Global calls at inexpensive rates
Being able to establish global calls at inexpensive rates is one of the biggest advantages of formal VoIP numbers. With official numbers, not only can you build an international clientele, but also reach out to larger businesses, consultancies and service providers to outsource their contracts on a mass scale to you. This helps you scale your business up, and with the power of internet telephony, enables you to establish an international connectivity network with reasonably limited manpower and resources.
You can simply avail the internet business phone telephony operators such as CallHippo, in order to get outsourcing contracts for global service and support-related operations. With packages designed for all sorts of businesses, you can choose pricing plans of virtual phone number depending on the scale of your business, and as your venture grows, upgrade your plans to reach out to wider regions, get superior features and have a versatile calling package to rely on.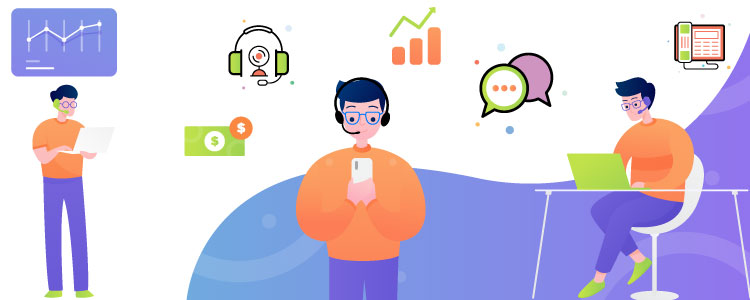 Easy management of call records
One of the reasons to boost up your organization with business phone number is the versatile usage features that it offers. With a professional number, make the most of it by using features such as automatic call recording, detailed logging of all calls, and dynamic rerouting of phone calls to service staff depending on business hours and availability.
In conventional networks, customers would have typically been required to find out separate numbers for various departments, and then be patched through multiple channels to reach the desired point of contact. The new online phone number plans eliminate such requirements. With a centralized calling mechanism and integrated IVR services, your customers will be taken through an automated phone call assistance system to improve customer services, and depending on the query, you can either choose to solve the problems automatically, or eventually route it through to the concerned people.
While almost all businesses use these services, using it for smaller ventures further give the ability to present a professional approach towards your customer, instill faith in your knowledge, and improve your chances of retaining your present clients and gather new ones in the future.
Streamlined device choices
With a virtual mobile phone number, you will not be required for needing to supply specific, encrypted phones to your employees, or set up desk lines to keep your official calling data safe, regulated and streamlined. As a result, not only do you save on hardware costs by not needing to assign devices to employees, you are also giving the advantage of employees getting to use their devices while activating VoIP services.
You can, hence, keep attending your official calls while on the go. When out on business tours, you can continue receiving regular logs of calling data on your phone, and even dynamically choose which phone calls would you be willing to attend to, and which ones would you wish to avoid. This further allows you to leverage the benefit of the internet, where there is no need to be location-locked.
As a result, not only do such internet-based official phone numbers provide you with dynamic flexibility, but operators such as CallHippo further allow you to synchronize your expenses in line with the scale of your business. As a small business in Belgium, an online Belgium phone number is an understated necessity that can help you grow at a great pace.
WORDS THAT MAKE SENSE!
Read The Most Well Researched & Insightful Articles From CallHippo Team