Home » Cloud Phone System
Cloud Phone System Features and Benefits for Business
Switch to CallHippo's Cloud Phone System and never miss an important business communication. Access your phone system from any device, get call recordings and reports and integrate with the tools you love to bump up business productivity and grow faster.
The Cloud-Based Phone System That Scales As You Grow
Customize your cloud-based virtual phone system
Say goodbye to huge telephone bills
Stay off desk without any worry
Hassle free backup and switching in case of downtime
Set custom working hours for users
What Is Cloud Phone System?
A cloud phone system has its home in the cloud. In other words, data is securely stored in a virtual server that can be accessed over the internet. This means that all incoming and outgoing calls will be routed through the internet.
Capable of replacing traditional landlines in the most effective ways, a virtual phone system for small business houses is provided by third-party service providers like CallHippo.
Internet-based virtual phone systems is simply a web-based service that's tailored to handle calls, voice mails, and messages for your business efficiently with the help of the internet and modern technology.
The major difference between the traditional phone systems and cloud phone system is that a cloud phone doesn't require any extra hardware device or complex cables running all around your office and it can be used by any business, whether its a startup or a small business or an enterprise.
A virtual phone system is also much more cost-efficient for your business than the traditional PBX one.
Thus, using a cloud phone system is much more efficient and beneficial than using a traditional phone system.
Step-by-step Guide To Get Cloud Business Phone Systems
1. Get a Virtual Business Phone Number
To make and receive calls on your cloud business phone systems, you will need a virtual phone number. You can choose to get a local virtual number or a toll-free one. This virtual phone number will serve as your central business phone number. All interactions using your cloud PBX will be made by this number. If you already have a business number that you do not wish to change, then you can simply get a virtual number and re-route all your calls to it.
2. Add Users
Everyone in your office will use the same virtual phone system and virtual number for business communications. This is achieved with the help of extensions. Every department or agent in your office will have a different extension to the main business phone number. One can reach the desired agent by simply dialing the extension after the virtual number. Having one central business number makes it easier for customers to get in touch with you. It also eases internal communication within the business organization. Moreover, you do not even need to remember all the different extensions! You can customize your cloud-based business phone systems with virtual assistants and menus that automatically dial the extension for you.
3. Customize Your Cloud Based Business Phone Systems
There are a lot of exciting features that you can integrate with your cloud-based small business phone system.
Why To Use A Cloud Based Phone System For Business?
Communication with customers is the most crucial aspect of any Sales or Service is driven business. Any dropped calls, delays in replies, poor communication quality, expensive hardware, etc. can definitely result in loss of leads and existing customers.
The traditional phone system is being unable to keep up with the extensive communication needs of businesses. The best cloud base phone system was created to be a solution for all the above issues.
A cloud PBX also comes in handy while scaling or growing a business. Business owners all around the world pay boatloads of money in buying new hardware and upgrading their call plans while expanding their business.
However, a cloud based phone systems is extremely flexible. It grows effortlessly alongside a business without incurring any extravagant up-gradation charges.
Working with international clients? A cloud based VoIP is the perfect communication solution for your business!
Making international calls over traditional phone systems can rack up huge telephone bills. However, a cloud-based phone systems allows you to get local virtual phone numbers of almost all the countries across the globe.
Using these virtual numbers, one can make international calls at minimal call costs. All you need to pay for is a high-speed internet connection!
Businesses with poor communication channels have to deal with long delays, disconnected calls, unclear audio quality, etc. that adversely impact their productivity and may also drive away customers.
This is why it is extremely important for all businesses, whether big or small, to switch to virtual phone systems in order to keep up with all their business communication needs!
Set up your business phone system in a breeze
Schedule a free product consultation call
Benefits Of Cloud Based Phone Systems For Small Business
Regardless of the status of a business, be it an enterprise or even a billion-dollar corporate giant, the cost of adding a cloud-based phone system for small business is hardly a fraction of the benefits that it provides.
1. Fast Setup
Chances are your business already has a broadband connection. To make use of cloud phone system, small business needs no further investments.
2. Cost Saving
Make or receive calls from all around the world at a really affordable cost. This can save huge expenses especially if you need to make international calls often.
3. Go Global
Clients are always pleased to work with huge brands since they assume they're reliable. Make your business look large with numerous local and toll free virtual phone numbers.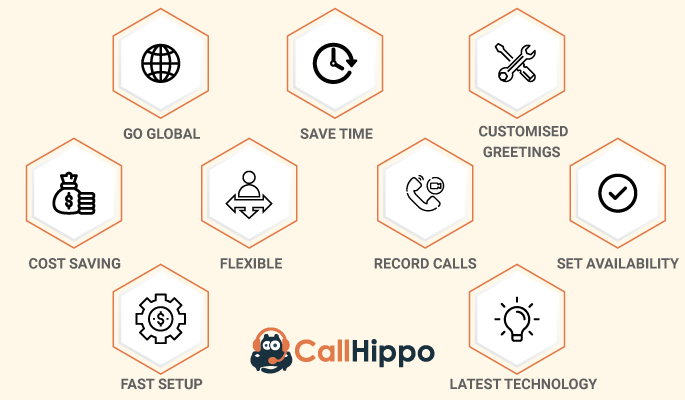 4. Flexible
Never lose a potential customer. Get your calls handled professionally and delivered wherever you need anytime, anywhere. This allows you the freedom to be off the desk without any worry.
5. Save Time
Provide your customers with IVR selections so that they could get exactly where they need to without any trouble. Keep your customers happy while saving you time and trouble.
6. Record Calls
Log all your calls and even record them for performance evaluation. This can be crucial for productivity and elimination of flaws.
7. Customised Greetings
You can make sure every call gets attended to with the help of re-routing it through all the phones till someone picks it up while keeping the customer engaged in greeting messages.
8. Set Availability
You can even set custom working hours for users and numbers. This will drastically increase your chances to secure a lead.
9. Latest Technology
Downtimes are no longer an issue. The cloud based technology ensures easy backup and switching in case of downtime, and that too instantly. This isn't possible with conventional communication media.
Having a cloud phone systems for small business has gone from being an option to an absolute necessity these days due to the increasing competition and smart consumers. The cloud based small business phone system for entrepreneurs evidently has a huge impact on the productivity and growth of the business while being affordable at the same time!
Just like everything else, the small business cloud phone system also comes with variations. There are packages to suit every business. Depending on your requirements, choose what suits your business the best and take your business to new levels!
Frequently Asked Questions About Cloud Phone Systems
Does cloud phone systems operate on different hardware?
No, it does not require the additional hardware it can be efficiently operated by the computers smartphones or IP telephone system.
Is cloud based phone system expensive?
As compared to the traditional telephone system, Cloud PBX system is affordable and also deliver the advanced features for the global communication.
Can I avail the basic telephone features from cloud phone systems?
Cloud-based Phone System provides all the basic call functions like call queuing, call forwarding, voicemail, etc in the best manner.
Is cloud phone systems best for small business?
Yes, the Cloud-Based phone system is the best communication tool for the small business & enterprises due to its flexibility and multiple application.