Get UK's Virtual Phone Number In 3 Minutes
With CallHippo, you can buy a UK virtual phone number in less than 3 minutes from anywhere in the world. When you make outgoing calls, this number will be displayed to your customers. You can receive incoming calls by forwarding your phone number or through our app. Sign up now!!
Establish a support center for your business
Monitor your team performance
Automate pre and post telephony tasks
Provide extraordinary customer service
Stay connected all the time with UK Virtual Phone Numbers
Awards and Reviews
Never Miss A Business Opportunity With A UK Virtual Phone Number
Virtual phone systems are a great boon to businesses worldwide as they facilitate hassle-free connectivity and offer greater flexibility. By using virtual numbers, businesses can keep serving their clients no matter the time, place, or device they possess. Having a UK virtual number is a cost-effective and convenient way to ensure that customers can always reach you. Its presence makes your business appear more professional while boosting productivity and efficiency.
Build Your Own Support Center In Less Than 3 Minutes
Set Up A Support Center For UK-Based Client With Ease
The only way to beat the heavy competition is by providing unparalleled service to your customers. Even the clients are highly choosy these days and they want the best bang for their buck. To ensure that you meet the expectations of your customers, make sure that you provide 24*7 support.
CallHippo's virtual number empowers you in building a flexible support system that can be operated from any part of the world. UK's virtual number is available at an economical price of just $6 that comes along with additional benefits. This UK virtual phone number allows your business an opportunity to capture the local market.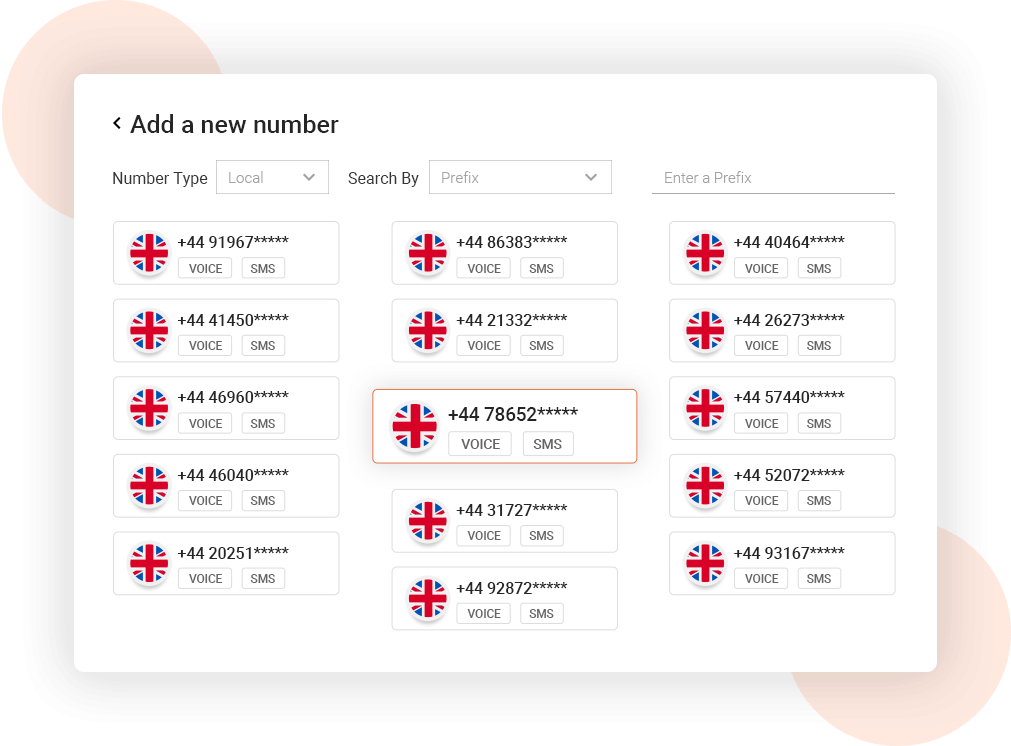 Therefore, CallHippo suggests you make the most of our UK virtual phone number service to establish a support center for your business without moving an inch from the place where you are operating right now.
If you are looking to cater to your target audience based in the UK, it is imperative that you must opt for a virtual number from the same geography. This way, your prospects won't have to make international calls every time they want to reach you.
Get a UK phone number for your customers using CallHippo.
Buy UK Virtual Phone Number
---
The Benefits of Having A UK Virtual Phone Number:
Call charges of the UK virtual mobile phone number are cheaper than traditional telephone carriers.
You get to make phone calls with any device that has an internet connection.
The setup time to get a virtual UK phone number is much faster than getting a phone number by traditional means.
You can choose your virtual phone number according to your liking.
Make your business flexible by getting CallHippo's virtual phone number
Why Is It Necessary To Have a UK Phone Number
When your customers in the UK want to call you regarding a query or have refund issues, and if they happen to notice that the number belongs to a different country, they may doubt your organization's presence. Besides, clients often refrain from placing a call to international numbers in such cases.
While dealing with people from different countries, trust is something that needs to be developed, without which there will be no authentic business relationships. That's exactly why getting a UK-based phone number for your audience is non-negotiable.
If you are looking to offer UK phone numbers for your customers, do not worry, CallHippo will help you set it up and running for your business.
How To Get A UK Phone Number?
First, sign up with CallHippo.
Select the UK as your country of interest.
Choose the city/state for your UK phone number.
Select your preferred UK business phone number or UK toll-free number.
Select a package and make the payment.
Make calls with your UK virtual phone number and start enjoying services immediately.
Set up your business phone system in a breeze
Schedule a free product consultation call
Get Your UK Virtual Phone Number In Less Than 3 Minutes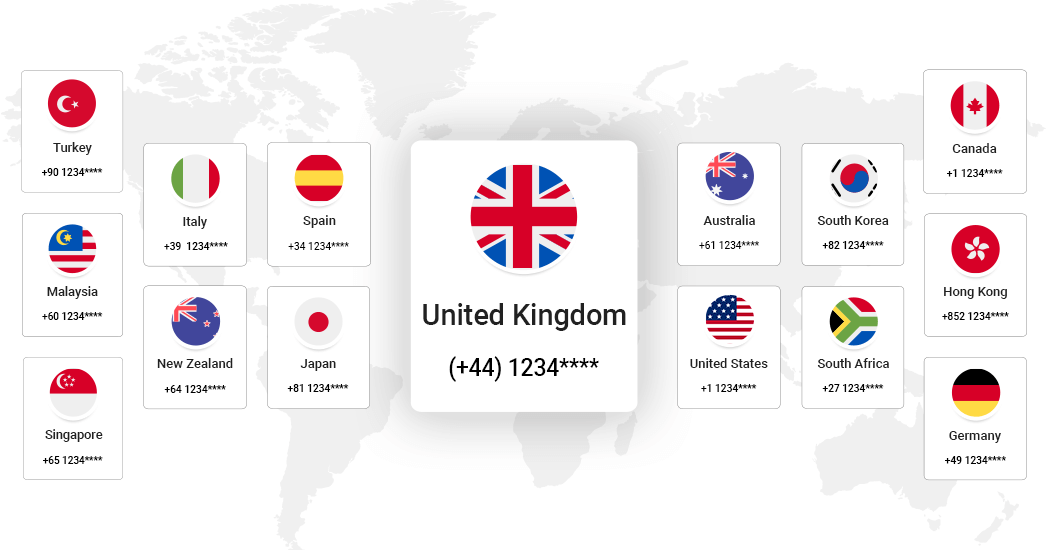 Stay Connected All The Time With UK Virtual Phone Numbers
Over the last two decades, the United Kingdom has witnessed a steady growth of 64% which brought indirect employment to over 2.6 crore people. Today, many businesses are set up locally and many have their virtual offices in the UK. So, there arises a need to set up proper communication and servicing channels for clients.
It is easy to get a UK phone number with CallHippo. The virtual UK phone numbers that CallHippo offers can be forwarded to different numbers in case you are not available. You can even make calls from your mobile phone itself, but for the customer, it will look as if you are calling from your virtual UK phone number.
Getting a virtual UK number would be a good start if you are setting up a virtual office in the country. It is much easier than setting up physical systems in the UK. This is where a question arises- "How to service customer requests without a physical telephone number in the United Kingdom?" The solution – get a virtual phone number from CallHippo for the UK. Leverage the power of virtual phone numbers for your business. When you have a virtual telephone number for your business, you will be available for your customers no matter which part of the world you are in.
CallHippo is a pioneer in this area and it offers UK virtual phone numbers for enterprises in 50+ other countries. CallHippo offers United Kingdom's virtual numbers for small businesses with a wide range of services including UK VoIP Phone Number as per their business requirements.
You can set up a UK business phone number in less than 3 minutes. The UK online phone numbers are easily available and you can enjoy it from any type of device including, but not limited to, web browsers, smartphones, tablets, and landlines. Connect with your customers with ease, thereby increasing the trust that they have in you.
Search by Area Code or City & State:
CallHippo will set up your UK virtual phone number within minutes. From London ( 0208, 0207, and 0203 area code) to Manchester (0161), CallHippo's huge inventory of business phone numbers has got everything covered virtually across the country. Once you've chosen a virtual number, all the incoming calls to it will be redirected to a landline or mobile phone of your choice. This means that you will be able to operate a UK business number virtually from anywhere in the world and you will be highly prepared to grab any opportunities that you get.
Local Phone Numbers:
If you thought that you would need to have a physical location registered to buy a local phone number in the UK, then you're wrong. CallHippo provides you with local virtual numbers that you can use to operate a business and offers a hassle-free communication channel for your customers.
These UK local phone numbers have some amazing features like smart call forwarding which will route the call from the UK to your office, home, mobile, or PBX systems. Let's face the reality, your overseas customers are not going to call an international number to buy your product or services. But they will pay a small cost for a local call since it's easy and convenient. So don't waste another day thinking about how to afford a new office and get UK's local phone number today from CallHippo.
Toll-free Phone Numbers:
Increased business calls mean higher chances of converting potential associates to clients. A UK toll-free number will do the same by allowing your customers to call you from any part of the world by incurring zero cost. Having a toll-free phone number in the UK helps you in establishing your presence in any city or state where you are trying to win business, without paying anything to set up an office or hire new staff.
Port Your Existing Phone Number
You have used the same phone number for years; in fact, many people recognize you and your business through it. Understandably, you don't want to abandon it when you switch to a different service provider. At CallHippo, we understand this and we promise that you can port your number to the best UK virtual number provider and also make sure you don't lose any business traffic due to the number change.
How It Works
Get Your UK Virtual Number
Drive your business on global level with virtual number.
Set Up The Number Of Users
Add multiple no. of users as per the needs.
Start Making Calls
Setup your phone system in less than 3 minutes and start calling.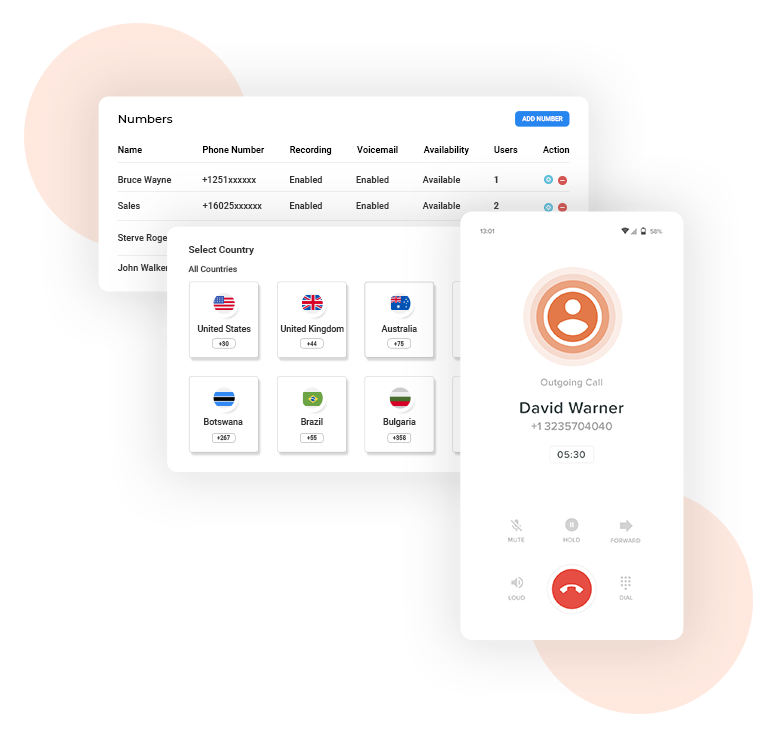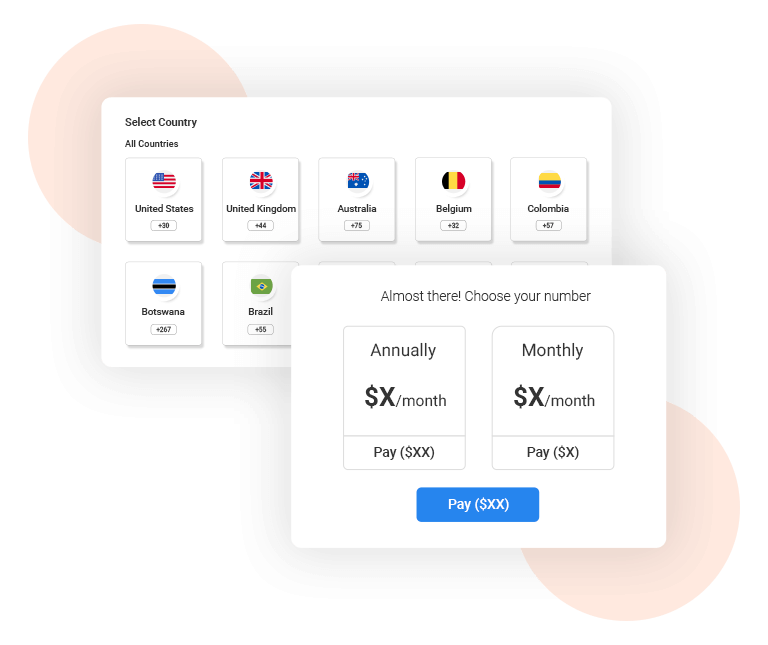 Get Virtual Number For UK
Select The Country (UK)
Choose the city/state for the required number.
Select Local Number Or Toll Free Number
Give your business a unique identity by UK toll free and local number.
Get Your Very Own Virtual Phone Number
Get your virtual phone number for UK starting at best price..
Features Of UK Virtual Phone Number
Get Pre and Post Telephony automation with CallHippo
Schedule a free product consultation call
Automate pre and post telephony tasks with CallHippo's 100+ app integrations
Frequently Asked Questions
UK Phone numbers can really do wonders for your business. They use IP telephony means you don't at all have to worry about setting up traditional telephone lines. They come with great Voice quality and above everything are affordable to use.
Buy UK Virtual Phone Number from CallHippo, this will prove out to be one of your best decision. They will set your call center in less than 3 minutes.

Just Follow these simple steps:

Sign up with CallHippo
Log in with the username and password and this will take you to the dashboard.
Assign the name you want like to your UK Phone number
Click on Add Number select UK as the country, you can filter the numbers as per your choice and select a number from number pool.
Make the payment
Yes, you need to integrate UK mobile number with CRM. The process is very simple. By integrating our calling system, you can make and receive calls from the CRM itself.
The UK Virtual Phone number comes with a lot of extra features besides just making and receiving calls. The voice clarity is extremely good and the support team is available 24/7 to help you in case of any troubles.
Get Your UK Phone Number Instantly
No credit card required