Date: April 27, 2023
Unified Communication System
Many organizations fuss around different apps and techniques in the hope of finding one magic solution that could increase their workplace productivity. But with the advent of time, the different growing business has concluded that the key idea to increase workplace productivity is not any new tool but a new system called the unified communication system. 
Unified Communications (UC) is a type of enterprise platform that integrates all the latest digital communication and collaboration tools into a single unified offering. It uses hardware and software that is either on-premise or in the cloud. A typical Unified Communication System includes voice communication, advanced call control, emails, instant messaging/chat, voicemail, automated attendants, smart directories, fax, etc. Other advanced features available on the system include Virtual Personal Assistants, Call Center Functionality, Automated Notifications, Interactive Voice Response (IVR) interfaces, and more.
Businesses use the Unified Communications (UC) system for various reasons. However, their main aim is to look for a system that can boost their efficiency and streamline their communications. It provides a single fully-integrated platform that gives all the management and employees the ability to connect among themselves. It is highly flexible and helps small-to-medium-sized businesses to find a solution that works aptly for their unique needs with the option to scale up in the future. 
The UC system provides plenty of benefits to companies, which can drastically improve communications between a business and its clients, as well as greatly simplify collaboration and organization within project teams. The UC system saves a good amount of time and allows employees to communicate with key people and access essential information at any time. It leads to a key gain in productivity and allows employees to connect more effectively. It gives project stakeholders the ability to collaborate in real-time. When businesses unite communication systems in one unified system, it leads to better employee productivity and therefore increased sales. As far as data security is concerned, UC security features include data encryption across networks, preventing sensitive information from being intercepted by malicious third parties.
Unified Communications
Unified Communication is a collaboration of various technologies, features, and software that allows users to communicate through different channels in a single platform. The main UC features include chat, status, video conferencing, browser-based communications, and website live chat. In terms of business and other organizations, adopting a unified communication reduces the need for multiple communication systems, and this, in turn, eases business procedures and boost communication making it easy for people. UC plays an important role in boosting productivity and efficiency by offering greater mobility, boosting collaboration, and saving employees' time.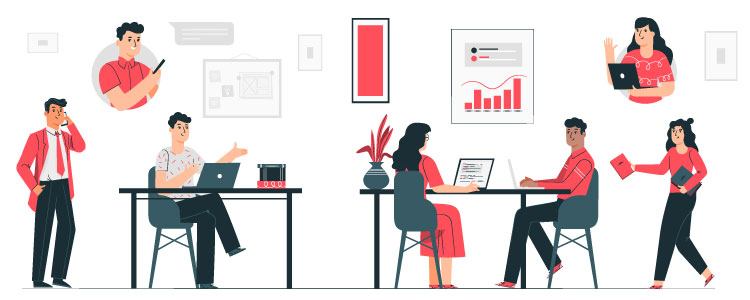 Unified Communication offers employees great mobility and the ability to work at home, which increases great productivity. It enables great mobility in several ways, which includes the one number concept and the provision of softphones. Another important feature of unified communication is that it lets you know where your intended recipients are in real-time, which gives great benefits to the business. The presence features also let the employees inform the other colleagues about their current status and better control the calls. 
Unified Communication boosts collaboration in business, letting employees and clients interact more easily through different mediums. In today's time, the rising popularity of browser-based communication, collaboration through video conferencing has become quite easy, allowing the participants to start conversing without any need for any downloads and registration. Visual collaboration provides another collaboration benefit to the company as they can maintain effective communication with clients and suppliers where they can visually demonstrate the product and pitches. Enabling to discuss things face-to-face made decision making even easier within the business field. Another helpful UC feature for businesses is chat. The growing popularity of the UC trends consists of cloud solutions, UC as a service, and omnichannel or multichannel systems. Unified Communication has been developed not only to bring multiple channels into one platform but also to integrate and build synchronization between all systems, software, and applications for a seamless and productive experience. 
UCaaS Providers
UCaaS provider is all about combining the different communication channels available in the business field into one single unified platform. In the past, unified communication would mean combining VoIP phone system for external and internal calls into one single system. 
Best UCaaS providers include:
RingCentral Office

GoToConnect

MiCloud Connect

Dialpad Talk

8×8 X Series    
RingCentral Office is a unified communication package that includes HD VoIP, messaging, conferencing, contact center, and fax, in a single application platform. The special feature of the RingCentral Office is its total accessibility and scalability. This feature allows a single user to over 1,000 employees to sign up for the service from anywhere. It can serve anything from the smallest business to enterprises.
MiCloud Connect is a cloud unified communications platform that aims to provide all-in-one collaborative communication and contact center. 
Dialpad is one of the visionary UCaaS providers, which is easy to see the feature range available at the most basic level. 
Unified Communication works a great deal in boosting productivity by promoting better, easier, and higher quality communication and collaboration within the business field among employees, clients, customers, and sponsors. Businesses that implement the latest Unified Communication system are likely to achieve better productivity and efficiency by communicating more effectively internally and externally. Now the Unified Communication solutions are all set to become sophisticated with the introduction of AI, smart devices, better integrations, and simplification of the traditional facets of communication.
WORDS THAT MAKE SENSE!
Read The Most Well Researched & Insightful Articles From CallHippo Team