Home » Interactive Voice Response IVR System
Complete Guide: About IVR System
Empower your customer support team with CallHippo's bespoke IVR System (Interactive Voice Response). Sign up today to help your customers achieve desired solutions to all their queries and issues in a timely and systematic manner.
What Is An IVR System?
An Interactive Voice Response System (IVR) is a technology that allows you to interact with callers through an automated platform, saving your time and costs. It helps leave a lasting impression on your customers, reduces agent burnout, and is available round the clock to serve client. An IVR is a prerecorded voice system which will help customers to reach to the right person or right department.
What Is Interactive Voice Response (IVR)?
Interactive voice response is a key feature of a virtual phone system that interacts with callers by giving them multiple options (that can be customized by you). It then takes action based on the caller's responses and connects them with a customer service agent.
( Source: Continentalmessage )
An IVR service also enables callers to do basic tasks by themselves, reducing the load on support agents. For example, if someone wants to know their order status, the IVR system asks them their order ID and provides the status automatically (without connecting them to an agent).
Automate your Caller journey to deliver delight
Schedule a free product consultation call
What Is Multi-level IVR System?
Multi-level IVR system is simply, IVR in IVR. When your queries are concentrated, companies assign a specific person or group to handle that issue. Let's take a simple example of an ecommerce purchase. Suppose, you have bought a pair of jeans from an ecommerce store. Now, you want to track that product. You will call the customer care number, and IVR telephony will be live:
We all have experienced an IVR system when we contact our network service provider like
To know your account details
2
To know your purchase details
4
To talk to our customer care executive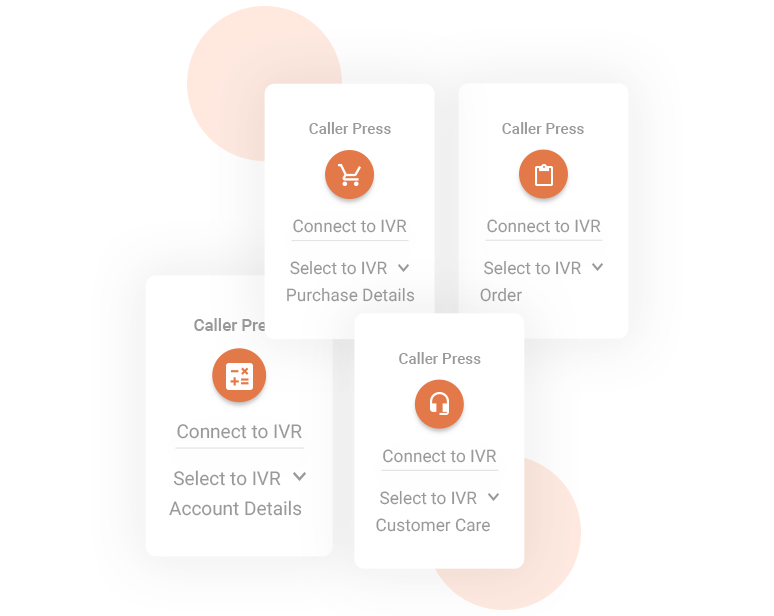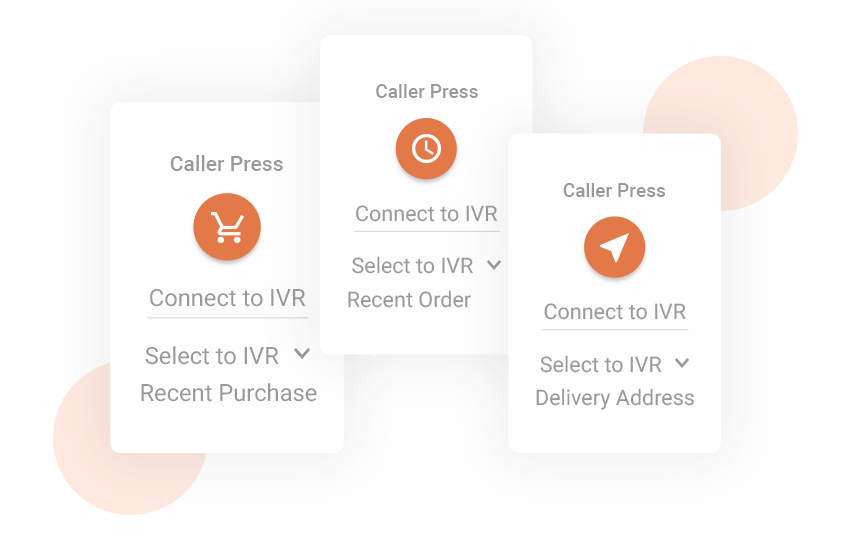 As you want to track your order, you will hit 2. Now, another interactive voice response system will be played, and this IVR will lead you to more focused solution.
1
To know Your recent purchase
2
To track your recent order
3
To change delivery address
Of course, you will press 2. So, multi level IVR system is designed to drive customers to a specific person who is assigned to solve that particular problem.
What Is An Intelligent IVR System?
Intelligent Interactive Voice Response is an upgraded, cloud Interactive Voice Response system that improves company communication by intelligently routing and managing inbound calls to improve customer satisfaction and remove redundancy traditionally handled by agents.
For example, CallHippo's Intelligent interactive voice response system can be deployed as part of our cloud IVR solutions, hosted PBX solutions, or integrated into your existing telephony system.
What Is An Visual IVR?
Visual Interactive Voice Response (visual IVR) is an IVR service that augments the classic IVR phone system experience with a multichannel graphical interface. It directs inbound callers to a web-based support interface, personalizing the support journey for clients present in the queue.
Interactive voice response connects clients to self-service choices and a support resource capable of resolving their issue/inquiry in the first call only.
Visual menus frequently follow the same structure as normal IVRs or include options unavailable via dial tone multi-frequency (DTMF) inputs.
It collects real-time data at each touchpoint and can assign customer service agents to contact the client. When the designated agent reaches the customer, they will have all the necessary client information to offer a personalized service.
And because the system is not touchtone-based, there is a lower probability of  IVR errors – typing and selecting from drop-down IVR menus is more dependable than just hitting keys. It further reduces the customer bounce rate.
Real World Examples Of IVR System 
Interactive voice response (IVR) allows you to automate basic customer service interaction, accept payments without human interaction, accept caller data, and analyze them.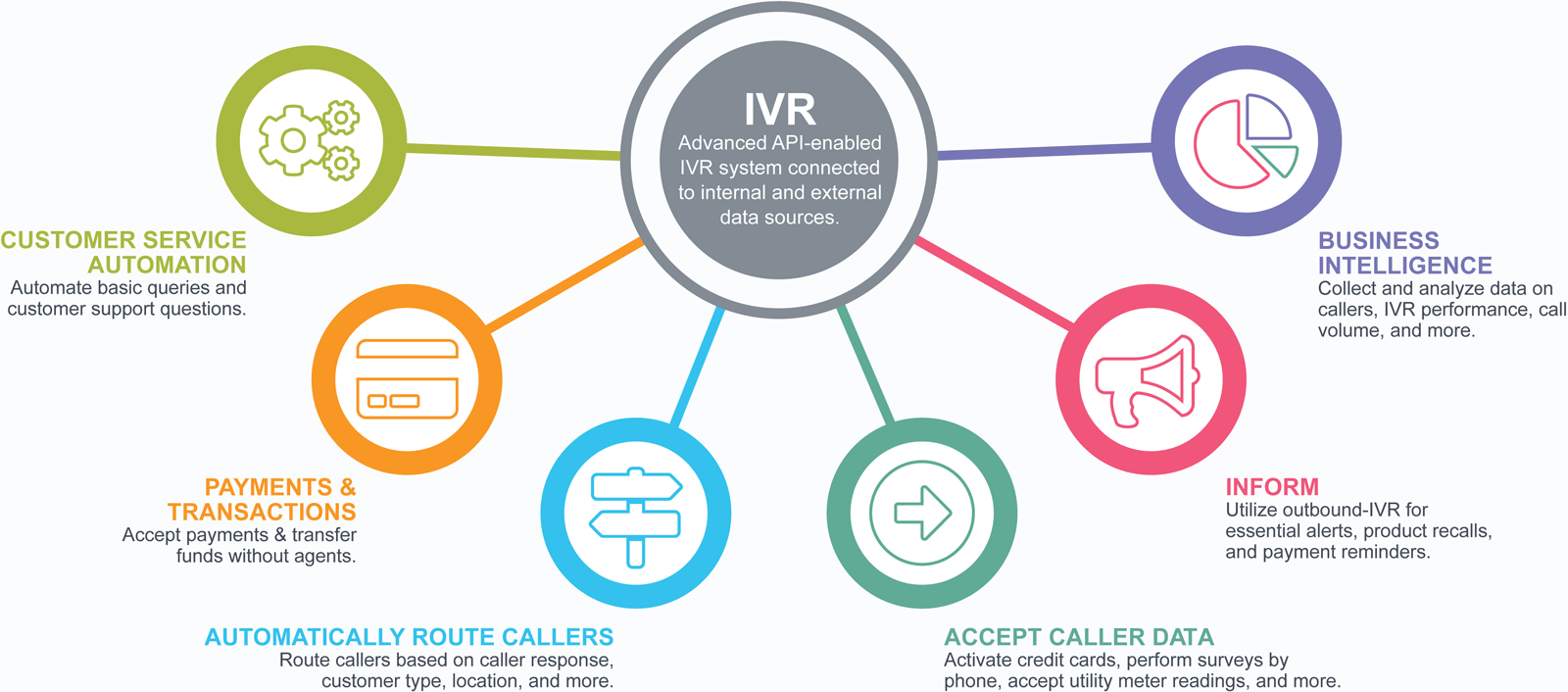 ( Source: ivrtechgroup )
A business typically uses an cloud IVR technology to route calls to the right department. It asks callers to enter a number based on the available options. These options indicate whether the caller wants to connect with the billing unit, the support team, etc.
If the caller asks to be connected to an agent, the IVR phone system informs them about the expected wait time, preventing client frustration. IVR telephony also allows advertise latest offerings, upcoming events, or other necessary information.
Callers can also perform various self-service functions, such as (but not limited to):
Balance inquiry
Change your PIN or password
Complete lead forms and surveys
View account information
View product information (price or directory)
Transfer funds or make small payments
This reduces the load on agents and saves time that they'd otherwise have to spend on addressing basic  queries.
How Does IVR Works?
If you want to implement IVR into your contact center, you will need a phone system that comes with IVR.
The best part about an advance IVR system is that you can decide what the caller will hear and can change the message at any time. This helps you keep a consistent tone across all support channels.
( Source: ivrtechgroup )
Let's Quickly Understand How An IVR Service Works.
Step 1: The Caller Dials The Company's Or Brand's Toll-Free Number
The caller dials the company's customer service or contact number.
Step 2: A Pre-Recorded Message Welcomes the Caller
A pre-recorded message greets the caller, prompting requests for relevant DTMF input via dial pad.
Step 3: Sharing Data With The Caller
Once the caller follows the IVR instructions for self-service, a simple CRM data retrieval is available; the necessary information is given to the caller, for example, bank balance, EMI date, and card block request.
Step 4: Connect To An Agent
Suppose the caller dials the agent interaction IVR input (press 9 to speak with an agent). In that case, the caller is routed to the appropriate agent or department or waits in a queue for assistance.
If a line is busy, you can also use an auto call back to boost confidence and improve the caller's experience.
Different Types Of IVR Systems?
There are three types of IVR systems:-
Self-service IVR
Hosted IVR
Agent-assisted IVR
Let's discuss all three types of IVR in detail.
1. IVR For Self-Service
Businesses can serve high call volumes at a lesser cost by employing an advanced IVR system.
IVR can identify, route callers, and resolve their inquiries without transferring them to a live person. However, when the caller seeks additional assistance, IVR transfers the calls to customer service agents.
2. Hosted IVR
When businesses install an cloud IVR solution on a hosted software platform, they access the IVR application through the internet.
It allows companies to offer 24 hours uninterrupted service no matter the working hours. It also assists you in showing commitment and boosting consumer satisfaction rates.
3. Agent-Assisted IVR
Agent-assisted IVR allows you to enhance the performance of automated self-service by bringing an agent into the session as soon as the application encounters any problem.
The agent can initiate a dialogue with the caller via recorded phrases or even dynamically convert text-to-speech without the customer knowing. This helps improve customer satisfaction while minimizing expenses.
What Are The Benefits Of IVR Systems?
Adopting a new IVR functionality into your customer service operations can provide numerous benefits and advantages.
Here are a few of the more frequently used ones:-
1. Better Customer Service Interactions
Today's client don't even want to wait a few minutes when they call. Instead, they want immediate assistance, irrespective of the channel they're connecting with you.
However, it is impossible to hire tens of thousands of people to address each client instantly. Thanks to the IVR system, you can now at least tell customers that you care for them and that an agent will soon connect with them.
The IVR technology provides callers with the information they seek, defines their needs, and routes them to the appropriate representative the first time.
As a result, you can significantly improve first contact resolution (FCR) and eliminate the need for customers to reach out multiple times.
2. Boost agent morale and productivity
IVR does not replace contact center agent's job. Instead, it makes their lives easier.
For example, a perfectly configured IVR can significantly reduce the number of calls handled by agents by taking uncomplicated queries.
Moreover, it works with skill-based routing to ensure that the call is routed to the right agent in the right department. This not only increases the call resolution time but also prevents agent burnout.
3. 24*7 Availability
As we've discussed above, the IVR service is not human-dependent. Therefore, once programmed, it will continue to operate unless otherwise specified.
Depending on how it is programmed, customers can even contact a company post office hours and be greeted by an automated message. And the cherry on the top is that it can take and solve basic queries.
4- Reduces Manual Failures
Unlike humans, IVRs are automated, which eliminates the possibility of human error. It also removes the requirement for people to make judgment calls responsible for most call handling errors.
By automating the way your company accepts calls, you gain the assurance that each caller will receive the same branded experience.
How To Set Up An IVR System?
Setting up an IVR system is easy. All you have to do is follow these steps.
1. Choose the right virtual phone system
For setting up an IVR, First find a perfect IVR service provider, and you also need to check whether your phone system supports it or not. Then, you'll need to sign up for a new one. After signing up, click on the "Numbers" tab and purchase a unique number.
You must, however, submit a request to port your existing number, which can take a few days or weeks.
2. Answer The Calls
In the call center IVR flow, the "Answer Call" control is the first step responsible for all inbound calls to a specific phone number.
3. Set Up The IVR Menu
It is the most simple step of all. In this step, you only need to set the IVR menu that prompts users or callers to a particular menu.
Like number 1 for language, number 2 for technical support, or number 9 for speaking with a customer care representative.
4. Connect The Menu Items
Once you have decided on the menu items, connect them to their respective numbers.
For example, if you want people to route to different departments, like sales and support, you can redirect the caller to a different number by connecting it to the menu.
5. Test Your IVR System
Last but not least, it's time to test the IVR system and ensure it works as expected. You can do that by calling your business number multiple times before making it available for client.
How To Choose Best IVR System For Your Business
Choosing the best IVR system requires you to focus on the right factors. It includes the hosting (on-premise or cloud), capability to route calls, conversation capabilities, and more.
( Source: xclusivedesk )
Let's understand them in more detail.
1. Analysis And Reporting Tools
Real-time analysis and detailed reporting on each campaign are critical components of efficient customer service. Therefore, ensure that your chosen IVR system fits these needs.
Additionally, the reports will assist you in identifying and correcting shortcomings in your strategy, allowing you to enhance customer experience over time.
2. A Cloud IVR Platform
In today's remote work environment, choosing a cloud IVR system has become more important than ever.
Because cloud IVR technology is cutting-edge, choosing a cloud IVR system will amplify the benefits of IVR.
For instance, a cloud IVR platform enables seamless scaling up and down in business growth while maintaining your current system with developing technology.
3. Capability To Route Calls & Maintain Client Data
If a consumer contacts the helpline number and requests to speak with a sales team member, the IVR software must route the call to the sales team, not to the IT department or other departments.
Additionally, the IVR system you select should be capable of retaining client information for an extended period and should not require customers to re-enter their data every time they call.
4. Conversational Capabilities Powered by AI
Invest in an IVR service that includes conversational IVR capabilities powered by artificial intelligence. This will help shorten and simplify IVR menus while allowing customers to quickly reach the most qualified contact center agent without hopping from department to department or going through redundant call routing.
5. Customization of IVR Call Flow Design
Often, traditional IVR systems have a sophisticated call flow design procedure.
However, because call flow requirements vary over time, the IVR service must have an easy-to-configure call flow mechanism and a drag-and-drop user interface (UI).
It will save you time and enable you to quickly adapt your call flow or IVR to changing client needs without devoting significant resources to it each time.
6. Updates to the Waits
You have to put the customer on hold until the agent becomes available.
And when that happens, the least you can do is advise on-hold clients of the length of their wait or the number of customers ahead of them in a queue.
7. Support for Multiple Channels
Another critical characteristic of the IVR system for small businesses is omnichannel capability. IVR systems must aggregate customer conversations from various media and channels into one place so that contact center agents can better understand the issue and provide personalized service.
Best IVR Practices To Improve Customer Experience
Now that you have a complete understanding of what the IVR technology is, how it works, and how to choose one for your organization, let's analyze some of the best practices to get the most out of the system.
1. Availability During And Outside Of Office Hours
Your IVR telephony menu should be available 24 hours a day, including non-office hours.
Additionally, your IVR operations should be capable of responding to basic inquiries like store hours, locations, account balances, and shipment information.
However, it is critical to create an endpoint for each menu item so that clients do not continue to call or wait for an answer that will not be genuine.
2. Conduct Audience Research to Identify IVR Problems
Determine IVR problems your clients are most likely to face while using your contact center system. Then, it will enable you to initiate a solution before they effectively meet their self-service requirements.
3. Conduct A Survey To Deliver the Best IVR Experience
It is crucial to improve the IVR experience. And it wouldn't be possible if you don't know what your customers feel about it.
For instance, you can incorporate a post-call survey with quantifiable and actionable outcomes into the IVR to acquire measured and actionable insights.
These insights can assist you in identifying areas of customer service that require improvement.
4. Keep A Simple IVR Menu
Maintain a maximum of four menu options for call steering and no more than two levels of possibilities. Begin with the simplest, highest-volume services in self-service applications and work your way up.
Closing Thoughts
As the saying goes, "first impression is the last impression" stands true in the business world. If your callers are frustrated the first time they call your business, there is a high chance that they won't purchase from you again.
However, you can quickly enhance the callers' experience with interactive voice response system while routing them to the right department.
At CallHippo, we provide intelligent IVR solutions for companies seeking to embrace IVR technology. In addition, we seamlessly integrate call center software and advanced IVR functionality into your system.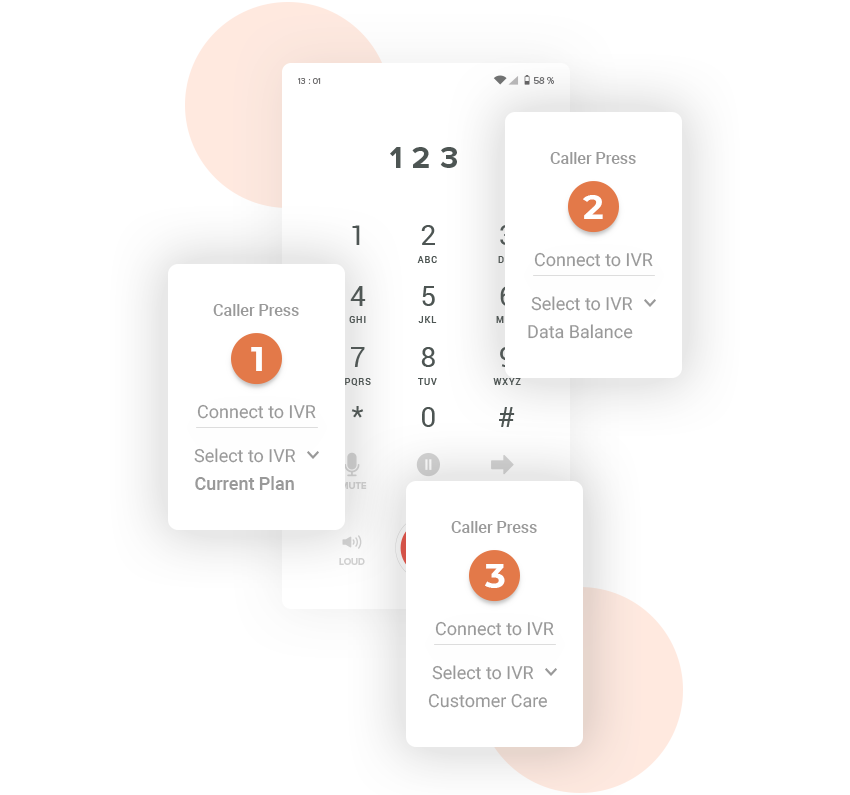 Frequently Asked Questions On IVR System
Few Things To Keep In Mind While Setting Up An IVR System For Call Center.
Here are the things to keep in mind before setting up an IVR:
Make sure to have limited and concentrated list of options.
Set up your options based on the priority of the customers.
The options should sound clear without any glitches.
Use language option if you reside in a country where multiple languages are spoken.
Give customers "expected wait time".
What Is An IVR?
IVR is a technology where a recorded voice is used to note customer responses, and take relative actions. An IVR is generally used in customer support where it helps customers to reach to the right person.
What is an inbound IVR?
An Inbound IVR means the system deals with only incoming calls. Usually, businesses use it for customer support where people can dial on toll free number and get relevant help.