Date: November 11, 2022
Call center workers know just how frustrating it can be not to be able to retrieve the relevant information while the customer waits on the other end. To stay competitive and provide excellent customer service, you need tools that provide you with a 360-degree view of your customer.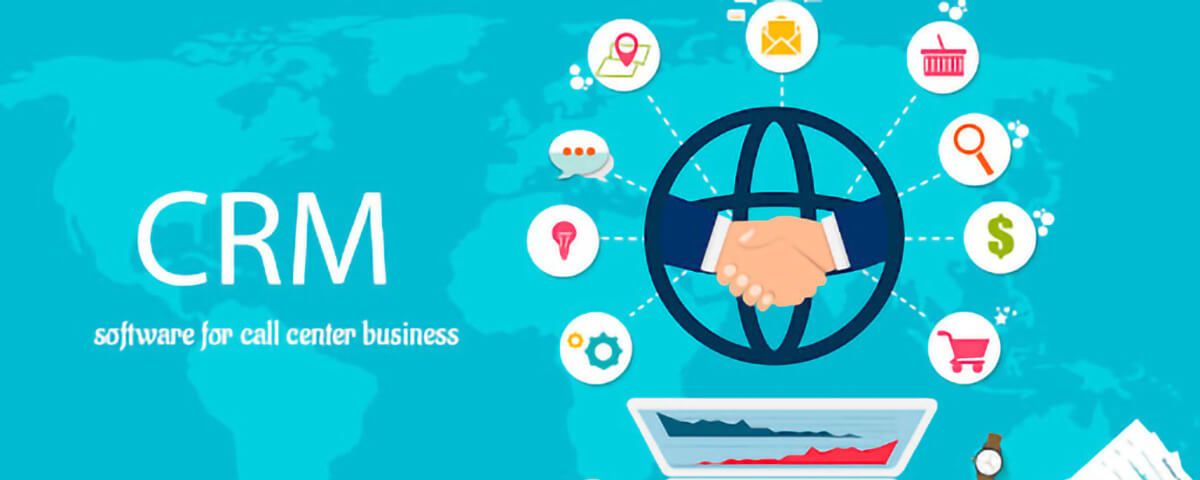 Customer service personnel know they receive a large volume of requests that they must handle rapidly every minute. Forge a strong bond with clients by automating your tasks so that you can focus all your energy on serving them. If your customers feel neglected, they will lose faith, and that will have a devastating effect on your business.
The best tool to do this is a call center CRM software system. You can remain ahead of your competitors by offering customers a customized experience if you utilize call center CRM software.
Let's look at what a call center CRM is all about and how it differs from your typical contact management software.
What is Call Center CRM?
Call Center Customer Relationship Management (CRM) is a technology solution that helps call center employees keep track of customer information and history to provide up-to-date and relevant customer support. According to Hubspot, to boost sales and improve relationships with existing customers, 32% of businesses are using CRM systems in their call centers.
As a result, agents can provide real-time, personalized service across all channels, such as voice, web, and social. Here is a breakdown to give you a picture of how it works:
When a call comes in from an address, you collect it as part of your sales process. Then, a call center CRM will bring up the record, so your team knows precisely who is calling.

If there is a deal owner, the software will route the call to them, ensuring the customer has a seamless experience.
How Does Call Center CRM Software Work
A call center software system keeps customer records, such as account information, preferences, and contact history, so that center agents can provide customers with relevant information at the right time. Call center software usually integrates with existing desktop technology.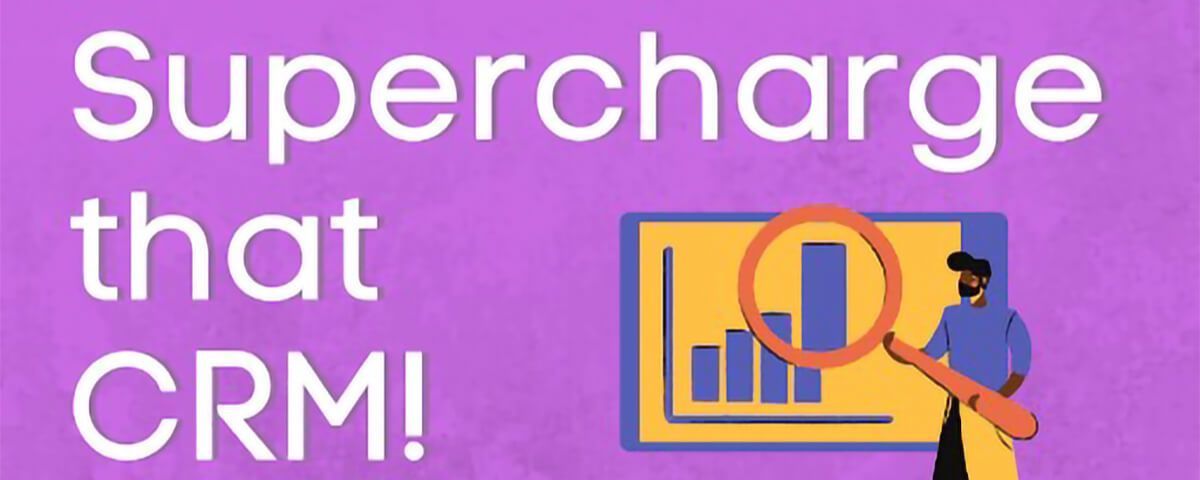 General CRMs allow businesses to keep a digital record of customer interactions, but call center CRM software enables businesses to send, manage, and track messages and customer calls. This gives businesses more opportunities to improve customer service based on the data gathered.
Feature of CRM Call Center Software
The call center CRM software is no different from any other software or tool on the market. A call center CRM should have the following features:
It should incorporate your existing CRM system, also known as an open source call center CRM.

A round-robin routing phone system should automatically route calls to customer service representatives, salespeople waiting in line, or someone the customer has already spoken to (either at a deal level or as an account manager) at the company.

You should not require more than one phone number for your call center CRM. For example, you do not need a number for each salesperson or customer service representative. Instead, the CRM should use rules to determine where the system should send the call.

Customers should be able to select the reason for calling, and a phone tree should allow them to be routed to the correct individual. That will eliminate the need for sales and customer service to have separate numbers.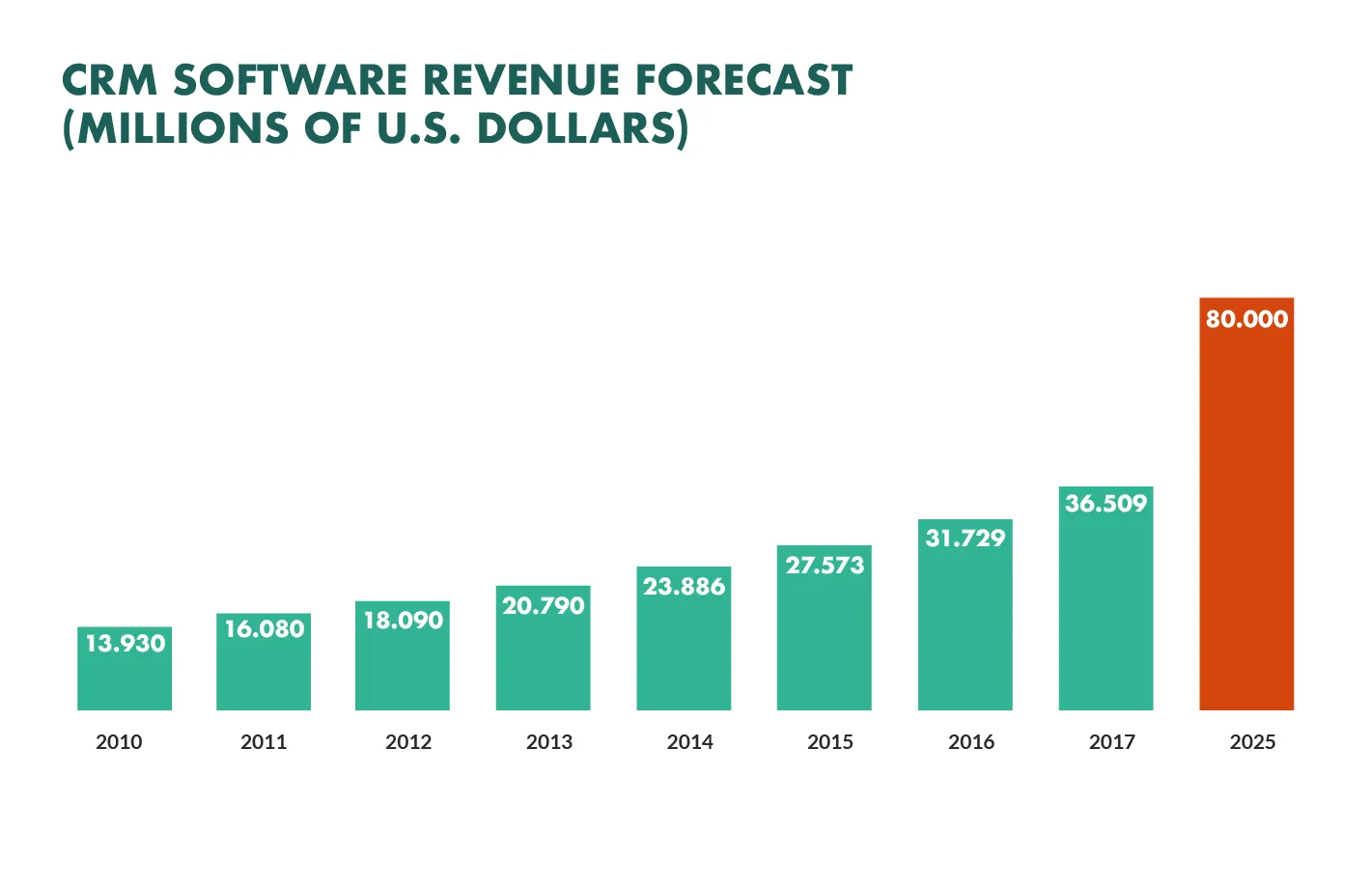 According to SuperOffice, the CRM market has become the largest of all software markets, and revenues are predicted to reach over $80 billion by 2025, making CRM the fastest-growing industry.
Here are 10 call center CRM features that your software should have:
1) Outbound Calls
Call center software should allow support reps to take inbound calls and make outbound calls -– with the ability to store the information and data associated with those outbound calls.
Call centers CRM systems should allow your teams to log in, click on a contact's phone number, and call that contact on the phone.
2) Helpdesk Ticketing
A CRM system with automated helpdesk ticketing keeps track of customer service requests, how they are resolved and fulfilled, etc. This helps keep customers happy – and the computerized system does this without a rep forgetting to fill out the ticket.
Essentially, more support reps are on the phone helping people, and fewer reps are manually entering information.
3) Call Recording
Sometimes, we have been told that the team may record the conversation for quality purposes. CRM Call center software that records customer conversations can be constructive for large groups.
It provides new hires training material by listening to previous calls and scripts. That helps them get up and running faster while monitoring their performance to ensure they are being helpful, transparent, and upholding the company's values.
4) Seamless Integration
The call center software should integrate with these multiple systems, so all your business tools work together as a single system to enable you to run an effective business. For example, these tools could include platforms for running ads like AdWords and Facebook, chat tools, or integrations with your customer support systems.
5) Connected Desktop Application
The tele-calling team typically works from an office. However, in some cases, they work on the floor and in the field. Therefore, your call center should be able to work on both mobile and desktop devices. Furthermore, both versions of the tool need to communicate with one another so that agents have up-to-date information.
6) Detailed Client History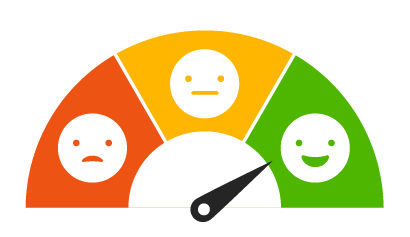 Calling a customer without knowing their name is equivalent to stabbing in the dark. Instead, you should be able to comprehend relevant customer information, like what your leads are looking for and their previous purchases. Now, with this data at your fingertips, you can easily customize the experience to the customer's preferences.
7) Automated Call Capture
Automating call capture eliminates the need to enter every incoming call into the system manually. Doing so prevents manual errors, such as agents forgetting to log in the incoming calls they receive.
8) Real-time Business Data
Your CRM call center software should be able to provide a detailed breakdown of how many calls an agent makes in a day. The number of demos or positive sales actions he has generated, the content of the calls he makes, and the size of the deal he has produced for the business. By doing this, you can accurately measure results and eliminate poor performers.
9) IVR Integration
The routine queries of a call center consume a lot of your resources, such as inquiries about investment plans or available courses. These inquiries will cost more staffing and eat away at the time of your agents. By using an interactive voice response integration, you can eliminate this problem.
10) Voicemail & Missed Call Tracking:
You should be able to capture incoming and outgoing calls and missed calls, and voicemails. It can then automatically assign the leads to the appropriate telemarketing agent.
Benefits of implementing a Call Center CRM software
Bill Price quotes, "With the shift to the SaaS model, the connection between your customer's success and your success is much more direct and felt more quickly. Smart companies have realized that customer loyalty is their most powerful sales and marketing tool."
Using a call center CRM will provide you with all of these benefits. However, if you are still unsure, here are some tangible benefits of call center CRM software:
Complete Customer Understanding
 By understanding every interaction your customers have with your business, you can provide them with better solutions to their issues or offer them products/services that are more appropriate for their needs.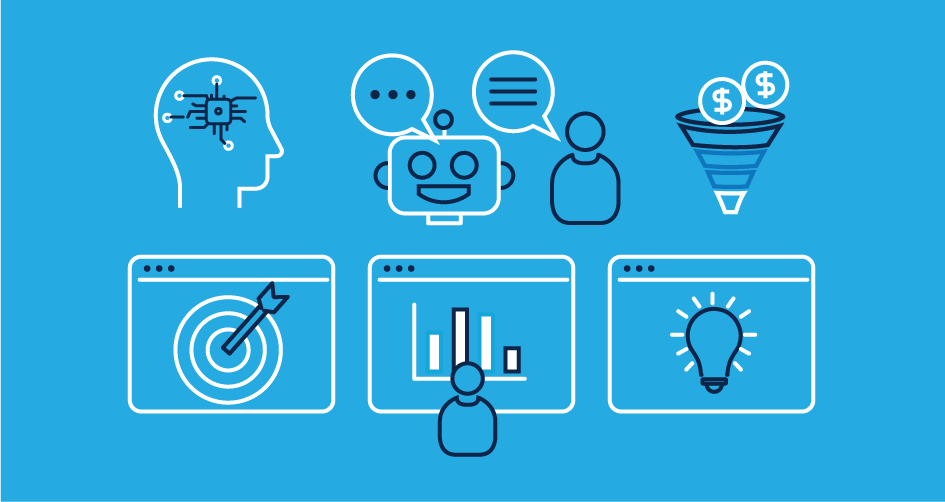 Improved Accountability
 CRMs make it easier for you to distribute, manage, and prioritize leads, so your team won't have any excuses anymore!
Less Turnaround Time
When you automate the process and send reminders constantly, it will take you less time to call a lead or customer back.
Better Efficiency
You can now improve your efficiency by eliminating the need for manual work. Your crew can concentrate more on selling the product/service or solving the leads' problems rather than completing routine tasks.
Reduced Costs
In the long run, automating your telemarketing team will reduce labor costs and save you money. Because you're using two tools, you'll also be able to reduce costs there.
Better Customer Experience
When so much is going on, your customer is bound to notice, and your satisfaction level will increase by leaps and bounds.
Best Call Center CRM Software  in 2022
Customer relationship management (CRM) call center software offers tools for managing leads and contacts, managing and tracking calls, and generating call-centric analytics reports.
Aside from providing these features at an affordable price, the best CRM for call center software providers also offer the following features. Here, we have compared dozens of CRM call center solutions and narrowed them down to the three best ones:
1. Zoho CRM Software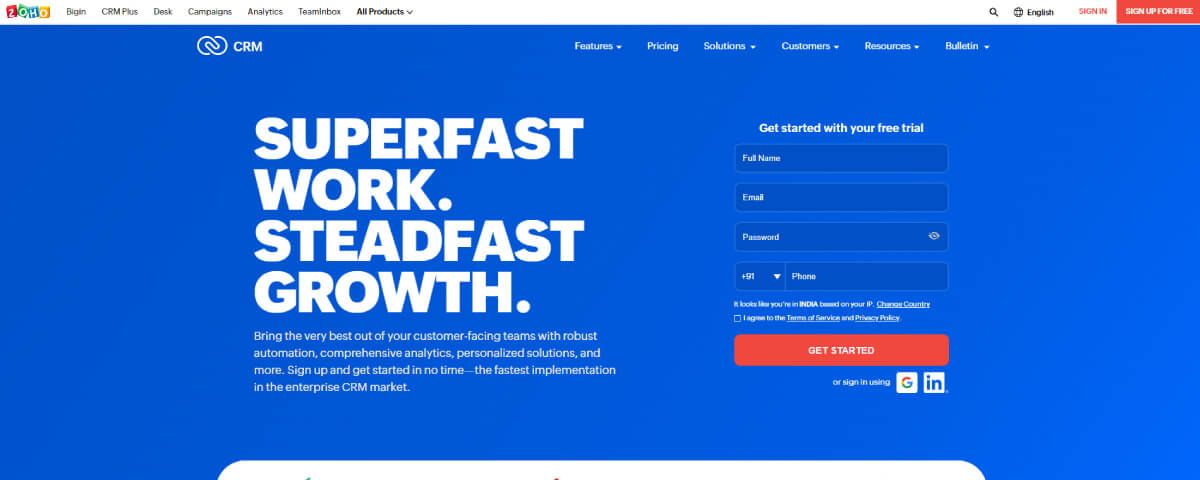 The Zoho CRM call center solution offers a free version with limited features and a robust and affordable paid plan, which includes a built-in telephony system that lets you purchase local or toll-free numbers and assign unique outgoing numbers to agents. Ring.io, Amazon Connect, and Zoho PhoneBridge are some other PBX programs you can connect to.
Key Features:
Marketing automation: Email templates, opt-outs, mass emails, marketing campaigns, segmentation, and autoresponders
CRM Analytics & Reports: Personalized and standard reports, scheduled reports, charts, KPIs, funnels, target meters, comparators, cohorts, anomaly detectors, dashboards, web form analytics, webform A/B testing, and workflow reports.
Customer support interactions: FAQs, community forums, videos, webinars, e-books, and on-screen tips from Zia; tier-based customer support via email (24/7), phone support (critical cases only, 24/5), and live chat (24/5)
Workforce management tools: Gamification tools, calendars, status updates, direct messages, file attachments, tagging, and group collaboration tools.
Zoho CRM Pricing –
Standard –

$14/user/month billed annually

Professional –

$23/user/month billed annually

Enterprise –

$40/user/month billed annually

Ultimate –

$52/user/month billed annually
 2. Freshsales CRM Software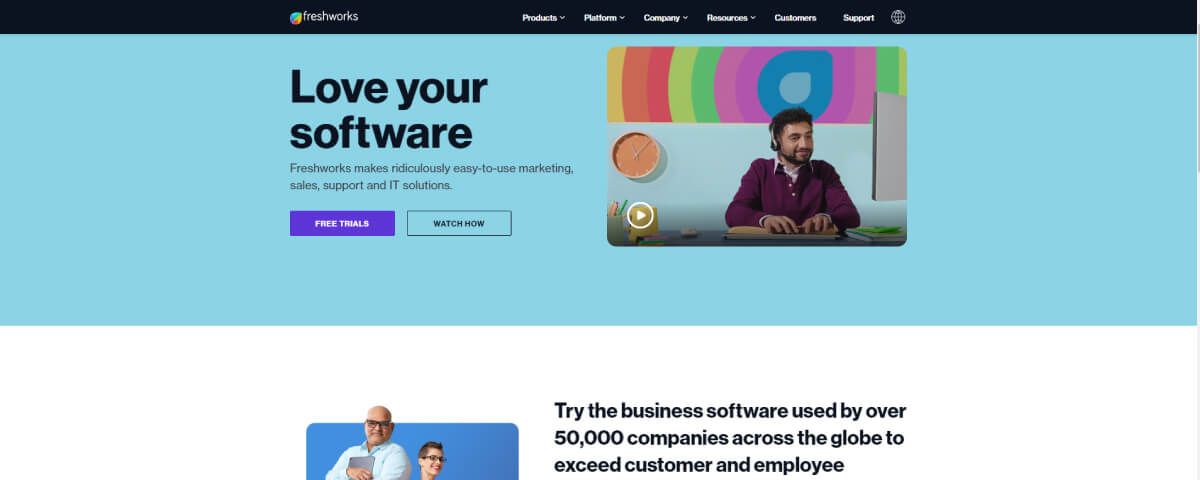 Freshsales by Freshworks offers easy-to-use call center tools that include tools to measure sales and team performance. In addition to automated inbound call center features like call routing, click-to-call functionality, call recording, and call queues.
It also offers a mobile app that allows you to make and take calls on the go, log your calls, and associate them with contacts, deals, or accounts. If you want more advanced call center features, you can sign up for Freshdesk Contact Center (free or starting at $15 a month per agent).
With this intelligent call center software, Freshworks offers a wide array of call center functionalities. These include international numbers, vanity numbers, call blocking, unlimited calling, voice bots, and abandoned call statistics.
Key Features:
CRM customization: Module renaming, custom fields, profile avatars for contacts and accounts, record tags, product catalogs, email template tags, workflow automation, and auto-assignment rules.
Cloud telephony: Voice over internet protocol (VoIP phone), buy local or toll-free numbers, call routing, seamless call transfers, caller identification, call masking, call recording, voicemails, voicemail drop, call queues, BYOC (bring your own carrier), conference calling, holiday routing, virtual hold, and warm transfers.
AI assistant Freddy: Predictive contact scoring, lead generation robot, smart matches (deduplication of data), chatbot, and deal insights (close rate, trending, at risk, or cold)
CRM Integrations: Message channels (SMS, Facebook Messenger, WhatsApp, and Apple Business Chat), website (classic forms, intelligent forms, and website tracking), API access, Freshworks Marketplace, and application programming interface (API) access.
Freshsales CRM Pricing –
Free –

$0/user/month, billed annually

Growth –

$15/user/month, billed annually

Pro –

$39/user/month, billed annually

Enterprise –

$69/user/month, billed annually
3. Agile CRM Software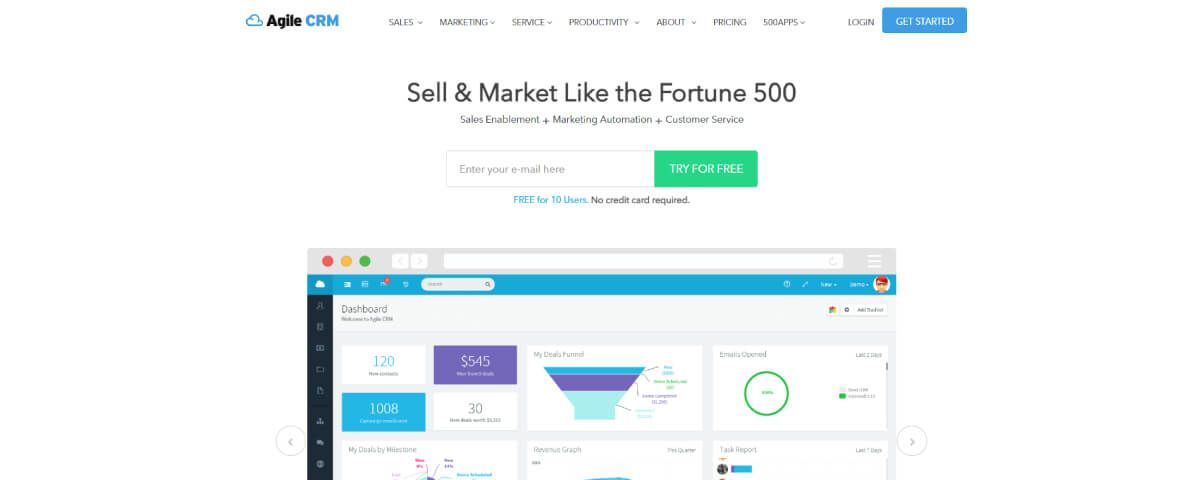 With Agile CRM call center software, you can integrate your system with third-party telephony apps, including voice-over-internet-protocol (VoIP) providers, such as Twilio, CounterPath, Skype, and RingCentral.
It includes an enhanced caller ID that provides real-time information about callers before receiving their call. It also offers call scripts; voicemail drops, call routing, call transfers, and call forwarding.
Key Features:
CRM sales essentials: CRM contact center management, calendar, documents, deals, and centralized database
Sales enablement: Assigning leads, setting appointments, gamification, managing projects, placing lead prospectors, creating CRM reports, signing documents, and finding emails.
Telephony features: Integration of inbound computer telephony (CTI), automatic dialers, voicemail dropdowns, call recording, call scripting, post-call automation, and private branch exchange (PBX)
Assistance & support: Setup guides, training workshops, and 24/7 email and phone support
Agile CRM Pricing
Free – For 10 users

Starter – $8.99

Regular – $29.99

Enterprise – $47.99
Bottom Line
The most effective CRM call center software for call centers should provide state-of-the-art features, like call log tracking, and integration with third-party apps to enable monitoring of call center activity. Additionally, great CRM providers offer solid customer support, are simple to use, and have attractive pricing options.
By investing in call center CRM software, you can equip your employees with the tools they need to provide better customer service.