Date: November 21, 2023
In a competitive market, timely customer service is essential for businesses to thrive and survive. 94% of customers purchase from a brand that offers a positive experience. However, handling all their queries can be daunting without the right call center software.
To help businesses, we have curated the 8 best free call center software solutions along with their features and pricing plans. Read this blog to find the ideal tool for your business, save communication costs, and streamline your customer service quality.

Expert Advice
"For small businesses and startups, free call center software solutions help add a professional image to their customer support and minimize their communication costs. Elevate your customer service quality and boost your profits with affordable customer support software."
Advantages of Free Call Center Software 
Free call center software tools have innovative communication features that help businesses automate the repetitive tasks in the process. They offer a multitude of benefits ranging from increased productivity and reduced costs to increased customer satisfaction and many more.
1. Enhance productivity
Free call center software tools help businesses automate call handling, routing, distribution, dialing, etc. They help offload the agent's burden who can in turn channel their time and energy into performing core tasks that require human efforts.
2. Minimizes communication cost
Investing in a free call center software system helps businesses streamline the high volume of incoming calls. As the calls are routed over the internet, businesses can reach out to international leads and prospects at lower costs. Also, cloud-based solutions do not require special equipment which in turn reduces upfront investments and maintenance costs.
3. Adds a professional image
For businesses, Call centers are a direct point of contact with customers. Investing in appropriate open-source software for call centers offers advanced abilities like call routing, call queuing, etc. that enable businesses to deliver effective customer service.
Also, the businesses can avail of local, toll-free, and vanity numbers. All these add a professional identity to your brand.
4. Enhance customer retention
With call center software, you can identify calls from long-time customers and prioritize them. Businesses can also personalize their customer support based on the call center analytics, data, and insights collected by the software. These features help retain customers for a long time.
5. Boost sales
With advanced features like auto-dialers, call center solutions can streamline outbound calls and serve as an excellent sales and marketing platform. Also, other features like templatized responses, call forwarding, voicemail, etc. businesses can ensure 24/7 availability to handle support requests and sales queries.
As per HubSpot's State of Service Report, 90% of customers expect an immediate response to their queries. So, with advanced features, call center software enhances conversion rates and boosts business sales.
8 Popular Free Call Center Software Options 
The call center software market is crowded with several providers. Businesses must evaluate each of them closely before choosing one. Here is a summary of the best call center software tools along with their features, pros, cons, and pricing.

CallHippo tops the list of free call center software tools with advanced features, powerful customer support, and affordable pricing plans. Whether you intend to enhance agent productivity or improve your customer service quality, CallHippo has specific features for each goal.
Features
Smart call forwarding
Call recording
Power dialer
Live call monitoring
Voice broadcast system
Call center analytics
Time zone expert
Warm and cold transfers
Pros
CallHippo is easy to set up, install, and configure, and it only takes three minutes of your time.
CallHippo has a mobile phone application that helps businesses with remote workforces.
Online reviews show users appreciating CallHippo for its cost-effective plans that help small and medium-scale businesses.
The customer support team is professional, quick, and possesses good knowledge of the technical nuances.
The call clarity and quality are good and the downtime is low when compared to other VoIP providers.
Cons
At times connections drop and this causes inconveniences in customer support.
Though there is an option to add a custom greeting, the default robot voice could be improved.
Pricing
Basic plan: Free forever
Bronze Plan: $16 per user per month
Silver Plan: $24 per user per month
Platinum Plan: $40 per user per month
Get #1 Call Center Software From CallHippo Trusted By 5000+ Businesses

3CX is an open-source call center software solution designed with advanced features to help businesses streamline their customer support across different channels. It allows on-premises as well as cloud hosting, so is appropriate for businesses that function in regulated industries.
Features
Ring group
Auto attendant
Video conferencing
Live chat
Multi-level IVR
File sharing
Call queuing
Pros
3CX integrates with HubSpot and other SMS apps, so you can easily connect this to your existing system.
3CX PBX works well on all phone types, including older versions like Cisco 7961-GE.
The user interface is intuitive and the setup is easy, so you don't require special training or technical expertise.
3CX mobile app has an instant chat feature and this lets agents respond to customer queries from remote areas.
The autodialer in 3CX is fast and friendly to use, helping businesses improve productivity.
Cons
The mobile app has technical glitches and at times, drops calls that are passed on from the system.
The upgrades are complicated as you must backup the files, uninstall, reinstall the new version, and restore the backup.
Pricing
3CX Free – $0 up to 10 users
3CX SMB – $175 per system
3CX Pro- $145 per system
3CX ENT – $180 per system

Agile CRM is a popular marketing, sales, and customer support tool with a free plan that works well for 10 users. It has advanced features like interactive soundboards that allow businesses to personalize their customer service interactions. You can also switch between sales, marketing, and customer service dashboards to derive actionable insights.
Features
Detailed analytics
Email customer support
Interactive soundboards
Call dispositions
Dynamic dashboards
Auto dialer
Ticket analytics
Appointment scheduling
Pros
Agile CRM helps optimize sales, marketing, and customer support in a centralized manner.
The best thing about Agile CRM is its visualization ability which helps gain an oversight of your funnel.
The email communication and campaign management features work well.
With Agile CRM, businesses can gain a 360-degree view of customer interests and preferences.
It is easy to add contacts manually or automatically by allowing customers to fill out forms on the site.
Cons
Though the tool has many features, many of them have glitches and bugs.
The interface is not very intuitive and slow many times.
The customer support team is not available beyond AEDT time and you have to wait until their business hours.
Pricing
Free up to 10 users
Starter – $8.99
Regular – $29.99
Enterprise – $47.99

AVOXI is a popular open-source call center software tool that offers innovative telephony features to streamline your customer support. AVOXI offers business phone numbers including toll-free numbers that add a professional identity to businesses. It is appropriate for businesses like hotels, tour operators, etc. that deal with international customers.
Features
Virtual numbers
Call forwarding
Skill-based routing
Call queuing
Interactive Voice Response
Automatic Call Distribution
Number porting
Extensive integrations
Pros
The popular open-source software for call centers is easy to set up and businesses can configure it themselves.
With AVOXI, it only takes a few simple steps to get international phone numbers.
The customer support is great and they communicate the maintenance schedules in advance.
AVOXI provides user-friendly reports and statistics so businesses can improve their performance.
The voice quality during real-time calls as well as in the recording is clear.
Cons
AVOXI users in certain countries reported technical difficulties due to network carrier patterns.
The plans are quite expensive when compared to other alternatives.
Pricing
Launch – $0
Contact – $19.99 per user
Engaged Enterprise – $39.99 per user

Bitrix24 is a popular, free call center software with extensive modules and features for social collaboration, CRM, and internal communication. It offers on-premises as well as cloud hosting with open-source access codes. On Bitrix24, you can communicate with leads and customers over live chat, web forms, or VoIP calls.
Features
Omni-channel support
Call routing
Voicemail transcription
Call tracking
Auto dialer
Interactive Voice Response
Email, SMS, and voice support
Pros
Bitrix24 offers extensive integration support, so can be easily integrated with your existing system.
Bitrix24 has a user-friendly, intuitive interface with dynamic features.
With Bitrix24, businesses can streamline their internal and customer communication in one go.
The free version has several features for small businesses and startups.
Bitrix24 offers a higher degree of customization and call flow routing.
Cons
The setup and configuration is complicated and takes a lot of time.
Advanced features require subscriptions and this is a constraint for businesses with limited budgets.
Pricing
Basic – $49 per month
Standard – $99 per month
Professional – $199 per month
Enterprise – $399 per month

VICIdial is an open-source call center software and has over 14000 installations in 100+ countries. It has advanced call management features and businesses can customize the flow as per their needs. It is scalable and so is appropriate for rapidly growing businesses.
On VICIdial, the agents can log in from any location, so works well for organizations with remote workforce. It is the ideal one if you exploring call center software for free.
Features
Automatic Call Distribution (ACD)
Three-way calling
Scheduled callbacks
Predictive dialing
Caller ID
Desktop and mobile apps
Call prioritization
Chat messaging
Real-time reports
Pros
VICIdial is compatible with almost all browsers and operating systems.
With VICIdial, it is easy to keep track of the phone number and other contact information in one place.
As it is free and open source, it is appropriate for small businesses with budget constraints.
VICIdial offers 2000+ features and so works well for businesses of different scale.
With VICIdial, it is easy to keep track of daily goals, progress, and outcomes.
Cons
The user interface requires a lot more customization.
There are frequent call drops, particularly with long calls that last beyond 20 minutes.
Pricing
Free

Freshcaller is a free call center software from Freshdesk, with advanced AI abilities that help businesses scale customer support to greater heights. It provides reports and dashboards that help monitor agent performance and customer satisfaction. As it functions over the cloud, Freshcaller is appropriate for managing a remote workforce.
Features
Virtual phone numbers
Port your existing numbers
Multi-level IVR
Business hours
Holiday routing
Spam call blocking
Live calls monitoring
Pros
Freshcaller integrates with several communication channels including email, voice, chat, social media, etc.
The country-switching feature is useful while dialing to other country numbers.
The user interface is intuitive and easy to manage.
Freshcaller is highly flexible and you can take calls from anywhere without being chained to the desk.
The customer support team responds quickly and is always available to sort out issues.
Cons
Advanced features like voicemail transcription are available only in enterprise plans.
The learning curve is steep and it takes time for contact center agents to adapt to the platform.
Pricing
Pro – $39 per user per month
Enterprise – $69 per user per month
Growth – $15 per user per month
Free

LiveAgent is a multi-channel contact center software that helps businesses offer customer support across email, chat, phone calls, contact forms, video calls, social media platforms, etc. It has advanced features like customer segmentation which in turn allows businesses to customize their support request handling. LiveAgent has more than 175 features and 200+ integrations.
Features
Canned messages
Business hours
Custom roles
Spam filters
Call device scheduling
Multilanguage support
Live call transfers
Pros
LiveAgent is user-friendly and even beginners and less experienced agents find it easy.
With LiveAgent, it is easy to sort tickets and assign them to team members.
Canned messages and templatized responses help save time.
LiveAgent can automatically track a user's presence on the website and send a live chat invitation automatically.
The ability to add notes and labels to the conversations has been useful.
Cons
The admin interface looks outdated and must be improved.
LiveAgent does not integrate with Instagram/ Threads.
Pricing
Small business- $9 per agent per month
Medium business- $29 per agent per month
Large business- $49 per agent per month
Enterprise- $69 per agent per month
You May Also Read : Best Free CRM Software: Elevate Your Business to New Heights
Closing Thoughts
As explained in the blog, there are several free call center software providers in the market. You must first evaluate the needs of the business and choose one that matches your requirements. Open-source call center software solutions help small businesses and startups create customized solutions without straining their budget.
FAQ- 
Are there any hidden costs associated with free call center software? 
While open-source call center software solutions are offered free, you must also be aware of the possible hidden charges that they might charge for integration, customization, data storage, upgradation, etc.
Is free call center software secure and compliant with data privacy regulations? 
It depends on the software and you must assess the following features if you are deploying free call center software in regulated industries.
Data encryption
User roles and controls
Data hosting
Security audits
Data ownership
Can I use free call center software for a large call center operation?
Yes, but you must evaluate the following abilities of the software.
Scalability
Advanced features
Customization
Security and compliance
Onboarding support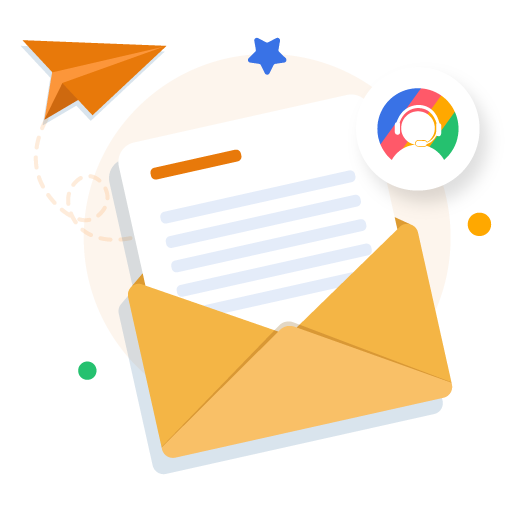 Let's Stay in Touch
Subscribe to our newsletter & never miss our latest news and promotions.

+21K people have already subscribed