Date: October 20, 2022
The customer support team is the front liner of a business. So, you need to cater to all their needs for effective client handling. They can make or break your business. VoIP phone services are an essential business tool that adds value to every customer interaction. And this is why it is becoming increasingly popular among businesses. 
According to research, the VoIP market will be $136.76 billion by 2020. This has grown exponentially as more businesses want to leverage it to aid customer support and streamline business processes. 
Another research by PwC survey shows that efficiency, convenience, friendly service, and easy payment are some of the primary factors a customer values the most. VoIP phone service leaves customers happy and satisfied. 
7 ways VoIP service can improve customer service 
      1. Every call is answered
A VoIP phone service ensures that you never miss a call. The cloud-based system receives all customer calls, even if there are network glitches on your end or your customer care agents are not available to take calls. 
Additionally, With the help of VoIP phone systems, you can try multiple numbers at one go, reducing the customer wait time and increasing the chances of conversion. The best part? You can address your customer's pain points quickly, which eventually boosts the customer retention ratio. 
      2. It enhances customer accessibility 
As I stated, your customer support is the first point of contact for your clients. They love companies that are ready to walk the extra mile to cater to their needs. VoIP helps you do that. It enhances customer accessibility through: 
Preventing client abandonment: People these days have dwindling attention spans. They want to get answered as quickly as possible. They don't want to undergo the conveyor belt of employees, with no proper addressal to their questions. With the help of VoIP, their queries can be transferred to the concerned department, and they can get their questions answered. Hence, you save a lot of their time and prevent them from hanging up on you. 

Streamlines communication by offering voicemail to text: If an employee misses a call or is unavailable, they can respond to the voicemails later on. VoIP phone systems store voicemails as audio files that can be emailed to the concerned employee, enabling them to handle queries while being on the move. Voicemail to text offers a seamless user experience, catering to the needs of the customers who want a quick and precise response to their queries.  
3.  Cost-effective call solution
VoIP phone systems are cheaper to install than traditional wired phone systems. Even the call rates are low. According to the IT world, "switching to VoIP can save small businesses about 45% over traditional phone service. Along with that, they are easy to maintain, and you can easily add new lines when required.   Hence, VoIP phone systems reduce costs and improve efficiency.
Over time, the call clarity of VoIP phone number has improved considerably. It is because of the availability of broader frequency to analog phones.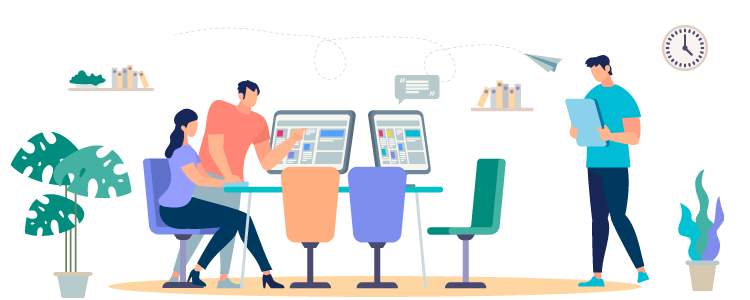 4.Improved business processes 
VoIP improves business processes by offering the right tools to gauge customer approach effectiveness. VoIP offers call queue dashboards that provide a manager with an overview of the activities of the customer support team. 
On the dashboard, a manager can see the following things:
Number of calls answered

Number of callers who hung up

Average time to answer

Duration of the call
Usually, a request must be answered within 20 seconds or less most of the time. Managers can vet the call influx and determine whether the calls are going unanswered. Accordingly, they can increase or decrease the workforce. 
      5.Leverage the features of a toll-free number 
Businesses, both small and enterprise-level, can use a toll-free number with VoIP at a low cost. A toll-free number enables you to tap untapped markets and establishes a credible reputation for your business. Along with that, it allows your potential customers to perceive you are business and that you mean business. 
Besides, your customers can contact you through the toll-free number regardless of their geographic location, without having to pay for the long-distance charges. 
      6.Interactive Voice Response
You might be familiar with the recorded voice that greets incoming calls from the customers. With VoIP, you can not only greet your customers but also guide them to dial numbers that lead them to the concerned departments, respectively. Not only that, but IVR also offloads simple queries from your support team's shoulders, enabling them to focus on more complex problems. 
      7.Empowers people to have direct phone numbers and extensions 
You can build long-lasting business relationships with your clients through direct numbers and extensions. VoIP enables you to have your direct number irrespective of the geographical location. Your teams can integrate your device with the business network for seamless approachability. While your teams use their mobile devices to reach out prospects, their VoIP number would be displayed to them, and not their private number. 
Are you looking to add value to improve your customer service? 
A VoIP phone service can support organizations 360 degrees. Whether it's prospecting, explaining about your services, handling queries, or closing leads, a flexible VoIP system does everything for you. You can see a significant difference in your expenditures if you switch to VoIP. If you're still using traditional phone systems, now is the time to adopt VoIP phone service for your business. 
WORDS THAT MAKE SENSE!
Read The Most Well Researched & Insightful Articles From CallHippo Team