Date: October 21, 2022
In the wake of the digital world, businesses are not holding themselves back. You shouldn't do that too. To take your business on a global level, never underestimate the significance of a virtual phone system. It may help you save 40% on local calls, increase the productivity of employees, and increases sales.


Why Online Businesses Need Virtual Phone Number(s)?
Online business stores have become a new fad in the industry that allows buyers to shop from the comfort of the home. Though, the trend has gained notable popularity, providing a par excellence service experience to your online customers is an uphill struggle. A virtual phone number can help you with this.
If you have recently marked your presence in online business, you have to be well-prepared to face up to the challenge. The very first struggle that you are going to face is to build a constant and responsive communication point. As you are going to deal with your customers physically, a Business phone number is the only way via which you two can connect. Services and virtual numbers offered by CallHippo are your best help in this.
Benefits of Having a Virtual Phone System in Place
With an affordable cost, multi-facet functionality, and easy usability, a virtual business phone number makes you self-efficient in many ways. Here is the list of things that it does it for your online business: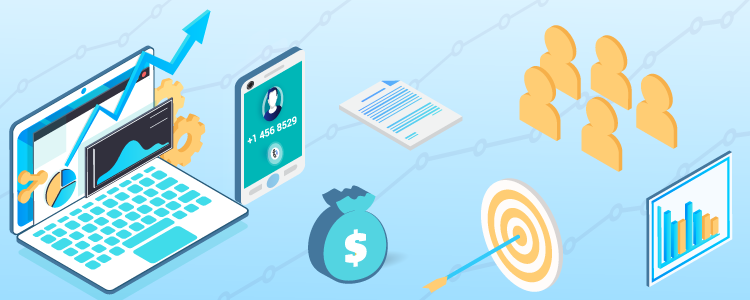 It Makes You Trustworthy
Well, trust is the main factor over which a business lays its foundation. Its value increases by manifolds when you are dealing with your customers online. As there is no direct physical dealing, online buyers prefer to choose only those businesses that are trustworthy.
Now, the burning question here is;
How to build trust?
Well, you can easily earn it by owning an online phone number. If you want to get clicks on your products and services online then you need to emit out professionalism by all means and a virtual phone number is the very first step in this direction. When you have a toll-free or local business phone number people will have a positive image of you in their minds. They feel that you are easily approachable and are all ears to listen to their queries and concern. It, ultimately, helps you to gain customers' trust.
CallHippo offers a range of business numbers at an affordable cost that helps you to portray yourself as a professional market player. In addition to its, its virtual phone systems make you get involved with the customers at all levels. Be it answering the calls or receiving the voicemail, it does it all effortlessly. So get a virtual phone number and ensures that your clients are getting heard.
Dole Out Easy and Great Service Experience.
Apart from trust, another major factor that determines the success of an online business is the quality of service experience they are offering. Though the struggle to deliver par excellence service experience is present in physical dealing as well, its significance gets increases enormously in the case of an online business.
Unlike the physical store that operates within a fixed time frame, online businesses are open always. Your customers can place an order at any point in time. Thus, you have to be available at their service around the clock.  It is only possible with a virtual phone number offered by CallHippo. With its help, you can be easily available at your customers' service regardless of the time and location.
You can easily set a shift-based call forwarding facility and reduce the call waiting time by quick answering. When you have a virtual phone number by your side, you can easily pass on your customer call to the next available agent to reduce the waiting time. The intelligent call distribution by CallHippo ensures that no customer should wait for more than two minutes.
In addition to this, features like on-hold music and welcome messages are like the cherry on the cake. All these add up to increase your service experience and make your Virtual Phone System better.
Know your customer better
When you are into an online business, you have to make extra efforts to understand your customers. You need to know what are their concerns, what is the average time duration of their calls, what are the demographic details of your customers, and various similar information to deliver on-spot services.
A virtual phone system is your best bet to achieve all this at an affordable cost. By using CallHippo, you can easily get the detailed call analytics report that will provide you an insight into your customers' needs and wants. Thus having a virtual phone number can speed up your sales and increase overall revenue.
They allow you and employees to work remotely
This is an apparent benefit. An online business offers freedoms that a brick-and-mortar cannot. You don't want to be tied to a table and a virtual cellphone variety makes it so you can take calls from your mobile irrespective of where you're working.
Also getting your hands on a virtual phone system enhances your business communication by providing features like call forwarding and call recording. This advantage is extremely handy if you outsource quite a few of your income and carrier work, as you may hire people based on skill, cost, and timezone availability without the want for making sacrifices like an office-primarily based enterprise might have to.
Virtual Phone Numbers Reduce Dropped Calls
Uptime and reliability are hardly ever an issue whilst the usage of a digital range over conventional landline call structures and their clunkiness. And, in case your online business is losing calls, you're losing customers, as customers will just circulate on to the next Google listing and call them.
Since calls are routed through strategically-positioned servers all over, whilst one goes down, every other takes its place. This reduces useless air and dropped calls to almost zero.
Virtual Phone Numbers are Extra Cost-effective than Physical Cellphone Infrastructure
A virtual phone number can benefit your eCommerce enterprise to grow, by putting the service electricity of a large name center within the palm of your hands (mobile). No high-priced and cumbersome equipment wants to be bought, nor do you have to pay technicians to install and maintain any equipment.
Everything just works and it works all of the time — the service issuer looks after everything. No greater downtime for a damaged CTI server or recording system. No IT branch or the hefty salary they demand. Most digital phone wide variety carriers also provide flex plans and pay-as-you-go, so that you in no way pay for offerings you don't want.
Bottom Line
Running an online business demands a different set of business strategies. When you are going online, having a robust telecommunication system is the first compliance that should meet at any cost. CallHippo is a great choice over others with its advanced and cost-effective Virtual Phone Numbers that helps you attend your call traffic diligently.
WORDS THAT MAKE SENSE!
Read The Most Well Researched & Insightful Articles From CallHippo Team