Get A Business Phone Number In Just 3 Minutes
With CallHippo, you can set up a cloud-based business phone number within minutes and access it from anywhere in the world. Use our local virtual business numbers to make and receive calls. Now you can create a local presence for your business in over 50 countries. Sign up now!
We Provide Virtual Business Phone Number Service For More Than 50+ Countries
What Is A Business Phone Number?
A business phone number is a number dedicated to your company. It helps your customers reach out to your organization at any time of the day; thus, enhancing connectivity and availability.
A business telephone number is a useful alternative to traditional phone numbers as it can strengthen your client base and provide better business communication facilities.
CallHippo provides the best virtual business number services and offers a wide range of cloud-based, affordable, and innovative phone plans.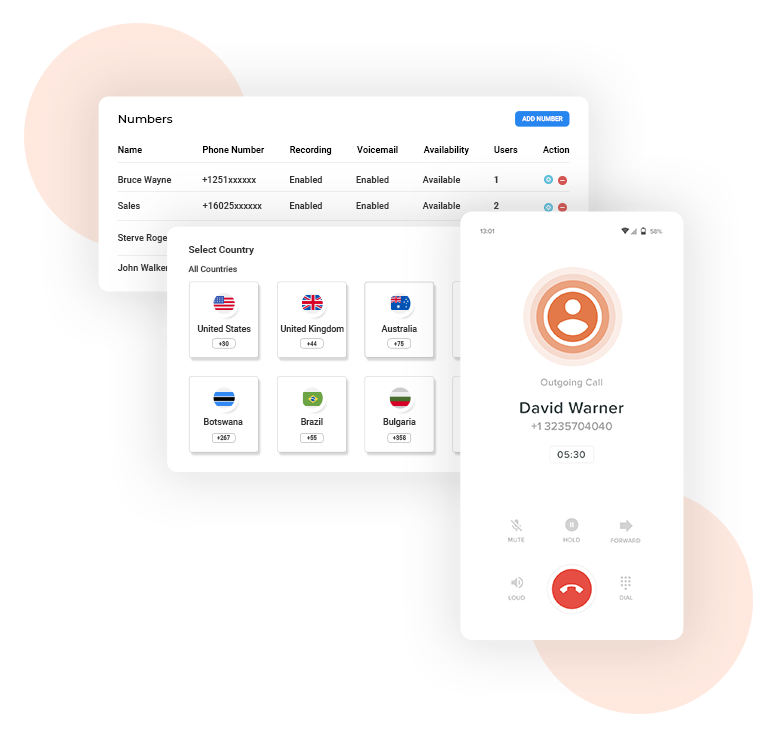 Studies suggest that 60% of customers prefer calling a business rather than choosing another mode of communication. Thus, companies must maintain consistency in displaying their contact details across the web, and business phone numbers (on the contrary to traditional phone numbers) help meet such demand with their enhanced functionalities. With a separate business mobile number, organizations can build a global presence irrespective of where they are located.
"A business phone number is dedicated to managing all your business communication requirements. They are cloud-based phone systems that replace traditional phone systems to handle unlimited calls and can be accessed from any device with an internet connection."
Buy A Business Phone Number
---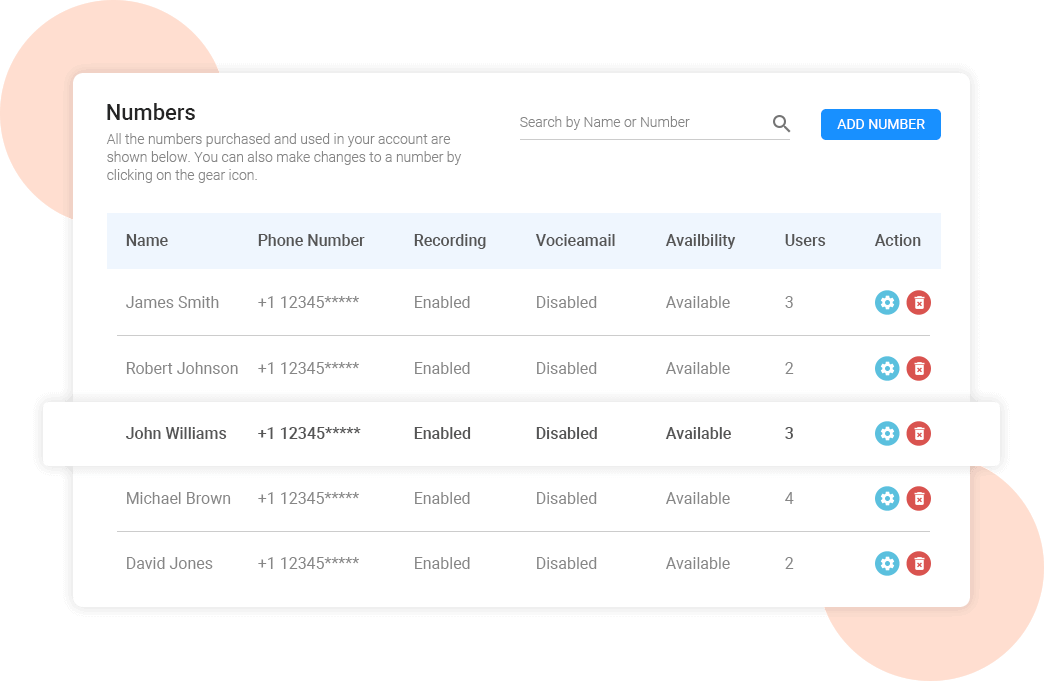 Why Do You Need A Business Phone Number?
Let's be honest, using your personal cell phones for making business calls isn't very professional. Apart from coming off as professional, a separate business phone number has a variety of other benefits.
However, simply getting just any phone number won't cut it! As a business owner, you do not need to take on more problems by using an old-fashioned and incompetent phone system. You need a solution that is seamless and easy to operate.
This is why your business needs a virtual business phone number! Such a business phone number is very easy to get and use. It will not only tremendously increase the efficiency of your daily operations but will also help you improve the quality of your customer service.
Cloud-based virtual phone systems are a great way to build up a customer base in foreign markets as a virtual business phone number search can facilitate clients' access to your organization with ease. It allows for a strong rapport with customers and provides a more holistic customer experience. Customers do not need to wait for long periods as they receive speedy assistance with an auto-attendant and all their queries are resolved.
Benefits Of Having A Virtual Business Phone Number
Unlike traditional phone systems, virtual phone systems are very easy to set up. You do not need any bulky hardware to use it. Any device with a working internet connection is good to go!
By using a business phone number, you can answer calls from your laptop, tablet, phone, or any other device of your choice. Convenient, isn't it?
Additionally, virtual business numbers have a lot more to offer than just making and receiving calls. You can pick and choose from an array of useful features and customize your office phone system according to the needs of the business.
Features like call forwarding, voicemail, conference calls, call queueing, and IVR (interactive voice response) eases the day-to-day communications of the business.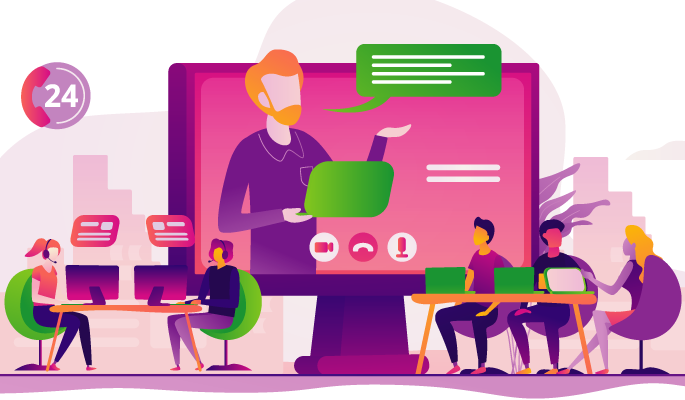 To add the cherry on the cake, using a business phone number costs way less than traditional phone numbers. They offer greater mobility as well as seamless audio quality.
Features of the Business Phone Number
How To Get A Business Phone Number?
CallHippo is a trusted business number provider to several companies in over 50 countries across the world. With CallHippo, getting a business phone number is extremely easy. All you need to do is sign up with us and follow the steps given below:
1. Choosing the right phone system
The first step to getting a cloud-based business phone number is choosing the right phone system for your business. Every business has different needs and hence is best suited to different types of phone systems.
Small businesses and startups cannot afford to pay huge telephone bills that are racked up by traditional phone systems. They need a virtual phone system that can squeeze into their tight budget.
CallHippo is a trusted business phone service provider. Want a suitable phone solution for your business? Get connected with us!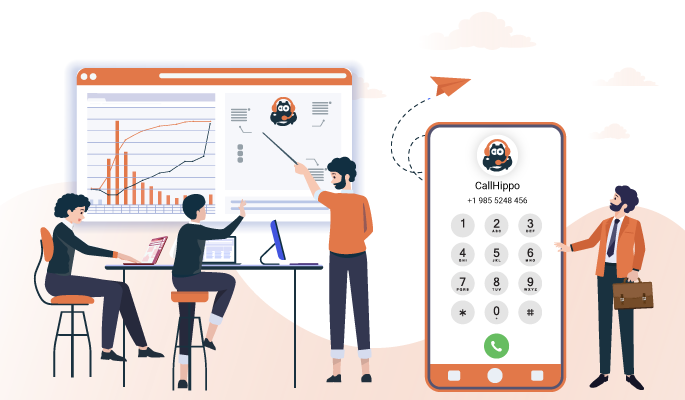 2. Pick your business phone number
By using CallHippo as your service provider, you can get any type of business phone number at an affordable rate. All our price packages are available at monthly and annual subscription plans. You can opt for a bronze, silver, platinum, or enterprise plan according to your requirements.
To get a detailed insight into our pricing scheme, you can get in touch with one of our sales experts.
3. Select the device on which you want to host your virtual phone system
After picking out a small business phone number, you need to decide on the device on which you want to access your virtual phone system. Here's the fun part: you do not need to purchase any additional hardware to access your virtual phone system. You can use any internet-enabled device such as a mobile app, laptop, PC, or tablet.
There are, however, some headsets that are designed and sold exclusively for cloud-based phone systems. These devices amp up the call quality by a couple of notches and also look and feel professional.
You can get in touch with us to know more about purchasing or leasing these customized hardware sets!
4. Add extensions for all your employees
You can set up multiple extensions for your cloud-based business phone number.
This means that along with a central business phone number, each agent or department can have a different extension for that number.
Your customers need not even know the extensions. You can create virtual menus where callers can route themselves to the correct agent or department. The system will automatically dial the extension on behalf of the caller.
5. Go through the features and pick what you need
A cloud-based business phone number comes with a lot of perks. Virtual phone systems offer a wide collection of features that you can integrate with your business phone number.
However, some features will prove to be more useful to your business than others. You need to analyze the needs of the business and choose the features that will prove to be beneficial for your organization.
Here are some of the top features enjoyed by CallHippo customers.
Customised greeting messages – This feature enables you to pre-record a message. Thus, whenever someone calls your business phone number, they will be greeted with this message. No need for additional voiceovers anymore!
Call forwarding – Working on the go? No problem! CallHippo's call forwarding feature allows you to re-route all incoming calls of your business phone number to your personal cell number. This feature enables you to be available for your customers 24*7, even when you are not in the office.
Virtual assistants and menus – Virtual assistants take over all the duties of your receptionist; except, they're much more efficient at it. By using virtual menus, customers can navigate through options according to their needs. They no longer need to be transferred from agent to agent until they reach the right expert.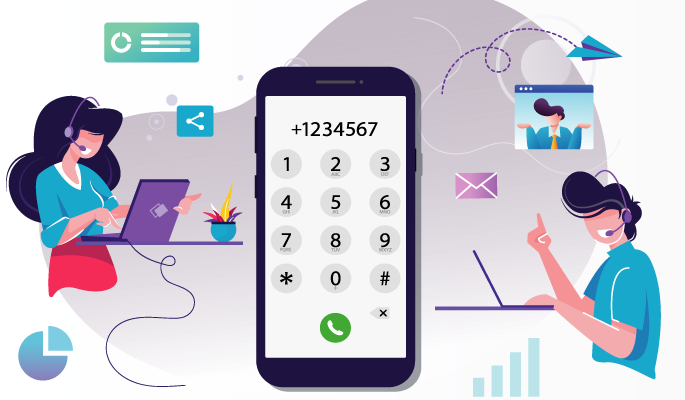 Call queuing – During the peak hours of a business, the volume of incoming calls is quite large and as a result, all calls cannot be attended at once. In such situations, a call queue feature on the business telephone number systematically transfers calls as and when operators become available. It also takes into account priority customers.
As a CallHippo customer, you only pay for the features that you use. You no longer need to purchase packs of features, half of which you will probably never use. We offer you the flexibility of creating a customized feature pack specially designed to boost your business.
And you're all set to go!
Simple enough, isn't it?
The right phone system can work wonders for your business. It will not only help you improve your customer service but will also ease the day-to-day operations of your business.
Still not sure which phone system is the right fit for your business? Don't shy away, our experts are available round the clock to help you select the right tools to grow your business.
Set-up your business phone number
Schedule a free product consultation call
Frequently Asked Questions About Business Phone Number
To get your desired number for your business from CallHippo, follow below step.

Signup & Create your business account
Select your country and choose your number
Checkout and Done
Yes, you can get a free standard business phone number with our Silver and Platinum plan. With these plans you will also get free* incoming calls, SMS*, call transfer and call queuing feature.
Buying CallHippo's Business Phone Number comes with a lot of perks. These are :

Scalability
Save time and money
Stay connected anytime, anywhere
Keep your private information private
Better Customer Service
0800 numbers are used by most companies as a primary point of telephonic contact. These numbers are identified as commercial and are free to call on. You can get an 0800 number for your business in two ways:

You can buy an 0800 phone number from best business phone line providers. This might include purchase fee as well as monthly fees. You may also require changing your phone systems to answer to this number.
You can leverage the benefits of virtual business number providers like CallHippo. Such providers offer a 0800 number in the plan along with advanced calling features. Fees and plans may vary depending on the provider you choose.
You can determine who the number belongs to in several ways, such as reverse business telephone number lookups, searching the number on Google, Yahoo, or Bing, and searching on social media sites. However, there are many paid services that can assist you in finding to whom the number belongs to.
Google Voice provides you a free phone number for making calls, sending texts, and voicemails. You can use the apps on your computers and smartphones, and link your number with either your mobile number or landline.

To get a Google phone number, follow the below steps:

For computers:

Go to voice.google.com & sign in to your Google Account.
View the terms of service and privacy policy, and tap on 'Continue'.
Search for a number by city or area code. If there are no numbers in your area, look for a nearby area.
Select the number you want & follow the instructions.

You can download the voice app on your Android and iPhone devices from Play Store and App Store, respectively. Then, follow the steps as given above.
Customizing your 1800 phone number makes it easily memorable for your customers. You can use a word or catchy number that reflects your business. For instance, it can be 1-800-FLOWER. You can get a personalized 1800 number or vanity number for your business from VoIP or network service providers.
Automate pre and post telephony tasks with CallHippo's 100+ app integrations
Setup Your Phone System In Less Than 3 Minutes