Date: September 26, 2023
The contact centers known for ages are changing, along with the increased demands of the customers. Customers nowadays expect a personalized conversation with the company. This could be through SMS, Video, social media, and many more. 
But now, to keep pace with the changing demands of the people, there is a solution, "CCaaS" CCaaS is a cloud-based computer communication solution that can help a business to sort their customer care problem. It is the latest technology delivering the next level customer features over the cloud. It helps businesses save time and money while managing their software needs internally. Also, by 2025, the global market for contact center software is expected to rise by $50 billion. 
What is CCaaS?
Contact Centre as a Service is a business solution that allows cloud-based customer support. This is very scalable as it changes with the new evolutions in the organization. Also, it gives the flexibility to purchase and pay only for the tools that are needed. It offers a "pay as you go" model. Compared to the traditional contact center, the initial investment here is very low and is not considered as an operational cost to the company. 

Expert Advice
"Incorporating CCaaS can transform your customer support. Its cloud-based flexibility ensures scalability, while features like IVR, analytics, and CRM integration enhance efficiency. CaaS can help you increase customer satisfaction, streamline processes, and respond flexibly to changing client expectations. Unlock your company's potential today!"
Features of CCaaS includes
Call routing services

Integration of existing tools

Call recording and management 

Software analytics tracking

Customer experience tracking
CCaaS helps to avail of all the benefits of the latest technology releases without worrying about managing on-premise assets. CCaaS offers faster and easier implementation, flexible scaling, and a low admin expense.
UCaaS Vs CCaaS:
Both UCaaS and CCaaS benefit an organization, and both sound the same, yet both are different from each other. Let's see the difference:
| | |
| --- | --- |
| UCaaS | CCaaS |
| UCaaS, or united communications as a service, gives cloud-based communication infrastructure. UCaaS offers voice calls, call conferences, text chat, and video solutions. | CCaaS features Interactive Voice response, analytics capabilities, automatic call distribution, and many other contact center features, apart from voice call and call conferencing.  |
| It facilitates communication between employees of the same organizations.  | It is designed to help sales and customer support staff whose majority of the work is on the phone. |
Now that we know what CCaaS is, let's explore through the various features that it offers.

Special Features of CCaaS
CCaaS is packed with certain special features, which include
It gives an analytical report of the call volume, waiting time, and other insights that are needed to make any improvements. 

Call recordings to help to improve the quality of the call and enhance the customer experience.

Automatic call distribution helps to route the call to a suitable agent.

CCaaS has various integrated business tools such as Shopify, Hubspot, Intercom, and many others that help employees to work seamlessly. 

IVR directs the callers to the right department immediately. 

Live Feed helps the supervisors to monitor real-time activity and respond to the call traffic needs.

CCaaS is a cloud-based interface that allows agents from anywhere in the world to connect and work together.

Calls could be made easily from a mouse click rather than dialing a number.

The best feature of CCaaS is whisper coaching, where supervisors can listen to the call of the agent and advise them without letting the caller know about this.
As per the increase in the demand of the cloud-based solution for customer support as a service is growing, many contact centers are starting to embrace the CCaaS format. The best one among all is the Magic Quadrant Report. 
CCaaS is evolving with the growing demand of the contact center as a service. With the introduction of new technology, CCaaS is evolving at a great pace. 
People prefer to adapt to new changes only if there are any advantages to it. 
You May Also Read : Call Center CRM – Complete Guide with Top Contact Center CRM Software
Top 8 CCaaS Providers in 2023
Brand Name
Rating
Key Features
Pricing
CallHippo
Call forwarding
Call recording
Voicemail
Text messaging
Basic: $0
Bronze: $16 /month
Silver: $24 /month
Platinum: $40 /month
Talkdesk
Omnichannel support
Advanced IVR
Real-time analytics
CX Cloud Essentials: $75 /month
CX Cloud Elevate: $95 /month
CX Cloud Elite: $125 /month
Five9
Appointment Management
AI-based, automated call routing
Call Conferencing
Automatic Call Distribution
Intelligent virtual agent
Workforce optimization
Core: $149 monthly
Premium: $169 monthly
Optimum: $199 monthly
Ultimate: $229 monthly
Genesys
Inbound call routing
Call analytics
Call scripts
Genesys Cloud CX 1: $75
Genesys Cloud CX 2: $110
Genesys Cloud CX 3: $140
RingCentral
Business phone or toll-free numbers
Unlimited calling within the US and Canada
Business SMS
IVR
Core: $20
Advanced: $25
Ultra: $35
Twilio
Call transfer
Ticket management
Call recording
Number portability
Starts at $1 per active user

CallHippo is a leading VoIP and CCaaS service provider. That offers operability in over 60 countries and is trusted by MNCs worldwide. CallHippo offers advanced functionalities that allow organizations to optimize their operations effectively. It is a one-stop solution for all VoIP and contact center requirements.
Features
Call tagging

Holiday routing

IVR

Call queueing

Call reminder

Pause and resume recording

DID group
CallHippo Pros and Cons

Rates are convenient and competitive, making it the most viable choice for small and large organizations.

Uptime offered is exemplary, which leads to enhanced productivity.

Automation is offered, allowing the workforce to accomplish tasks efficiently.

The call recording feature can be improved and made more crisp and accurate.

Customer support is not as effective as required; it can be improved.
Pricing
Four plans are available, namely,
Basic: $0/user/month 

Bronze: $16/user/month when billed annually and $20/user/month when billed monthly.

Silver: $24/user/month when billed annually and $30/user/month when billed monthly.

Platinum: $40/user/month when billed annually and $50/user/month when billed monthly.
A 10-day free trial is offered for the Bronze, Silver, and Platinum plan.

Talkdesk is a CCaaS software provider that offers quick and reliable contact center solutions to organizations globally. It allows its user to offer their customers a  seamless end-to-end experience. Talldesk is a dynamic service provider offering tailored services to various industries.
Features
Screen recording

AI trainer

Automated notifications

Customer experience analytics

Virtual agent

API Access

Real-time dashboard
Talkdesk Pros and Cons

Round-the-clock and quick customer support is offered, due to which queries are resolved effectively.

With automation, processes get streamlined and seamless operability can be achieved.

It can be easily integrated with other applications, enhancing the operations' precision.

It is not cost-effective, so affordability can be a major issue for SMEs.

Uptime offered is not as promised, which is a major drawback.
Pricing
Four plans are available, namely,
CX Cloud Essentials: $75/user/month.

CX Cloud Elevate: $95/user/month.

CX Cloud Elite: $125/user/month.

Experience Clouds: Industry-wise pricing is offered.
You May Also Read : The 14 Best Virtual Call Center Software for 2023

Five9 is a cloud-based CCaaS provider that allows organizations to manage customer interactions, engagement, and experience effectively. With high-end features, organizations can easily and effectively connect with existing and potential customers. It is a powerful tool that provides services globally and allows better reach to organizations.
Features
Predictive dialer

Callback scheduling

IVR

Call routing

Speech analysis

Automatic dialer

Call Whisper
Five9 Pros and Cons

The tool is extremely advanced and optimizes operations to a great extent.

Calls and sessions can be recorded effectively at the convenience of the user.

There is little to no downtime, which is a major advantage of the software.

The functioning of the tools gets slow at times as multiple operations are carried out simultaneously.

The platform is not easy to navigate and requires professionals to operate.
Pricing
Five plans are provided, namely,
Digital: $149/month

Core: $149/month

Premium: $169/month

Optimum: $199/month

Ultimate: $229/month

DialerHQ is a comprehensive CCaaS provider that offers a wide range of communication tools and features tailored for contact centers, ensuring seamless and efficient customer interactions. Businesses can access advanced call management features, real-time analytics, and CRM integration to optimize agent performance and make data-driven decisions. Whether making phone calls worldwide, sending SMS messages, or monitoring performance in real-time, DialerHQ's CCaaS platform delivers a robust and flexible solution to enhance contact center operations and customer experiences.
Key Features
Call Whisper

Intelligent Reports/Analytics

Reports via Email

Automatic Machine Detection

Intelligent Call Recording
DialerHQ Pros and Cons

Advanced call management features are offered on DialerHQ, ensuring efficient call handlin

Various dialing modes keep agents continuously engaged with live calls.

DialerHQ's management features help call centers organize and prioritize contact lists effectively.

Real-time DialerHQ monitoring provides supervisors with valuable insights into agent performance and call progress.

Users may encounter call quality problems, including call drops during usage.

The mobile app of DialerHQ could benefit from improvements to enhance user experience.

It offers only a limited set of safety features, which may raise some safety concerns for users.
Pricing
Basic – $0 per user/ month

Bronze – $7.99 per user/ month

Silver plan- $11.99 per user/ month

Platinum plan – $19.99 per user/ month

Genesys is a CCaaS software provider that offers a plethora of features to increase the effectiveness of its customer experience. It enables organizations to comprehend customer behavior, patterns, likes, and dislikes. All in all, it is a reliable solution for business enterprises looking to connect with their customers seamlessly.
Features
Call routing

Automatic call distribution

Call recording

Advanced reporting

Callback reminder

Webchat

Auto dialer
Genesys Pros and Cons

It is easy to set up and integrate with other third-party applications optimizing the organization's operability.

The platform is time-saving and offers quick deployment with very little effort.

High uptime is offered, due to which productivity is maintained.

The dashboard can be improved and made more comprehensive.

Reporting features can be made more comprehensive and advanced.
Pricing
Five plans are offered. They are as follows.
Genesys Cloud CX 1: $75/month, Voice Services.

Genesys Cloud CX 2: $95/month, Digital Services.

Genesys Cloud CX 2: $115/month, Digital + Voice Services.

Genesys Cloud CX 3: $135/month, Digital + WEM Services.

Genesys Cloud CX 3: $155/month, Digital + WEM + Voice Services.

RingCentral is a cloud-based communications and collaboration solutions platform for all kinds and sizes of businesses. All communications processes can be handled from a single platform, improving operability. All in all, RingCentral is a viable choice for businesses that want to enhance their efficiency, productivity, and collaboration.
Features
Screen recording

Integrated UCaaS

Workforce management

Advanced call recording

Omnichannel administration
Ringcentral Pros and Cons

The features offered are exemplary in a cost-effective manner.

ROI can be gained quickly as processes can be scaled with advanced functionalities.

Easy integration with third-party applications enables organizations to achieve operational efficiency.

Improvement is required in reporting feature as it needs to be more precise and real-time.

The customer support team is lethargic and doesn't provide effective resolutions quickly.
Pricing
For contact center solutions, four plans are offered. They are as follows:
Essential

Standard

Premium

Ultimate
Custom pricing is offered for all the plans. To get a quotation, their sales team must be contacted.

Twilio is an excellent CCaaS software that offers a plethora of communication services to businesses. Apart from contact center solutions, it also offers marketing campaign solutions in which all the processes can be handled from a unified platform. Twilio also offers tailored services like Twilio Conversations that assist organizations in managing cross-channel conversations.
Features
Workflow management

Intelligent routing

IVR

Advanced Reporting

Multiple API access
Twilio Pros and Cons

The user interface is friendly and customizable according to their convenience.

Real-time and accurate reports are provided, which is highly assistive in decision-making.

The routing methods can be customized based on the workflow, which is a major advantage.

The integration feature is complex and time-consuming.

There are frequent updates that affect productivity and uptime.
Pricing
Pricing is based on two categories:
Per-hour pricing: $1/active user hour.

Per-user pricing: $150/user.
A free trial is offered for 5000 active user hours.
You May Also Read : Inbound vs Outbound vs Blended Call Center

Avaya is a leading CCaaS provider that offers high-end communication and collaboration tools. These tools enable companies to elevate their customer services, productivity, etc. It offers contact center services to multiple industries worldwide. Avaya is a trusted solution provider for businesses looking to optimize their customer service processes.
Features
Intelligent routing

Conversational AI

Voice recording

Reporting and analytics

Workflow orchestration
Awaya Pros and Cons

With AI, many processes can be automated, and high accuracy can be achieved.

Seamless connectivity is due to which customer engagement is enhanced.

Effective monitoring of the interactions and conversations can be done, and performance can be enhanced.

Pricing is not transparent, which is a major drawback.

The platform is not easy to navigate and requires expertise to operate efficiently.
Pricing
Four packages are available, namely,
Digital

Voice

All Media

Create your own
Pricing is offered on a custom basis. Their sales team must be contacted.
What are the benefits of using CCaaS?
Creating a contact center using CCaaS is easy, just like installing an app and it could be implemented quickly and easily. Employees can work remotely using the CCaaS program. This reduces the need for office space to a certain limit. 

CCaaS helps in improving customer experience: Today, a customer wants to be connected to the customer center easily either through calls, live chat, or any other convenient mode. It is easy for large firms to meet customer's demands. But small firms face issues while making customer support so convenient because of its costing factor. CCaaS helps small firms in this case. They work through a computer system offering desktop notification of the incoming calls. It reduces the chance of missing a customer's calls. CCaaS has many integrated eCommerce helpdesks, customer relationship management (CRM) tools, and the best part is that there are constant software updates that help the software to improve and meet customer's expectations. 

CCaaS helps in flexible scaling. If the demand increases, it marks an increase in the number of customer calls along with increased revenue and vice-versa. In this scenario, CCaaS is the best solution. The organization needs to pay for the level of service they need and can adjust their requirements accordingly.  

Establishing an individual customer center incurs a lot of startup costs. This could include servers, software, phones, staff, and software implementation charges. Apart from this costing, the organization also needs to provide time to the employees to deal with management and tech support. This process not only inculcates costs but also the time of the organization. However, a CCaaS provider can handle software implementation, product updates, and troubleshooting without costing extra bucks. This could also update the software as and when required. 

The most crucial factor is the integrated information. CCaaS collects information from the CRM, helpdesk, and other business systems and stores them together to simplify the search. So, the agent will be able to find all the information at one go, which will help in improving the customer experience.
The most recent trends in CCaaS include: 
Customer centers indeed require human interactions. But if artificial intelligence is trained about customer interactions, it could reduce repetitive tasks and can improve business performance. It could route the customer to the right client to improve the customer experience.

The cloud-based contact center as a service solution allows employees to log into the system and support customers regardless of their location. This offers a flexible working culture to the new and evolved modern call center. It offers the concept of remote working.

Some vendors believe in combining front-end communication solutions like CCaaS with backend communication as a service solution. This would create a new and innovative environment.

Analytics of the contact center as a service solution combined with workforce management features help to improve the quality of any contact center environment.
Businesses opting for CCaaS can attract a variety of benefits over their competitors. 
Below are 5 major benefits every CCaaS customer can expect: 
Today businesses are adopting CCaaS, which is customer-centric and fits the way people work. It integrates email and real-time chat into a unified platform to promote easy tracking of information. 

CCaaS offers substantial cost savings. It requires no upfront investment, aligned to streamline billing, reduction in staffing, and low power costs without purchasing extra servers or paying for services that are not required.

Cloud-based contact centers offer organizations to instantly scale up their business by meeting their demands. It also provides the highest level of reliability, disaster recovery, and availability. 

CCaaS providers offer quick integration across multiple channels to help a business achieve meaningful improvements.

CCaaS offers businesses to synthesize all critical information into a single screen to save the representatives from toggling among different data sources. The agent can then sort customer issues in a short time and hence increase customer satisfaction.
CCaaS solutions offer availability and reliability at the highest level. Thus, when business continuity is concerned, CCaaS solution is the best option available for your call center or business.
FAQs
1. What are CCaaS platforms?
CCaaS platform is a tool that offers customer service solutions to organizations. It enables the organization to develop better connections with its customers by providing them with robust functionalities. With CCaaS platforms, organizations don't have to worry about streamlining the process as these platforms offer seamless connective, and effective administration.
2. How does CCaaS work?
CCaaS software integrates third-party applications, monitors the conversations had, and provides insight on enhancing agent performance and improving productivity through accurate reporting and analytics. In short, it offers advanced features that streamline the process and allow organizations to gain operational efficiency.
3. What does CCaaS stand for?
CCaaS stands for Contact Center as a Service.
4. How does CCaaS differ from traditional call center solutions?
CCaaS differs from traditional call center solutions in terms of scalability, integration, and cost. In addition, the main difference is that CCaaS software operates on cloud-based technology as opposed to traditional call center solutions hosted on company servers.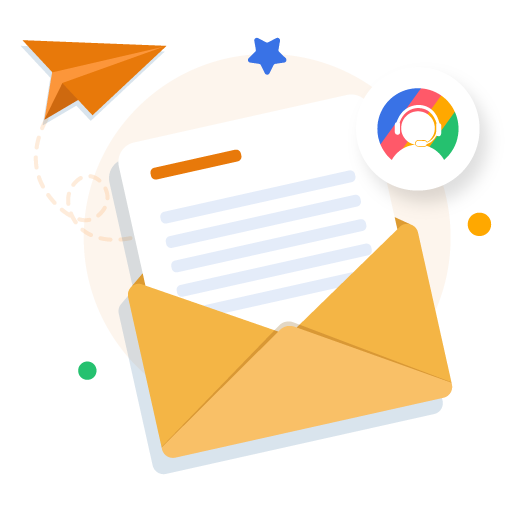 Let's Stay in Touch
Subscribe to our newsletter & never miss our latest news and promotions.

+21K people have already subscribed