Buy VOIP Numbers For More Than 50+ Countries
What is a VOIP Number?
VoIP phone number (Voice over Internet Protocol) is a virtual phone number that facilitates phone calls using an Internet connection.
Voice over ip number are real phone numbers assigned to a user, not to a specific line. VoIP phone number is also called extensions, and they typically have a Direct Inward Dial (DID) phone number that the public can access.
However, you can use IP phone number from any internet-connected device, including desktops, laptops, tablets, smartphones, and VoIP phones.
A VoIP no. also supports mobility, often costing half as much as traditional phone services. Moreover, the number itself doesn't have a specific device or geographical location.
How Does a VoIP Phone Number Work?
Voice over IP (VoIP) calls are initiated from a digital data network, such as a wired or wireless enterprise LAN (Local Area Network) or cellular service.
VoIP uses the internet to ensure good call quality even when making long-distance calls between continents or countries. Additionally, VoIP does not require a specific internet bandwidth but fast internet speed for voip is recomended for smoother experience. Even mobile phones with LTE, 4G, and 5G networks can transmit voice over data networks.
If you want a number for your business, you'll need to obtain a business communication voice over IP phone number, which you can receive when you sign up for a VoIP service.
You can then make outgoing calls and receive incoming calls over the Internet or VoIP network rather than via the PSTN (public switched telephone network – the traditional phone network using phone lines).
All you need for a VoIP call is a reliable Internet connection and a phone or computer connected to your VoIP account.
Types of VoIP Numbers
Here is a list of the four major types of VoIP phone numbers your business can use:
1. Local phone numbers
These numbers can be purchased in any country with their country and local area codes. Local phone numbers help your business stand out locally and simplify customer communications.
2. International phone numbers
VoIP allows you to acquire international numbers in countries other than your country of operation, which gives you a global presence even if you do not have any physical offices elsewhere.
3. Toll-free numbers
Customers can call these numbers without being charged. The business pays the call charge. Examples include 800, 855, 877, 888, etc.
4. Vanity phone numbers
There are two types of vanity numbers: local phone numbers or toll-free numbers that enhance your brand recognition with personalized, brand-centric phone numbers. Text strings are used in conjunction with number prefixes.
Features Of VoIP Phone Number
Why Should You Get VoIP Numbers: 6 Reasons
VoIP phone numbers, also known as Voice over IP numbers, provide a range of benefits to their users and help them serve their customers more efficiently, track key call center metrics and KPIs, increase retention rates, and boost revenue.
The list of VoIP benefits includes simple installation, brand localization, improved voice quality, cost-effectiveness, and other perks. Out of them, the six key reasons to get a VoIP phone number are briefly discussed below.
A. Easy Setup
The first major reason for getting a VoIP phone number or business phone number is that it is simple to set up.Unlike traditional phone service or phone systems, VoIP does not require any standalone hardware since it is cloud-hosted.This will save you significant time, money, and effort. To get started with a VoIP number, follow these three easy steps.
Step 1: Select the best VoIP service provider by analyzing its technical and non-technical facets.
Step 2: Based on your needs, choose a preferred pricing option and make the payment.
Step 3: Set up the system and start making and receiving incoming calls.
B. Preferred Area Codes
Brand localization is critical for businesses. Customers must trust your brand and not think of it as a "foreign" brand.
One method for accomplishing this goal is to use local phone numbers for communication.
Most of the trusted VoIP providers, such as CallHippo, provide their customers with a large pool of country codes and area codes. Users can select or customize their VoIP number by choosing the preferred codes.
C. Excellent Portability
Gone are the days when marketing and sales teams were forced to work from the office due to on-premise systems.
However, with the rise of cloud solutions such as VoIP numbers, the situation has flipped, and teams are no longer required to work strictly from the office.
Instead, they can work from anywhere and attend to or make phone calls as long as they have an internet connection and a device such as a cell phone.
D. Better Voice Quality
When it comes to customer communication, better voice quality is critical. It is necessary that all information is conveyed clearly and without loss or distortion.
This is certainly possible with a VoIP phone system. Since the VoIP number uses internet connectivity to transmit data, there is little to no distortion or delay.
E. On-demand Scalability
Understandably, no business can remain on the same growth trajectory for a long time. There are days when they perform well and days when they do not. For this reason, you require easily scalable solutions per your needs.
Fortunately, VoIP number systems provide on-demand scalability.
You can add or remove virtual numbers from your account whenever you want. This ensures that you only pay for what you consume.
F. Cost-efficiency
The last significant reason to get a VoIP phone number is that it is a cost-effective solution. When you choose the best VoIP number providers, such as CallHippo, you can expect significant cost savings in several ways. For example, you do not have to pay for installation, maintenance, or any additional hardware other than the device. Moreover, VoIP phone systems have much lower calling costs than traditional phone lines.
All of these advantages of VoIP numbers illustrate why it is the best business communication solution available today. Now, let's look at the quick steps to get a VoIP number.
Quick steps on how to get a VoIP number
The following are the standard five steps to getting a VoIP number, which are similar across all VoIP providers with minor variations.
Step 1: Evaluate your business needs
First and foremost, evaluate why you require a VoIP number and whether it will really improve your communication. At this stage, you must consider factors such as your budget, your team's technical skills, and so on. Based on this, shortlist the top VoIP phone service providers.
Step 2: Choose a Provider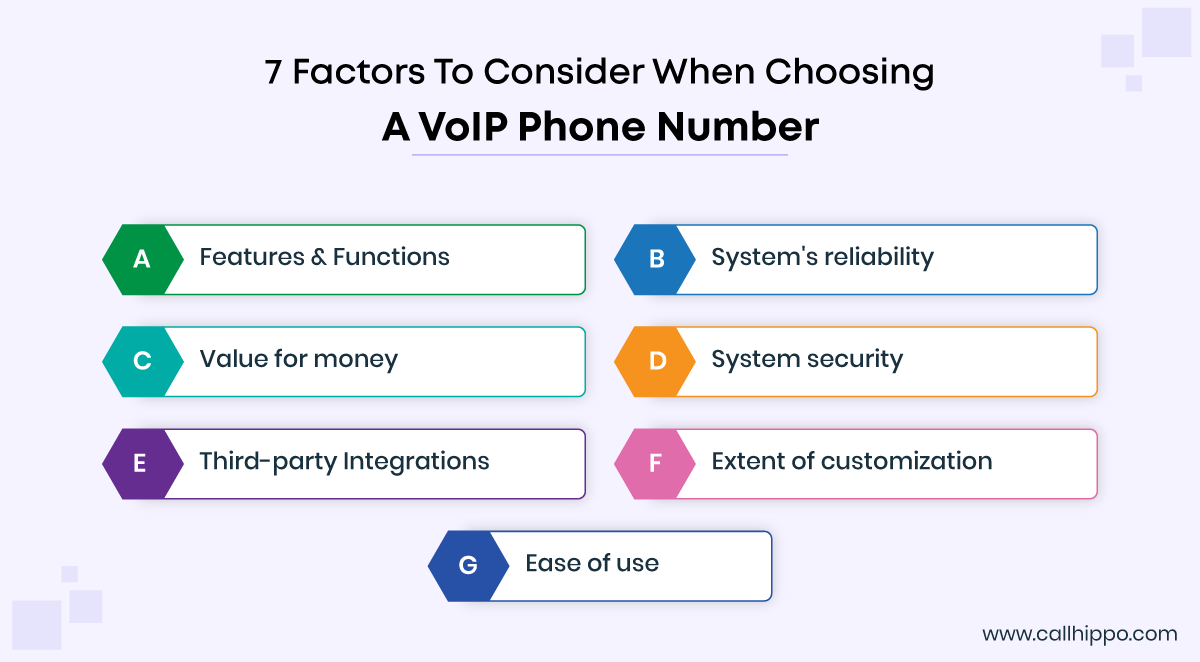 Next, choose the most suitable VoIP provider that perfectly aligns with your needs. At this stage, you must consider factors like features & functions, the system's reliability, and the ones listed in the image above. In addition to these factors, answer these 47 most frequent questions on VoIP numbers to make an informed decision. 
Step 3: Pick a perfect pricing plan
After choosing a plan, sign up with the VoIP service provider to get a VoIP number. Note that there are various types of VoIP numbers, such as toll-free numbers, local numbers, andvanity numbers.
Step 4: Configure your number
Configure & implement your VoIP number and set up the necessary VoIP devices. For example, add contacts, add forwarding numbers and so on.
Step 5: Start using your VoIP number
You are now ready to use your VoIP number for your business. Start making and receiving calls!
These are the most common steps to get a VoIP number. However, we would suggest that you buy a CallHippo VoIP number. Why? Because it offers a range of benefits, as discussed in the following section.
Why Businesses Should Use VoIP Number?
1. Real-time Collaboration
Impress your clients by sharing the details on the go from anywhere and at any time. You can also address any given issues without being tied down to a particular office or desk. Just carry a phone with you, connect it to the internet, and enjoy the best VoIP phone service worldwide.
2. Global Connectivity
With our best VoIP phone let go of all the geographical limitations and grow your business across the globe. You can run your business and manage the team sitting across seven oceans with ease and efficiency!
3. Plans As Per The Requirement
CallHippo is one of the VoIP service providers that have multiple plans in store for you – Silver, Bronze, Platinum & Enterprise. Based on your business requirements, select the one that you find best suitable. With this VoIP phone number, you only pay for what you use.
4. Incredible Customer Service
By focusing on customer requirements and addressing their problems on time, you can impress your clients. Ensure two-way communication in the form of calling, messaging, and voicemail to solve their issues whenever required with a small business VoIP phone number.
You May Also Read:
Set Up Your VoIP In 4 Easy Steps
Buy VoIP Phone Numbers of 50+ Countries. Start Making and Receiving Calls across the globe.

1
---
Buy Numbers
Buy numbers from around the world
2
---
Add Users
Create your team and invite agents
3
---
Start Calling
Start Calling and Receiving Calls around the World
4
Track Calls
Get detailed caller insights and identify the best prospects
Frequently Asked Questions of VoIP Number
What is a non-fixed VoIP phone number?
Unlike traditional phone numbers, a non-fixed VoIP phone number doesn't have any physical address. They can be attached to any geographical location. It is also known as 'virtual phone number' and can be obtained by simply creating an account on the service providers' website. They don't require any address or ID proof which is otherwise required in case of landline number. A valid email suffices the purpose.
Non-fixed voice-over IP phone number is a great way to gain flexible communication as they can be operated from any of the data-driven devices.
Can you trace a VoIP number?
Tracing the exact location of voice over ip number is very difficult as VoIP comes without any geographical boundaries. They are not associated with a particular location. There is no area and country code attached to them, leading to difficulty tracking. However, if the business/person has registered it by its name, then you can trace it down by searching in online/offline directories. There are special phone number tracking apps and websites for this job.
If you have identification or caller ID service activated in your phone, then also you can trace down the VoIP number. However, always keep in mind that results are not 100% accurate.
Can VoIP numbers receive texts?
Yes, your VoIP phone number can receive and send text messages. To do the same, you have to make sure that you have valid VoIP subscription, VoIP calling app downloaded on your data-driven device, and it is connected to an internet connection.
Once it's all done, you can use our VoIP number as your regular phone number which can make calls, send SMS, and record a voicemail as well. Your text sending/receiving facility is free of cost with almost every premium cloud telephony plan. It's better to inquire with the service provider about this facility.
What is a Voice over IP phone number used for?
A VoIP number can be used for various purposes when implemented right.
You can use it to make/receive cost-effective inbound/outbound calls. Unlike landline phone numbers, VoIP works over an internet connection making the call incurring charges way too affordable. Even, it can make international calls without much of a hefty bill.
With features like call forwarding, call recording, IVR, on-hold music, and call waiting, it renders great calling experience to the caller and helps you attain great customer satisfaction.
As it is a cloud telephony system, it helps you set-up a remote location workspace and explore global opportunities without any financial crunch. With an integrated CRM module, it reduces your operational efforts, automate menial tasks, and improves your productivity.
How to choose a VoIP phone number for business?
Choosing VoIP for your business should be done by paying due attention to below-mentioned points –
Know your business requirement – Try to figure out how many extensions you'll be needing and whether you want to set-up a remote workstation or not.
Pay attention to the costing – Check the international and national calling rates and free facilities. Some of the leading VoIP phone number providers offer pre-set business plans. Compare them thoroughly and find out which is the most beneficial.
Pay attention to the feature suite – Some of the key features that your VoIP number should have by all means are call forwarding, on-hold music, voicemail transcribing, IVR, and auto call answering.
Look out the company's reputation and market presence – Always make sure that you purchase it from the service provider which has a global presence and great customer support.
CallHippo could be your best ally as a VoIP phone number service provider, no matter how large or small is your business.
Why should I buy a business VoIP phone number?
Business VoIP phone number is one of the key tools that you need to run operations easily. By building a unified communication platform for your business, this cloud telephony system helps you communicate at every vertical without putting much of a financial burden.
It is also required to render great customer service experience. It comes with some of the key features like call forwarding, call waiting, IVR, and on-hold music to assist customers professionally and rapidly.
While you are seeking to enhance the team productivity, business VoIP phone number helps you by automating operations like call recurring, voicemail transcribing, call analysis, and reporting.