Date: August 21, 2023
In today's world, businesses cannot afford to deliver poor customer service on first call resolution – this results in poor customer service and, in turn, puts $4.7 trillion in global consumer sales at risk.


(Source: callcentrehelper)
The primary goal of most call centers is to provide excellent customer service. This First Call Resolution (FCR) blog is a comprehensive guide for defining, tracking, estimating, benchmarking and enhancing FCR to improve customer retention and the quality of your call center customer service.
Read on to understand first call resolution, quantify it, and follow best practices for optimal customer experience.
What is First Call Resolution (FCR)?
First call resolution is an important metric and component of customer relationship management (CRM). For example, when a customer service representative resolves a customer's needs on the first call. Doing this means the customer isn't required to contact the company again.
A call center's or contact center's talk time is one of their key performance metrics. Low talk time averages are usually desirable, but low talk time averages coupled with poor FCR rates suggest that customers aren't getting the help they need. The SQM study indicates that FCR increases customer acceptance of cross-selling products and services by 20%.
Following up on customer calls is one of the critical things call center managers monitor. Since after-sale calls indicate dissatisfaction, they increase call volume and require more customer service agents. Call center managers will accept more talk time once first call resolution rates increase.
Similar to first contact resolution, first call resolution encompasses all communication channels, including chat, texts, emails, social media, and other avenues of support.
First call resolution (FCR) helps determine your call center's ability to resolve customer issues in their first call. A higher FCR rate means that most of your customers are satisfied. As a result, you will increase customer satisfaction, repeat purchases, and cost savings (because of no-repeat calls).
Why is a First Call Resolution Rate Important?
A company's first call resolution can provide insight into improving its CX strategy and how responsive they are to its customers and their operating costs. In addition, FCR drives other customer service metrics, such as customer satisfaction (CSAT), customer effort, customer interactions, and average spending.
When companies focus on improving FCR rates, they often find that improving FCR leads to improved service speed and quality. In addition, first-call resolution helps organizations meet customer expectations.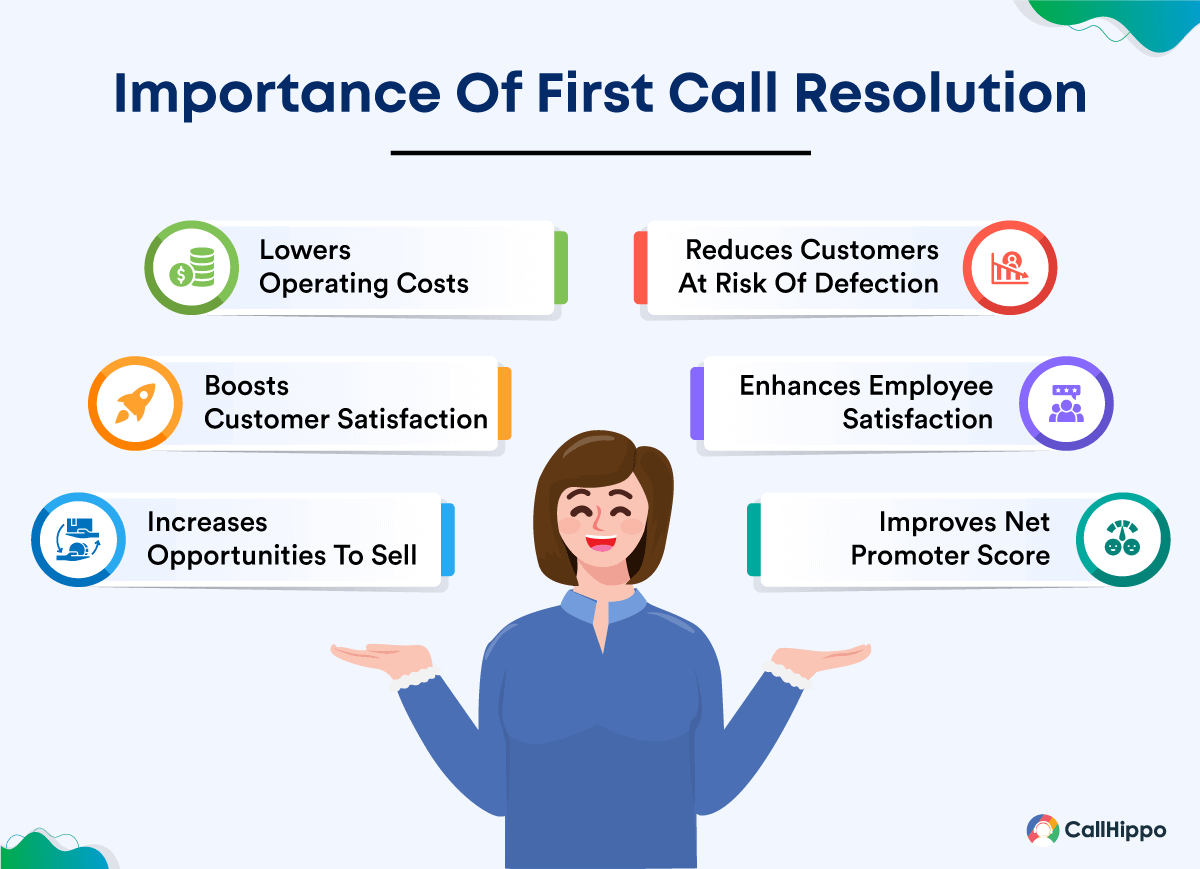 First Call Resolution provides the highest level of effectiveness and efficiency insights among all call center metrics, as well as the most positive impact areas when the FCR rate increases:
Lowers operating costs

Reduces customers at risk of defection

Boosts customer satisfaction

Enhances employee satisfaction

Increases opportunities to sell

Improves Net Promoter Score
As a general rule, FCR call center metrics provide organizations with information about where they are experiencing issues and where they can improve their processes.


(Source: superoffice)
First-call resolutions can improve a business's bottom line by improving metrics like FCR, which measure customer service. When operations are made more efficient, companies can reduce the cost of customer service.
The FCR measures how well a company provides service across all channels and first interactions with customers.
What is the First Contact Resolution Rate?
A first contact resolution rate (FCR) is a vital customer service metric that measures how many customer contacts are resolved on the first contact with the customer. For example, if support agents can fix a customer's issue on the first contact, neither the agent nor the customer needs to follow up.
How Does First Contact Resolution Rate Affect Customer Service?
First call resolution has an immediate impact on customer satisfaction. The higher the first contact rate, the higher the customer satisfaction. Resolving issues on the first call is one of the ways brands can deliver excellent customer service.
Keeping customers satisfied through stellar customer service will increase a company's profitability by recommending that company to their friends and family.
In addition, companies that keep their customers benefiting through stellar customer service increase the chance of retaining customers who endorse the brand.
How to calculate First Call Resolution Rate?
First call resolution rate = (Resolved incidents in first contact / Total incidents) x 100
For example, if you receive 100 calls in a day, out of which 70 got resolved in the first contact, then your FCR rate will be:
First call resolution rate = (70/100) x 100 = 70%


(Source: proprofschat)
The global industry benchmark for FCR(first call resolution) is between 70 and 75%. But, this doesn't mean you can't have a number higher than this. So, let's look at the top 10 ways to improve first-call resolution.
How to Improve First Call Resolution?
According to The Ascent Group, 60% of companies that measure first-contact resolution for one or more years report an improvement in performance by a 1 to 30% margin.
Read on if you want to improve first-contact resolution and enhance contact center efficiency and customer satisfaction.
To improve first-call resolution, you should evaluate current FCR, develop achievable goals, and create a plan. Then, after your program is in place, you should be attentive, measure performance, and track your results.
1. Set Program Goals
The first contact resolution steering committee should identify the goals and desired outcomes.
2. Train the Customer Support Team
Agent training is the most critical step toward improving FCR rate.
3. Track Performance
Ensure that you track performance to learn about improvement.
4. Measure on Multiple Channels
If you have a high FCR rate on phone calls but a low FCR on chats, that doesn't give you an excellent overall FCR rate. Be sure to measure the FCR across all channels.
5. Develop Incentive Programs
Companies with incentive programs encourage their agents to work harder and solve issues the first time.
6. Set Realistic Customer Expectations
Regular updates, backlog reports, and monitoring turnaround help customers set realistic expectations and improve overall customer interaction.
7. Implement a Customer Service Portal
Customer service teams benefit from a portal that allows them to track tickets, calls, and emails more efficiently than manually.
You May Also Read : 5 Ways to Improve Your Call Center Efficiency
Top 7 First Call Resolution Tips
1. Emphasize FCR Techniques in Training
Train your agents on how to resolve customer issues on the first contact from the initial days. Also, identify the representatives with the highest repeat call cases and conduct short coaching sessions to improve their FCR. 
2. Measure FCR on Multiple Channels
If you offer customer support across channels (e.g., phone, email, and chat), look at the whole picture. Define first-call resolution goals and strategies for each channel. You can't have a high FCR if you struggle to resolve the issue in any channel's first contact.


(Source: superoffice)
Update call logs automatically.

Show new information added to agents in real time.

Update all the integrated systems.

Has

call routing

options based on various characteristics, such as department, skill, knowledge, language spoken, demographics, and location?
3. Find Common Issues for Delayed Resolution
The customer service team cannot resolve specific issues in the first contact, such as products with physical assistance (AC, TV, etc.) or network outages for a phone and internet company. It will likely take a few calls until the technician visits and solves the issue. Identify such common problems and create strategies to increase the resolution speed. 
4. Minimize Call Transfers
Transferring a call from one agent to another can decrease customer satisfaction, cause the customer to hang up (if the wait time is high), and reduce FCR. You can minimize call transfers by giving your agents the power to:
Issue refunds and credits (up to a specific limit)

Remove shipping charges

Adjust billing cycles and timing

Remove late fees

Solve warranty-related issues

Apply promotional discounts
5. Promote Total Contact Ownership
When the agent who attended the initial call follows it from start to finish, it is called Total Contact Ownership. Instead of transferring calls, the agent collaborates with other personnel within the call center (e.g., senior agents, technical team, management, etc.) to solve the issue. This will increase the first call resolution rate and customer satisfaction. 
6. Ask for Agent Feedback to Improve FCR
Call Center Agents have a better knowledge of the reasons and what causes repeat calls. Conduct feedback sessions regularly to learn from agents about the most common issues your customers have and what's preventing them from resolving them in the first call are strategically beneficial steps.


(Source: freshdesk)
7. Leverage Automation and Self-Service Options
Configure your IVR (Interactive Voice Response) to provide basic information (like account information, business hours, etc.), create a knowledge base, and a training manual (with details about your product, solutions to common issues, troubleshooting tips, etc.) on your website. Your customer service team members can then redirect customers with minor problems to self-service options to increase FCR. 
First Call Resolution: Best Practices
You've computed your first-time call resolution rate and decided to improve it, but before we dive into the first call resolution best practices, let's discuss first-call resolution criteria. Before you can estimate anything, you need to define the following variables:
How do you define a repeat call?
How do you define an escalated call?
When it comes to the first-call resolution rate, do escalated calls count?
Does your first-call resolution rate account for customer errors (e.g., a caller contacting the wrong department or providing inaccurate information)?
When evaluating a call, what factors will you take into account?
You can implement best practices for first-call resolution once you have defined these parameters and measured your improvement.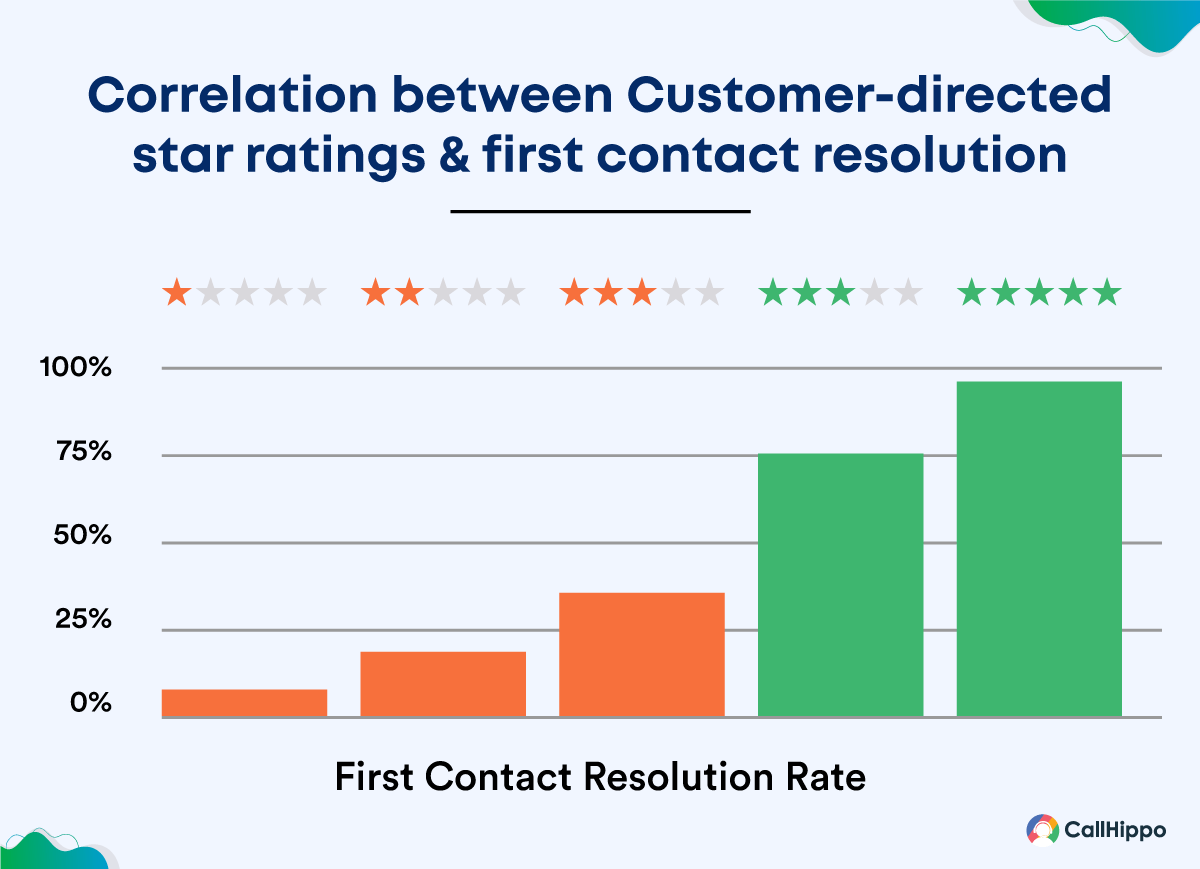 Provide Clear Instructions to the Customer.
The agent may be able to identify why the customer asked for assistance, and they can communicate what actions are necessary to resolve the problem. If the customer needs to do anything, your representative should walk them through the stages.
If your representative needs to perform any action, they should let the customer know what it will affect and when the team will complete it.
Communicating with your customers and agents will help your business increase its FCR rate, so take your time and explain everything thoroughly.
In cases where an issue is particularly complex, you can send additional documentation or even a video tutorial. Alternatively, a screen share or video call may be the best method.
You May Also Read : 4 Ways to Improve Call Center Occupancy Rate
Ask the Customer Questions & Repeat the Information.
You must actively listen to them to know what a customer needs and what's preventing them from getting it. Once you can identify what they want and what's preventing them from getting it, you can start looking for ways to help them immediately.
It helps you get additional details, clarifies misunderstandings, and ensures everyone is on the same page by asking questions and repeating information back to your customer.
End Calls by Offering Assistance if Needed.
No matter what other calls or emails you have to deal with, never rush to end an interaction with a customer. A simple "Is there anything else that I can assist you with today?" can do wonders for your FCR.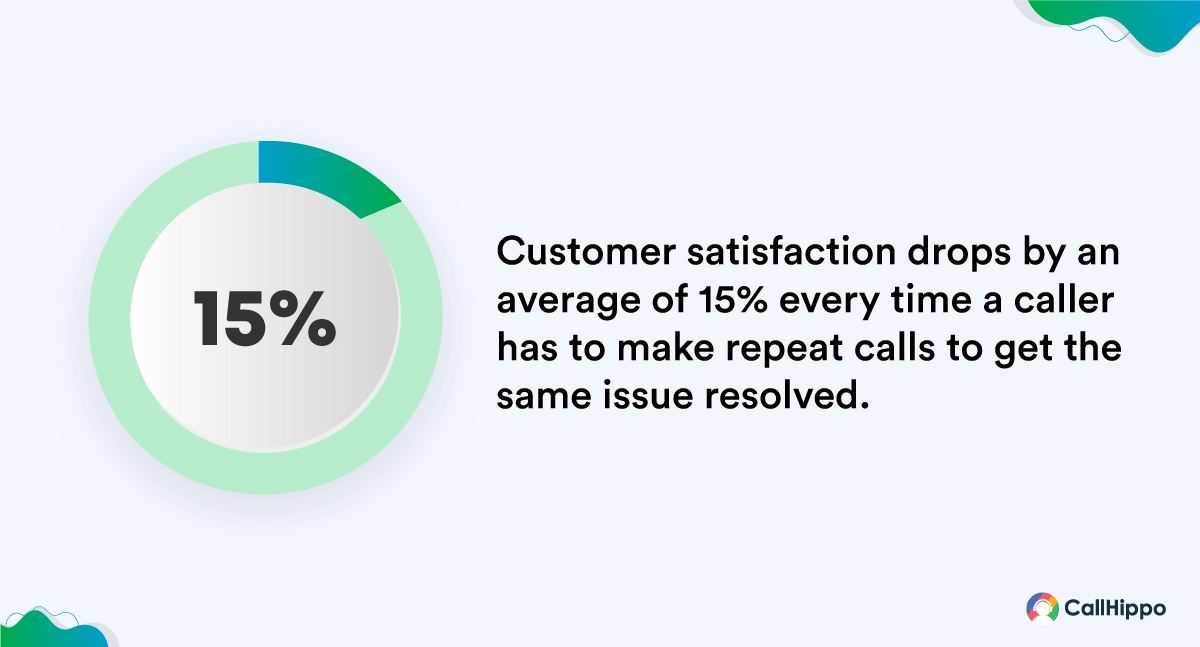 If you prompt your callers to do this, you will also be addressing possible issues before they become significant problems. In addition, when you do this, you will encourage the customer to share other friction points with your offerings and reduce the chances that the same person will call back with a related issue.
Use CRM System to Monitor Support Metrics
Customer Relationship Management (CRM) software gives agents access to current and historical client data, enabling them to deal with support requests effectively.
For example, agents can view information such as order statuses, past purchases, notes from other representatives, and even conversation histories across multiple channels.
Agents must have all the information they need when they pick up the phone, such as call abandonment rate, average daily call volume, number of customers calling in daily, number of transferred calls, average wait time, and response rate.
CRM systems like Salesforce and Zoho CRM also provide metrics like call abandonment rate, average daily call volume, and the number of customers calling in daily. Getting an accurate FCR rating is much easier since it provides a bird's eye view of all open and resolved customer support tickets.
Record and Review Support Interactions
Monitoring and recording support interactions across channels will provide critical insight when your current FCR is well below the benchmark for success.
In fact, by implementing additional call monitoring tools like call barge and call whisper, admins and department heads can give agents assistance and key information while they're on the phone.
Re-evaluate your Methods Regularly.
Determining the strengths and weaknesses of your customer service representatives is the first step in improving your business's first-call resolution rate. 
Review service calls, emails, chats, and more regularly to see where your agents excel, where they have room for advancement, and how they can improve your processes. Don't be afraid to ask customers about their experiences, including sound and bad, to learn firsthand.
Conclusion
Improving first contact resolution increases customer satisfaction and reduces call volume. Use the strategies and best practices mentioned in the article to enhance customer service and increase your first call resolution. Also, Check out the best call center software here.
The best practices above will improve your FCR, but the software you choose plays a significant role in providing exemplary customer service.
Using features such as CTI customer screen pops, advanced call routing options, IVR systems, and the number of available communication channels can significantly improve your FCR. You can also measure first call resolution more accurately with contact center solutions that provide the right analytics.
Did we miss any critical FCR strategy? What tactics do you use to increase FCR in your call center? Let us know in the comments. 
FAQs
What is the first call resolution meaning in a call center?
Call centers use First Call Resolution (FCR) to measure how quickly they resolve customer issues on the first call, eliminating the need for follow-up calls. The FCR metric is essential for monitoring a call center's operating efficiency and customer service performance.
What is a reasonable first-call resolution rate?
Generally, a reasonable First Call Resolution rate is 74%, while an FCR of 90% or more is considered excellent. Conversely, an FCR of 40% or less indicates a severe problem with your customer service team, daily call volume, etc.
What is one call resolution?
One Call Resolution (OCR) metric evaluates how an organization resolves customer problems using only one point of contact. OCR metric uses stricter criteria than the FCR metric since it looks at all touchpoints (e.g., call center, website) involved in the problem-solving process.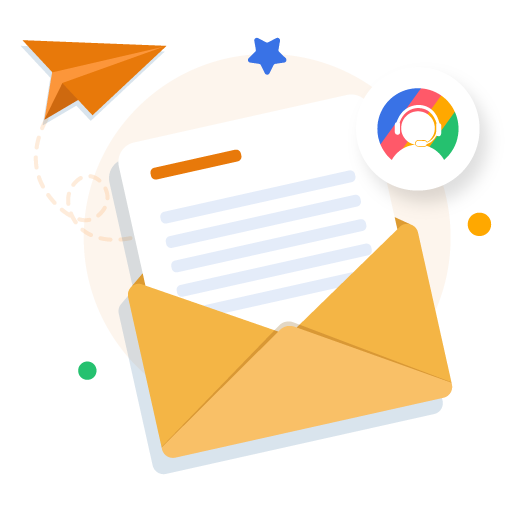 Let's Stay in Touch
Subscribe to our newsletter & never miss our latest news and promotions.

+21K people have already subscribed