Date: August 23, 2023
When running a customer support team, call routing is usually the last thing that comes to mind. However, when the call volume increases, your agents will have a hard time managing them, especially if you have not set up call routing. 
Call routing helps find the right support representative for each call, thereby preventing customers from hitting a dead end or, worse, talk to the wrong people. 
If you are not sure what call routing is, how it works, or how it can benefit your business, don't worry, we will discuss everything in detail today. Let's get started. 
What is Call Routing?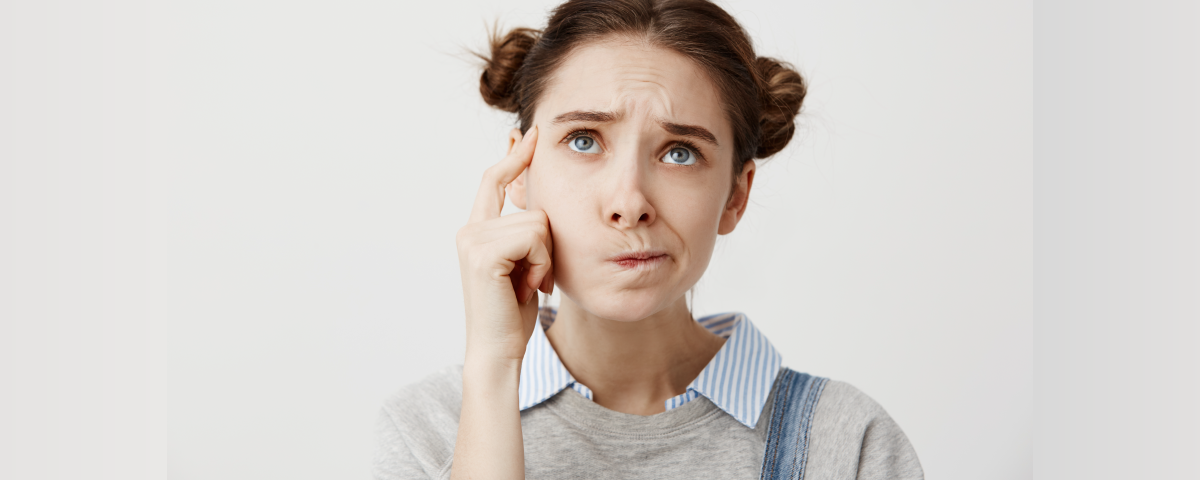 Call routing is a feature in business phone systems that allows you to automatically direct incoming business calls to individual agents based on predefined criteria (set by you). 
Call routing ensures that people can always reach the right person or department without dialling a separate phone number. This helps improve customer satisfaction and first call resolution (FCR). 
How Does Call Routing Work?
There are several ways a business phone system can route incoming calls. When a customer calls your company, your cloud-based phone system presents them with an IVR (Interactive Voice Response) or an auto-attendant. The customer then chooses the most relevant option as per their problem, and the call router transfers the phone to the right team (or agent).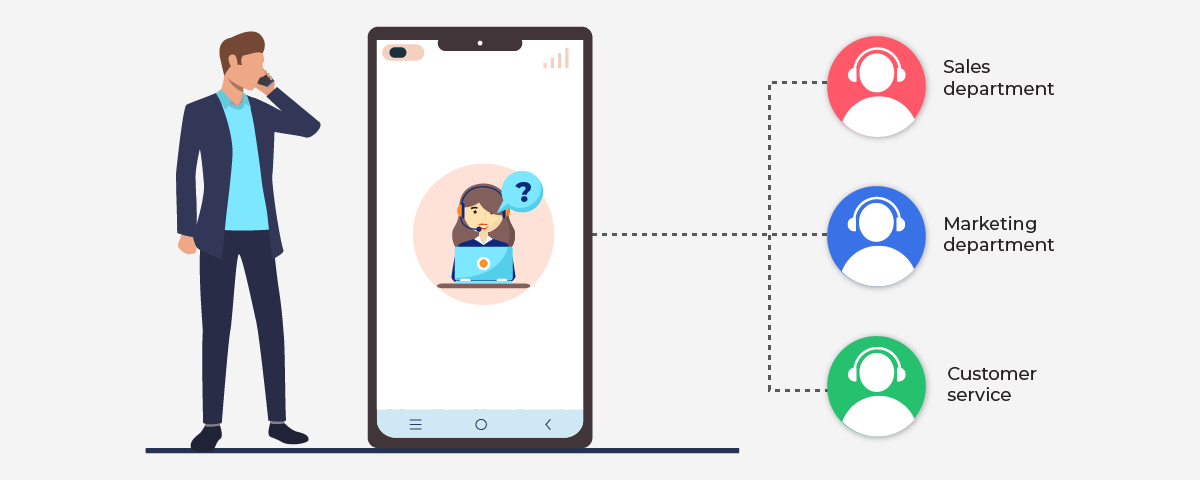 Here are some of the rules (or criteria) that you can set up to route calls:
Auto-attendant selections:

What does the caller select from the menu? Do they have a problem with your product? Or just want some information? Redirect the call accordingly.

Caller ID:

Use the caller ID to determine the customers' previous interaction with your business. Check the products they have bought from you and redirect the call accordingly. 

Agent skill:

Direct the call based on who your system thinks is best suited to handle the call. 
Pro-tip: Business phone systems like CallHippo offer skill-based call routing.
Priority-based routing:

Direct the calls based on the priority of the caller (for instance, how valuable the customer is to your business). 

Time of the day: Use this if your support team and customers are in different time zones. 
Let's understand how call routing works with an example. 
Suppose you want to add your spouse to your health policy. You call the toll-free number of your insurer. 
The phone system presents several options for you: buy a new policy, renew your policy, or make a claim. All you have to do is press a number to connect to an agent.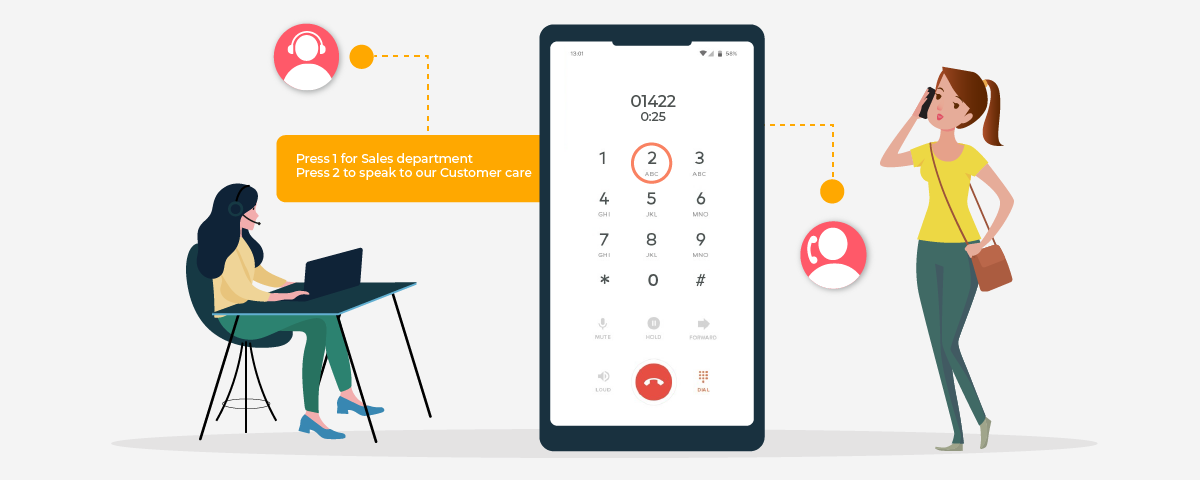 The company's phone system already knows that you are an active customer of the insurer. When you choose the first option (buy a new policy), you will be redirected to the team that handles queries related to buying policies (an add-on to your existing policy is also considered as buying a new one), instead of general customer care. 
Behind the scenes, the call routing feature identifies you and seamlessly directs you to the person most qualified to solve your queries. 
What if the company hasn't set up call routing? You will be asked to share your requirements, and then the agent will say, "Oh, sorry, sir, but that's not my department. I will have to redirect your call to the relevant agent." And you will have to repeat everything. Would you like that? Well, I won't! 
A Real-Life Call Routing Example 
When you dial emergency services such as 911, your call is routed to the nearest emergency call center based on your location. This phone call routing system ensures that emergency calls are handled as quickly and efficiently as possible, as sometimes it can be a matter of life and death.
The call routing system used by emergency services involves a network of call centers and dispatchers who work together to route calls to the appropriate first responders. It uses GPS to identify the caller's location and factors like the type of emergency and the availability of resources in the area.
How Can Call Routing Benefit Your Business?
Call routing is not just another feature offered by business phone system providers. It has lots of benefits for businesses of every size. Here are the top benefits of call routing for your company. 
Reduces wait time

Decreases call abandonment rate

Minimizes voicemails and missed calls

Ensures 24/7 communication

Improve customer service

Ensures faster resolution

Boosts the potential for increased sales revenue

More balanced employee workload

Offers better customer self-service

Helps prioritize VIP clients
Different Types of Call Routing
As mentioned above, there are several ways to route calls. There are also different types of call routing that cater to various business needs. 
Here are the different types of call routing that you can consider:
1- Round-Robin
Round-robin ensures that all the incoming calls are distributed equally amongst your team. 
For example, if you have three agents in your team, the first call will be directed to the first agent, the second call to the second one, and the third call to the third one. The fourth call will then go to the first agent, and the loop will continue. 
2- Regular
The regular call routing requires a specific order to route the calls to your team. It usually routes calls in chronological order. 
For example, suppose you have three agents in your team, and the first and second agents are already occupied. The call will then be redirected to the third agent. 
3- Uniform
In this type of call routing, the call is forwarded to the agent who has been available for the longest time. This ensures all your agents spend near-equal time attending to customers. 
For example, suppose you have three agents in your team, and all of them are available. The first agent took a call 10 minutes ago, the second one received a call 28 minutes ago, while the third one 21 minutes ago. The next call would be routed to the second agent. 
4- Simultaneous
This type of call routing rings multiple agents' phones simultaneously. This type of call routing is ideal when you want to speed up customer service. 
For example, if you have three members in your team, all their phones will ring at the same time. The one who picks the call first will attend to the customer. 
5- Weighted
The last one: weighted call routing, allows you to set a ratio of calls routed to each agent. However, it should add up to 100%. Routing calls this way enables you to route maximum calls to the best performers.
For example, let's say you have three agents in your team, and 100 calls come in. The first agent has a 50% weighted distribution, the second one has 35%, and the third agent has 15%. The call routing feature will redirect 50 calls to the first agent, 35 calls to the second representative, and 15 calls to agent three. 
How to Set Up Call Routing?
You can set up call routing by using a virtual PBX system. It takes less than three minutes to upgrade to CallHippo (a business phone system made for modern companies). 
In addition to letting you manage incoming and outgoing calls over the internet via a user-friendly dashboard, CallHippo offers advanced features, such as: 
Smart switch

Call barging

On-hold music
Besides, with CallHippo, you can reduce your communication costs by as much as 60%. 
Wrapping Up
Call routing is an invaluable feature that can help you improve customer satisfaction and first call resolution. If your phone system provider does not offer call routing, it is time to upgrade it. 
Have you tried the call routing feature? Let us know what you think about call routing in the comments!
FAQs:
1. What is the difference between call forwarding and call routing?
The primary difference between call forwarding and call routing is that the former redirects an incoming call to another number. However, the latter determines how incoming calls should be handled based on pre-set criteria like the time of day, the caller's location, or the product they have bought.
2. How do you route calls to another phone?
Here's a step-by-step guide to implementing virtual call routing. 
Choose a phone call routing service or system: Choose a call routing system or service that can handle your requirements, like CallHippo.

Set up call routing rules: Use your call routing system to set up call routing strategies, such as forwarding calls to a specific phone number, department, or agent based on business hours.

Test the system: Analyze the call routing system to ensure that calls are routed correctly and that the system works as expected. This would involve making test calls from different phone numbers or locations.
WORDS THAT MAKE SENSE!
Read The Most Well Researched & Insightful Articles From CallHippo Team