Date: September 19, 2023
Customer satisfaction is one of the major pillars of a company's success. Consider employing a cloud contact center in your organization to improve customer experience on a single integrated platform.
Agent performance may suffer from switching between several apps and clumsy hardware. The productivity of call centers, however, changes significantly with current technologies. To deliver the best possible service, call center software equips workers with cutting-edge features like skills-based routing, call monitoring, and predictive dialers.
Let's talk about cloud contact centers, their benefits, and some of the top providers of cloud contact centers in our blog.
What Is A Cloud Contact Center?
A cloud contact center is the hub of an organization where all inbound and outbound customer communications are managed. It is housed on an Internet server, and interactions via voice, email, social media, and the web are now accessible from almost anywhere with cloud contact centers.

A cloud contact center is a solution developed to support businesses in streamlining and modernizing their call center operations. Its many features help business communication systems become more organized and efficient with the least investment.
Businesses can easily create solutions with their existing CRM and customer relationship management. Hence, we don't need to rebuild the present CRM system.
This solution offers advanced call-handling capabilities and simplifies communication with customers. The call routing feature allows companies to route calls intelligently to available agents.  With call routing, the agents can receive customer phone calls without leaving them waiting for a long time.
Cloud contact center solutions improve customer experience by greatly reducing call waiting time. Another feature is call recording, which helps companies record their calls.
Modern call centers are accessible with a mobile app. It makes them equipped and provides more efficient customer support. You can have an application once your app development cost estimation is done.

Expert Advice
" Choose the right Cloud Contact Center Software by considering scalability, integration, multi-channel support, analytics, security, user-friendliness, cost-effectiveness, vendor reputation, trial options, and available support/training. Prioritize features that align with your business needs and budget for a seamless customer service experience."
What is an omnichannel cloud contact center?
An omnichannel cloud contact center is a consumer service function that employs hosted cloud contact center software to handle consumer interactions through different channels, allowing users to switch through contact channels.
These channels may include key features like phone calls, chat, email, text messages (SMS), and social media.
Customers do not prefer a linear path when connecting with a business. It means they can use the mobile app, email, and phone calls to customer service during a single transaction.
They wish for constant experience on all customer service channels and for transaction records to be accessible at all touchpoints. These requirements are met through an omnichannel contact center.
For example, a user might start an online chat session because they are having a problem with an order. After some time, they think talking to somebody would be a more compelling way to clarify their issue. The customer can chat with an agent in an omnichannel cloud-based contact center.
Agents can instantly enhance their phone chat and proactive contact. Chat interactions still work, so the entire customer context is there. For instance, if consumers want to switch channels, they need to leave or hold a conversation.
Now they need to make calls from their mobile phones. The phone agent will be able to transcribe the chat interactions.
Moreover, an omnichannel cloud contact center contains complex information to manage. Agents must be able to organize contacts from multiple channels, sometimes simultaneously, and facilitate smooth customer satisfaction and customer experience.
Organizations willing to convert traditional call centers to omnichannel cloud contact centers will be more successful in meeting customer expectations. That's important in today's experiential economy.
You May Also Read : Omnichannel Contact Center: A Comprehensive Guide
Benefits of Cloud Contact Center Solution

1. Easy to install and activate
Often, installing hardware in a call center requires a lot of work. Some complex hardware can force owners to obtain a license. The cloud contact center solutions help to overcome all of this. Most cloud-based contact center solutions are very easy to set up and use in the call center.
The call center software offers a smart plug-and-play solution that integrates your existing CRM with cloud-based software. This takes all the data and helps the operator to provide the caller with a fast and accurate cloud telephony solution.
2. Easy on the pocket
Most typical call center setups require a significant computer and hardware investment. These major key features can easily be done using a cloud telephony solution.
Everything can be done using the cloud on existing devices. You don't need specialized personnel to assist you. This can save a lot of money.
3. It can be used from anywhere
Cloud telephony solution does not require an office setup. Most Cloud contact center providers also offer the facility to forward calls to an agent's mobile number.
They may still work using their mobile phones from anywhere in the world. These data centers help gain the clients' trust with constant and consistent assistance.
4. Provides insights into agent performance
This cloud-based software also helps to record conversations between agents and customers. This log can later be used to analyze agent performance and gain insights.
Recording can be used to train additional new center agents in case of default Recording may subject agents or customers to liability.
5. High-security
There is a high chance of data leakage in a call center with a physical storefront. It is difficult to have highly confidential information. But in a call center on the cloud, all data centers are encrypted in one place.
The cloud contact center solutions offer a secure and integrated space for storing confidential information. It is then in the hands of the company to share the information with whomever they deem appropriate. This simplifies and saves a lot of resources for the company.
13 Best Cloud Contact Center Providers:
Brand Name
Rating
Key Features
Pricing
CallHippo
Call forwarding
Call recording
Voicemail
Text messaging
Basic: $0
Bronze: $16 /month
Silver: $24 /month
Platinum: $40 /month
Twilio
Call transfer
Ticket management
Call recording
Number portability
Starts at $1 per active user
Vonage
AI virtual assistant
High-definition call quality
Unlimited calling and text messaging on all plans
Free video conferencing
Mobile: $14.99
Premium: $24.99
Advanced: $34.99
CloudTalk
- Call recording
Call queuing
IVR
Call transfer
Call monitoring
- CloudTalk Starter: $20 /month
CloudTalk Essential: $25 /month
CloudTalk Expert: $40 /month
Talkdesk
Omnichannel support
Advanced IVR
Real-time analytics
CX Cloud Essentials: $75 /month
CX Cloud Elevate: $95 /month
CX Cloud Elite: $125 /month
RingCentral
Business phone or toll-free numbers
Unlimited calling within the US and Canada
Business SMS
IVR
Core: $20
Advanced: $25
Ultra: $35
Genesys
Inbound call routing
Call analytics
Call scripts
Genesys Cloud CX 1: $75
Genesys Cloud CX 2: $110
Genesys Cloud CX 3: $140
Five9
Appointment Management
AI-based, automated call routing
Call Conferencing
Automatic Call Distribution
Intelligent virtual agent
Workforce optimization
Core: $149 monthly
Premium: $169 monthly
Optimum: $199 monthly
Ultimate: $229 monthly
8×8
Unlimited calling in the US and Canada
Auto attendant
Music on hold
Voicemail
Team messaging
Hot desking
Call queues
X2: $24
X4: $44
Many cloud contact center solutions are available in the market. We have churned out the top 10 cloud contact center work providers for you.

CallHippo is a leading player when it comes to cloud contact center solutions. With its cutting-edge technology, it empowers businesses to provide exceptional customer support as well as elevate their marketing efforts. This cloud-based contact center provider offers an array of innovative features that streamline communication and enhance customer satisfaction.
Key Features
Smart call forwarding

Global connect

Automatic call distribution

Gamification

Voice broadcast system

Interactive voice response (IVR)

Real-time analytics
Pros
Guaranteed CLI in 70+ countries.
Global virtual phone numbers for a broader reach.
Industry-leading call-connect rates.
Robust infrastructure with 99.99% system uptime.
Cons
Some users complained about issues with call quality.
The CallHippo mobile application can be further improved.
The provider needs to work on the UI to make it easier to navigate.
CallHippo Pricing
CallHippo offers three pricing options ranging from $16 to $40 per user per month. Additionally, they also provide add-ons to further enhance your business communication.

Twilio uses its Communications as a Service (CPaaS) platform with its contact center software. All channels are connected to a cloud contact central module, making it highly flexible.
Features
A/B testing
Compliance management
Device management
ROI tracking
Pros
Excellent API documentation
Easy to use
Seamless integration
Easy to set SMS interface within software
Cons
Technical glitches
Slow communication
Average customer service
Pricing
Twilio has sixteen pricing editions from $0 to $150. It offers a free trial

Vonage is a NASDAQ-traded US-based cloud call center platform. The cloud call center solutions offer a built-in CRM alongside omnichannel, AI, and agent management features. You can set up a Vonage contact center alongside and enjoy great extensibility through the CPaaS API. It is available in four plans.
Features
Knowledge base management
Unified communications
Multi-channel communication
Queue management
Pros
Seamless phone app
Easy integration
Suitable for all business types
Easy to use
Cons
Average customer service
Delay in getting updates
Lag in the user interface
Pricing
Vonage has three pricing plans.
Mobile: $19.99 per month
Premium: $29.99 per month
Advanced: $39.99 per month
It also offers a free trial.

Talkdesk was founded in Portugal. It is a US company that provides AI-powered contact center solutions. Cloud vendors integrate multi-channel capabilities, working together, and employee participation within each section. The Prices start at $75 per user per month.
Features
Automatic call distribution
Computer telephony integration
Real-time analytics
Telemarketing management
Sentiment analysis
Pros
Effective UI
Great customer service
Easy to use
User-friendly
Cons
Average reporting functionality
App freezes at times
No internal call transfer facility
Pricing
Talkdesk offers four pricing options.
CX Cloud Essentials: $75 per user/per month
CX Cloud Elevate: $95 per user/per month
CX Cloud Elite: $125 per user/per month
Experience Clouds: Please connect with the vendor for pricing

CloudTalk stands out among top cloud contact center providers with its comprehensive cloud contact center software. It offers a versatile suite of tools that enable businesses to manage customer interactions seamlessly. As a cloud-based contact center solution, CloudTalk is a preferred choice for enhancing customer support operations.
Key Features
Intelligent call routing

Call flow designer

Automated Call Distribution (ACD)

Real-time dashboards

Interactive Voice Response (IVR)

Skills-based routing
Pros
Versatile call routing for efficient call handling.
Multiple CRM integration options for seamless data syncing.
Detailed reporting tools for performance insights.
Easy setup and configuration.
Cons
Pricing can be steep for smaller businesses.
Some advanced features require higher-tier plans.
The learning curve is high for advanced customization.
CloudTalk Pricing
CloudTalk offers four pricing options, namely Starter, Essential, and Expert, costing $25, $30, and $50 per user per month, respectively. They also offer a custom plan for businesses with unique requirements.
You May Also Read : Call Center Technology: Top 5 Solutions & Key Benefits

RingCentral is a renowned name in cloud contact center software and is trusted by businesses worldwide. This cloud call center solution offers a powerful suite of communication and collaboration tools. It's an all-in-one cloud-based contact center provider, making it a top choice for businesses looking to enhance their customer service operations.
Key Features
Omnichannel routing

AI-enabled virtual agents

Campaign management

Speech and text analysis

Analytics and dashboards

Pre-built CRM integrations
Pros
Robust integrations enhance workflow efficiency.
Scalable for both small and large businesses.
AI-driven analytics offer deep insights.
Reliable 24/7 customer support.
Cons
Premium pricing may not fit all budgets.
Implementation can be complex for large enterprises.
Limited customization options for some features.
RingCentral Pricing
RingCentral offers multiple plans and pricing options for its cloud contact solutions. Visit its website to better understand each plan and its offerings.

LivePerson is quickly becoming a disruptive player in the contact center market. After building its name through conversational AI, LivePerson can harness its omnichannel capabilities with acquisitions. These integrate with a variety of CRM systems. There are also dedicated inbound and outbound solutions and computer telephony integration (CTI) modules that connect to Salesforce, Cisco, and others.
Features
AI/machine learning
Knowledge base management
Natural language processing
Social media integration
Website visitor tracking
Pros
Easy to use
Seamless user interface
Easy to track responses and give feedback
Integrated bots
Cons
Average customer service
Needs better email reporting
Slow at times
Pricing
Please connect with the vendor for pricing. It offers a free trial.

NICE is another public company that offers a wide variety of solutions for consumer engagement. NICE CXone is an end-to-end Cloud Contact Center management solution, which is one among them. It lets users map the entire customer journey and uses AI to deliver optimized CX at every touchpoint. It allows users to suggest in-depth customizations and integration with any system. Pricing for this solution was not disclosed.
Features
Customizable branding
Performance metrics
Timesheet management
IVR/voice recognition
Support ticket tracking
Pros
Great visibility of real time data
Coordinates scheduling and performance
Versatile live call monitoring
Seamless integration
Cons
Limited ways to receive calls
Average UI
Issues with dashboard
Pricing
Nice CXone pricing starts at $100 per month. It offers a free trial.

It is a French company that offers customer experience and contact center solutions within the cloud. Users can manage multi-channel services via voice, email, chat, social media, SMS messages, and video using Odigo. The vendor also provides core services for contact centers, such as call management, routing, and performance management tools that harness the power of advanced AI. Again, the price for this solution was not disclosed.
Features
Voicemail transcription
Configurable workflow
SIP trunking
Speech synthesis
Contextual guidance
Pros
Multiple integrations available
Manages cloud contact center flows
Fast deployment
Intuitive UX
Cons
Not user-friendly
Time-consuming to manage
Average customer service
Pricing
Please connect with the vendor for pricing.

Lifesize is a visual cloud call center provider that offers robust contact center solutions. It is a new supplier in this area. Recognized by Gartner in the 2021 CCaaS Magic Quadrant, cloud-based contact center offerings offer video capabilities alongside all traditional channels. An innovative employee engagement module also incorporates employee management quality management. In addition, Lifesize contact center solutions are available at custom pricing, and users can add virtual or physical conference room solutions.
Features
Microsoft Outlook integration
SSL security
Real time notifications
On-demand webcasting
Presentation streaming
Pros
Great quality of audio and video
Easy to use
User-friendly
Efficient screen sharing
Cons
Limited functions
No native app for Linux-based systems
Initialization after reboot takes time
Pricing
 Lifesize offers three pricing plans.
Lifesize Standard: $12.50/per month
Lifesize Plus: $14.95/per month
Lifesize Enterprise: Please connect with the vendor for pricing
It offers a free trial.

Genesys is a US-based provider of Cloud Contact Centers and customer experience tools. The product contains:
Cloud CX for cloud-based end-to-end contact center management
Multi-cloud CX for Hybrid Environments and Personalized Experiences
Genesys DX, an AI-powered platform for self-service design
It is a Contact center solution that integrates AI capabilities into voice bots. Genesys solutions are available in three plans with the option to expand UC capabilities.
Features
Archiving and retention
Customer journey mapping
Employee coaching tools
On-demand recording
Website visitor tracking
Pros
Easy to use
Seamless integration
User-friendly interface
Great security features
Cons
Limited email channel functionality
Lag issues
Average technical support
Pricing
Genesys Cloud CX has three pricing plans.
Genesys cloud CX 1: $75 per month
Genesys cloud CX 2: $110 per month
Genesys cloud CX 3: $140 per month
It offers a free trial.

Like 8×8, Five9 is also a NASDAQ-listed company and offers a Cloud Contact Center platform management and contact center platform. The company's solutions cover digital automation, employee engagement, and customer engagement tools. Users can deploy each of these as an individual solution or as an integrated solution. Five9 offers more than 130 integrations to enable extensibility. There are four tiers to choose from Core, Premium, Optimal, and Ultimate.
Features
Blended call center
Integrations management
Social media integration
Workforce management
Survey/poll management
Pros
Easy to expand
Intuitive UI
Flexible and scalable
Easy to use
Cons
Average customer service
Takes time to start
Limited integrations
Pricing
Five9 offers four pricing plans.
Core: $149 per month
Premium: $169 per month
Optimum: $199 per month
Ultimate: $229 per month
You May Also Read : 13 Best Cloud Phone Systems for UK Businesses in 2023

8×8 is a multinational contact center technology and VoIP provider traded on the New York Stock Exchange. The company's flagship product is an 8×8 experienced customer communications platform that covers telephony channels, messaging, video, and chat, both inbound and outbound. There is also team collaboration, a business phone system, and a video conferencing system. It doubles as a UC tool. The top-end solution costs $133 per user per month.
Features
Activity tracking
Fax management
Queue management
Voicemail transcription
Pros
User-friendly
Seamless integration between VoIP handsets and mobile
Simple to navigate
Easy administrative access
Cons
Average customer support
Limited UCaaS features
Difficulty to port numbers
Pricing
8X8 has five pricing plans.
X2: $24 per month
X4: $44 per month
X6: $85 per month
X7: $110 per month
X8: $140 per month
It offers a free trial.
Final Thoughts
It's 2023, and numerous innovative players are on the list of cloud contact centers. Some of the essential features that every cloud call center provider must have include interactive voice response (IVR), automated call distribution (ACD), and workforce management (WFM) tools.
Additionally, it's important to consider how vendors integrate  AI technology to improve contact center efficiency. Technological advancements offer many exciting opportunities to enhance your contact center's performance. So, hop on the journey and contact the cloud contact center that meets your needs.
Explore Our Video : Call Center Phone System
FAQs:                          
1. Difference between a cloud contact center and a traditional contact center
The traditional contact centers typically include agents handling omnichannel customer support, including call, email, chat, voice-over IP (VoIP), and website support. It is more than managing calls to reach customers on the channels they want.
The cloud-based contact center is a central point in the organization hosted over an internet server; this is where all outbound and inbound customer communications are managed. Cloud-based contact centers make customer interactions via voice, email, social media, and the web can be accessed from anywhere.
2. What are the 4 elements of a Contact Center?
Emphasis on telephone communication on the route
Capacity for email and text communications
Cutting-Edge Technologies: Hardware, Software, and Security
Tech-savvy IT personnel and customer-friendly representatives
Data Tracking, Reporting, and Performance Monitoring
The above are the most elements of the cloud-based contact center which are mostly used in interactive voice response
3. How do I set up a cloud call center?
The entire call or contact center solution setup is done online and takes only a few minutes to complete. You can register online or call the support team to set up a call center solution for your business.
4. How much does a virtual call center cost?
Buying virtual contact center software is not as expensive as you might think. Regarding virtual call center software costs, several important factors are involved in determining the final cost. It depends on the carrier and the additional cost. The cost of a one-month membership can range from $20 to $150.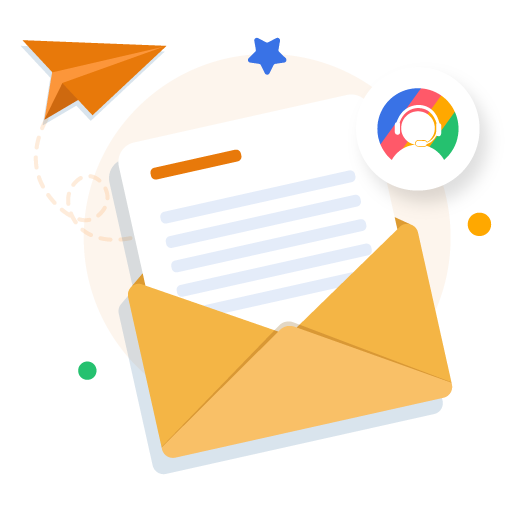 Let's Stay in Touch
Subscribe to our newsletter & never miss our latest news and promotions.

+21K people have already subscribed