Top Most VoIP Provider For Business in 2022
Sign up now with CallHippo to get the best in class VoIP phone system that enables you to handle all business-related calls easily.
Best VoIP Provider for 50+ Countries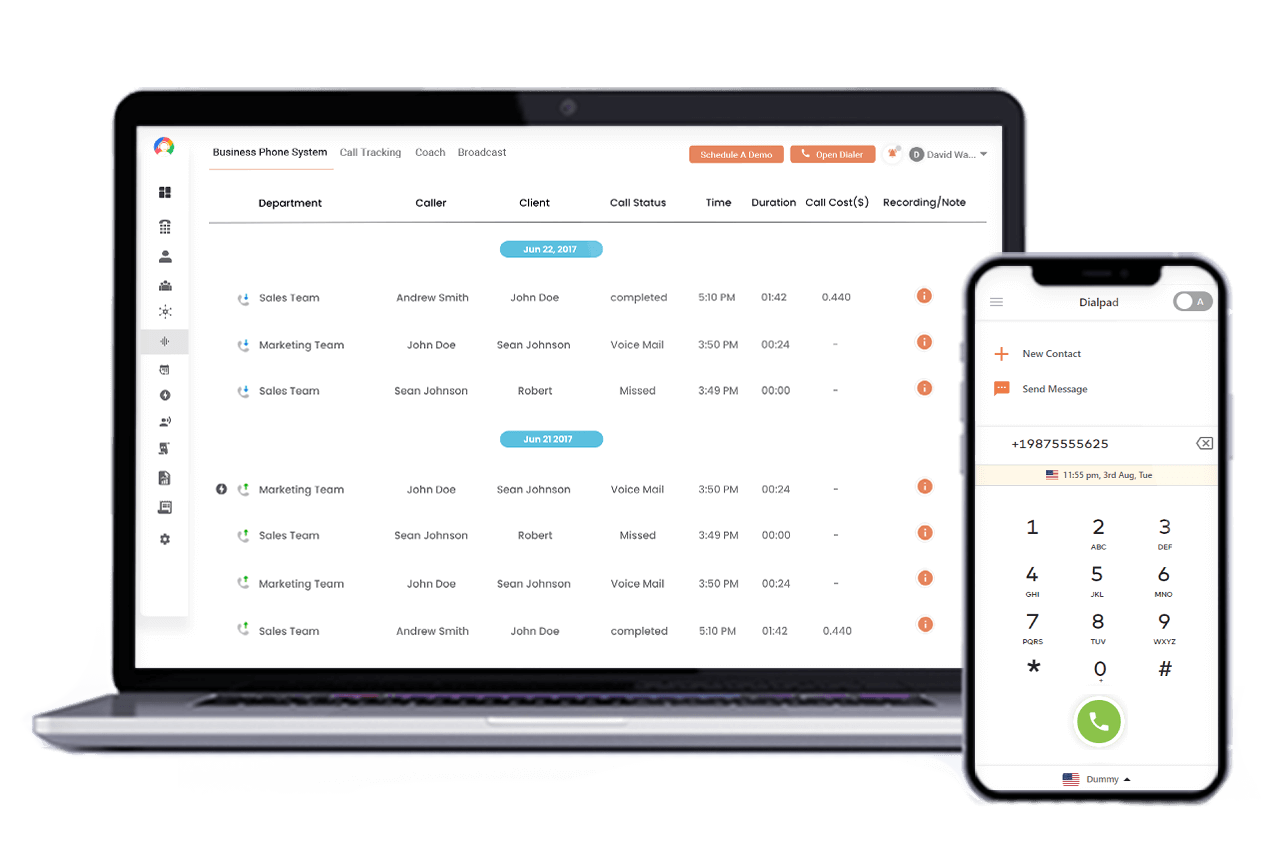 What Is VoIP?
VoIP refers to the technology people use to make voice calls over IP networks in real-time. It allows digital voice data to travel across different networks. This enables computer networks to operate similar to traditional networks and be used as a regular landline.
Why Should Businesses Choose VoIP Over Landlines?
Cost Reduction
VoIP calls are much cheaper than landline services that offer plans for making international calls. Moreover, the software and hardware required for setting up VoIP come at a lower cost than traditional systems. With VoIP, business owners can make 40% cost reductions on local calls and up to 90% on international calls.
Easy to Set Up
A VoIP system needs an internet connection, calling device, and the VoIP software to work. Setting up the system is easy, with zero to little downtime on the company network.
Mobility
VoIP services are not limited to a specific location. They allow users to use their mobiles as an extension of their office phones. This makes it an excellent option for companies with remote employees.
Offers Advanced Tools
VoIP offers a wide range of features such as call recording, call analytics, and noise cancellation options.
Streamlined Solutions
With VoIP, companies can buy fixed plans for calling and make their financial management easier. Moreover, they can also choose to have one supplier for data and voice, and enjoy greater efficiency in work processes.
Integration with Third Party Softwares
A virtual phone system easily integrates with communication tools like CRM software, predictive dialer, and so on.
Why Is CallHippo The Best VoIP Provider For Businesses?
There are several reasons that make CallHippo a best VoIP service provider for any business type. Here are a few features that make it stand out:
Designed For All Business Types
CallHippo helps businesses of all sizes and types improve communication with features like toll-free numbers, call routing, IVR, personalized greetings, voicemail, and analytics. In addition, it offers flexible plans and easy integration, which boosts team efficiency while reducing workload and costs.
Simple Setup
CallHippo lets you set up your VoIP system in minutes. It allows you to take calls on the move with dedicated iOS and Android apps. You can configure your phone system as per your requirement and reap the benefits of VoIP devices from any location and device.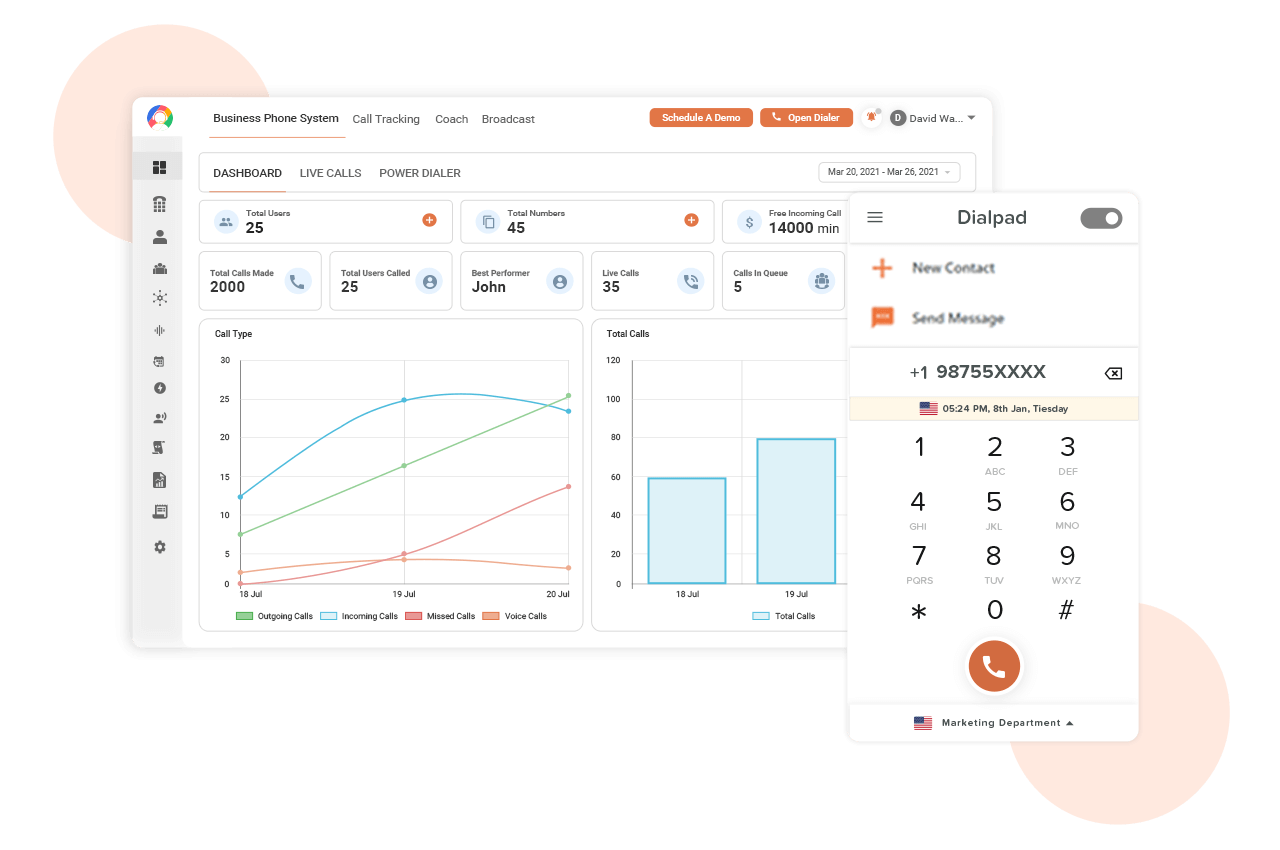 Robust Support & Assistance
CallHippo has a dedicated 24×7 support team that assists you via multiple channels for quick resolutions. Additionally, it offers several resources to help your team learn faster and make the best use of the solution.
Less Hardware & Enhanced Mobility
CallHippo requires minimal hardware and works on all digital devices. Hence you can stop relying on traditional phone systems and enjoy greater mobility as your team works remotely. CallHippo also lets you manage and monitor your team from anywhere and offers rich insights that help you boost team productivity.
Easy Integrations
CallHippo integrates seamlessly with other 3rd party applications to simplify your tasks and save time. Be it communication tools, CRM solutions, or predictive dialer applications, CallHippo ensures that all your business tools work seamlessly with each other.
Comprehensive Plans
CallHippo allows you to leverage several feature-packed plans that take your business to new heights. Our affordable plans are created to cater to the diverse needs of companies and can be customized to suit your unique requirements.
Tips to Recognize the Right VoIP Provider
1. Ensure Reliability
Organizations must ensure that the VoIP Phone Provider they choose are worth trusting. Since VoIP transmits data through the internet, it makes the said data susceptible to interception or breach during transmission.
Top VoIP providers use a high-level of encryption to protect their clients against data breaches.
Moreover, they also have multiple data centers set up in different locations. Having servers in multiple data centers ensures that even if a server fails, another server can take over in real-time. Similarly, if a data center goes down, another data center can take over the service with no disruption.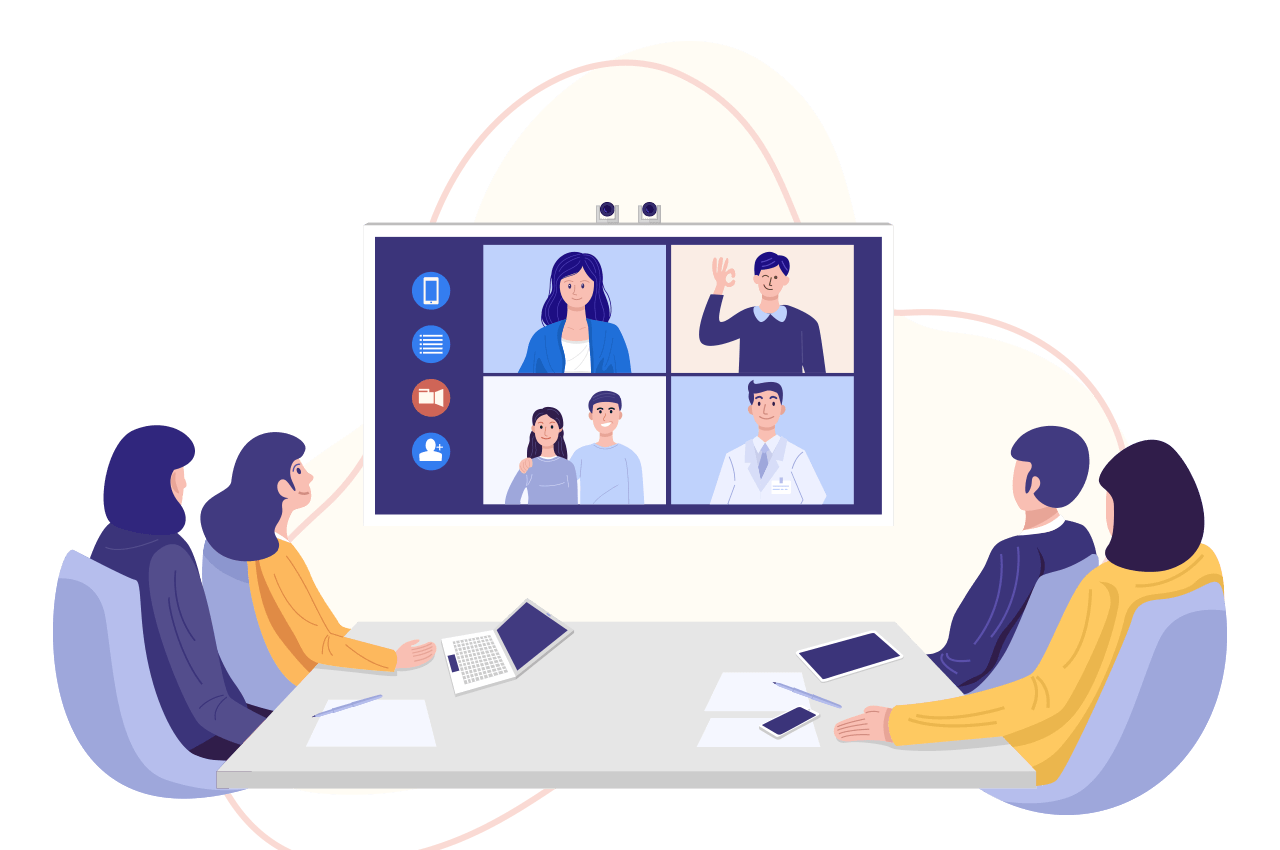 2. Read Reviews
Organizations can also choose providers that are trusted by big brands. Top companies do their due diligence and ensure that they get a good investment return before hiring a VoIP service provider.
3. Check the VoIP Plans
While some of the lower-priced VoIP providers offering services may seem attractive, their reliability and security are questionable. Pricing should not be the first factor when it comes to picking up a VoIP provider. The top providers will charge more for their service but will give you quality results and top-notch security.
Set up your business phone system in a breeze
Schedule a free product consultation call
Frequently Asked Questions
Can a normal phone be used for VoIP?
YES! You can very much use a regular phone for VoIP, but only with the right tools and technologies. Remember that one of the VoIP essentials is the internet. This means that you can make VoIP calls from a standard landline phone using a computer and an application like Skype.
However, to connect a landline phone and a computer, you will certainly require a VoIP adapter. Then, using an ethernet connection, plug the VoIP adapter to a wireless router or cable modem and enter the IP address on the VOIP adapter. Next, follow the instructions in the manual to configure the VoIP adapter. Once done, plug in your regular phone and begin enjoying VoIP service! However, ensure that you have a stable internet connection as well.
What is a VoIP service provider?
VoIP providers are companies or entities that provide VoIP services to individuals or enterprises. The primary function of VoIP providers is to provide businesses with a platform for VoIP phone systems to assist them in streamlining and automating their customer communication process. Additionally, each VoIP provider offers a unique set of features and pricing plans to meet the diverse demands of businesses.
When looking for the best VoIP provider, consider several elements like support, security, call management, mobile apps, third-party integration, affordable pricing, and so on. In the end, choose a VoIP provider that offers the majority of these features, such as CallHippo.
How do I set up a VoIP phone system at home?
Setting up a VoIP phone at home or the workplace is a simple 7-step process.
First, assess the quality of your internet connection. The internet speed and uptime must be optimal.
Choose and invest in the appropriate VoIP hardware to meet your needs.
Choose the best VoIP service provider, such as CallHippo, that provides numerous features at an affordable price.
Select a VoIP phone number.
Complete the installation process.
Perform some trial calls to test call quality and other matrices.
To ensure maximum performance, hire trained personnel or train your existing staff to run the VoIP phone system.
Who is the best VoIP provider?
As a matter of fact, there can not be one best VoIP provider. Every VoIP-based communications solution has a different USP, and while each one of them might be very attractive, only some of them would fit your business right.
The goal is to find the right fit from the sea of VoIP solutions. So, go ahead and evaluate your business needs and budget first. The next step is to research and dig deeper amongst various VoIP providers.
Some VoIP providers for enterprises might have solutions that benefit your business at a different level. In contrast, VoIP providers for small businesses might be more cost-effective and have solutions that cater to small teams better.
How does a VoIP phone work?
Simply put, VoIP is a system that uses the internet to make and receive calls.
To communicate with other devices via calls, every device needs to connect with a VoIP service provider.
The service provider further leverages a series of cloud connections to connect one VoIP device to another. However, they can also route calls between a landline and a cell phone. So there is no compatibility issue.
To sum it up, all you need is a smart device, a decent internet connection, and a reliable VoIP service provider for VoIP to work.