The Best VoIP Providers For Business
Sign up now with CallHippo to get the best in class VoIP phone system that enables you to handle all business-related calls easily.
VoIP Provider for 50+ Countries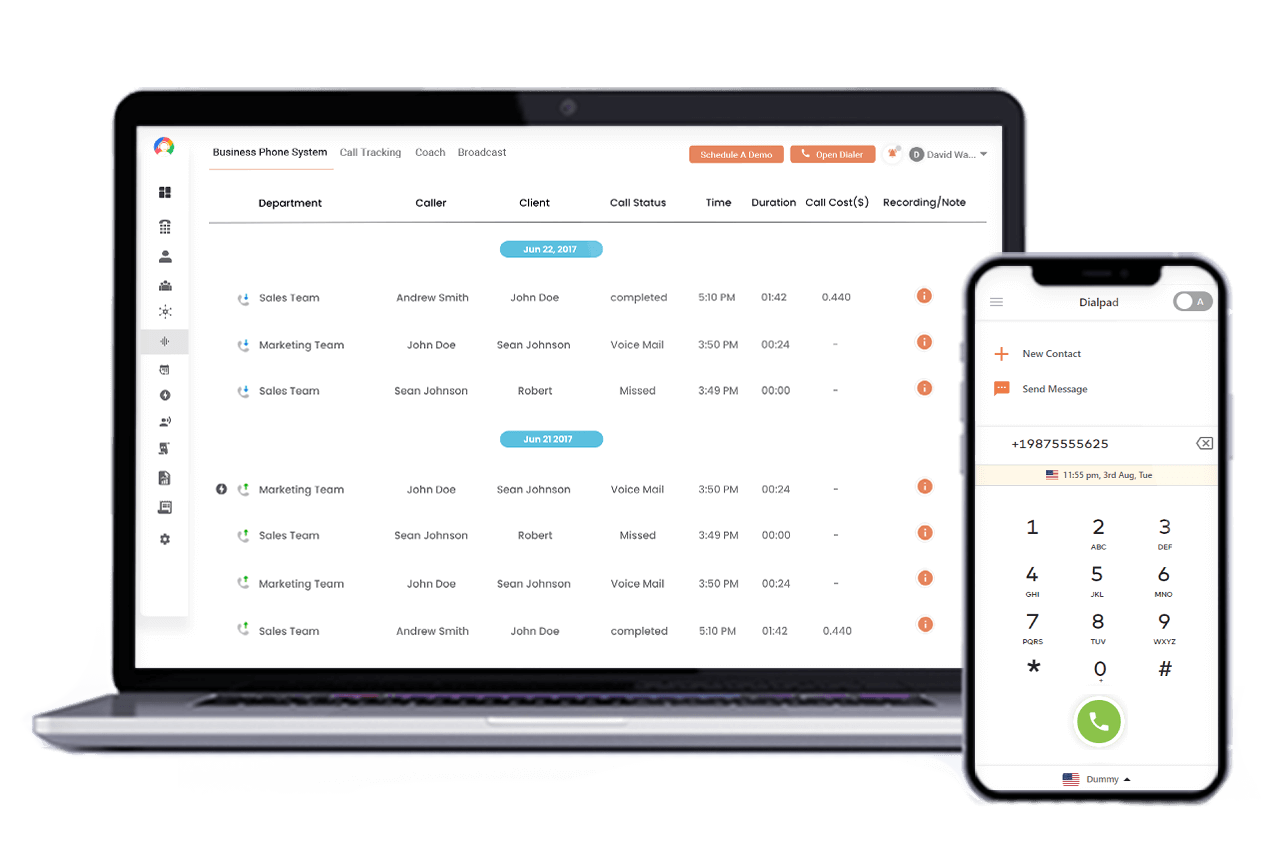 What Is VoIP?
VoIP refers to the technology people use to make voice calls over IP networks in real-time. It allows digital voice data to travel across different networks. This enables computer networks to operate similar to traditional networks and be used as a regular landline.
What Is A VoIP Service Provider?
VoIP providers are companies or entities that offer VoIP services to businesses or individuals. The primary function of VoIP providers is to provide businesses with a platform for VoIP phone systems in order to help them streamline and automate their customer communication process.
Moreover, each VoIP provides a distinct collection of features and price plans to accommodate the diverse needs of call centers or other businesses.
So that's it–the fundamental function of a VoIP service provider. However, in order to choose the best VoIP service providers, there are certain factors that you must consider, as detailed in the next section.
5 Factors To Consider When Choosing The Best VoIP Providers
As one might expect, there are multiple VoIP service providers that design and sell VoIP phone systems. Moreover, each has its own unique set of features and pricing plans. This indicates that when you decide to set up your own customer support center, it is necessary that you choose only the top VoIP phone provider. The following are some tips for choosing the best VoIP providers.
A ) Consider Your Company's Requirements
First and foremost, evaluate your company's requirements and find why you need a VoIP phone system in the first place. Because the system can be used for various purposes, understanding your requirements is essential to find the top VoIP provider that offers a perfect solution.
B ) Call Quality & Connectivity
When it comes to choosing the best VoIP providers, call quality and uptime are two of the most important factors to take into account. Ensure that the VoIP service provider you select has good call quality and high uptime so that your operation is not frequently disrupted and you can deliver uninterrupted service to your clients.
C ) Multi-Channel Support
Nowadays, customers often communicate via multiple channels, such as social networking platforms, phone calls, text messages, emails, and so on. For this reason, it is critical to pick the best VoIP providers that offer omnichannel support. This feature will help gather all of your customer interactions into a single platform and organize them.
D ) Analyze Pricing, Plans, and Call Rates
Examine the pricing plans and the call rates. For example, you've found the best VoIP providers having all of the necessary features and functionality. But what if their prices and plans are outrageously costly? We recommend that you go with it if it is up to 20% higher than your estimated budget; else, look for an alternative VoIP provider.
E ) Customer Service
Suppose the business VoIP service provider has all the features you require and offers affordable pricing plans, but its customer service is awful. Should you go with that service provider? We don't think so. Always pick a provider that offers continuous 24X7 customer support to ensure that your work does not disrupt.
So there you have it– the 5 most important factors to consider while selecting the best VoIP providers. Along with these 5 factors, you should also check whether the service supports third-party integration, or whether they provide training to your employees, and so on.
Why Should Businesses Choose VoIP Over Landlines?
Cost Reduction
VoIP calls are much cheaper than landline services that offer plans for making international business calls. Moreover, the software and hardware required for setting up VoIP come at a lower cost than traditional systems. With VoIP, business owners can make 40% cost reductions on local calls and up to 90% on international calls.
Easy to Set Up
A VoIP system needs an internet connection, calling device, and the VoIP software to work. Setting up the system is easy, with zero to little downtime on the company network.
Mobility
VoIP services are not limited to a specific location. They allow users to use their mobiles as an extension of their office phones. This makes it an excellent option for companies with remote employees.
Offers Advanced Tools
VoIP offers a wide range of features such as call recording, call analytics, and noise cancellation options.
Streamlined Solutions
With VoIP, companies can buy fixed plans for calling and make their financial management easier. Moreover, they can also choose to have one supplier for data and voice, and enjoy greater efficiency in work processes.
Integration with Third Party Softwares
A virtual phone system easily integrates with communication tools like CRM software, predictive dialer, and so on.
Why Is CallHippo The Best VoIP Provider For Businesses?
There are several reasons that make CallHippo a best VoIP service provider for any business type. Here are a few features that make it stand out:
Designed For All Business Types
CallHippo helps businesses of all sizes and types improve communication with features like toll-free numbers, call routing, IVR, personalized greetings, voicemail, and analytics. In addition, it offers flexible plans and easy integration, which boosts team efficiency while reducing workload and costs.
Simple Setup
CallHippo lets you set up your VoIP system in minutes. It allows you to take calls on the move with dedicated iOS and Android apps. You can configure your phone system as per your requirement and reap the benefits of VoIP devices from any location and device.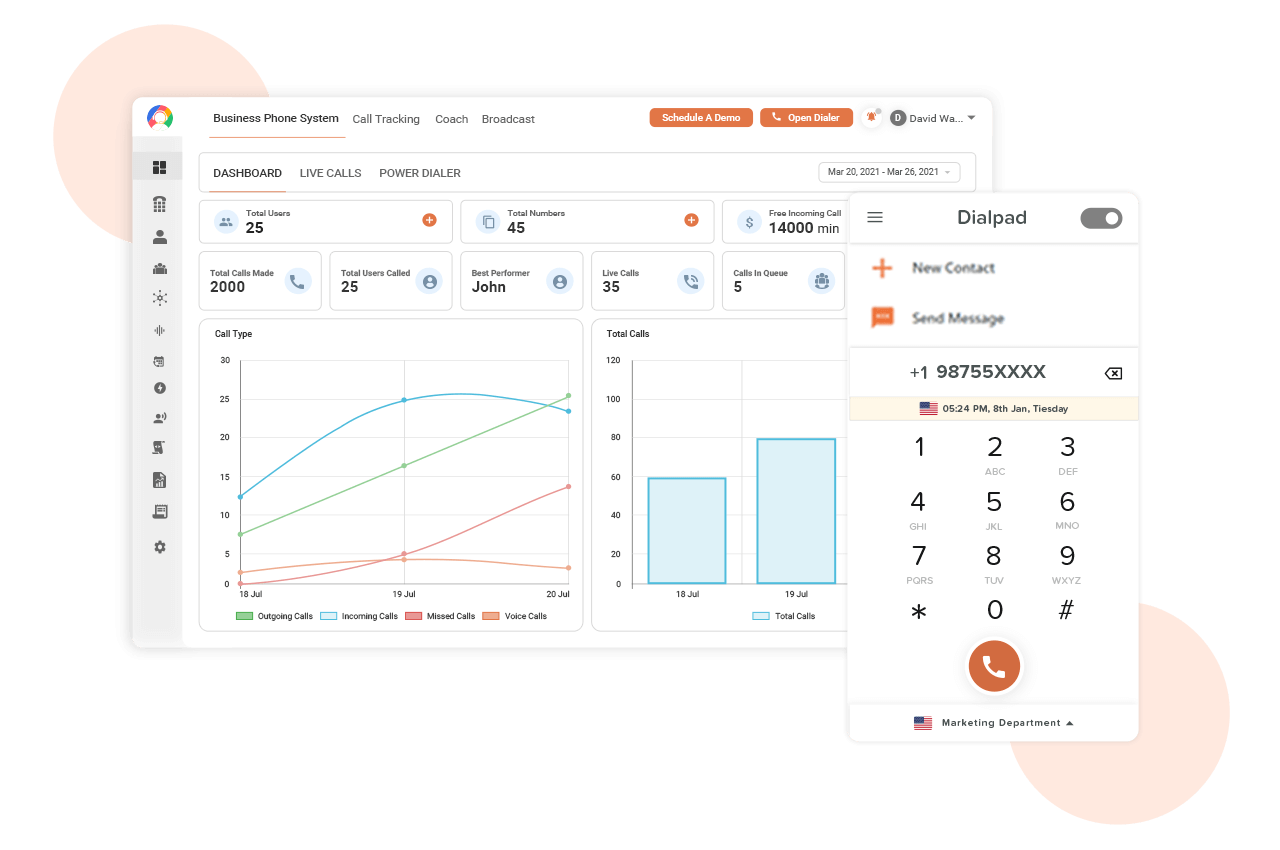 Robust Support & Assistance
CallHippo has a dedicated 24×7 support team that assists you via multiple channels for quick resolutions. Additionally, it offers several resources to help your team learn faster and make the best use of the solution.
Less Hardware & Enhanced Mobility
CallHippo requires minimal hardware and works on all digital devices. Hence you can stop relying on traditional phone systems and enjoy greater mobility as your team works remotely. CallHippo also lets you manage and monitor your team from anywhere and offers rich insights that help you boost team productivity.
Easy Integrations
CallHippo integrates seamlessly with other 3rd party applications to simplify your tasks and save time. Be it communication tools, CRM solutions, or predictive dialer applications, CallHippo ensures that all your business tools work seamlessly with each other.
Comprehensive Plans
CallHippo allows you to leverage several feature-packed plans that take your business to new heights. Our affordable plans are created to cater to the diverse needs of companies and can be customized to suit your unique requirements.
Tips to Recognize the Right VoIP Provider
1. Ensure Reliability
Organizations must ensure that the VoIP Phone Provider they choose are worth trusting. Since VoIP transmits data through the internet, it makes the said data susceptible to interception or breach during transmission.
Top VoIP providers use a high-level of encryption to protect their clients against data breaches.
Moreover, they also have multiple data centers set up in different locations. Having servers in multiple data centers ensures that even if a server fails, another server can take over in real-time. Similarly, if a data center goes down, another data center can take over the service with no disruption.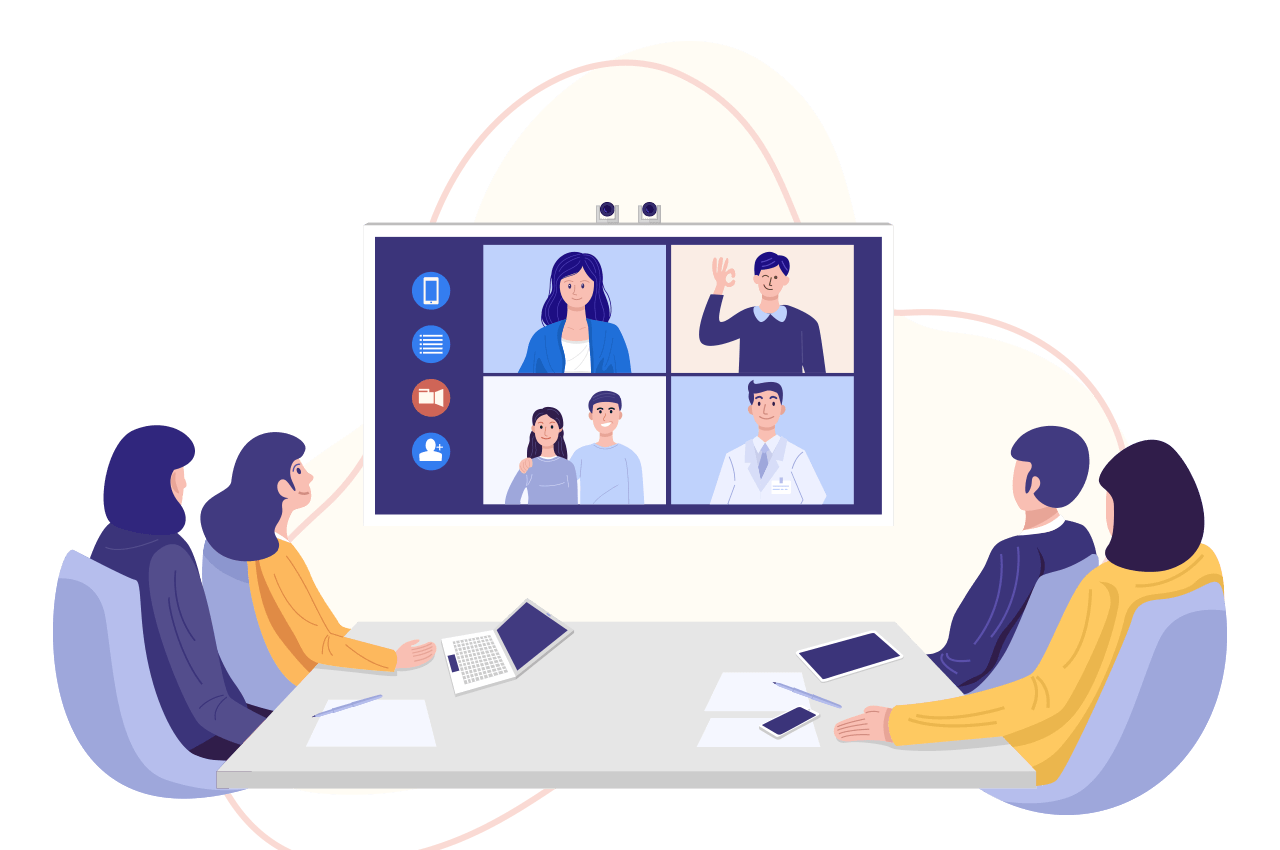 2. Read Reviews
Organizations can also choose providers that are trusted by big brands. Top companies do their due diligence and ensure that they get a good investment return before hiring a VoIP service provider.
3. Check the VoIP Plans
While some of the lower-priced VoIP phone providers offering services may seem attractive, their reliability and security are questionable. Pricing should not be the first factor when it comes to picking up a VoIP provider. The top providers will charge more for their service but will give you quality results and top-notch security.
Set up your business phone system in a breeze
Schedule a free product consultation call
Frequently Asked Questions
Can a normal phone be used for VoIP?
YES! You can very much use a regular phone for VoIP, but only with the right tools and technologies. Remember that one of the VoIP essentials is the internet. This means that you can make VoIP calls from a standard landline phone using a computer and an application like Skype.
However, to connect a landline phone and a computer, you will certainly require a VoIP adapter. Then, using an ethernet connection, plug the VoIP adapter to a wireless router or cable modem and enter the IP address on the VOIP adapter. Next, follow the instructions in the manual to configure the VoIP adapter. Once done, plug in your regular phone and begin enjoying business VoIP service! However, ensure that you have a stable internet connection as well.
How do I set up a VoIP phone system at home?
Setting up a VoIP phone at home or the workplace is a simple 7-step process.
First, assess the quality of your internet connection. The internet speed and uptime must be optimal.

Choose and invest in the appropriate VoIP hardware to meet your needs.

Choose the best business VoIP service provider, such as CallHippo, that provides numerous features at an affordable price.

Select a VoIP phone number.

Complete the installation process.

Perform some trial calls to test call quality and other matrices.

To ensure maximum performance, hire trained personnel or train your existing staff to run the VoIP phone system.
Who is the best VoIP provider?
Here are the best voip providers
Phone.com
CallHippo
ooma
RingCentral
8×8
How does a VoIP phone work?
Simply put, VoIP is a system that uses the internet to make and receive business calls.

To communicate with other devices via calls, every device needs to connect with a VoIP service provider.

The service provider further leverages a series of cloud connections to connect one VoIP device to another. However, they can also route calls between a landline and a cell phone. So there is no compatibility issue.

To sum it up, all you need is a smart device, a decent internet connection, and a reliable VoIP service provider for VoIP to work.
Top 10 Best VoIP Service Providers In 2022
1 ) CallHippo Business Phone System
CallHippo tops our list of the best VoIP providers in 2022 for all the right reasons. This feature-rich cloud-based business phone system not only has an easy-to-use interface but also offers affordable pricing plans and the set of best VoIP services for businesses of all shapes and sizes.
CallHippo is an on-demand VoIP service provider suitable for small and medium-sized businesses and large enterprises. With local and toll free phone numbers for over 50 countries, it allows businesses to expand their reach while lowering call costs.
In addition, the system provides access to a plethora of system integrations, increasing employee efficiency and improving customer service.
Another reason CallHippo stands out on this list of best VoIP providers is because of its outstanding call features, including GlobalConnect, Auto-Switch, Smart Switch, IVR System, After Call Work, Call Analytics, Click to Call, and more.
Also, this VoIP phone solution increases productivity, improves customer support, and boosts team collaboration. Moreover, this virtual business phone system is incredibly simple to set up, taking no more than 3 minutes if the correct procedure is followed.
In a nutshell, it is a must-have resource that can reap significant results when coupled with other advanced call center technologies.
CallHippo Features:
Secure and compliant software
Consistent end-user experience
Data analysis across channels
Secure endpoints and fraud detection
Highly reliable– seamless communication
Global reach in over 50+ counties
Free Trial: 14 Days
CallHippo VoIP System Is Ideal For: Small, Medium & Large Enterprise
CallHippo Pricing: In addition to three fixed plans, CallHippo provides enterprise pricing plans based on the clients' requirements. The three pricing options are as follows:
A) Bronze Plan: $16/User/Month (Ideal for startups)
B) Silver Plan: $30/User/Month (Ideal for small business)
C) Platinum Plan: $45/User/Month (Preferred for SMB sales & Support)
2 ) Phone.com VoIP System
Phone.com ranks 2nd  on our list of the best VoIP providers in 2022. It is a novel and the top VoIP provider having a wide range of innovative features and several affordable pricing plans. The platform primarily focuses on the business communication needs of startups and small-to-medium-sized businesses.
In addition, Phone.com is a cutting-edge VoIP provider and work-from-anywhere solution designed for today's flexible and dynamic startups and international businesses. This cloud-based business phone system empowers businesses to portray and establish a more professional brand image and create a simplified and effective communication channel.
The VoIP solution is highly scalable, and users can add needed modules at an affordable rate. In addition, it also improves functional efficiency by facilitating better team collaboration and real-time data sharing.
Moreover, with features like 'Follow Me,' the Phone.com cloud-based phone system lets you operate from anywhere without missing any call.
Phone.Com Features:
Simple and user-friendly interface
CRM integration options
Do not disturb compliance
CRM and other integration
Call screening, call recording, and call transfer
In-depth call analytics
Account management
Free Trial: 30 days
Phone.com VoIP System Is Ideal For: Small and Medium Enterprise
Phone.com Pricing: Phone.com has three pricing plans to offer, as listed below. The more premium the plan, the more features it includes.
A) Basic Plan: $12.99 per user per month for 300 minutes, 1,000 text messages, and access to over 40 services.
B) Plus Plan: $19.99 per month per user for unlimited calling minutes and text messaging, video conferencing (up to 25 people), and voicemail transcription.
C) Pro Plan: $29.99 a month for unlimited minutes and text messages, up to 300-person video conferencing, call analytics, and CRM integrations.
3 ) CallRail VoIP Solution
CallRail is a reliable, efficient, and scalable VoIP phone service that helps small and medium organizations optimize their communication operations. The platform aims to provide high-performance virtual telephone services that are scalable, simple to implement, and easy to manage.
It is an excellent choice for businesses that require smooth, high-quality calling options. The platform includes several communication tools that assist businesses in monitoring conversations and measuring analytics in order to make better long-term decisions and update the strategy as needed.
Also, being one of the best VoIP providers, CallRail ensures maximum network uptime, crystal-clear call quality, and a cost-effective phone solution that comes with the best VoIP service for businesses of all scales.
Moreover, the CallRail business phone system enables clients to measure and monitor team/employee performance in real-time, allowing them to provide needed guidance or training. All of the system's features ensure that the business is always operating at full capacity and generating maximum outcomes.
CallRail Features:
Instant messaging
Reliable, fast, and scalable
Seamless integration with multiple tools
Auto-attendant and receptionist
One-click file sharing
Customized reports and analytics
Free Trial: No information provided by the company
CallRail Is Ideal For: Medium and Large Enterprises
CallRail Pricing: The company offers two pricing plans as listed below. The more premium the plan, the more features it includes.
A) Basic Coverage: $399 (Basic call logs, Call return, Video add-on)
B) Premium Enterprise: $499 (Alternate numbers, executive assistant, Do not disturb)
4 ) RingCentral Office VoIP Service Provider
RingCentral is one of the most renowned and the best VoIP providers following CallHippo. The platform is well-known for its sophisticated cloud-hosted virtual phone system, which empowers businesses with the mobility they require to collaborate and communicate easily from anywhere.
RingCentral keeps your team connected and productive by leveraging various calling features such as Call Forwarding, Call Queuing, Voicemail, Call Flip, Call Screening, and more, as well as face-to-face online meetings, real-time chat, file sharing, and getting in-depth analytics.
Additionally, it is simple to set up, deploy, and operate and can also be managed remotely. Also, the software boosts efficiency by bringing all of your remote employees together while its robust security and redundant data center ensure user safety and higher uptime.
Moreover, RingCentral also allows businesses to choose local phone numbers from over 200 available area codes and establish a local presence in the respective region.
RingCentral Features:
Open API platform
Powerful & real-time analytics
Seven layers of security
Redundant data centers
A Dedicated technical account manager
A Dedicated customer success manager
Seamless operations across office sites and mobile devices
Free Trial: 30 days
RingCentral Is Ideal For: Small, Medium and Large Enterprises
RingCentral Pricing:
RingCentral offers custom plans and pricing. Visit the website to know more.
5 ) 8X8 VoIP Business Service
8X8 is a business phone system that combines voice, video, chat, contact center, and enterprise-class API solutions into one universal, secure, and reliable cloud communication platform. The platform enables businesses to improve their customer support operations and workforce performance.
Moreover, the system also offers cloud-based solutions for various industries, including Education, Retail, Transportation, Manufacturing, Legal, High Tech, Government, Healthcare, and others.
Besides, 8X8 provides customized solutions for each of your business's requirements, such as a remote workforce, a new phone system, sales and marketing, a virtual call center, and so on. Also, the business phone system includes call activity reports and AI-driven speech analytics, resulting in greater efficiency, cost savings, and revenue growth.
8X8 Features:
Top-notch performance and reliability
Enterprise-grade security and privacy
Integration with a range of apps
Call recording and call routing
Advanced ring strategies
Wait time announcement
Free Trial: 30 Days
8X8 Is Ideal For: Small and Medium Enterprises
8X8 Pricing: The company offers three pricing plans as listed below. The more premium the plan, the more features it includes.
A) 8×8 Express: $12/User/Month, B) X2: $24/User/Month and, C) X4: $44/User/Month
6 ) Nextiva Business Phone Service
Nextiva is among the best VoIP providers in the United States that allow you to make and receive calls from anywhere with a mobile and desktop app. It's a unified communications package that includes VoIP, video, and chat features.
This VoIP business service offers all the tools you need, from hosting limitless voice and video meetings to engaging with your remote workforce to monitoring call data, recognizing business trends, and assessing employee performance.
It also offers a variety of system integration options for increasing productivity and improving business communication. Moreover, it provides local and toll-free phone numbers for small businesses and enterprises, as well as crucial features such as auto-attendant, voicemail, call tracking, and screen pop.
The best thing about Nextiva is that it has a very user-friendly and easy-to-navigate interface. For this reason, customers do not require any technical training, and the entire VoIP systems can be set up in just a few minutes. Besides, it is simple to use and low-maintenance, making it a must-have asset for customer-centric organizations.
Nextiva Features:
In-depth performance reports
Automatic callback
Call return, transfer, and waiting
Corporate dial plan
Unlimited web conferencing
Multiple call arrangement
Free Trial: 7 Days
Nextiva Is Ideal For: Small, Medium & Large Enterprises
Nextiva Pricing: Nextiva offers four pricing plans as listed below. The more premium the plan, the more features it includes.
A) Essential Plan: $30.95/User/Month
B) Professional Plan: $35.95/User/Month
C) Enterprise Plan: $45.95/User/Month
D) Ultimate Plan: $75.95/User/Month
Note that these plans are for 1-4 users and are available on monthly billing. If the client has a higher number of users, the company offers lower-cost plans. Moreover, annual subscription plans are less costly than monthly plans.
7 ) Vonage Business VoIP Solution
Vonage VoIP phone systems improve customer experiences and connect your workforce anytime, from any location, on any device. Vonage cloud-based phone system currently offers three business communication products: A) Communication APIs, B) Unified Communication, and C) Contact Centers. Each product serves a distinct purpose and has a specific set of features.
Moreover, it also provides prime communication optimization facilities that boost operational flexibility, making them one of the best VoIP providers. In addition, Vonage offers a robust set of 50+ business phone services that improve the client experience.
Also, Vonage meetings, smart numbers, video conferencing, and integrations are some of the innovative features that keep your team up to date, connected, and productive.
Companies can leverage Vonage as an intelligent tool to monitor and manage calls in order to improve employee performance. It is a unified all-in-one solution or a one-time investment that will positively impact all-important metrics.
Organizations should use Vonage to automate their routine tasks such as call routing, queuing, and so on. The platform also includes features like interactive voice response (IVR), Live chat, voicemail to email, call forwarding, and advanced analytics that improve mobility and productivity in daily operations.
Vonage Features:
50+ unified communication features
Simple to set up and scale
Mobile and desktop apps to keep teams connected
Customized reports and analytics
Virtual receptionist console
Cell phone integration
Free Trial: 14 days
Vonage Is Ideal For: Small Business, Medium & Large Enterprises
Vonage Pricing: Vonage offers three pricing plans as listed below. The more premium the plan, the more features it includes.
A) Mobile Plan: $19.99 per line, per month for unlimited calls
B) Premium Plan: $29.99 per line, per month for unlimited video meetings
C) Advanced Plan: $39.99 per line, per month
8 ) Grasshopper
Grasshopper is an ideal VoIP phone system designed for entrepreneurs and small business owners, with several innovative features that improve business communication. It offers mobile and desktop applications that allow employees to stay connected throughout the day, regardless of where they are.
Grasshopper–one of the best VoIP providers– is a fully customizable tool with various pricing plans suited for all types of organizations. It enables call centers to focus on providing outstanding customer service while also increasing sales revenue. It is a one-time investment that has the potential to impact profit and work efficiency greatly.
Also, you can keep your personal and professional lives separate with the Grasshopper business phone system. It notifies you when you get a business call so that you can give your best effort. In addition, it ensures that the caller is connected to the right person at the right time by using features such as auto-attendant and call routing.
Moreover, it allows businesses to choose a perfect phone number from different types of VoIP numbers, including local, toll free number, and vanity numbers. You can also use Grasshopper to port your current phone number. However, Grasshopper is now only available in the United States and Canada.
So, if you need to access business VoIP services from a location other than this one, you should choose one of the other options mentioned in this blog.
Grasshopper Features:
Desktop + Mobile Apps
Voicemail Transcription
Simultaneous call handling
Business phone number
Call Forwarding
Inbound call management
Free Trial: 7 days
Grasshopper Is Ideal For: Small and Medium Enterprises
Grasshopper Pricing: The company offers three pricing plans as listed below. The more premium the plan, the more features it includes.
A) Solo Plan: $29/User/Month (1 Number, 3 Extensions)
B) Partner Plan: $49/User/Month (3 Numbers, 6 Extensions)
C) Small Business: $89/User/Month (5 Numbers, Unlimited Extensions)
These are the costs when billed monthly. If you choose annual billing, the plans cost $26, $44and $80, respectively.
9 ) Freshworks Business VoIP System
Freshworks is the fastest-growing and one of the best VoIP providers in 2022 that can manage all of your call center operations, thanks to its cloud-hosted architecture. It is a cutting-edge virtual phone system that is perfect for IT, HR, customer support, sales, and marketing operations and offers the best VoIP phone services for businesses of all shapes and sizes.
Freshworks is a simple and user-friendly interface that allows businesses to set up cutting-edge call centers. In addition, this platform requires no hardware or software except VoIP desk phones and a stable internet connection to operate. It can be installed or activated only in a few minutes.
This cloud-hosted phone system assists you in redefining your client experience and achieving measurable business results. Its innovative features allow you to engage customers on their preferred channel, optimize your processes, and leverage the power of realistic AI, automation, and the cloud to boost business mobility and meet customer expectations.
Freshworks Features:
Agent call scripting
Call quality monitoring
Do not call compliance
Web callback service
A completely customizable cloud PBX system
Highly reliable and secure
Free Trial: 21 Days
Freshworks Is Ideal For: Small Business and Medium Enterprises
Freshworks Pricing: Freshworks offers four pricing plans as listed below. The more premium the plan, the more features it includes.
A) Free Plan: INR 0/User/Month (0 Free Minutes)
B) Growth Plan: INR 999/User/Month (Free upto 2000 incoming minutes/Month)
C) Pro Plan: INR 2799/User/Month (Free upto 3000 incoming minutes/Month)
D) Enterprise Plan: INR 4999/User/Month (Free upto 5000 incoming minutes/Month)
10 ) Mitel Virtual Phone System
Mitel is a cloud-based virtual phone system that allows remote workers and scattered teams to collaborate more effectively. The platform provides a variety of communication services, including a call center, unified communications, and cloud communications to meet the diverse needs of call center businesses.
This VoIP phone system is robust, scalable, and reliable, providing organizations of all sizes with hosted voice, unified communications, and collaboration.

Being one of the best VoIP providers, Mitel offers a range of advanced features and capabilities such as a dedicated virtual phone number for each user, unlimited extensions, and hundreds of advanced features, giving you complete control over how your team works and interacts.
For example, with the Mitel phone system, you can attend meetings or calls from your desk, computer, or smartphone, ultimately enhancing customer satisfaction.
Mitel Features:
Active call distribution
Activity-based routing
Call forwarding, queuing, and monitoring
CRM integration and application support
Fraud detection
Keyword spotting and transcription
Free Trial: 30 days
Mitel Is Ideal For: Small, Medium and Large Enterprises
Mitel Pricing: Mitel offers three pricing plans as listed below. The more premium the plan, the more features it includes.
A) Essential Plan: $20.99/User/Month,
B) Premier Plan: $26.59/User/Month, and
C) Elite Plan: $38.49/User/Month
Along with these pre-designed plans, the Mitel business phone system also offers custom plans tailored to your specific needs.
11 ) Ooma Phone Service Provider
Ooma is another leading VoIP service provider that provides business communication services to small and large businesses. The Ooma small business phone system includes more than 50 features that help businesses collaborate with their teams as well as efficiently address and fulfill their daily customer communication needs.
Just like other top VoIP providers, Ooma also offers a well-designed mobile app, which adds portability to your business while also allowing you to be available to your customers at all times.
You can boost productivity by leveraging advanced features such as Hot desking, Call Parking, and Call Queuing. These features enable you to efficiently handle high call volumes. Last but not least, Ooma provides technical support during system setup as well as whenever required.
Ooma Features:
Virtual receptionist

Music on hold

Flexible numbering

Overhead paging support

Mobile app (Android & iOS)

Voicemail to Email

One FREE toll-free number
Ooma Free Trial: Every Ooma system comes with a free 60-day trial of Ooma Premier.
Ooma Is Ideal For: Medium & large enterprise
Ooma Pricing: Ooma office offers three service plans, each of which includes more than 50 features.
A. Essentials Plan: $19.95/User/Month
B. Pro Plan: $24.95/User/Month
C. Pro Plus Plan: $29.95/User/Month
12 ) Dialpad Cloud Communication Platform
Dialpad is an AI-powered cloud communication system that helps businesses improve internal and external communication. Using the Dialpad, users can effortlessly communicate with other businesses, customers, prospects, and employees.
To ensure that messages are conveyed in the best possible form, the platform provides multiple communication channels such as calls, texts, and emails. Dialpad, like other best VoIP service providers in 2022, also includes third-party integrations that can enhance the software's functionality.
Even though Dialpad is a new cloud communication system on the market, it has successfully established itself alongside the top VoIP providers. Moreover, based on each organization's unique needs, Dialpad provides various products for business communication and customer engagement.
Dialpad Features:
Call parking & Call forwarding

Automated attendant

APIs & Webhook

Audio/video conferencing

Sentiment analysis

Third-party integrations

Voicemail transcription

Unified communications
Dialpad Free Trial: 14 Days
Dialpad Is Ideal For: Small & Medium businesses
Dialpad Pricing: Dialpad business communications has three service plans to offer:
A. Standard Plan: $23/User/Month
B. Pro Plan: $35/User/Month
C. Enterprise Plan: Custom pricing
13 ) GoTo Connect Cloud Phone System
GoTo Connect is a cloud phone and meeting system that allows businesses to make calls, send text messages, and attend virtual meetings from anywhere, at any time. The platform includes several innovative features that make internal and business communication much easier and more streamlined.
For example, GoTo Connect's Dial Plan Editor allows you to create personalized custom call routing and a fully-featured PBX. You can also add toll-free numbers or port existing ones, set up a company-wide phone tree directory, and configure an auto-attendant to route calls.
In a nutshell, GoTo Connect is one of the leading VoIP providers and an all-in-one business communication solution that, when used effectively, can be an asset to your company, particularly the customer communication team.
GoTo Connect Features:
Advanced ring strategies

Custom hold music

Find Me/Follow Me

Personal meeting rooms

Dial plan editor

Call routing & call recording

Upto 25 HD video feeds
GoTo Connect Free Trial: 14 Days
GoTo Connect Is Ideal For: Small businesses
GoTo Connect Pricing: GoTo Connect has three service plans to offer:
A. Basic Plan: $27/User/Month
B. Standard Plan: $32/User/Month
C. Premium Plan: $43/User/Month
14 ) 1-VoIP Residential VoIP Provider
1-VoIP is among the leading residential and business VoIP providers that help you empower business communications, significantly reduce costs, and gain a competitive advantage. This modern phone system includes several business-class features that help businesses organize and accelerate their communication operations.
In addition to calling customers, the system provides a 4-digit extension to each line that can be used to contact internal employees. In addition, the advanced auto attendant feature will route callers to the appropriate employee or department based on the information or assistance they require.
Overall, the provider of 1-VoIP virtual phone systems can be a good communication support partner for small businesses or start-ups looking for a simple business communication system.
1-VoIP Features:
Auto attendant

Custom announcements

Custom music on hold

Configurable calling ID

Extension monitoring

Digital call forwarding

Call parking
1-VoIP Free Trial: No
1-VoIP Is Ideal For: Small businesses
1-VoIP Pricing: 1-VoIP has three service plans to offer:
A. Metered Plan: $14.97/User/Month
B. Corporate Plan: $19.97/User/Month
C. Professional Plan: $29.97/User/Month
15 ) MagicJack VoIP Phone Service
The last name on our list of the "Best 15 VoIP providers in 2022" is MagicJack. MagicJack is a cost-effective and reliable business phone system with different features. You can use your existing phone number or get a new one for free from the provider.
Employees can take their MagicJack device with them wherever they go. This flexibility enables them to answer all calls and messages. Furthermore, no additional hardware is required to run the system. All you need is a good internet connection and a VoIP phone.
Besides, Magicjack's calling rates are quite reasonable. For example, you can call from the US to Mexico for $0.028 per minute, from the US to India for $0.025 per minute, and so on. Overall, MagicJack is a low-cost VoIP phone service ideal for small businesses that do not require advanced VoIP features.
MagicJack Features:
Voicemail

Call Forwarding

Call Blocking

Automated call screening

Caller ID

Call recording
MagicJack Trial: No
MagicJack Is Ideal For: Small businesses with limited communication requirements.
MagicJack Pricing: Unlike other best VoIP service providers, MagicJack only offers annual plans as listed below:
A. One year Plan: $43/User/Year
B. Two year Plan: $79/User/Year
C. Three year Plan: $109/User/Year
So, these are the 10 best VoIP systems provider in 2022 to think about when choosing a cloud-based phone system for your business. However, we also recommend that you visit their official websites to learn more about their features, technical specifications, pricing, and customer service.
The Bottom Line: Running an international business or planning to start one without the necessary communication tools and technologies, such as VoIP phone systems, is a perfect recipe for disaster. However, this does not mean that you select any random VoIP service provider that you come across. Rather, you must consider all the aspects like features, price, service and ultimately choose the best VoIP provider that meets all of your needs. If you ask us, we would recommend that you go with CallHippo since it outperforms its competitors in every possible way.