Date: April 25, 2023
We are delighted that you have decided to equip your organization with sophisticated communication technology such as VoIP (Voice over Internet Protocols) system. After all, technology and infrastructure support are critical components that determine the success of any organization. However, selecting the right technology is more crucial than merely selecting the technology.
Dialpad & RingCentral are both powerful, feature-rich, and easy-to-use business phone systems. However, there are some differences in terms of their features, costs, customer service, and third-party integrations that make them superior in their respective areas.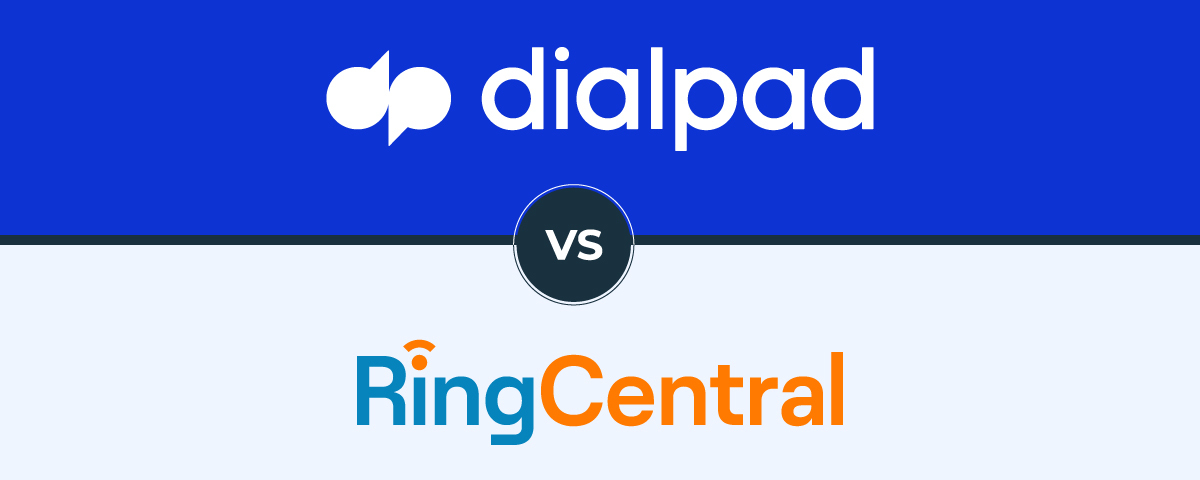 In this blog, we will compare Dialpad vs RingCentral in depth. We will go over each of their aspects, such as price, features, mobile apps, customer service, integration, limitations, and so on. This information will ultimately assist you in making an informed decision and choosing the best VoIP system that precisely meets your office needs.
Dialpad vs RingCentral– An Overview
RingCentral is a global cloud platform that helps businesses of all sizes run and thrive. This VoIP system has a variety of basic and advanced features such as call screening, call parking, call forwarding, visual voicemail, greetings, multi-level IVR, and more. All of these features work together to make RingCentral one of the most popular business phone systems.
In addition, the technology provides enterprise-level security and allows employees to make and receive calls from anywhere where there is internet connectivity. Moreover, its analytics portal combines existing reporting capabilities like Quality of Service Reports, Live Reports, and Meetings Dashboard into a single, user-friendly experience with faster performance.
Between Dialpad vs RingCentral, Dialpad is also one of the market's leading VoIP service providers. This phone system is reliable, smart, and global, featuring numerous third-party integrations. In addition, the system incorporates cutting-edge technologies such as artificial intelligence. Dialpad's AI capability instantly transcribes sessions, takes action item notes, analyses caller emotion, and even coaches your agents in real-time.

( Source: dialpad )
Dialpad, just like RingCentral, includes a variety of basic and advanced features and capabilities, such as an Interactive Voice Response (IVR) system, quality management, omnichannel support, call summary, On-Premise Gateway (OPG) Solutions, conference phone, and others.
Furthermore, the technology protects your data by encrypting it. Regular data backups will also preserve organizational information, as well as keep the call, messaging, and meeting data safe, secure, and available across all of your devices.
In a nutshell, when we compare Dialpad vs RingCentral, both are feature-rich, smart, and AI-enabled virtual phone systems. However, they differ in terms of functionality, price options, integrations, and support.
Let's go through each of these aspects in detail so you can better understand these VoIP phone systems, and you can choose the one that best meets your organisation needs.
Let's begin with the features and functionality.
Dialpad vs RingCentral– Features & Functionalities
VoIP features are one of the most critical elements to consider when selecting the best business phone system. The right set of VoIP features that fit your office requirements will elevate, expedite, and streamline your organisation process. In contrast, the wrong set will have a negative impact on the business's performance.
For this reason, before making a final decision, it is recommended that you thoroughly examine each and every aspect of the business phone system.
Between Dialpad vs Ringcentral, Dialpad offers a comprehensive array of advanced features to help streamline business communications and boost productivity. Its key features include API and Webhooks, cloud-based mobility, in-depth call analytics, third-party connections with other corporate tools, screengrabs, desk phones, call delegation, conference call control, and live coaching.


All of these features work together to make Dialpad a complete phone system capable of meeting the different demands of all types of enterprises, whether small, medium, or large. In addition, the provider upgrades the features on a regular basis to maintain the system up to date at all times.
On the other hand, between Dialpad vs RingCentral, the RingCentral VoIP system provides a comprehensive collection of features designed to provide organizations with a flexible, mobile, and robust cloud phone system.
Call parking, call flipping, call forwarding, paging, internet fax, multi-level IVR, music on hold, call monitoring, automatic call recording, video conferencing, performance reports, live reports, and an analytics portal are among the primary services provided by RingCentral.
In addition to these phone system features, RingCentral allows businesses to select between local numbers, vanity numbers, and toll-free numbers. One can select the ideal virtual phone number based on their needs and goals to help them achieve their objectives more efficiently.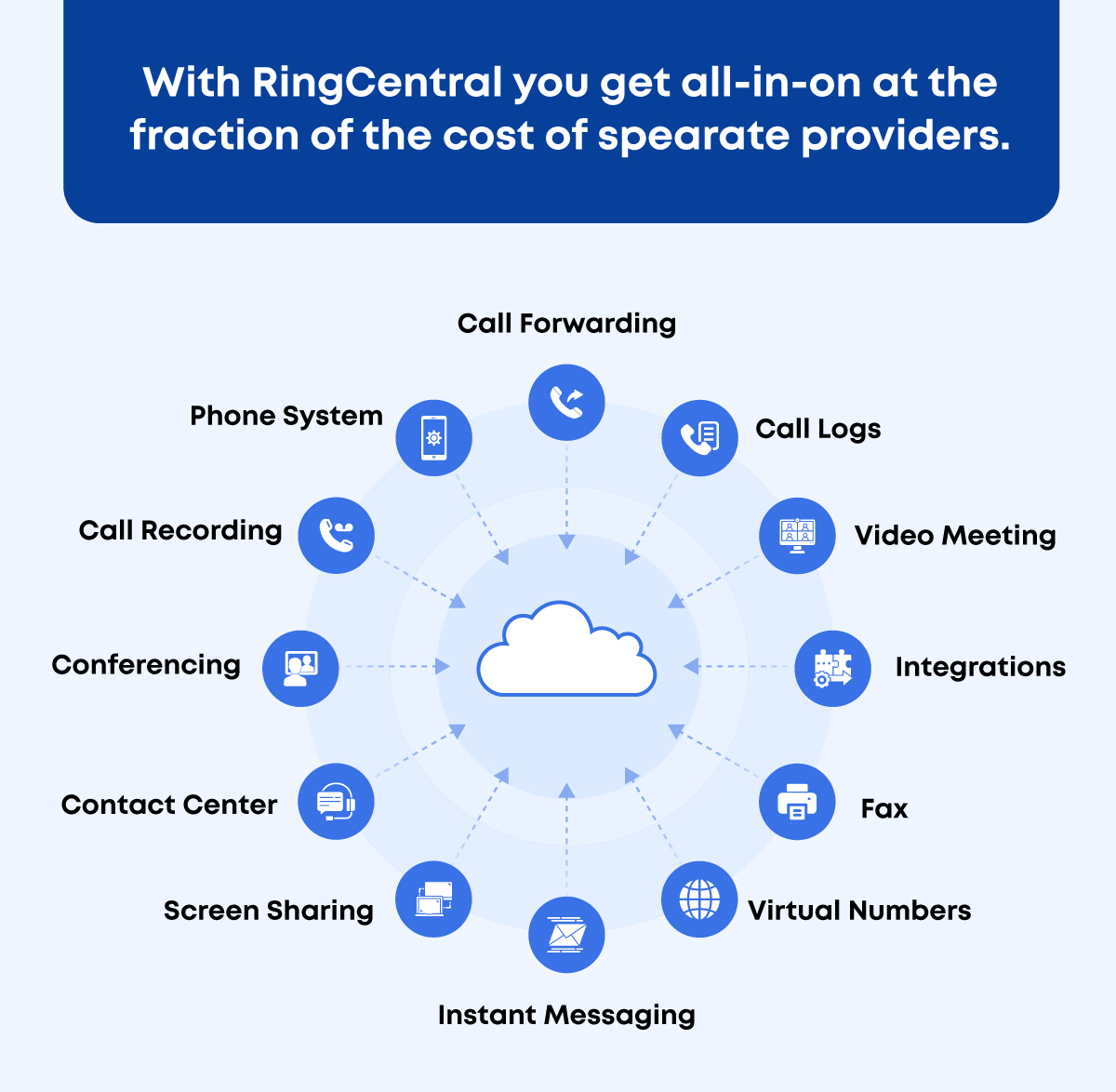 Overall, when it comes to RingCentral vs Dialpad features, RingCentral has the upper hand. RingCentral not only provides more functions, but it also has more advanced features like call delegation and audit trail that Dialpad lacks.
For this reason, when it comes to features, RingCentral is a clear winner. So now, let's compare the mobile app functionalities of Dialpad vs RingCentral in the next section.
Dialpad vs RingCentral– Mobile Apps
Dialpad and RingCentral both provide smartphone apps to make work more mobile. RingCentral has both an iOS and an Android mobile app. Likewise, Dialpad is also accessible on Android and iOS. The RingCentral mobile app enables offices to manage their operations from anywhere, allowing them to receive calls, send messages, and track calls.
RingCentral Phone for Mobile can be downloaded directly from the phone or from the RingCentral Online account. It will be installed automatically once downloaded. The system requirements for the iOS app are iOS 10 or later, while the Android app requires Android OS 4.4 or higher.
Between Dialpad vs RingCentral, RingCentral also allows you to set your availability status on the mobile app, such as Available, Busy, or Invisible. In addition, when you enable the DND (Do Not Disturb) function, all incoming calls are routed straight to voicemail.

( Source: dialpad )
Now comes the Dialpad. The Dialpad mobile app is available for iOS, Android, PC, and Mac. You can use the apps to make calls, transfer and forward calls, and do most of the tasks of the online app – from any device.
By enabling offices to be available 24/7, the mobile app will help in avoid losing potential customers. Users may work from anywhere and manage their phone lines and hours with Dialpad's phone app. For administrators, the mobile app is extremely simple to use. We can add new users, add an alternate phone number or new phone lines, and more—all through their online accounts.
Overall, when comparing Dialpad vs RingCentral, we found that both VoIP providers provide robust mobile apps for their respective products. These VoIP phone apps make operations much easier to carry out and allow agents to be available 24/7, guaranteeing that no possible leads are lost.
Let's take it a step further and compare the service provided by Dialpad vs RingCentral.
Dialpad vs RingCentral– Customer Service
Just like VoIP features and sophisticated mobile apps, customer support is also an essential factor to consider when selecting the best VoIP provider. In this section, we will compare Dialpad vs RingCentral's customer support platforms, working hours, and other elements.
Dialpad provides customers with the technical support they require in the manner that they prefer. Even the most basic subscription includes 24/5 chat and web help, while Pro and Enterprise plan includes 24/7 coverage as well as phone support. There is also a comprehensive online Help Center database where you can find answers quickly at any time.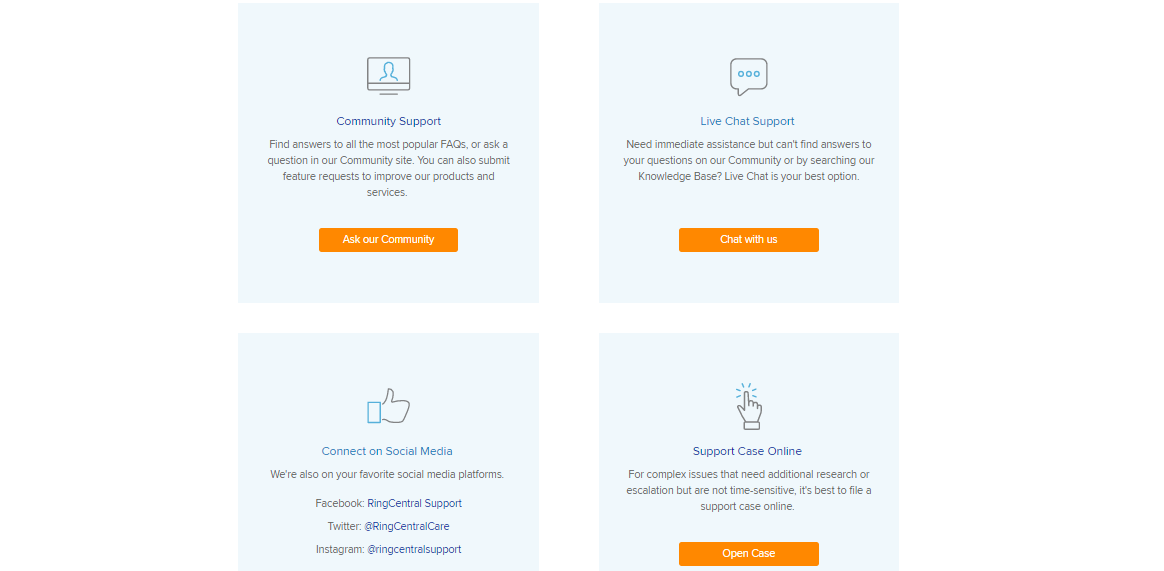 The three platforms or channels via which Dialpad provides support are as follows:
Phone support 

Live Chat Assistance

Dialpad Support Center
Dialpad provides all technical and non-technical support to users via any of these channels. In addition, you may quickly contact the Dialpad support team and have your issue fixed, whether it is a weak connection, a security issue, or an installation problem.
Similarly, RingCentral is available to their users through a variety of channels in order to satisfy their needs. For example, users and clients can contact RingCentral's customer service team by live chat, community, or online support case.
Between Dialpad vs RingCentral, the community support forum of RingCentral also allows users to get all of the answers to the most frequently asked questions. Users can also ask questions if they are not discussed on the forum. If a client or user requires immediate assistance, they can contact the support team via Live Chat.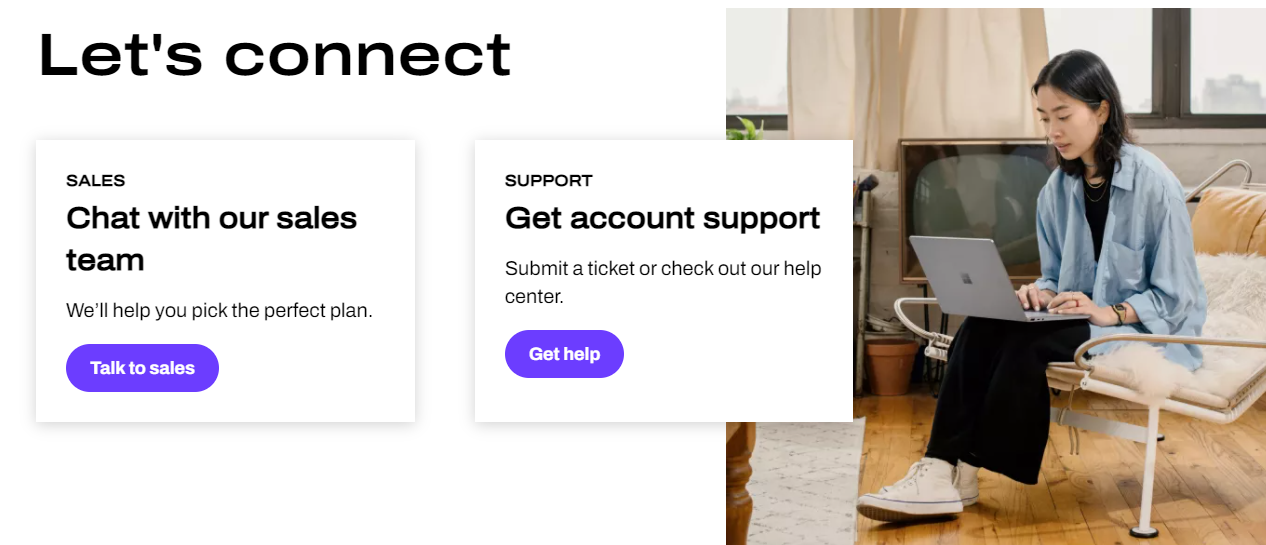 Users can also register cases online for complex issues that require additional research or escalation but are not time-sensitive. The relevant team will respond to the user as soon as possible with an appropriate solution. Clients can also contact the support team via the RingCentral social media network, including Facebook, Twitter, and Instagram.
Overall, this cloud business phone system provides excellent customer service and has a strong presence across multiple channels and social media platforms.
Let's now evaluate Dialpad vs RingCentral integration support. Identify which one provides better integration support than the other.
Dialpad vs RingCentral– Third Party Integration
When running a business at the international or national level, you will need a set of tools and technology to support, simplify, and streamline your daily operations. At the same time, you must connect or integrate all tools and apps in order to expedite activities and create a unified system that performs work in synergy.
Fortunately, both Dialpad and RingCentral let you integrate additional apps and tools into them.
RingCentral integrates with a variety of CRM and applications, including Salesforce, Zoho CRM, HubSpot, SalesNexus, SugarCRM, Google, Outlook, Office 365, Oracle, Zendesk, ServiceNow, Box, Dropbox, and Active Directory.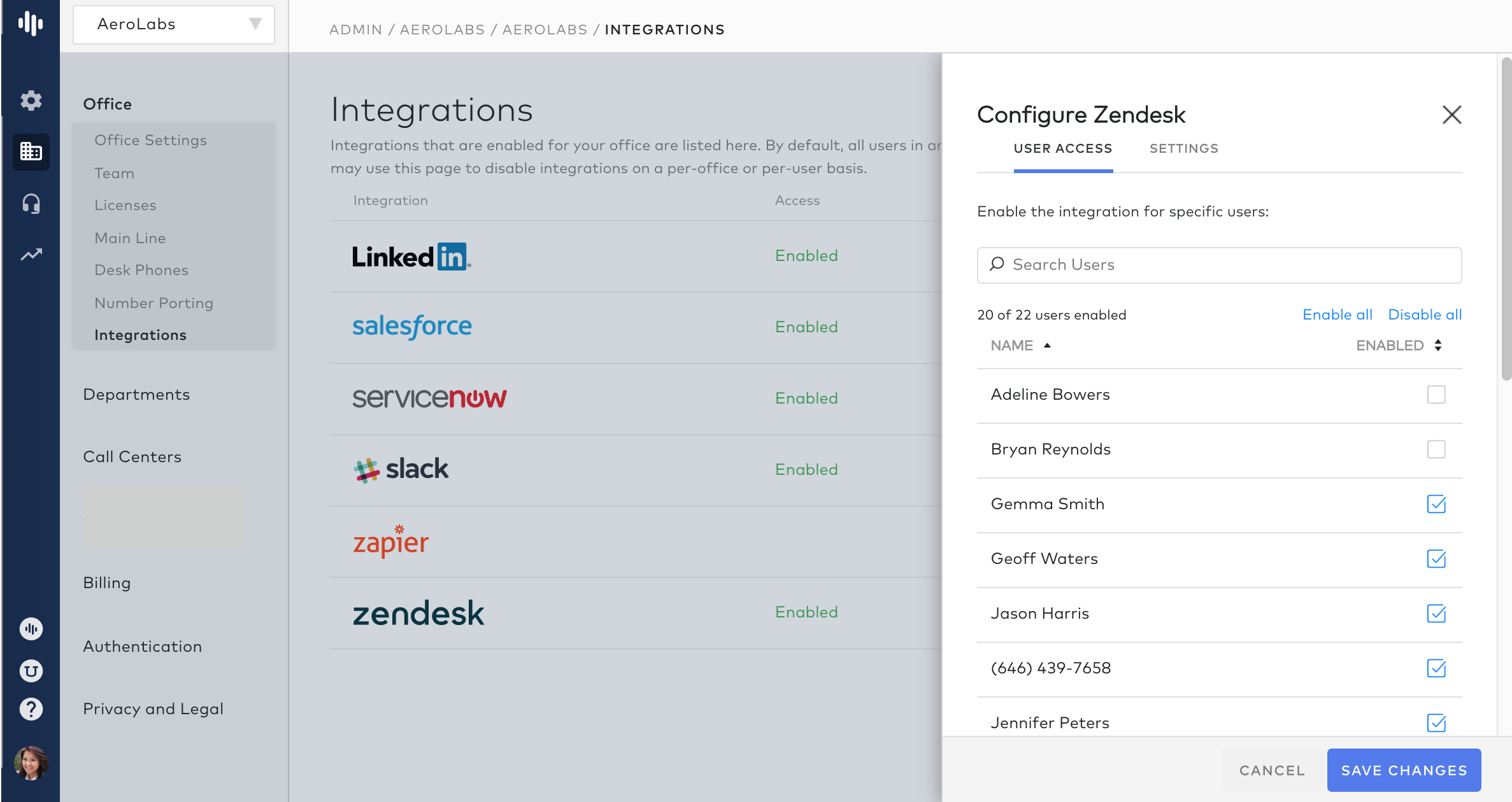 ( Source: dialpad )
Similarly, between Dialpad vs RingCentral, Dialpad can also be integrated with a variety of business apps and services, including Salesforce, ZenDesk, Dialpad meetings, Slack, Playvox, Microsoft Teams, Zoom, Clio Manage, Kustomer, HubSpot, and others.
The integration facility will considerably improve the organisation performance and productivity. The unified phone system will gather all the data from all platforms and process it in the most efficient way possible. This will allow organizations to get a real-time view of their operations and make changes as needed.
In a nutshell, Dialpad and RingCentral both enable businesses to integrate their apps and services with their respective VoIP phone systems, thereby enhancing overall performance.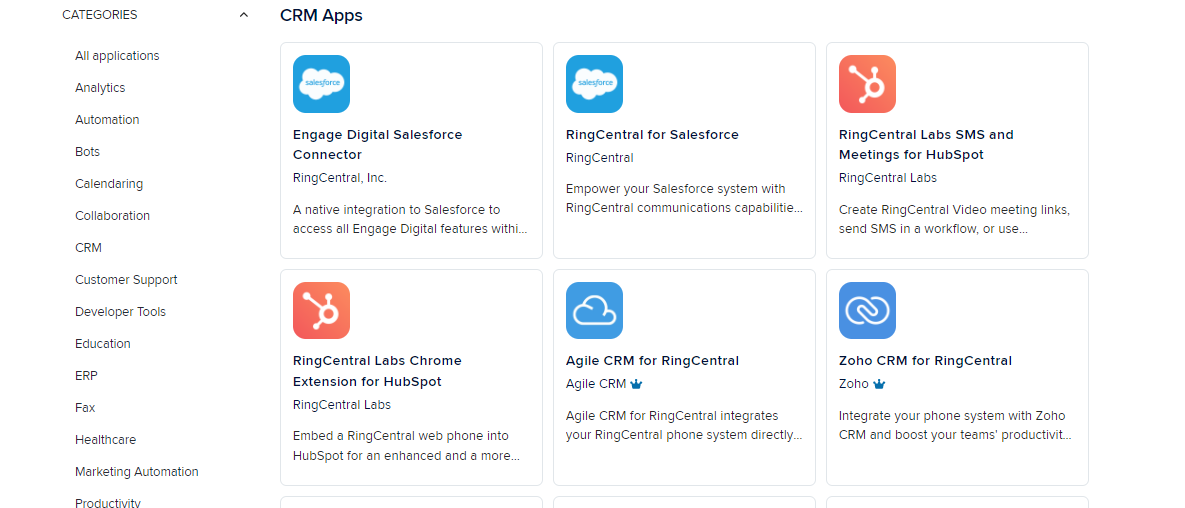 Now comes the final factor that you have been waiting for since the beginning, or the one that plays a critical role in choosing the best VoIP provider– pricing plans. Let's take a closer look at the pricing plans, add-ons, and other fees for both Dialpad and RingCentral.
Dialpad vs RingCentral– Pricing Plans
Let's start with Dialpad's pricing plans.
Dialpad has multiple pricing options for its various services, which include business communications, meetings, a contact center, and a sales dialer. However, we will only discuss Business Communications in this article.
Dialpad offers three business communication plans: Standard, Pro, and Enterprise. Let's take a quick look at each one to grasp their offerings better.
A. Standard Plan: The Standard plan, which costs $15 per user per month, includes unlimited calling, unlimited SMS and MMS, call controls including call forwarding, call transfer, call hold and mute, voicemail transcription, G Suite and Office 365 integrations, and other basic features.
B. Pro Plan: The Dialpad Pro plan is the most popular plan and costs $25 per user per month. It includes all Standard plan features as well as local number support in 50+ countries, CRM integration (Salesforce, HubSpot), 24/7 phone assistance, 5-hour meeting duration, unlimited meetings, 25 ring groups, international SMS, and desk phone help, among other things.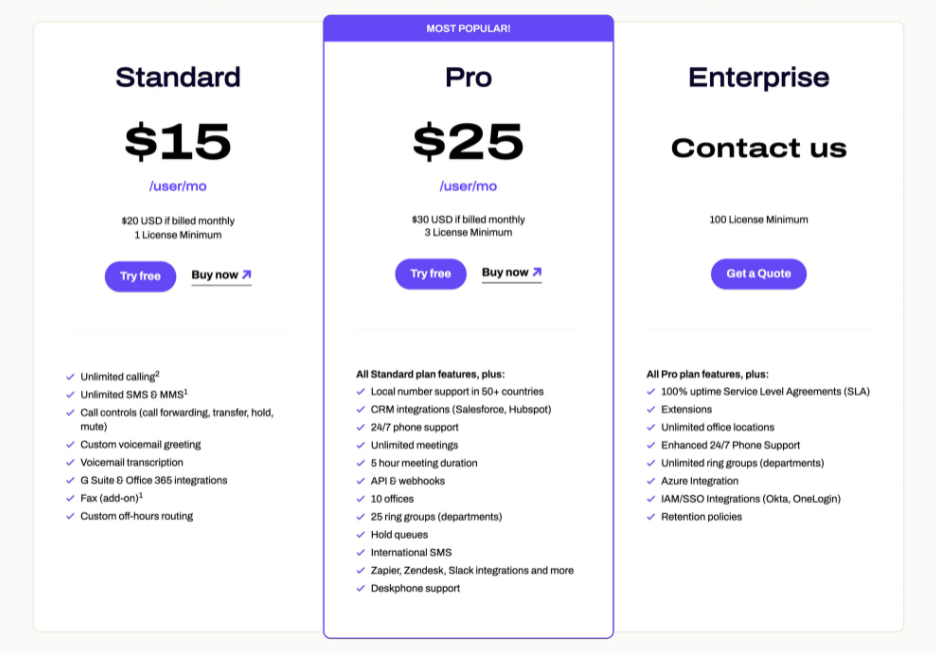 ( Source: getvoip )
C. Enterprise Plan: The third plan– Enterprise plan provides all of the benefits of the Pro plan as well as a 100% uptime Service Level Agreement (SLA), unlimited office locations, 24/7 phone support, unlimited ring groups, IAM/SSO integrations, and retention policies.
Let us now discuss RingCentral pricing plans.
Just like DialPad, RingCentral also offers multiple plans for various services/products, such as RingCentral MVP, RingCentral Video, and Contact Center. However, here we will only cover the RingCentral MVP plans in this article.
Between Dialpad vs RingCentral, RingCentral MVP is available in four different plans: Essentials, Standard, Premium, and Ultimate. Let's take a quick look at each one.
A. Essential Plan: RingCentral's essential plan costs $29.99 per user per month. The subscription supports up to 20 people and includes a office phone or toll-free number, unlimited calls within the United States or Canada, voicemail to text, and document sharing. The plan is best suited for small organisations.
B. Standard Plan: The Standard plan costs $37.99 per month per user. It includes all of the benefits and features of the essential plan, and there is no limit on the number of users. Additionally, it provides unlimited internet faxing, unlimited audio conferencing, up to 24-hour meeting duration, quality of service reports, multiple integrations, and 24/7 support.
C. Premium Plan: The RingCentral premium plan is the most popular of the four, costing $44.99 per user every month. It includes everything in the Standard plan. It also has features such as automatic call recording, single sign-on, multi-site admin and management, up to 8-digit extensions with site codes, advanced call handling, major CRM integrations, and a developer platform.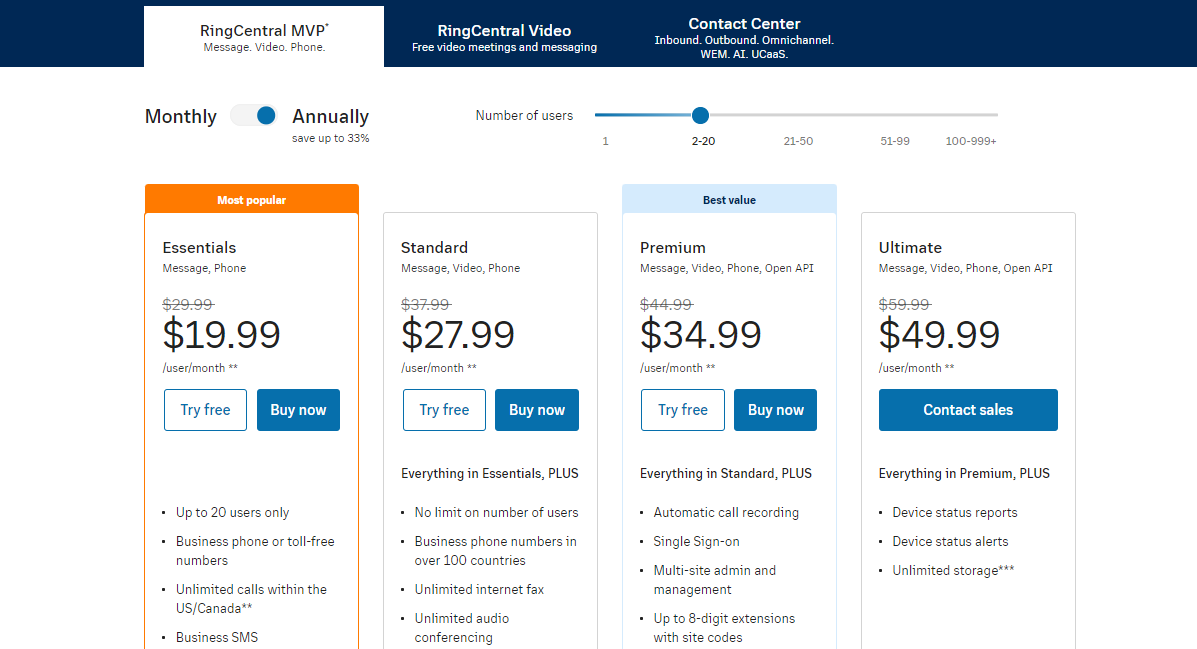 D. Ultimate Plan: The Ultimate plan costs $59.99 per month per user. It contains everything that the Premium plan offers. It also provides device status reports, device status alerts, and unlimited storage.
So that's a quick rundown of Dialpad vs RingCentral's pricing plans. As we've seen, Dialpad's plans are more affordable than RingCentral. It does, however, have fewer features than RingCentral's plans.
That is, if you are satisfied with the features provided by Dialpad, you can implement them. But, if your company needs more features and you are willing to invest a little more money, RingCentral is the way to go.
So, what's the final verdict? Should you use RingCentral or Dialpad? Which is the superior phone solution for your organization– Dialpad or RingCentral? Let's look for the answer in the next section.
Dialpad vs RingCentral– Which One Should You Choose?
The question now is which one to choose between Dialpad vs RingCentral.
Both of these virtual phone systems, as we have observed, are efficient. In addition, both provide a rich set of features, necessary customer support, multiple pricing options to match the diverse demands of enterprises and allow for multiple integrations.
However, each has an advantage over the other in every category, including features, pricing plans, customer support, integrations, and mobile apps. For example, RingCentral is the clear winner in terms of features and functions. Likewise, Dialpad has more affordable pricing plans than RingCentral.
Again, when it comes to support, RingCentral has a slight advantage over Dialpad since it provides more communication channels and platforms. RingCentral also outperforms Dialpad in terms of third-party integrations, allowing for a greater number of integrations.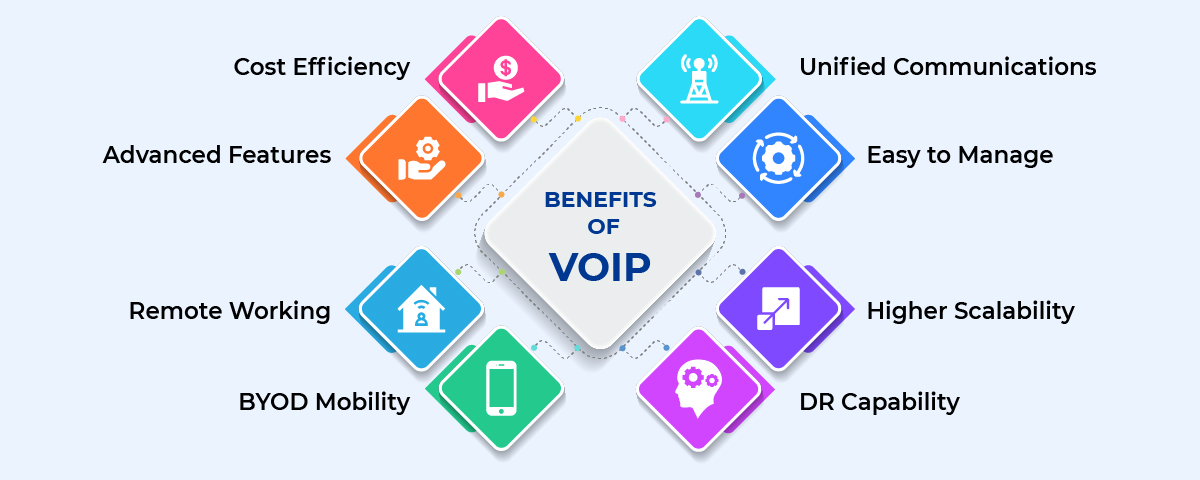 Overall, after weighing all of the factors of Dialpad vs RingCentral, we found that RingCentral has the upper hand over Dialpad. So, if you're looking for the best VoIP phone system to fit your diverse needs, RingCentral is a great option.
However, either of these is lacking in some way. One has more plans, while the other has more features. One offers greater customer service, while the other offers broad system integration.
That is, no one is entirely perfect or comprehensive. Fortunately, there is another VoIP phone system on the market that has it all–a wide range of advanced features, many integrations, excellent customer support, and affordable pricing levels. The name is CallHippo.
The Best Alternative To Dialpad & RingCentral– CallHippo
CallHippo is indeed a great alternative to RingCentral and Dialpad. We compared Dialpad vs RingCentral and discovered that no phone solution is totally flawless. Both are deficient in one way or another. However, when it comes to CallHippo, it has everything that a business requires.
Its advanced features, such as Power Dialer, ACD, IVR, Advanced Analytics, Call Monitoring, Warm Transfer, Call Recording, and SDAP, will significantly enable enterprises to scale their performance.
Moreover, CallHippo provides four affordable office phone system plans: Bronze, Silver, Platinum, and Enterprise. Bronze costs $16 per user per month and includes all of the basic features such as voicemail, SMS, webhooks, and so on.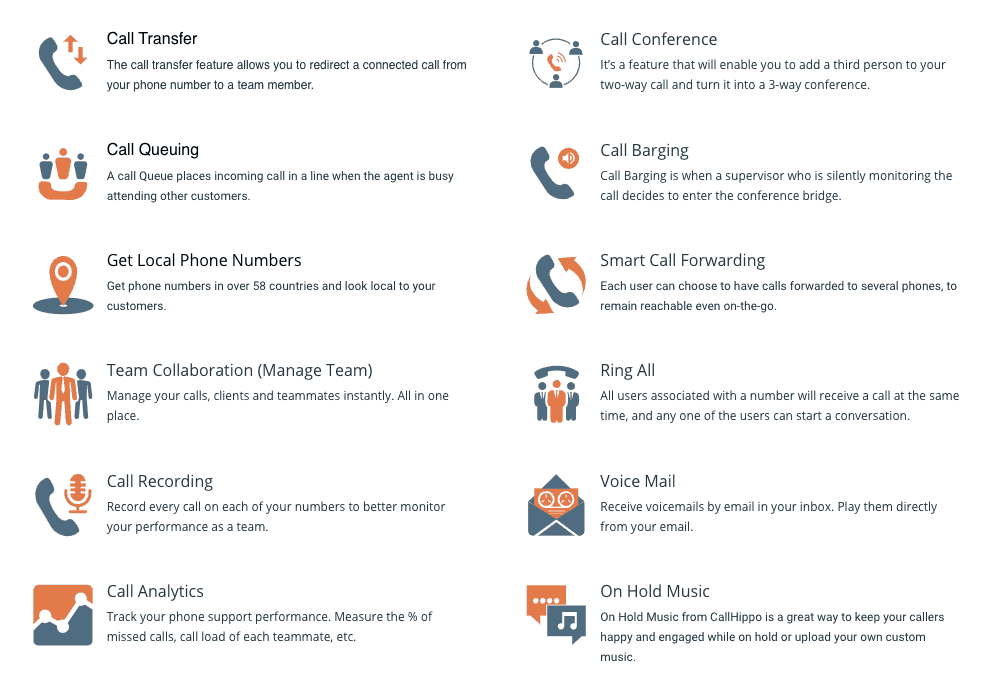 ( Source: avoxi )
The Silver plan costs $24 per user per month and contains all of the Bronze plan's benefits and additional features such as IVR, call recording, call queuing, after-call work, and call cascading. The Platinum plan costs $40 per user each month and includes everything in the Silver plan as well as additional features like multi-level IVR and call barging.
The Enterprise plan is designed for large enterprises with specific needs. You can contact the CallHippo sales team to get the best plan designed that is both affordable and precisely meets your requirements.
So, if you're considering Dialpad vs RingCentral, you should also consider CallHippo, since it is a comprehensive office phone system offering everything a business needs. Also, for more in-depth analysis and comparison of all three business systems, visit their respective websites and learn more about what they have to offer, their strengths, and their weaknesses.
The Bottom Line: When we compared Dialpad vs RingCentral, we discovered that both phone systems are excellent in their own way. Both provide a range of features, several pricing plans, and decent client service. However, one or both of them are lacking in some way. This is where CallHippo comes into play. CallHippo can be a great alternative to Dialpad vs RingCentral. It offers everything a business needs and can be used for all sizes of business. To learn more, visit its website.
WORDS THAT MAKE SENSE!
Read The Most Well Researched & Insightful Articles From CallHippo Team